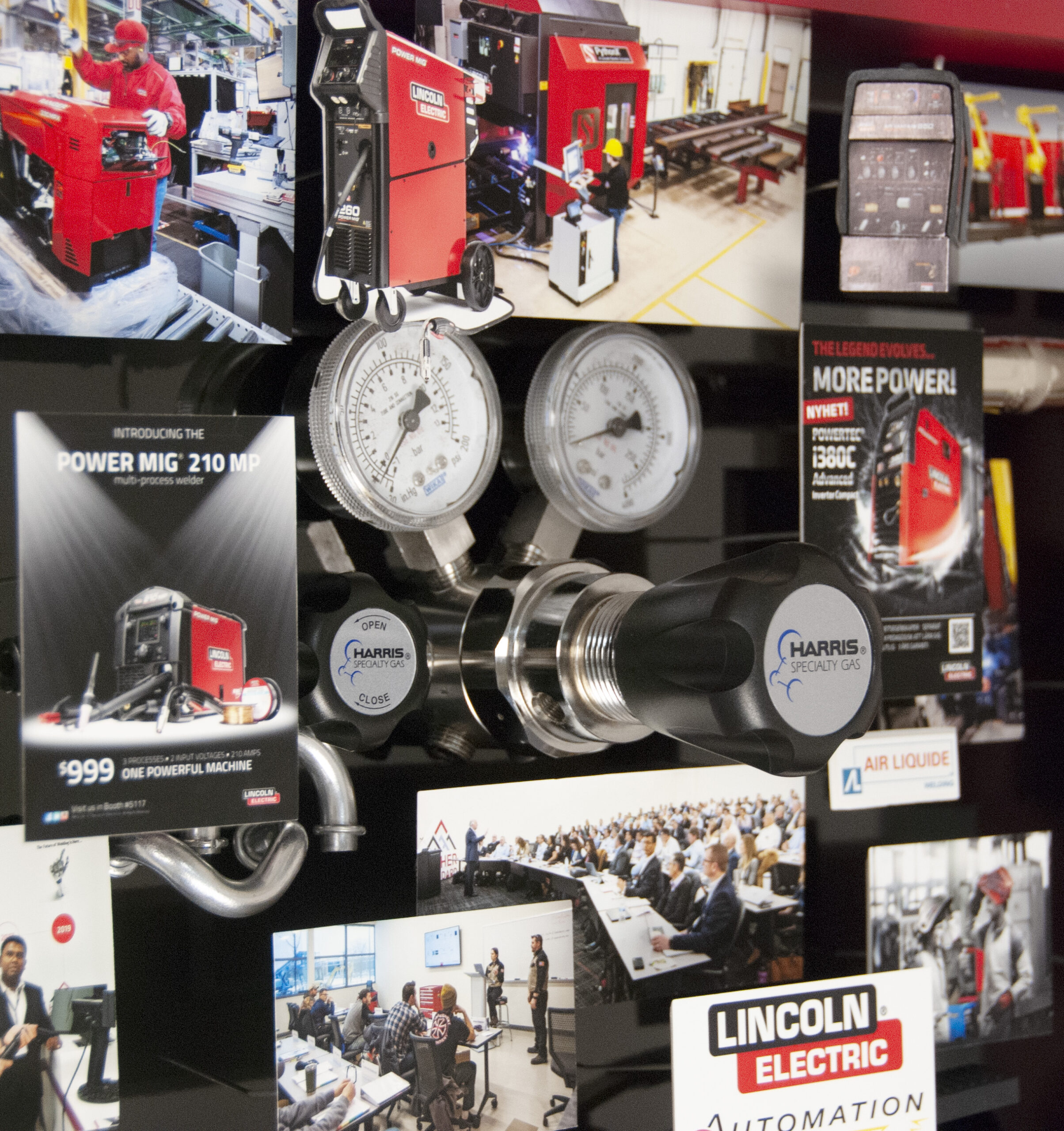 This summer were highlighting our 5 favorite flicks: 5 videos to showcase the 3-dimensionality of One Of A Kind collages. So grab your popcorn, sit back, and prepare to be "Wowed!"
Lincoln Electric 125th Anniversary
First up is Lincoln Electric, also known as "the welding experts!" Lincoln Electric's 125th anniversary art contains over 200 miniaturized photos, publications, and 3D items. Many of the company's products and tools were miniaturized to include in the collage, such as a welding torch, work gloves, robotic arms, and welding rods. Other items were included as their actual size: a vintage welding helmet positioned on the left at the beginning of Lincoln Electric's story, along with founder John C. Lincoln's actual tools and name plate; and a current welding helmet on the right bringing the company's story to present day. You can further explore Lincoln Electric's 3-dimensional commemorative art on their interactive website with descriptive key. Click on any item for an identification of the image and a description of its relevance.
WRIT 50th Anniversary
Our next video in a One Of A Kind Summer Series is Washington Real Estate Investment Trust, or WRIT. This 3-dimensional retrospective art was commissioned to celebrate the first 50 years of WRIT. The centerpiece is a brass bar reflecting WRIT's impressive Total Shareholder Return. Other 3D items include a bull vs. bear figurine, a gavel, a miniature backhoe and hardhat, and USA, Maryland, Virginia, and DC flags.
NAESP 100th Anniversary
Do you remember your elementary school principal? Studio Director Donna remembers Mrs. Bonna Teichert, Principal of Robert Lewis Stevenson Elementary School; and Office Manager Emily fondly recalls Mr. Harrell. Principals play such an important leadership role in our education system, but they too need support. That's where the National Association for Elementary School Principals steps in, and they're celebrating a century of supporting and advocating for our principals. In their 100th anniversary art, many fun and interesting 3D items are included to help tell NAESP's story. Some highlights are a vintage school desk and modern school desk, a chalkboard, an abacus, a school bus, an old floppy disk computer, crayons, and a globe. NAESP worked with One Of A Kind to create an interactive website with descriptive key to share their story nationwide. Explore the art in detail and click on any item to read about its history and significance to the association.
Fiore 50th Anniversary
One Of A Kind loves telling a good family story. This video highlights a One Of A Kind commission for a family construction company, Leonard S. Fiore, Inc. General Contractor, to honor the founders on the 50th anniversary. Fiore's anniversary art is filled with various 3D items and tools of the industry, including a miniaturized crane, dump truck, golf ball, and pins, along with actual sized tools, hardhat, and gloves at the top. The inverted pyramid shape with rebar at the top suggests Fiore's growth and continued building into a strong future.
The Birthday Gift of a Lifetime
One Of A Kind also creates 3-dimensional art as personal gifts for milestones such as birthdays and weddings: the gift of a lifetime. This video highlights a birthday gift a husband commissioned for his wife. It shares the story of her life, their love, and their family. The blue background simulates water to reflect her love of swimming and other water activities. Lots of fun 3D items were included in this collage: swimming goggles, a trophy, pewter tennis rackets, a passport, a life preserver, a pewter sailboat, shells, a surfboard, a jeep, a basketball, and 3 retriever dogs. A truly unique gift that will cherished for years to come.
For more One Of A Kind videos, check out our YouTube channel: https://www.youtube.com/channel/UCNbbj2WhcPrZBuuEj7bhaZQ/videos