LAWRENCE ROMORINI, ARTIST & FOUNDER
Lawrence Romorini will ensure your One Of A Kind story is never forgotten. Romorini is an artist who creates personalized masterpieces, transforming the everyday into the extraordinary, using multimedia memorabilia to produce a visual 3-dimensional history of an organization or individual. His works are commissioned to mark anniversaries, honor retirements, and chronicle life achievements. Romorini's unparalleled originality, craftsmanship, and service have garnered him the respect of his peers and clients as a premier 3-dimensional artist.
Born in Milan, Italy, Romorini had a fascination with the magic of miniature from the outset, perhaps as a boy spurred by his love for an intricate ship in a bottle his grandfather, a merchant marine, created. Like Romorini's art, the piece is built to last, still on display 100+ years later.
After moving from Italy to New York City, Romorini's reverence for nostalgia and respect for the past served as a compass for his passion, leading him to create meticulously researched and exquisitely designed 3-dimensional commemorative art for entertainers, athletes, CEOs, politicians, corporations and associations.
Romorini credits his time as an art director at the world-renowned communications firm Doyle Dane Bernbach for cultivating his skill to capture a story visually, a talent that would later lead him to become principal of his own advertising agency in Washington, D.C.
In 1985, Romorini founded One Of A Kind Art Studio, with his first commission honoring USA TODAY founder, Allen Neuharth and celebrating USA TODAY's 5th anniversary. Since then Romorini's commissions include 3-dimensional collages commemorating the stories of Oprah Winfrey, Marriott International, the Chicago Bulls and Michael Jordan, American Institute of Architects, Wendy's, Cisco Systems, Southwest Airlines, GE, and the list goes on.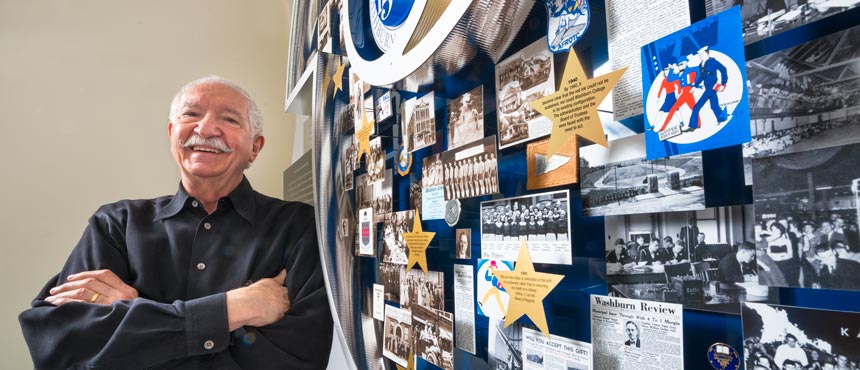 Romorini was honored with a CLIO Award for the groundbreaking creative work in his retrospective collage commemorating the 75th anniversary of the American Academy of Orthopaedic Surgeons. Additionally Romorini shares an Apex Award with the Risk Management Association for lobby art he created to commemorate their 100th anniversary.
When Romorini isn't engaged in the many facets of producing a new collage, he enjoys the beauty of nature in Rock Creek Park, which brings him inspiration. 365 days a year at 6:30 a.m. you'll find him walking through the trails, rain or shine.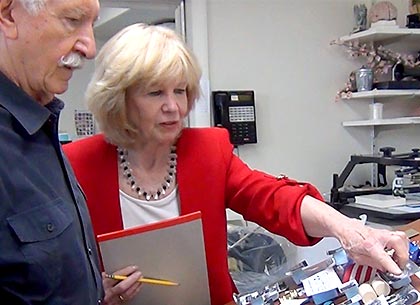 Donna Rome, Lawrence Romorini's partner of over 30 years, is an integral part of the One Of A Kind package. Rome ensures no detail is overlooked as she leads the research and editing for each collage and works closely with clients to meet and exceed their expectations. She interviews as many people as it takes to gather the ideas and memorabilia that will make a collage come alive and achieve its potential. (Oprah Winfrey's collage holds the record, when Rome spoke to over 80 of Oprah's friends and family.)
A founder of USA TODAY as their Director of Newsroom Administration and previously as Chappell Music's International Manager in New York City, Rome brings extensive management experience and an enthusiastic Buckeye spirit to complement Romorini's artistic perspective on each project.