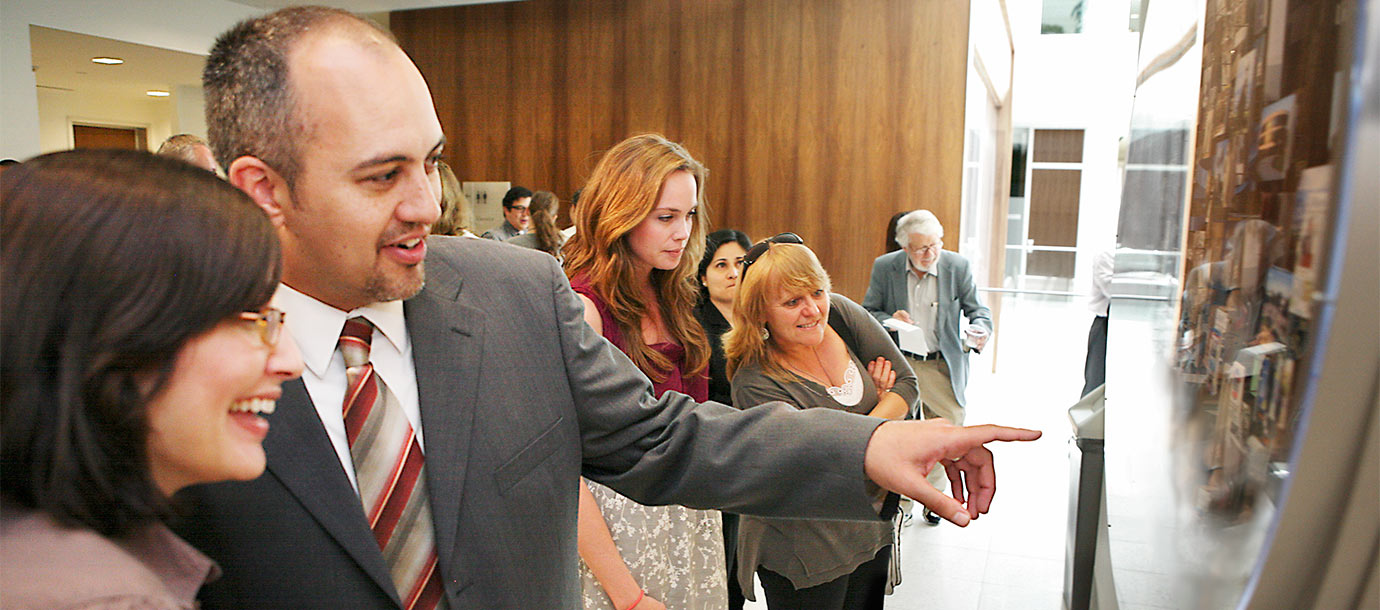 As scientists study how our physical environment affects us, we are learning that the art in hospitals is more important than we ever imagined. There is now a large body of research behind the selection of evidence-based art, this method of choosing artwork focuses on this research and aims to help hospital administrators make decisions that are scientific rather than purely aesthetic. Some visual elements, particularly artwork that includes natural themes and people, have shown to be beneficial to patient recovery and staff morale. Laura Landro explores this idea in an interesting article for the Wall Street Journal. The article looks at ways hospitals are using art to improve patient care and the healing process.
Gone are the days that art is hung simply to fill a space. Multiple studies show that art can help reduce patient stress and improve their perception of the quality of care. According to the Center for Health Design, in their Guide for Evidence-Based Art, "the physical environment is not a mere backdrop for healthcare delivery- it is an integral part of the healthcare experience."
According to the results of a case study done at the Mays Clinic- M. D. Anderson Cancer Center, art within a medical environment serves 6 fundamental purposes. The case study, outlined in the Guide for Evidence-Based Art, was undertaken when the 780,000 sq. ft. center was opened in 2007.

©2013 One Of A Kind, Inc. Art Studio.  Created by Lawrence M. Romorini.  Size of the art: 56″ x 37″ x 6″
1. HEALING: THE RIGHT ART MAKES PATIENTS AND STAFF FEEL BETTER.
It's hard to know why exactly this seems to be true, but studies show that patient hospital stays are shorter, they rate perceived pain lower, intake less pain medication, and their blood pressure and heart rate is improved when surrounded by representational art, particularly art with people and nature themes. In contrast, abstract art or art that is open to interpretation is often rated low in patient interviews. (Ulrich and Gilpin 2003)
One theory from cognitive science is that our perception of art is emotionally congruent. Essentially, we take in information, including visual information, which agrees with our mood. (Bower 1981) When we are in stressful situations, we are more likely to project those negative emotions onto the surrounding environment. Therefore abstract act, or art that is open to interpretation, is more likely to elicit a negative reaction in the hospital setting. (Ulrich 2003) The research makes a strong case for artwork in hospitals that is literal, with themes that are familiar. The Wall Street Journal article touches on this as well, Landro writes, "patients are positively affected by nature themes and figurative art with unambiguous, positive faces that convey a sense of security and safety."
2. DEINSTITUTIONALIZATION: CAREFULLY SELECTED ART CAN MAKE THE HOSPITAL SETTING LESS INTIMIDATING.
As much as 20% of the population suffers from "white coat syndrome", the fear of visiting the doctor, and very few people enjoy the experience of going to a hospital. (Beyond "White Coat Syndrome" Richard Sine)
At Holy Cross Hospital in Silver Spring Maryland, R.N. Rosanna Currie, was standing in front of the One Of A Kind retrospective collage that welcomes visitors in their main lobby. The artwork chronicles the history and the people of Holy Cross Hospital over the past 50 years. Currie was visiting from out of town and at the hospital with her grandson. "It makes me feel like I'm in the right place" she said, "I work in a hospital, it's nice to get a feel for who they are."
3. BRANDING: HOW THINGS LOOK IMPACTS HOW VISITORS PERCEIVE THE FACILITY AND QUALITY OF THE CARE.
Patients in the Mays Clinic case study indicated that the art directly affected their perception of care. Selecting art that is designed with a conscientious focus on this natural correlation can strengthen the hospitals brand perception. Representational artwork that includes elements of corporate storytelling and clearly communicates mission and values is a way that hospital administrators can attempt to influence the perception of their organization.
4. POSITIVE DISTRACTION: ART ALLOWS VISITORS THE OPPORTUNITY TO FOCUS ON SOMETHING OTHER THAN THEIR CONDITION.
Art has always served as a distraction and an escape, but we are beginning to appreciate just how valuable that escape can be in a healing environment. The theory of Attention Restoration suggests that patients that are extremely focused on their situation can particularly benefit from the presence of representational artwork. Representational art is familiar and easily accessible, it reminds patients that they are part of a larger world and it resonates with us, as humans, on a biological level. (Kaplan & Kaplan 1989)
Additional research suggests, "Humans are genetically predisposed to be positively affected by smiling or sympathetic faces." For patients that need to take their mind off of things, including people and stories within artwork can offer a simple retreat when actually escaping the situation is not a possibility. (Ulrich and Gilpin 2003)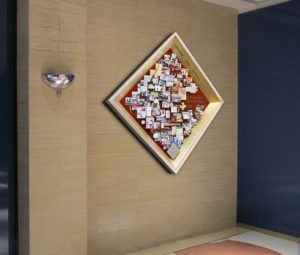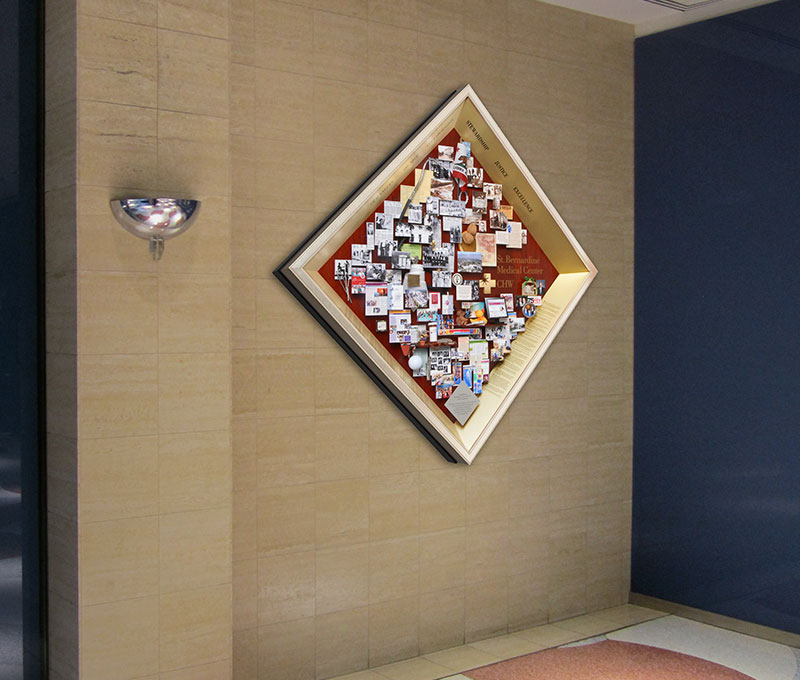 5. DE-STRESSOR: DE-STRESSING IS PARTICULARLY RELEVANT FOR STAFF.
While patients may use art as a way to escape, staff will often visit favorite works of art as a way to relieve stress. The medical work environment can be fast paced and staff members have an enormous amount of responsibility. The artwork can provide staff an opportunity to collect themselves and take a moment to relax.
6. WAYFINDING: ONE OF THE SIMPLEST THINGS THAT ART PROVIDES IN A HOSPITAL IS A LANDMARK.
A hospital can be a large, intimidating place for patients. Prominent artwork can help patients navigate the building more easily, and provides the patient with a sense of familiarity that can be comforting in a new and stressful environment. 
If you would like to read more about Evidence-Based Art, check out the resources below:
• Wall Street Journal: More Hospitals Use the Healing Powers of Public Art
• The Center for Health Design: Guide to Evidence-Based Art
• M.D. Anderson Cancer Center at the University of Texas Case Study: The End of Art for Art's Sake
• Ulrich, R.S., & Gilpin, L. (2003): Healing Arts: Nutrition for the Soul
• Bower, G.H. (1981): Mood and Memory. American Psychology
• Kaplan, R., & Kaplan, S. (1989): The experience of nature: A psychological perspective
Since 1996, One Of A Kind has been privileged to collaborate with over 45 hospitals and medical organizations to enhance their lobbies and honor their leadership. A One Of A Kind artwork offers not only an eye-catching and recognizable piece, but it is also a visual story that highlights the people, community, roots and expertise of the hospital. Our retrospectives are designed to share the hospital's legacy in an inviting and familiar way; each piece is created to inspire the patients and staff that walk the hospital halls each day.
---