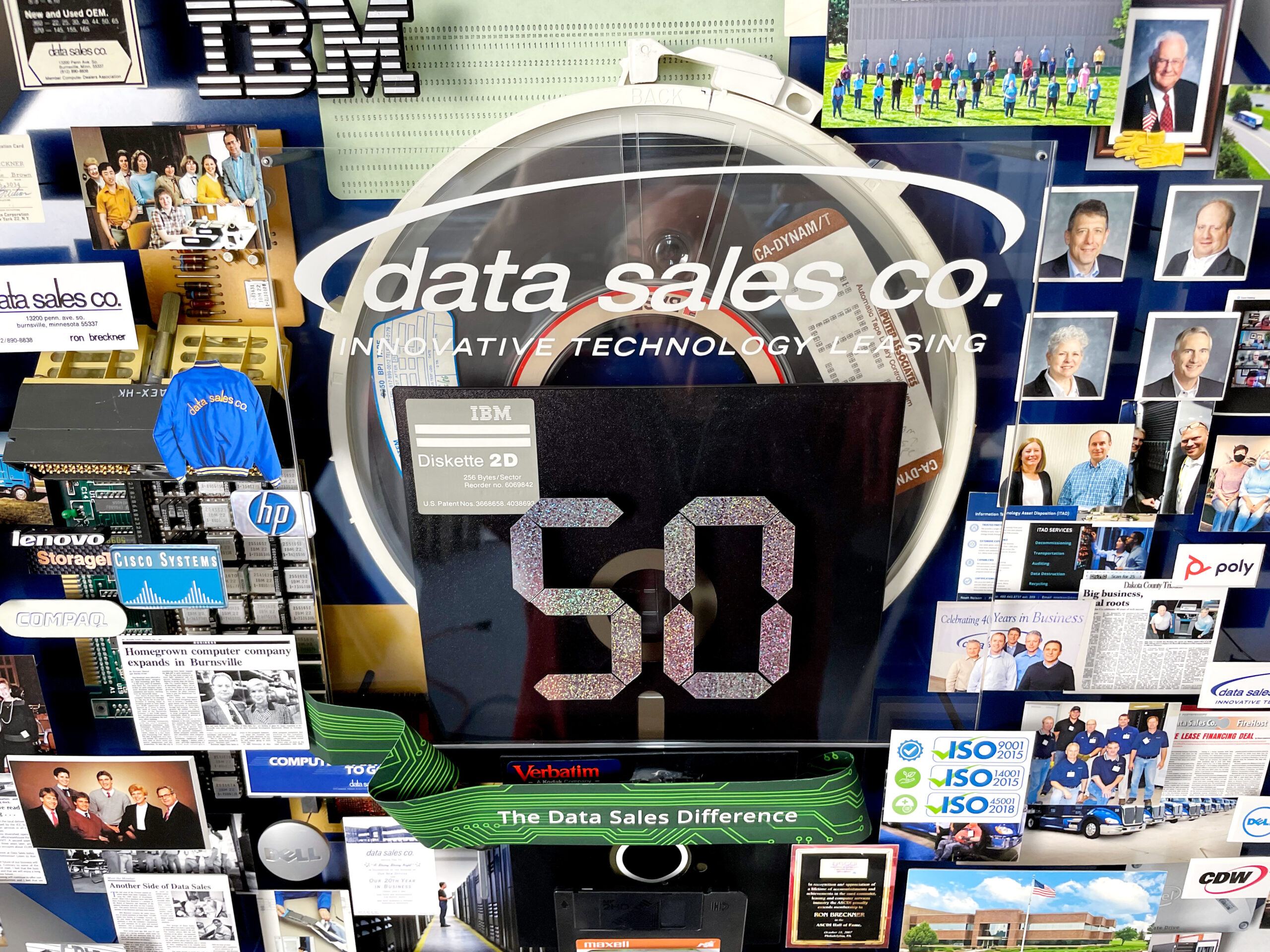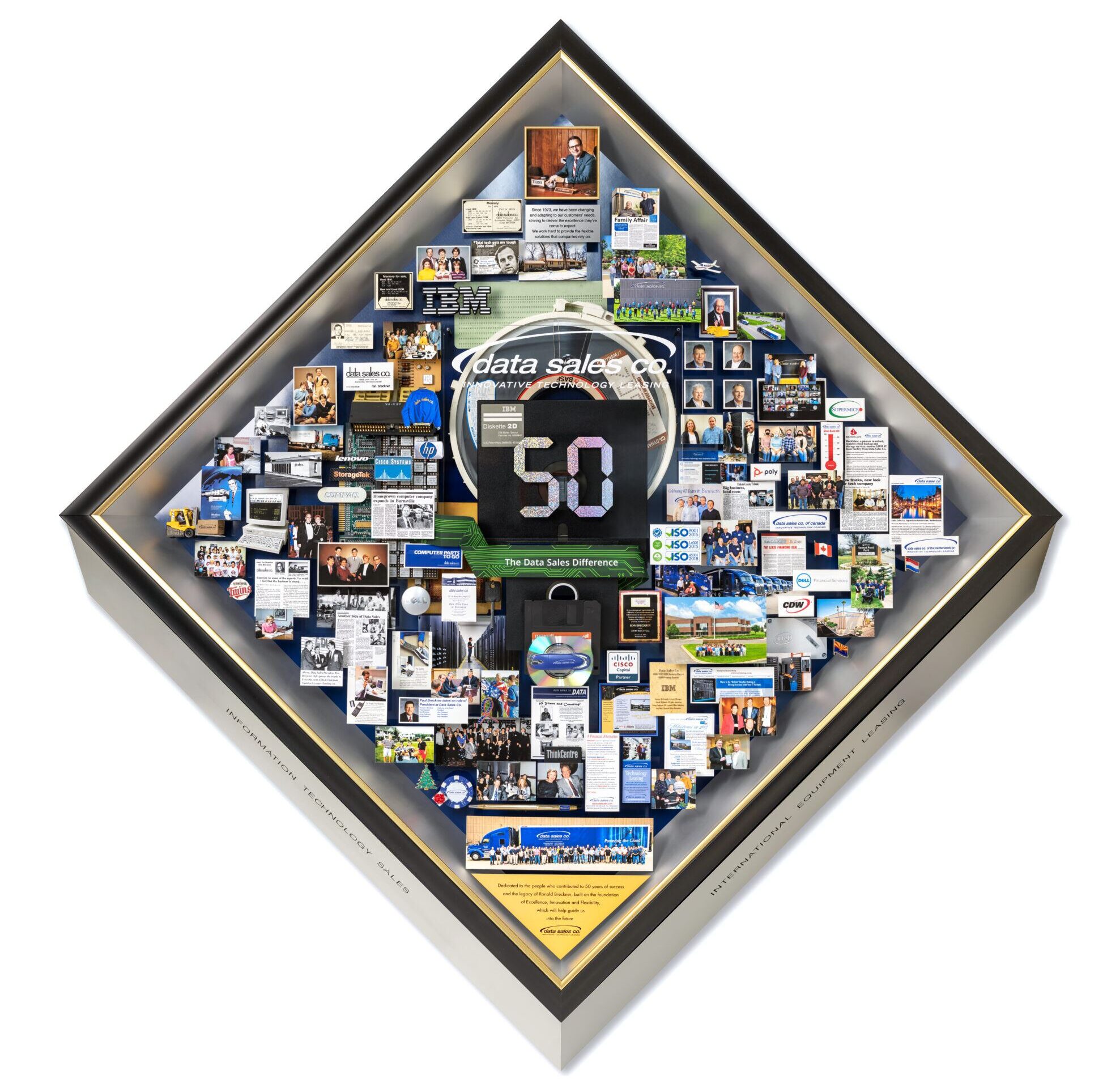 Size of the art: 36″ x 36″ x 4″ square
What began in the garage of a family home on Penn Ave. in 1973, Data Sales Co.'s business has expanded to include extensive IT Equipment Leasing, Products and Services, with partners including Cisco, Dell, Brocade, Ricoh, Xerox and more.
To commemorate their multi-generational, family-company success story, Data Sales worked with Lawrence Romorini to create One Of A Kind 3-dimensional 50th anniversary art. This custom-made art tells the great story of Innovative Technology Leasing with 50 years of strong family leadership. It celebrates Data Sales' history and serves as a lasting legacy to honor their founder.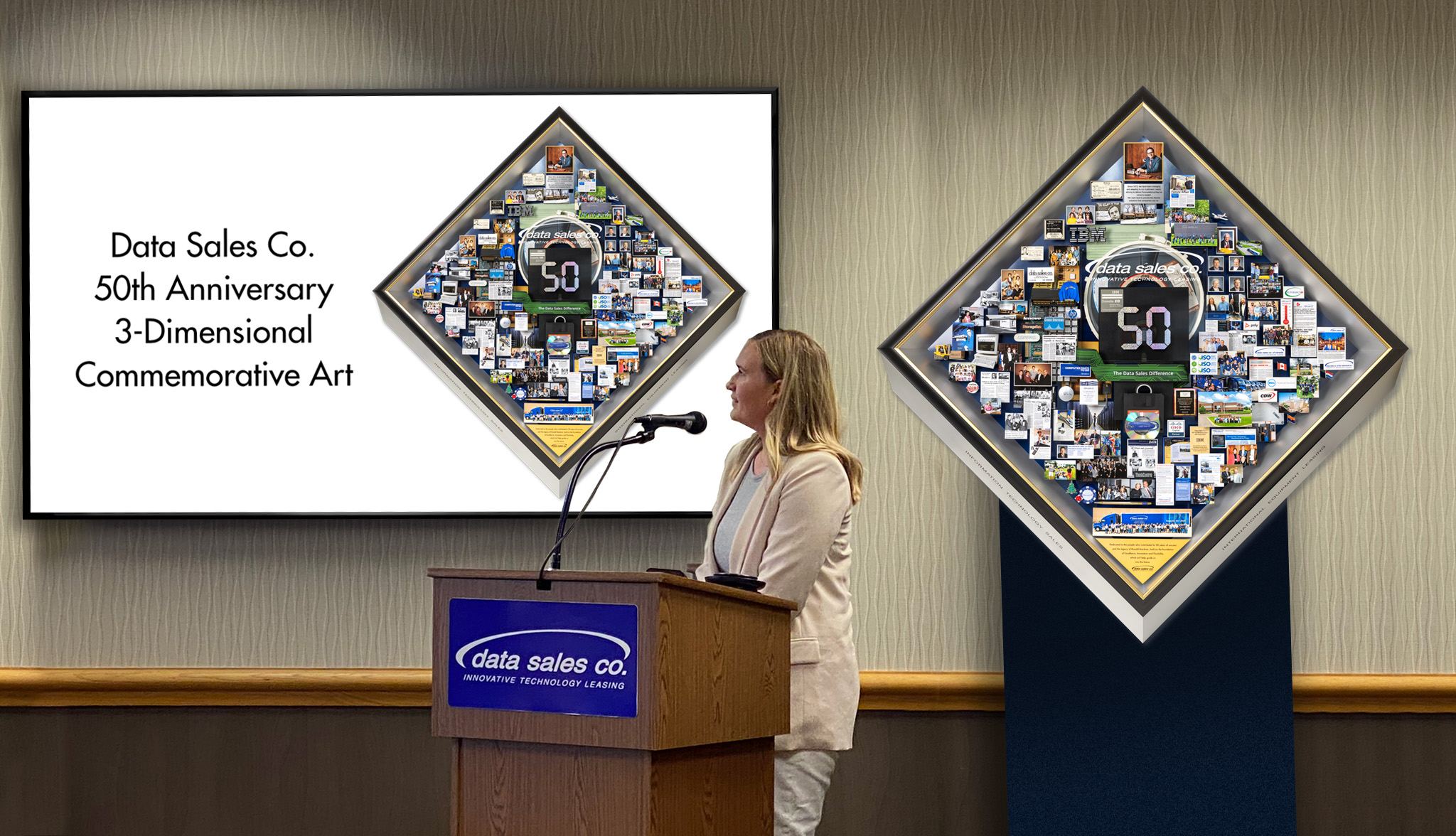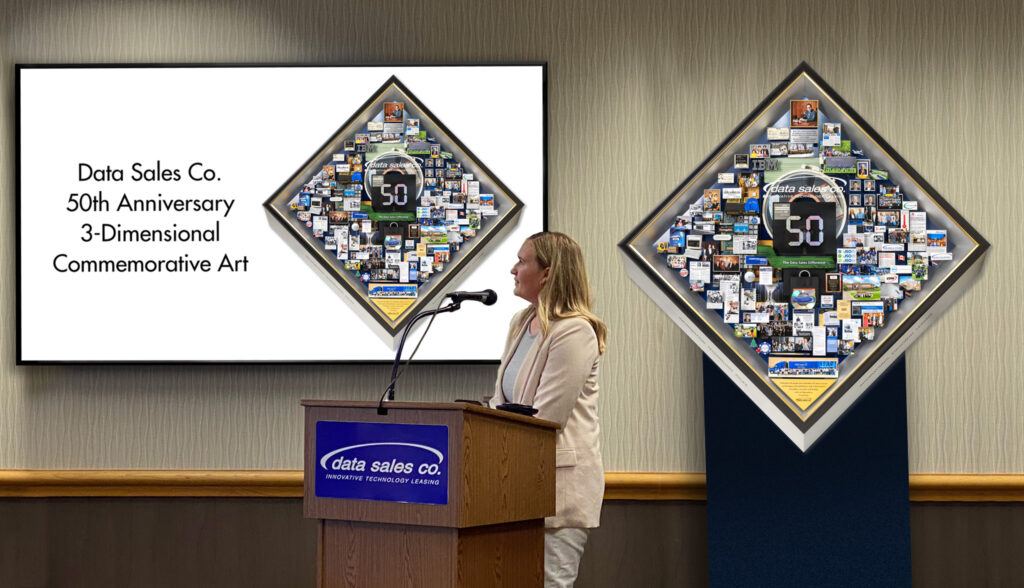 The 3-dimensional art was presented by the 3rd generation at Data Sales' 50th anniversary kick-off event. According to a company family employee who worked closely on the project, "Family members and employees were all thrilled with the art piece! We got so much positive feedback, it really was a special way to commemorate 50 years of history."
The commemorative art design features a digital motif, displaying photos, news articles, 3D items and memorabilia. The Data Sales logo is prominent as the centerpiece, silk screened on clear acrylic and elevated, with a holographic "50" below it. The company's positioning line "The Data Sales Difference" is on a PCB flexible board, wrapping around the computer parts, with the company's services engraved along the bottom two border extensions.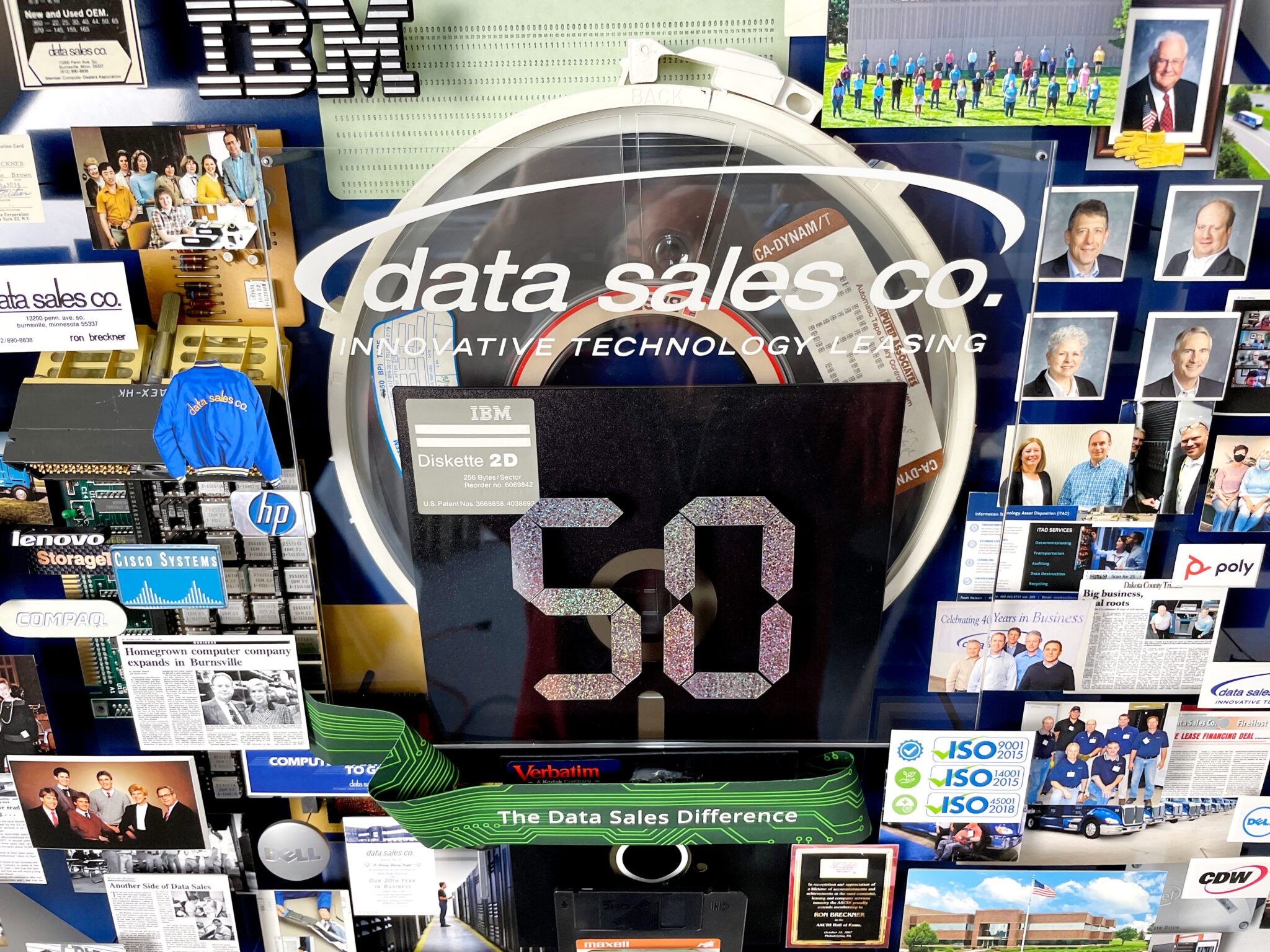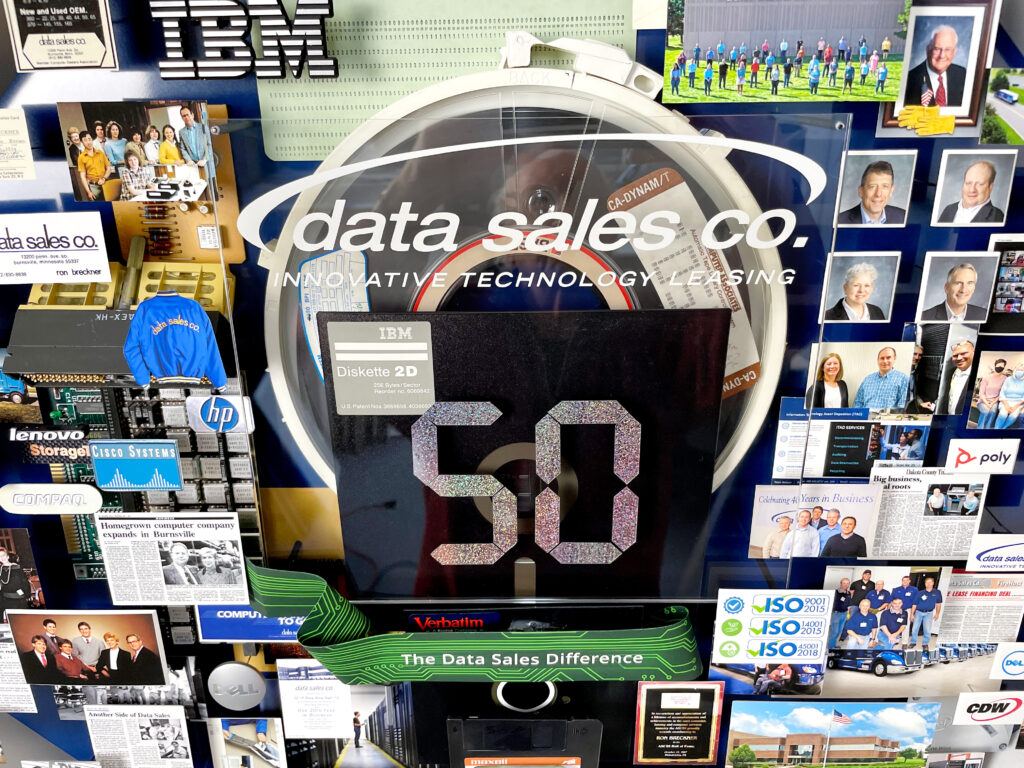 The story begins at the top with an image of Founder Ronald Breckner in a gold frame and an explanatory "In the beginning…" paragraph. It flows counterclockwise to present day with portraits of the current leadership. In the early years a miniature forklift carries boxes with a picture of the founder behind the wheel, along with a vintage '80s computer monitor displaying a report on the screen.
The evolution of data storage technology is shown with actual 3D items and miniaturizations: starting with a magnetic tape unit, and then progressively overlapping with an 8-inch floppy disk, 5 ¼ -inch floppy disk, 3 ½ -inch floppy disk, a CD (miniaturized), and ending with a present day USB flash drive.
Other 3D include a miniature Christmas tree, a wrapped present, a service pen, and a Data Sales poker chip displayed next to a company Christmas photo. Flag pins for Arizona, the Netherlands, and Canada are next to their respective Data Sales logo or building location. Also included is a Beechcraft Bonanza pin, and a 9/11 pin near the flag photo.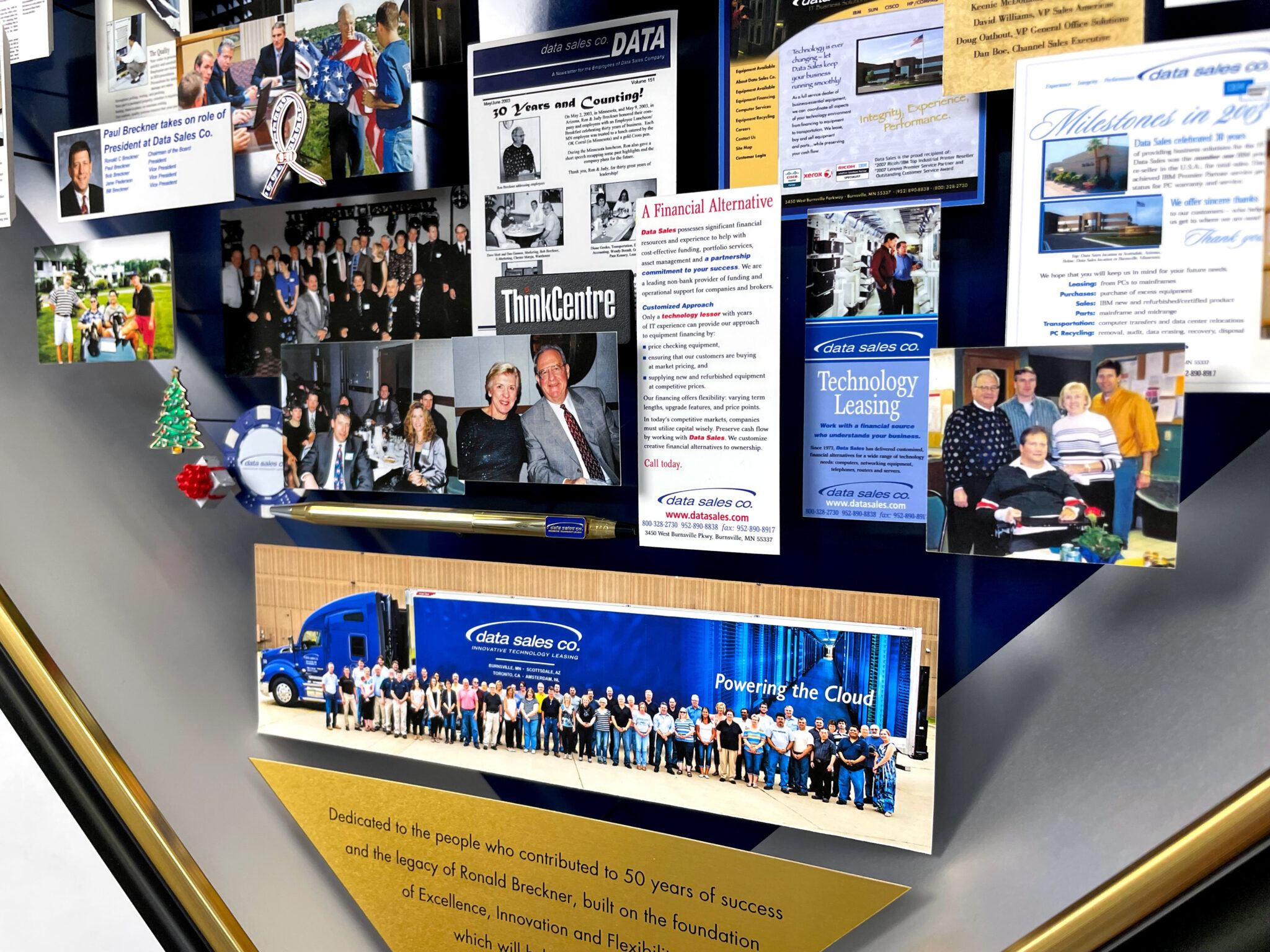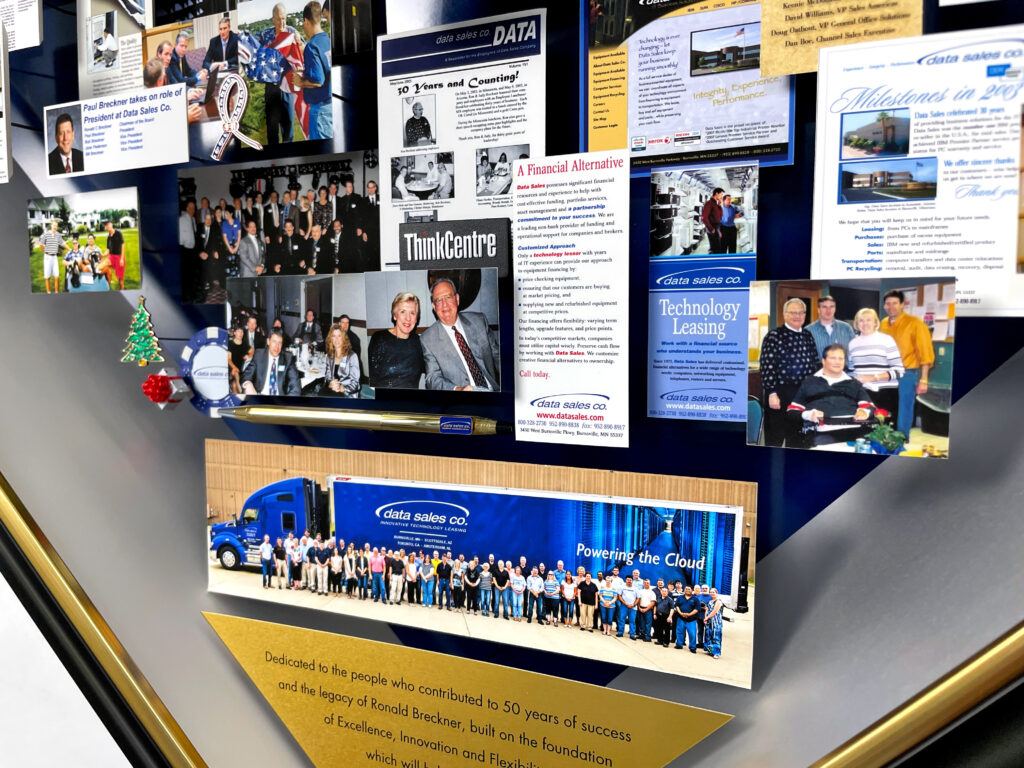 We so enjoyed working with Data Sales and are beyond thrilled that their 50th anniversary art was a hit! Check out their recommendation for One Of A Kind on LinkedIn and Facebook: "A+++ team at One Of A Kind, Inc. Art Studio – It was a pleasure working with Donna and Lawrence. From the communication to the creativity, they provided a fun, collaborative experience that resulted in a cherished art piece to celebrate the 50th Anniversary for our company."
Milestone anniversaries provide an exciting, unique opportunity to commemorate the past, celebrate the present, while looking to the future. To discuss the possibilities of creating One Of A Kind 3-dimensional art for your own company, contact Donna Rome: [email protected] or 301-495-3361 ext. 102.