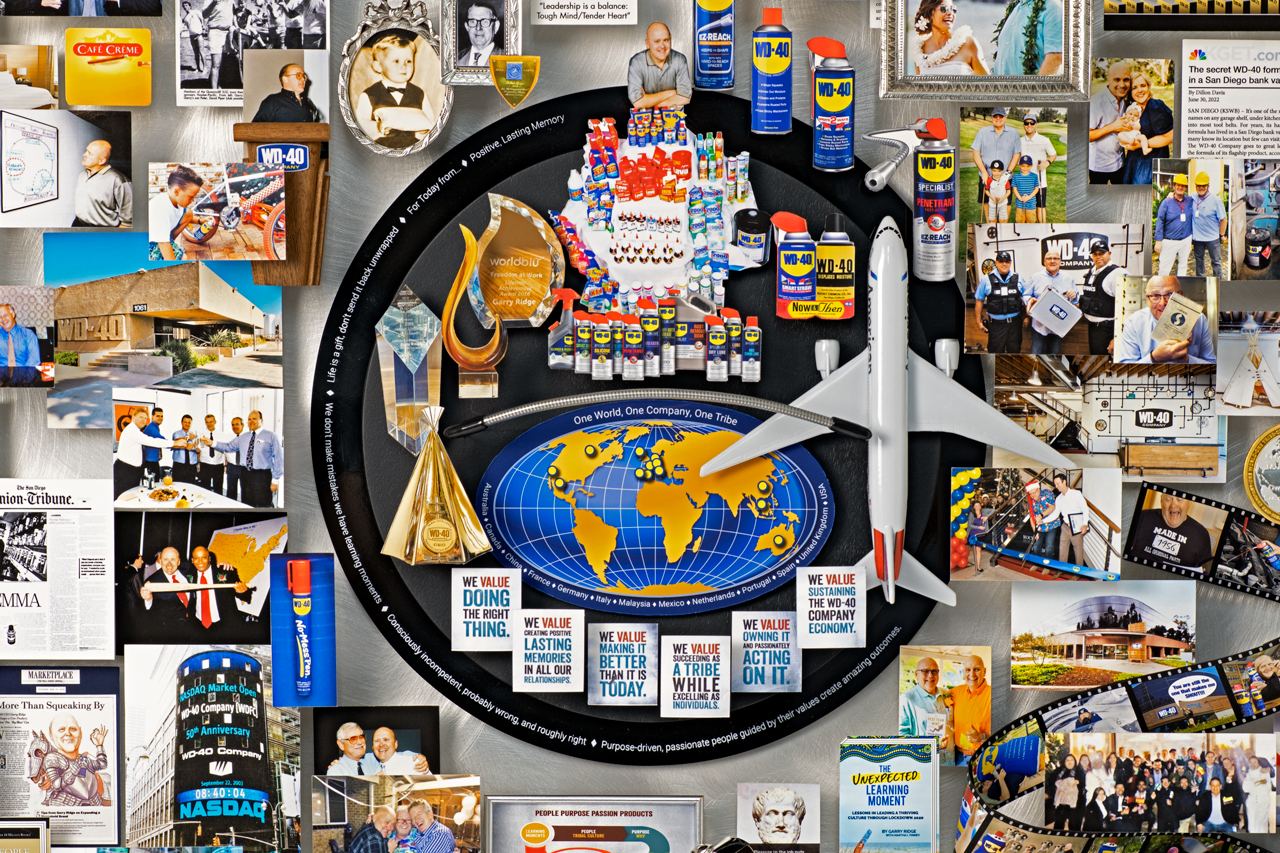 A One Of A Kind Retirement Gift for the CEO of WD-40, An Iconic Product with 2000 Uses
WD-40 Company honored their long-time CEO with a One Of A Kind retirement gift: 3-dimensional commemorative art. The custom-made art is as unique as its recipient, capturing Mr. Ridge's life and career with WD-40 in an extraordinary way.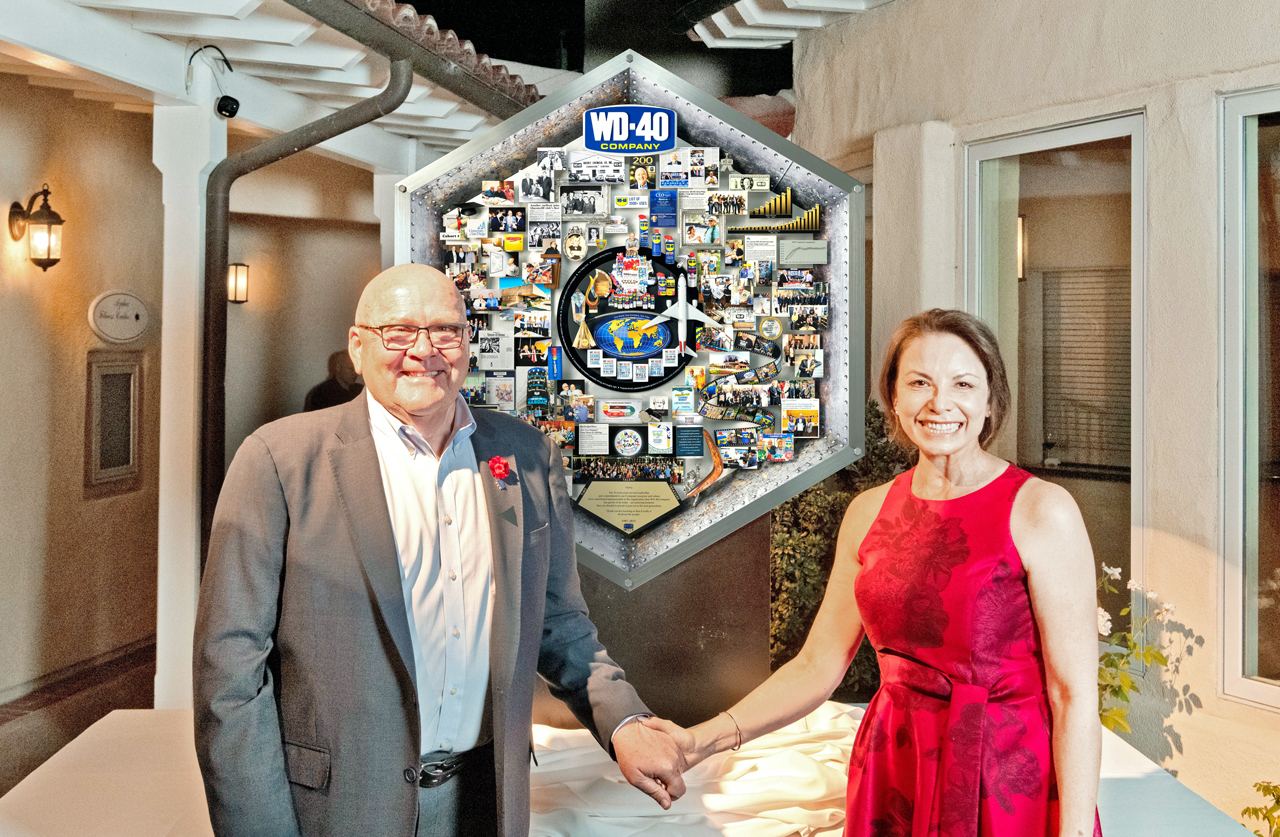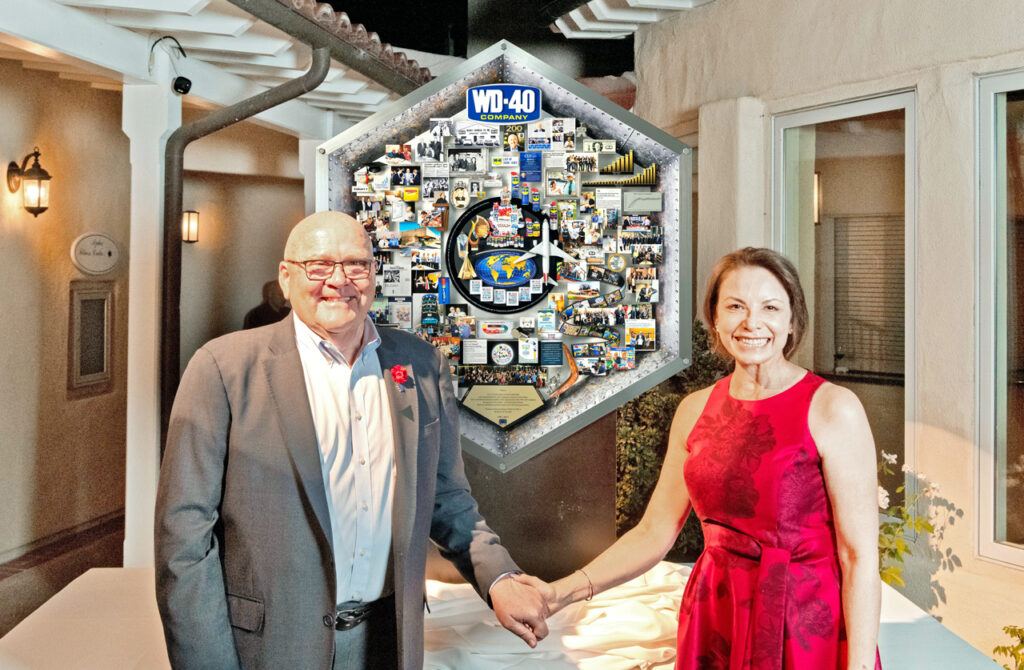 To symbolize a hex nut, the art is designed in a hexagonal shape with a brushed stainless steel frame face and sides. The inner slanted sides have a rust patina finish, and a brushed metal pattern background that creates metallic reflections. The UV acrylic covering the art is fastened with bolts.
The story flows counterclockwise from the top left, and features photos, news articles, and 3D items. At the top is the WD-40 logo made in 3D. At the bottom is the dedication plaque with Time – Talent – Treasure in the border.
Featured in the center is a globe highlighting WD-40's locations, surrounded by various WD-40 products, the Company's Values, and awards. Two bar graphs show the increase in revenue and share price during the CEO's tenure, along with a line graph showing employee engagement, reflecting WD-40's people-centric culture.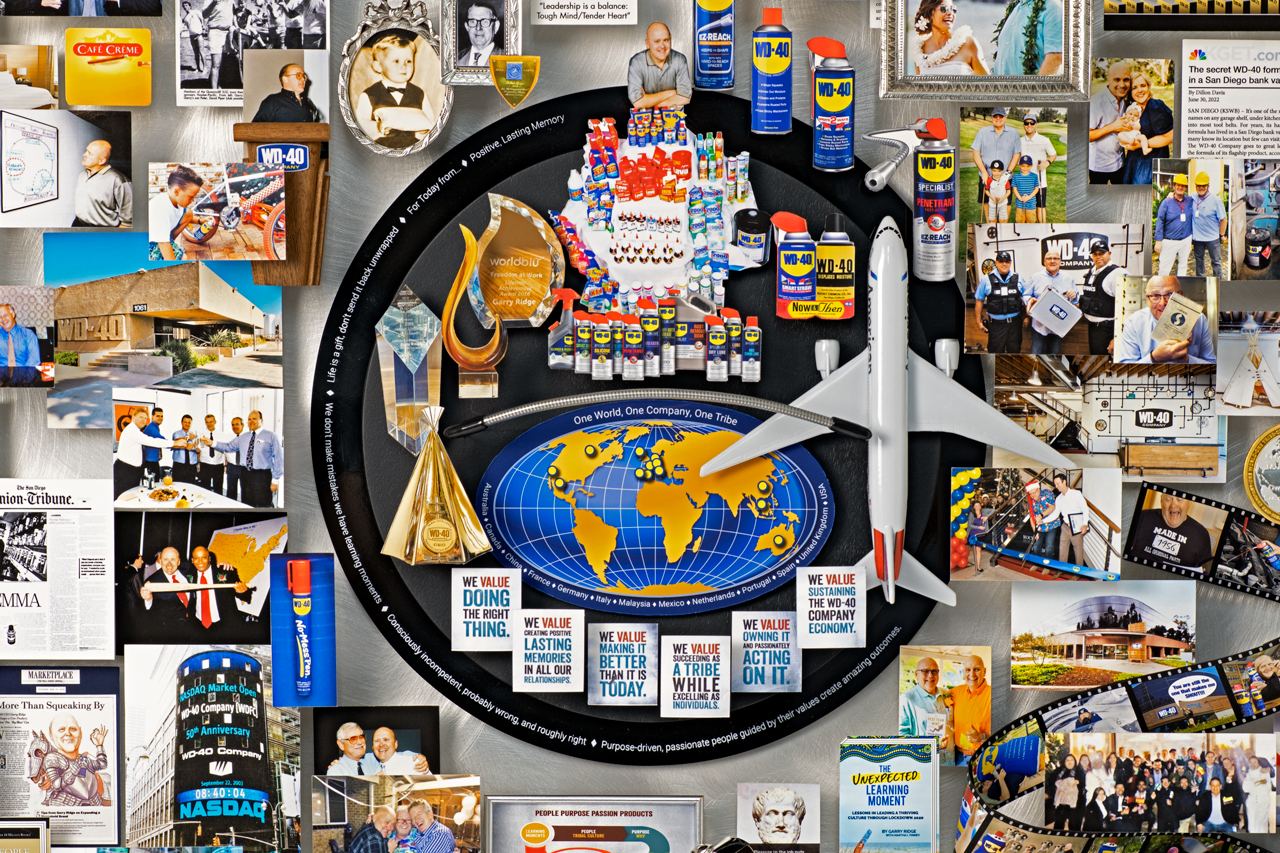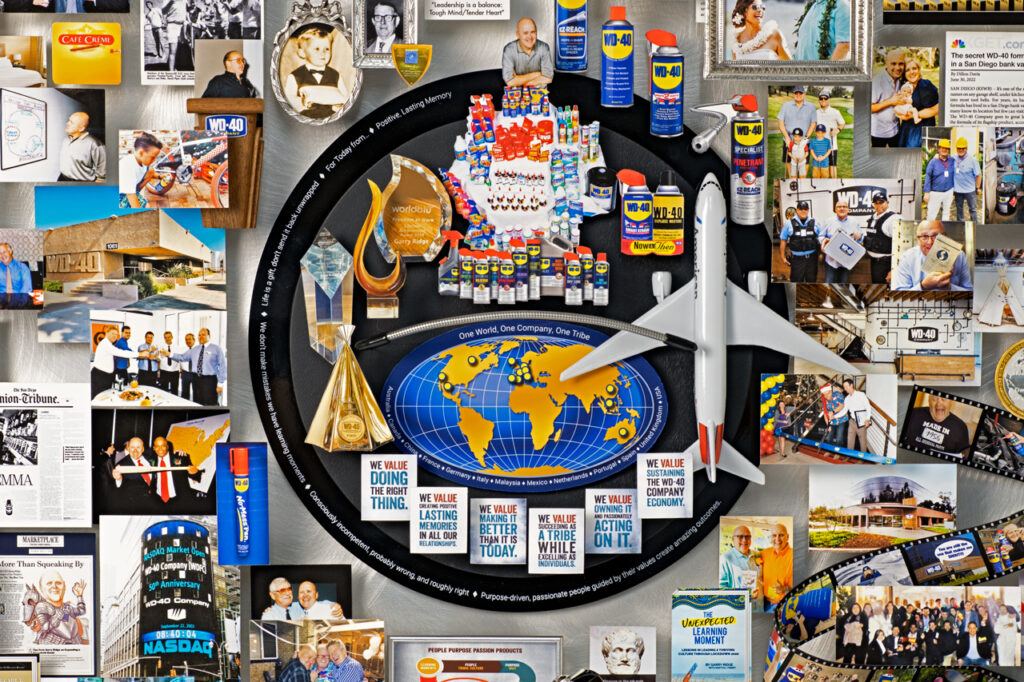 Miniature pewter frames display photographs of important people in the CEO's life. Other 3D include a miniature podium, a University of San Diego vignette with a miniature graduation cap and diploma, a coach's whistle, a miniature boomerang, and a "cheers" pin. The CEO's 3 publications are displayed as miniature books.
A filmstrip ribbon winding through the art highlights moments from a video that showcases the CEO's infectious spirit and sense of humor.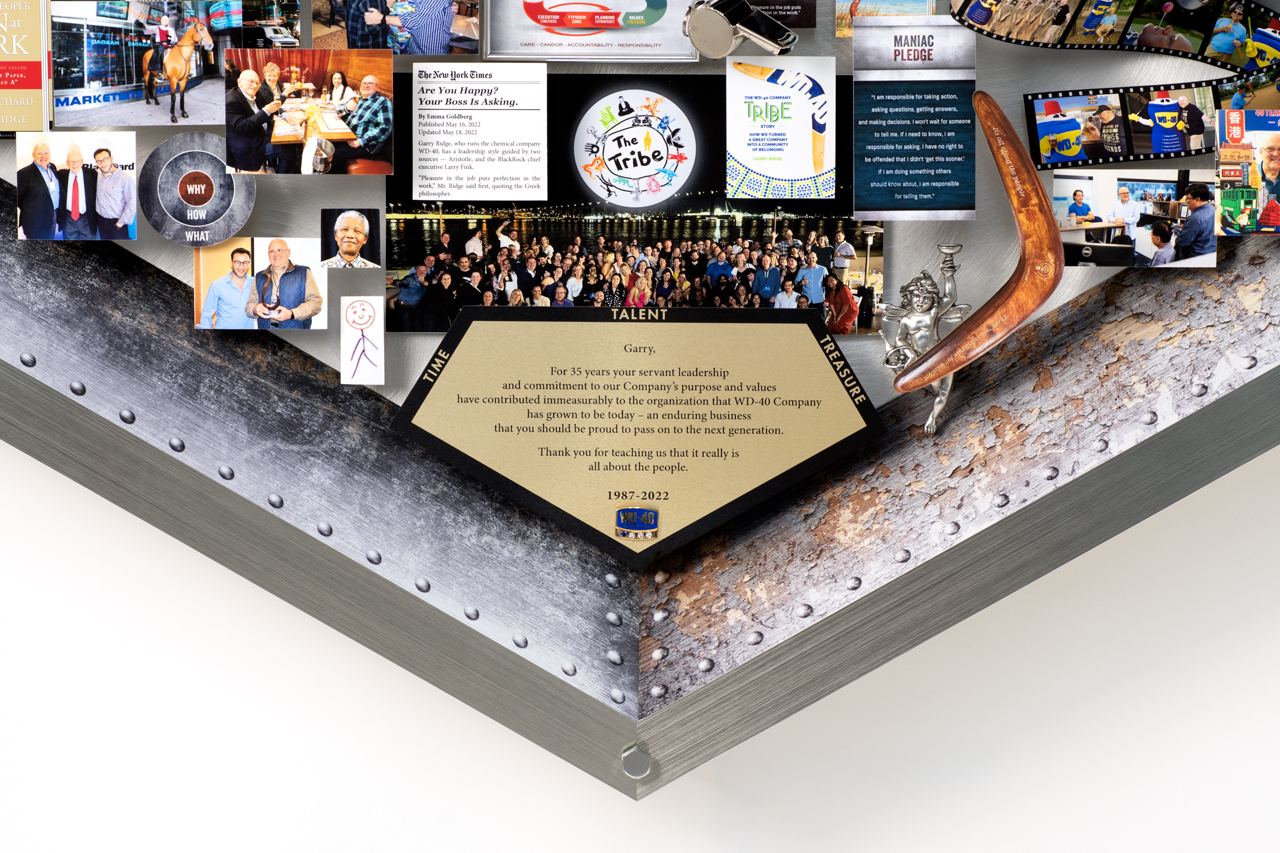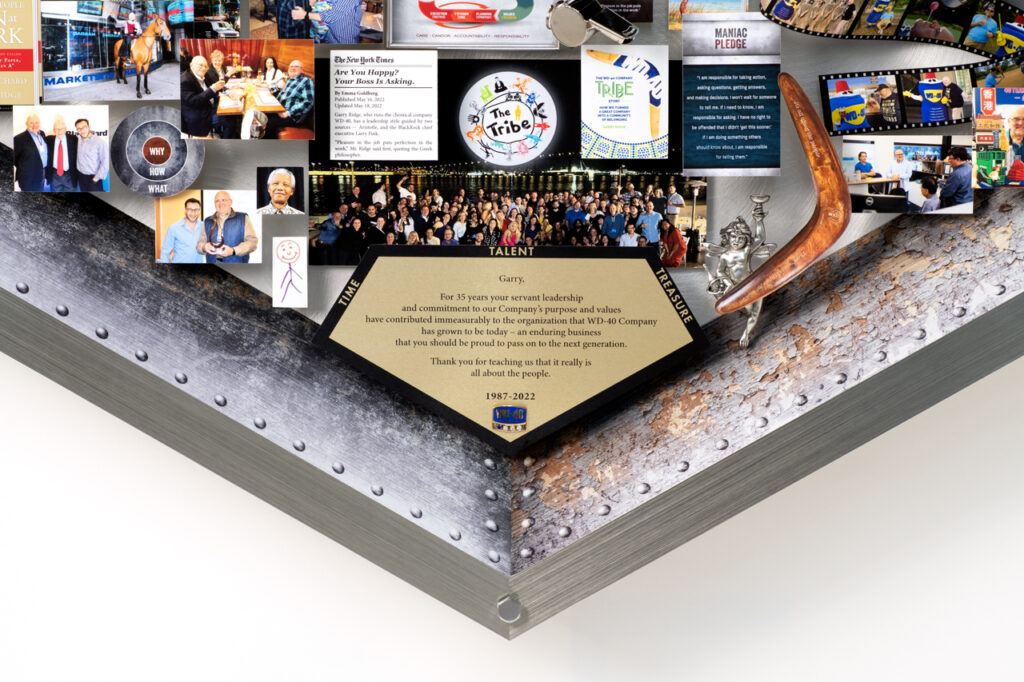 The heartfelt dedication reads:
Garry,
For 35 years your servant leadership
and commitment to our Company's purpose and values
have contributed immeasurably to the organization that WD-40 Company
has grown to be today – an enduring business
that you should be proud to pass on to the next generation.
Thank you for teaching us that it really is
all about the people.
1987-2022