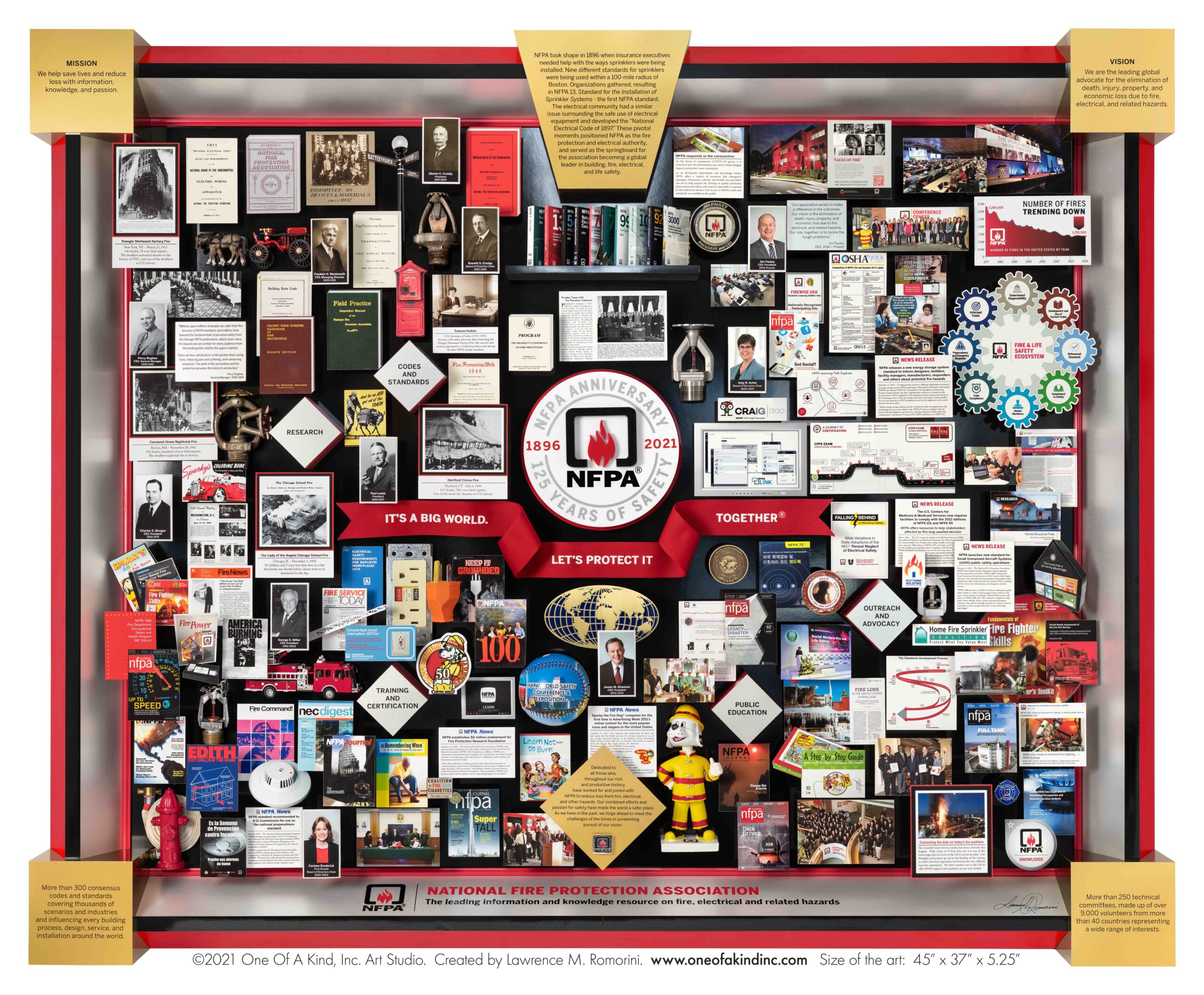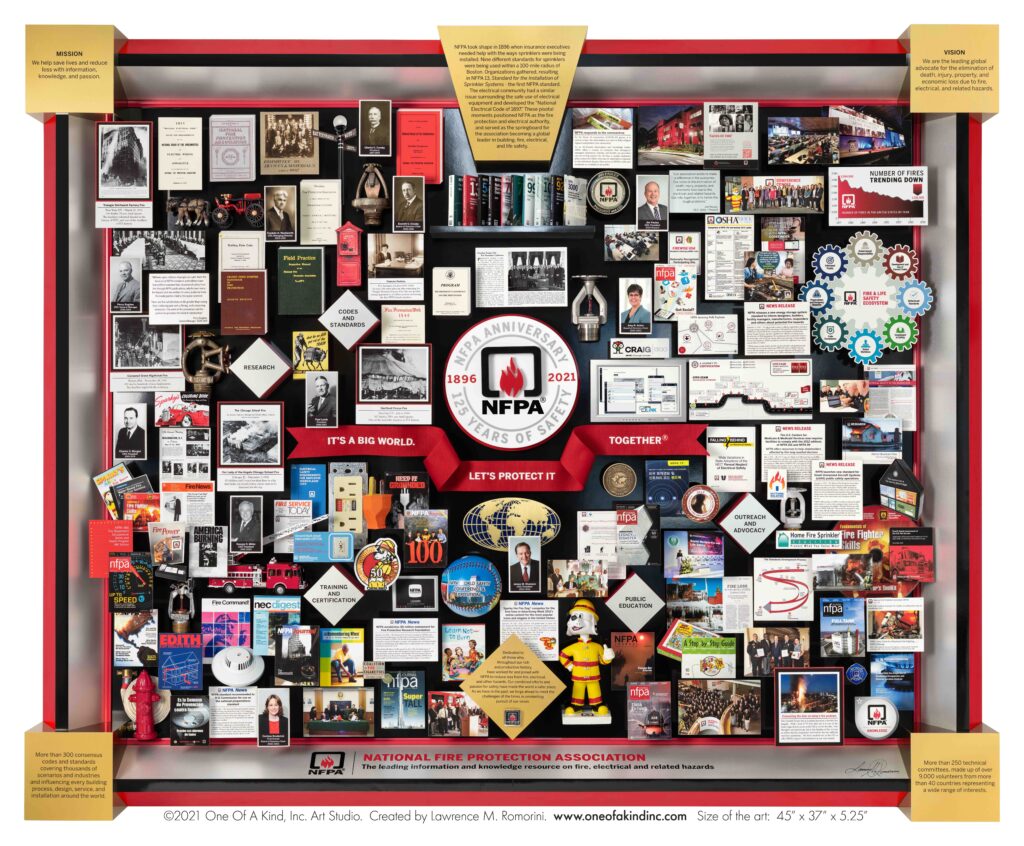 The National Fire Protection Association is celebrating its 125th anniversary! Born out of need for a single fire sprinkler standard in 1896, the NFPA is now the leading information and knowledge resource on fire, electrical and related hazards. To commemorate their rich and fascinating history, NFPA worked with artist Lawrence Romorini to create One Of A Kind 3-dimensional anniversary art, along with an interactive website feature and descriptive key to share their story globally.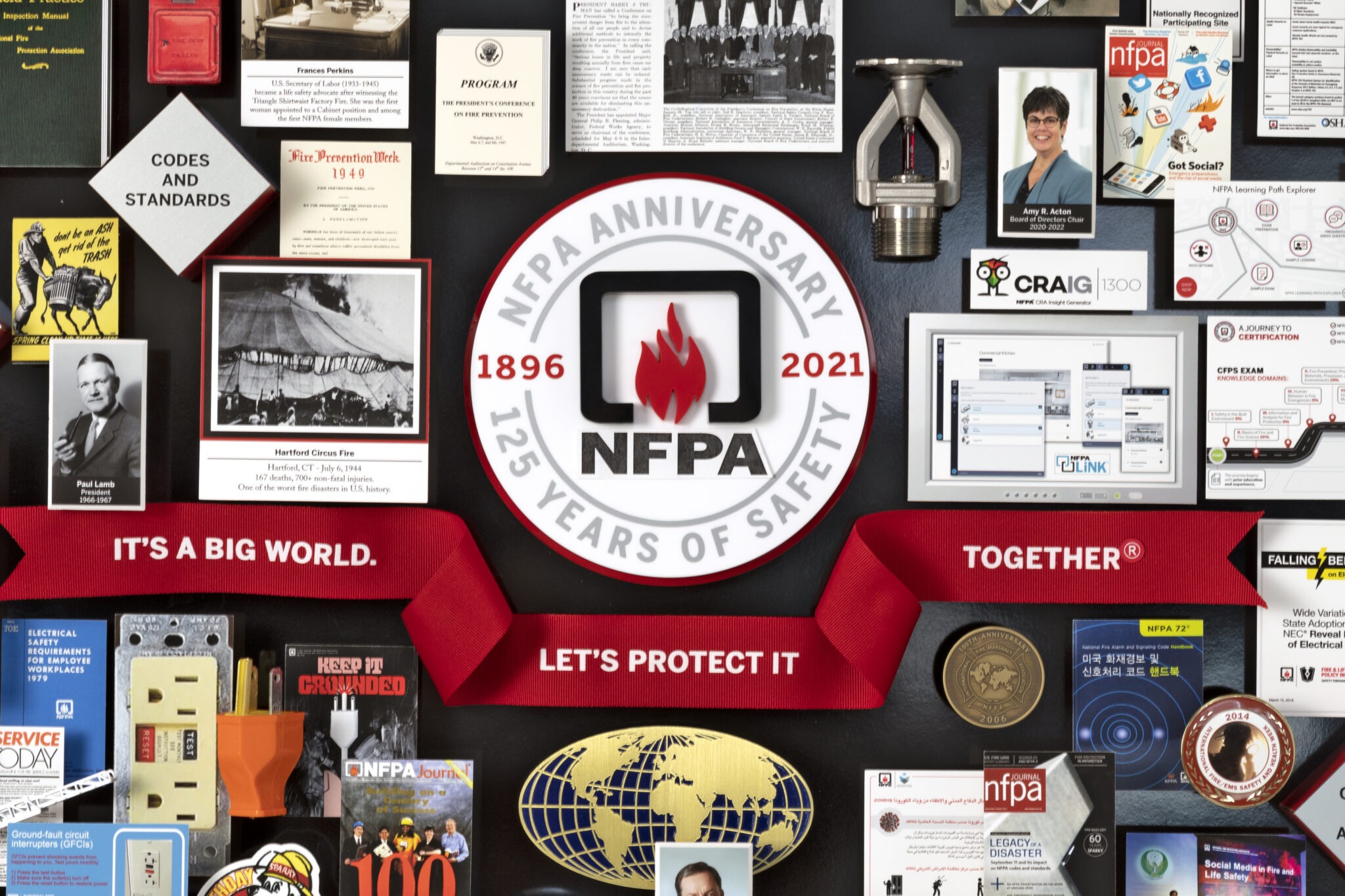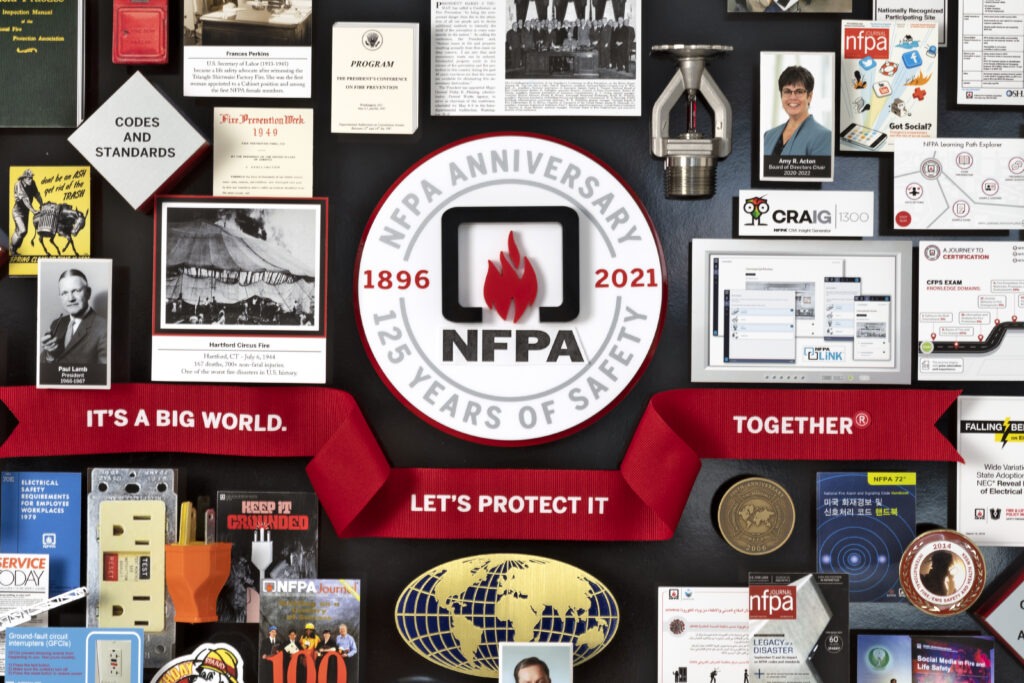 NFPA's 3-dimensional art has a contemporary design to feature the 125th anniversary logo, created in 3D, in the center on a black structure. A silver and red frame surrounds the art, with four brass cornerstones that communicate NFPA's mission, vision, and impressive statistics.
The NFPA story starts at the top center with a brass keystone describing the organization's founding in 1896. Continuing counterclockwise, the 125-year story is told through miniaturized photos, publications, and memorabilia, along with many fun and interesting 3D items. The benefits of NFPA to the world are photoengraved on silver diamond cubes, and a red ribbon flows through the center with NFPA's tagline: IT'S A BIG WORLD. LET'S PROTECT IT TOGETHER.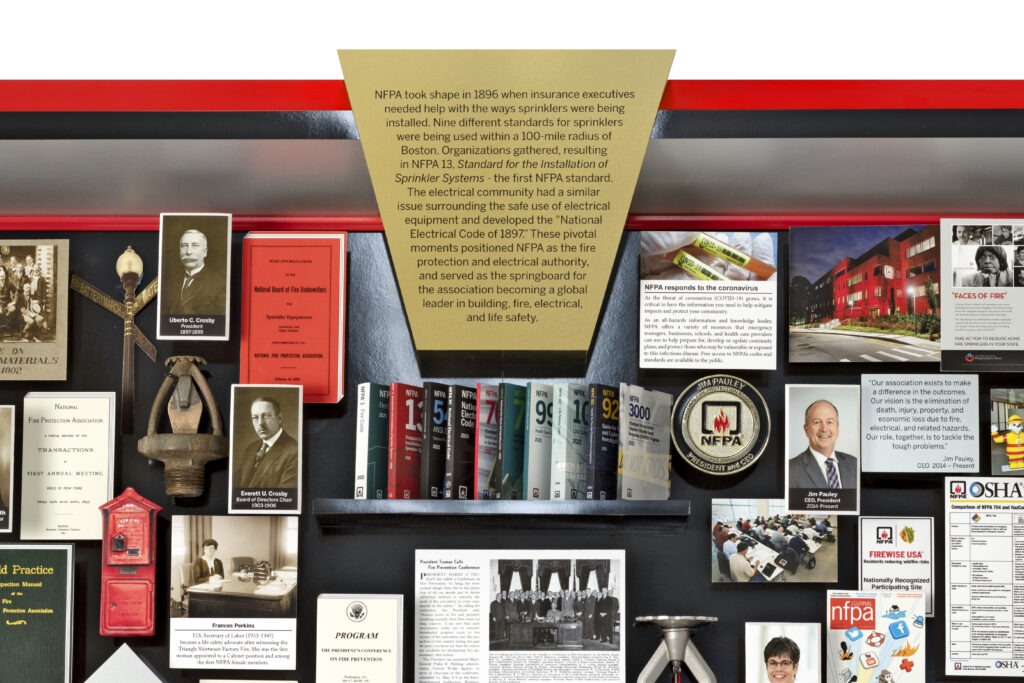 3D items representing the industry include a vintage firetruck with horses, a fire alarm box, a fire hydrant and hose, a contemporary fire truck, a 3 prong plug, and 5 actual sprinklers from 1896 to current, including a residential sprinkler. A shelf at the top showcases 9 miniaturized books featuring the covers of different NFPA codes and standards. Other 3D items include a vintage street pole with signs, a baseball, DVD, various medallions and lapel pins, and a miniature computer monitor featuring NFPA LiNK on the screen.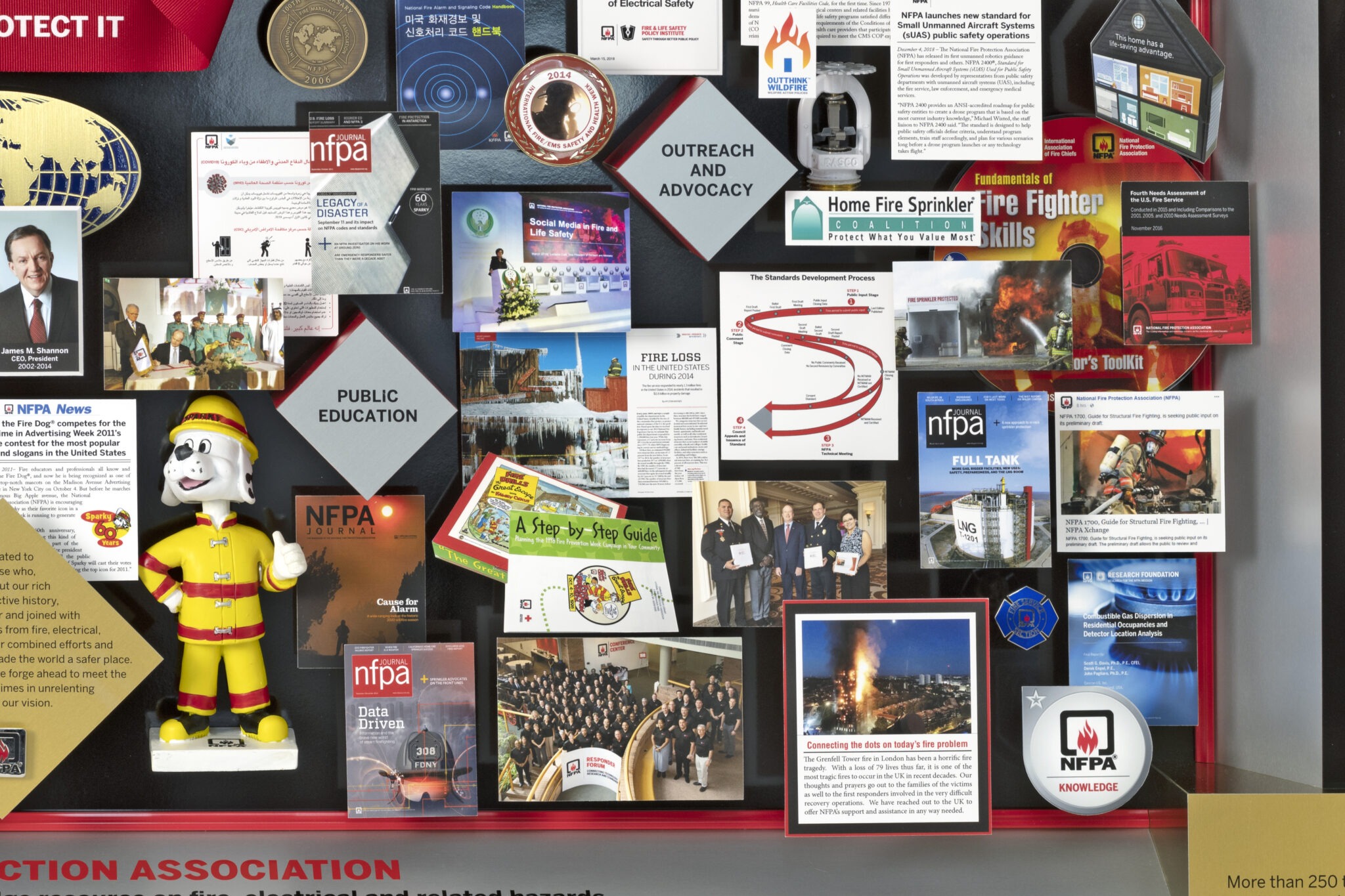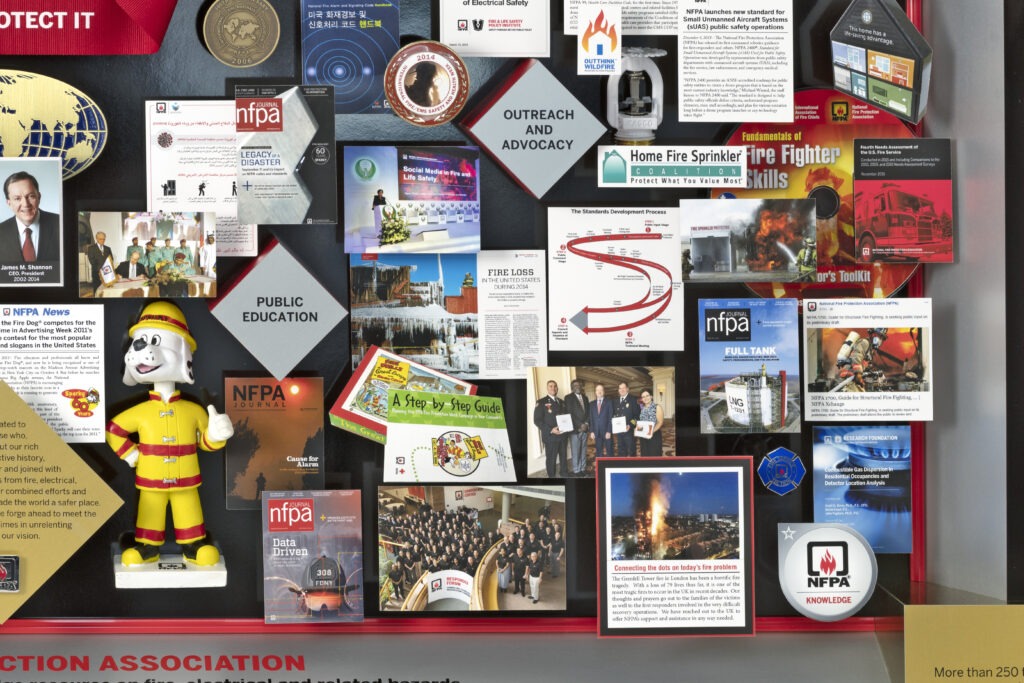 And of course, NFPA's mascot Sparky is prominently represented. A Sparky bobble head features him in his iconic fire service outfit, along with other Sparky memorabilia. Coincidentally, Sparky is also celebrating a birthday this year. Happy 70th to Sparky!
As part of the celebration, NFPA launched a virtual 125th Anniversary Conference Series. Showcased on the homepage is their One Of A Kind 3-dimensional art with a link to the interactive website with descriptive key. This feature has been a huge hit and a great way to share NFPA's 125th anniversary story during their virtual conference.