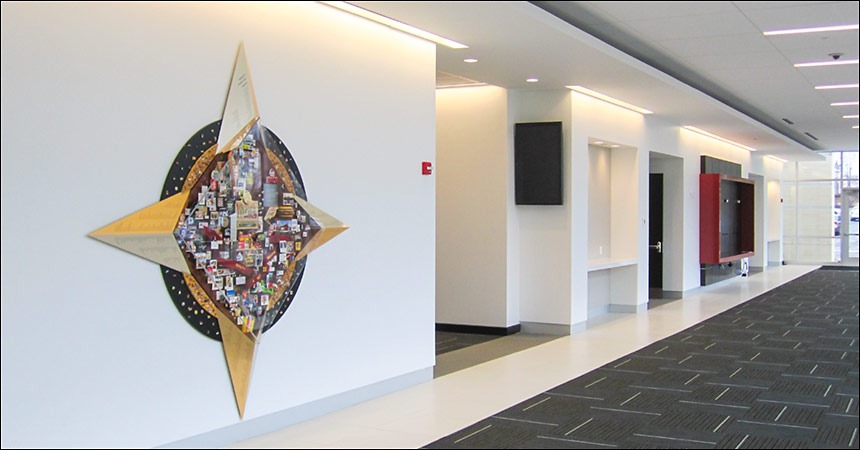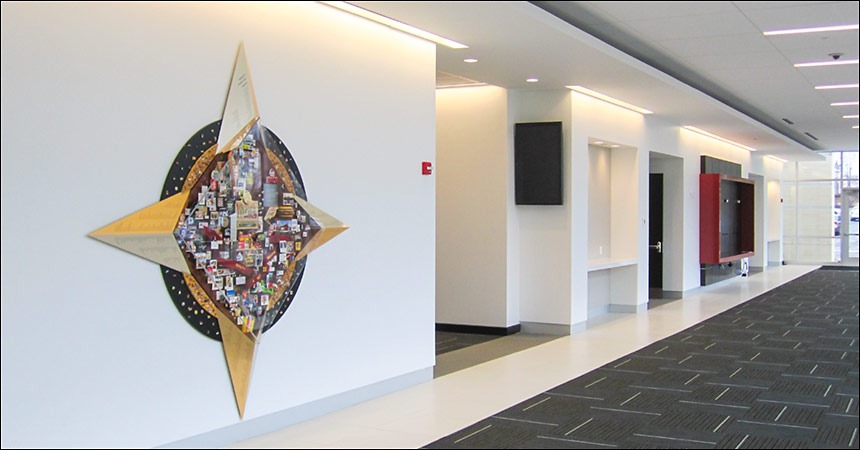 It's Founder's Day at Wendy's International, honoring Dave Thomas. Lawrence and I remember well when the international fast food restaurant chain approached One Of A Kind to create 3-dimensional commemorative art celebrating their first 25 years. In 1993, Denny Lynch, Wendy's SVP, Corporate Communications, and Kitty Munger, Director of Communications, first traveled from Dublin, OH to One Of A Kind to see examples of 3-dimensional commemorative art. Dave Thomas was Chairman, Jim Near was President/CEO, and Wendy's 25th anniversary was approaching.
So began a creative collaboration that endures today, memorialized by Wendy's 3-dimensional commemorative artwork. The art has been updated three times and is installed in the Dave Thomas Conference Center, located at Wendy's Dublin headquarters.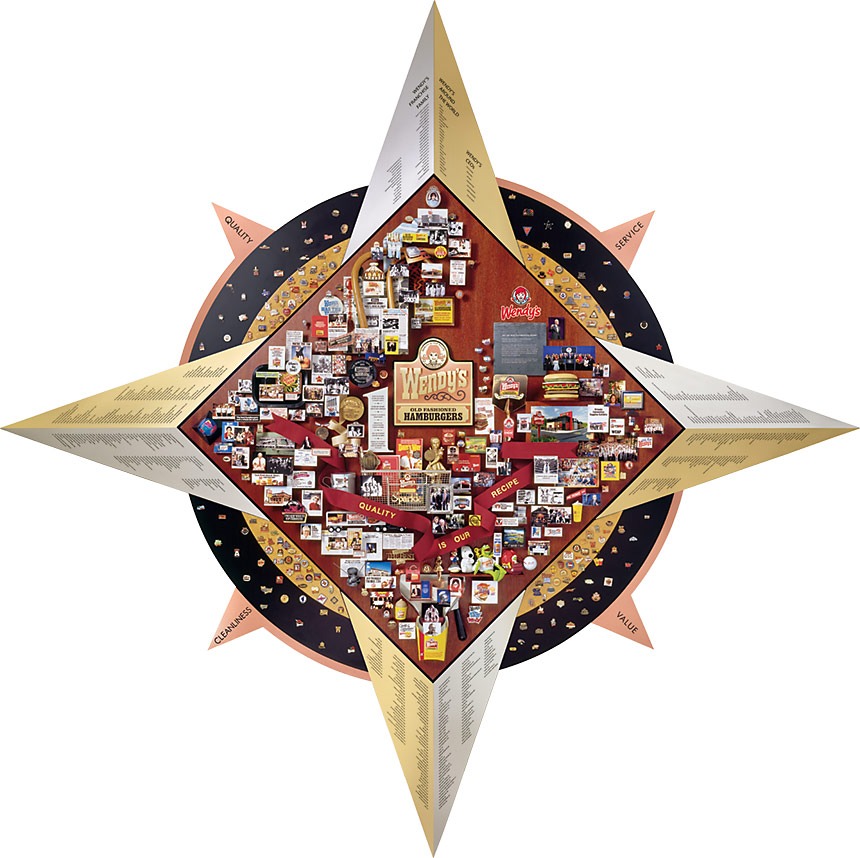 9 feet x 9 feet x 8"
The initial commission was 3-dimensional lobby art celebrating the first 25 years of Wendy's International. Denny and Kitty wanted an original, meaningful way to showcase their history, people, innovations, growth, ads, memorabilia and accomplishments in Wendy's lobby, as well as personalized tributes for Dave Thomas and Jim Near. We brainstormed with Denny and Kitty on iconic images and 3D items to go into each collage–and what wonderful treasures they had! Into the lobby art Lawrence was able to incorporate a piece of the first hamburger grill, '70's beads, a retro tabletop design and the back of a bentwood chair–symbolic of early Wendy's restaurants. Dave Thomas' vision, values and leadership, of course, were the big story. He was indeed one-of-a-kind.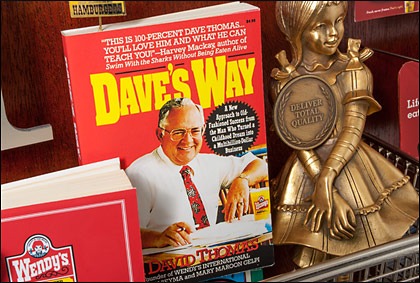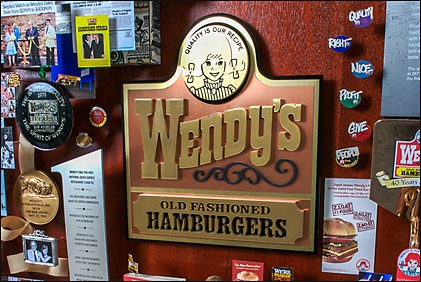 Lawrence created the overall design to suggest the Wendy's hamburger (square: "We Don't Cut Corners"…), with compass points to commemorate Wendy's growth, values and the names of CEOs and franchisees. From Denny came the original idea: "Why don't we put lots of Wendy's commemorative lapel pins on the 'bun' portion of the art–like sesame seeds?" It worked beautifully!
Later, after the art's presentation during Founder's Week 1994, Dave Thomas wrote us, "I know Wendy's employees, franchise owners and guests will admire the collage for many, many years to come."  As Wendy's celebrates their 52nd anniversary, we're pleased to know that's what continues to happen.
When we returned to Wendy's headquarters to update and install the art, Lawrence and I were glad to see that among the exciting changes, the Founder's Values are still at the heart of Wendy's. And at the entrance door you can't miss the longtime slogan: "Quality is Our Recipe." For sure!