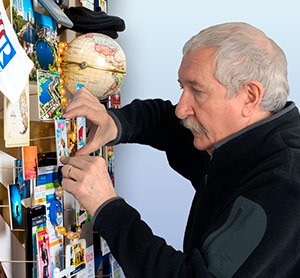 Discovery
Arts, sports, science, dance, engineering, music, cooking, film, technology – our lives are rich with so many wonders that we have brought into our cultures. But these ideas, items, and inventions weren't always a part of our world, and they definitely didn't start at the level we experience them now. The beauty about humans is we have the discoverers and the pioneers; and then we have "masters" who take an idea and develop it to its greatest potential.
The concept of a shadow box is no different. The term shadow box, with the first known use in 1891, refers to a display case with an enclosed glass front that contains objects presented in a thematic grouping. The positioning and different depths of the objects create a dramatic visual effect. It offers a great way to preserve while still enjoy viewing memorabilia.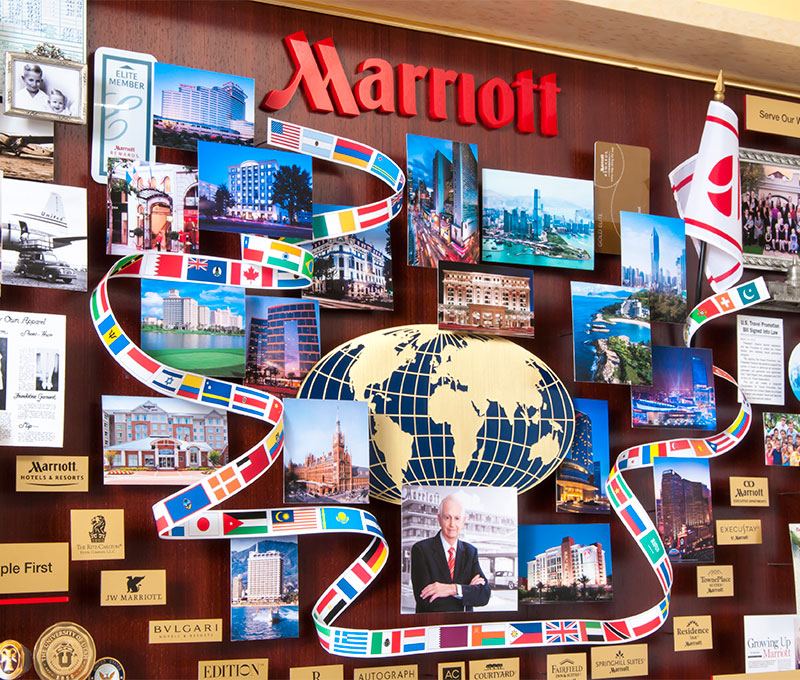 One of the earliest uses for a shadow box that is still a tradition today is the military shadow box. Presented to members of the military, especially upon retirement, these shadow boxes contain items such as a person's awards, medals, country flag, military service branch flag, and badge of rank.
Pioneering
Further developing the idea, American artist Joseph Cornell is considered one of the great pioneers of the shadow box. He was a premier "assemblagist" who elevated the box to a major art form. He created his first collages in the 1930s, and constructed many during his career. Cornell said his works were based on everyday experiences, "the beauty of the commonplace," and evoked a strong sense of nostalgia, decay, or loss.
Mastery
Artist Lawrence Romorini mastered the concept of the shadow box by evolving this unique abstract art form into 3-dimensional personalized histories of people and companies. Romorini's "Ultimate Shadowbox" is not restricted to square or rectangle, some are created with distinctive shapes that suggest the attribute of the person or company that is being showcased.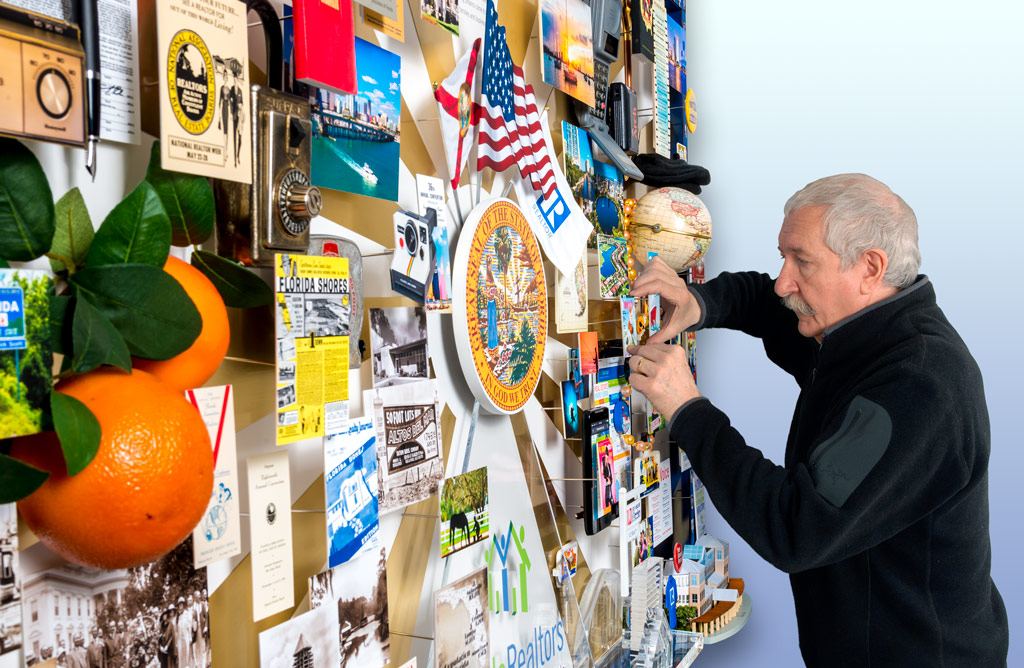 Lawrence Romorini's One Of A Kind Art Studio has had a clear mission since 1985: To be the premier 3-dimensional collage art studio, unparalleled in originality, craftsmanship, and service in creating commemorative lobby art and personal retrospective art for presentation on a milestone occasion.
Romorini transforms miniaturized photos and actual memorabilia into exquisite portraits of companies, organizations, and leaders. Each One Of A Kind piece of art makes a powerful presentation and becomes a lasting legacy. His commissions include shadow box art for Marriott, Oprah Winfrey, Southwest Airlines, Nike, General Electric, Citigroup, Geico, Ernst & Young, United States Pharmacopeia, Chicago Bulls, and hundreds of others.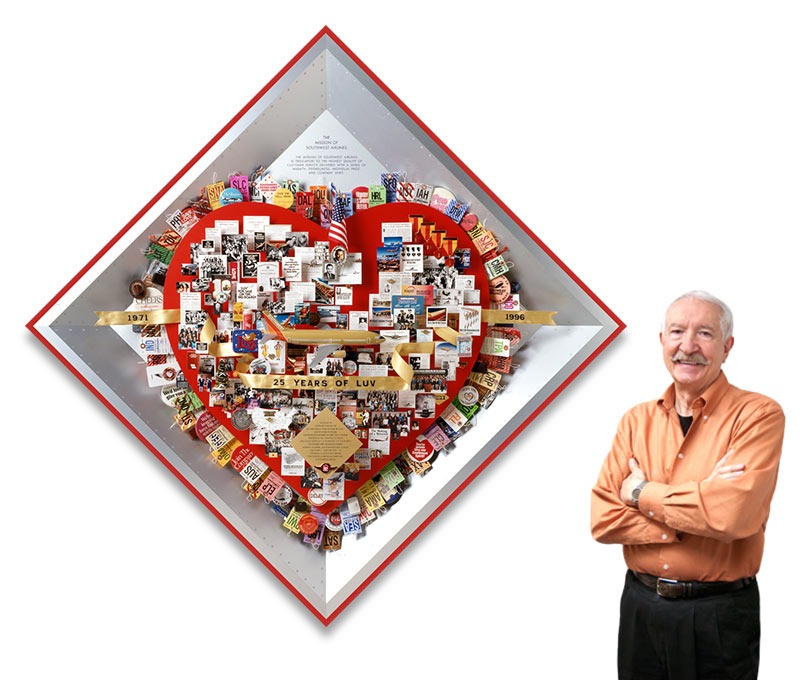 Exploring the realm of possibilities, Romorini is always challenging himself to see what type of 3-dimensional objects can be included in a shadow box. Moving beyond the usual coins and pins, he has included items such as hard hats, miniature vehicles, medical equipment, construction tools, welding helmets, sprinklers, golf clubs, and even an actual tree branch. Each item is carefully placed and elevated from the background with a thin stainless steel rod to create a floating, sculptural effect.
Romorini won a CLIO Award for the groundbreaking creative work in his collage commemorating the 75th anniversary of the American Academy of Orthopaedic Surgeons. He shares an Apex Award with the Risk Management Association for art he created to commemorate their 100th anniversary. His unparalleled originality, craftsmanship, and service have garnered him the praise and loyalty of Fortune 100 clients as the premier 3-dimensional collage artist: a master of the shadow box.