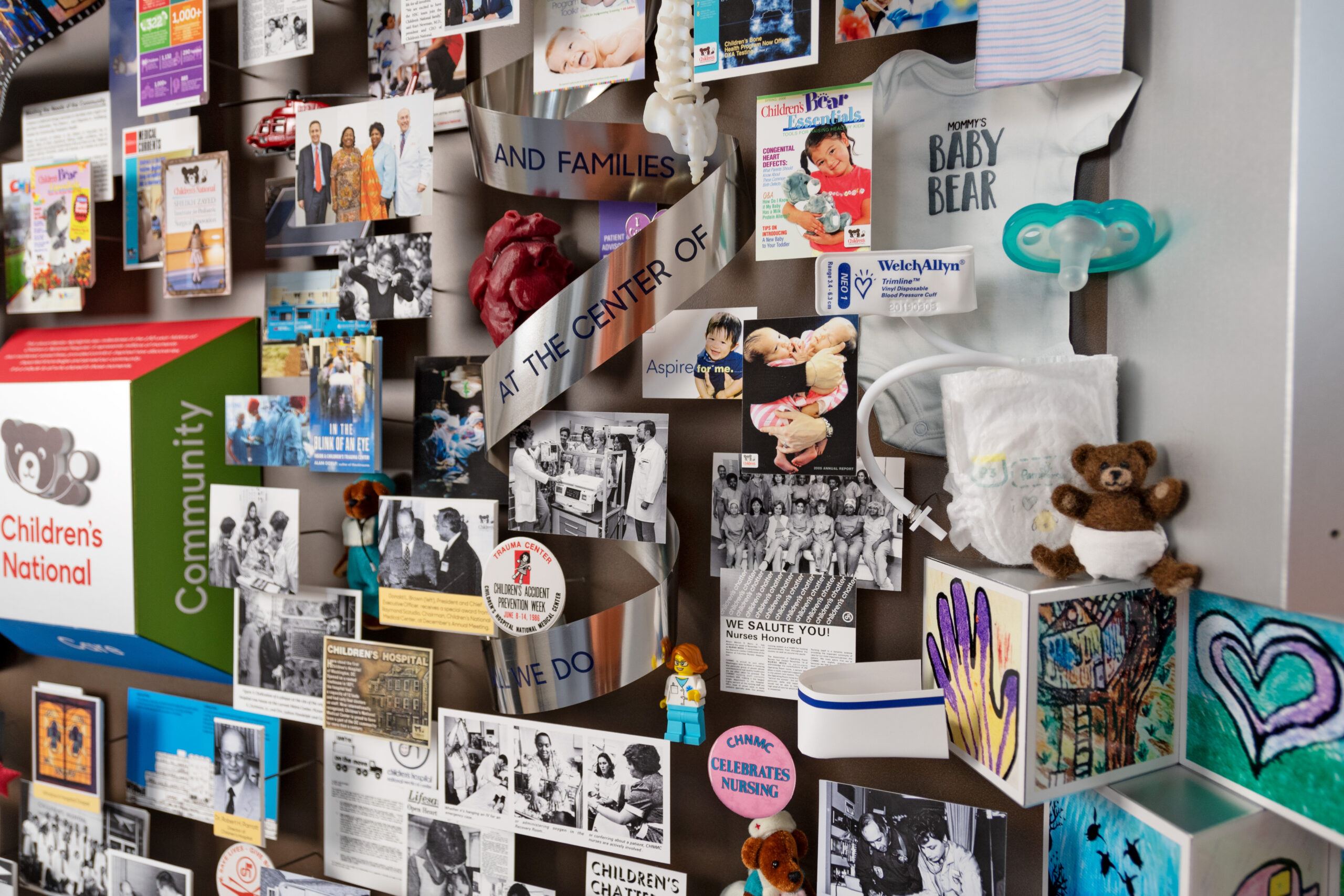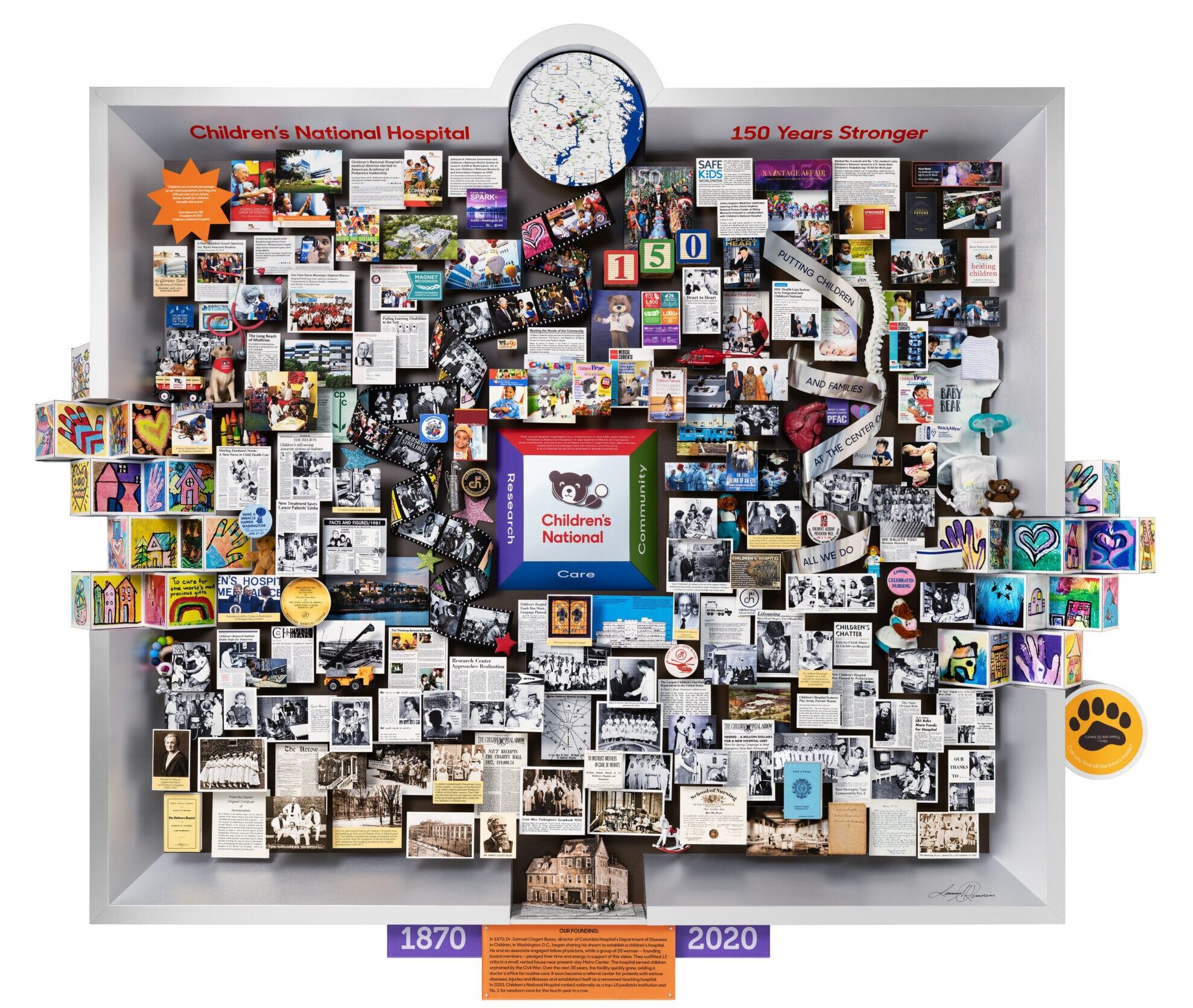 Size of the art: 60″ x 51″ x 5″
When Children's National Hospital was looking for an extraordinary way to commemorate their 150th anniversary story, Lawrence Romorini's One Of A Kind 3-dimensional art was their answer.
Over 18 months, Children's National and One Of A Kind teamed up to review the hospital's archives, selecting images and 3D items to reflect the hospital's pediatric focus, care, research, community, growth, and expertise since 1870. The time, creativity, and effort resulted in an amazing piece of anniversary art to celebrate Children's past and present.
Children's National Hospital puts children at the center of all they do, and their 3-dimensional commemorative art reflects that mission. Romorini designed the colorful, kid-friendly structure, that even includes an I-spy game for kids as they look at the art: Can you find all the bears inside?? (Hint: there are 50 bears!)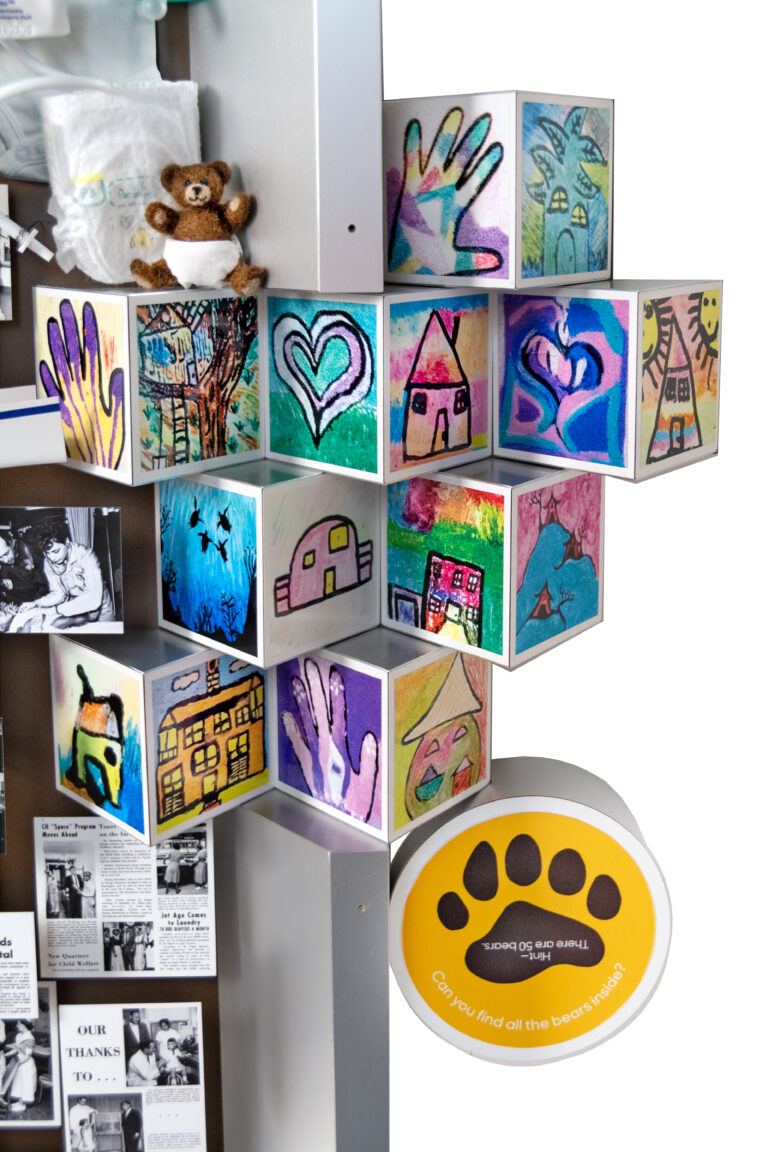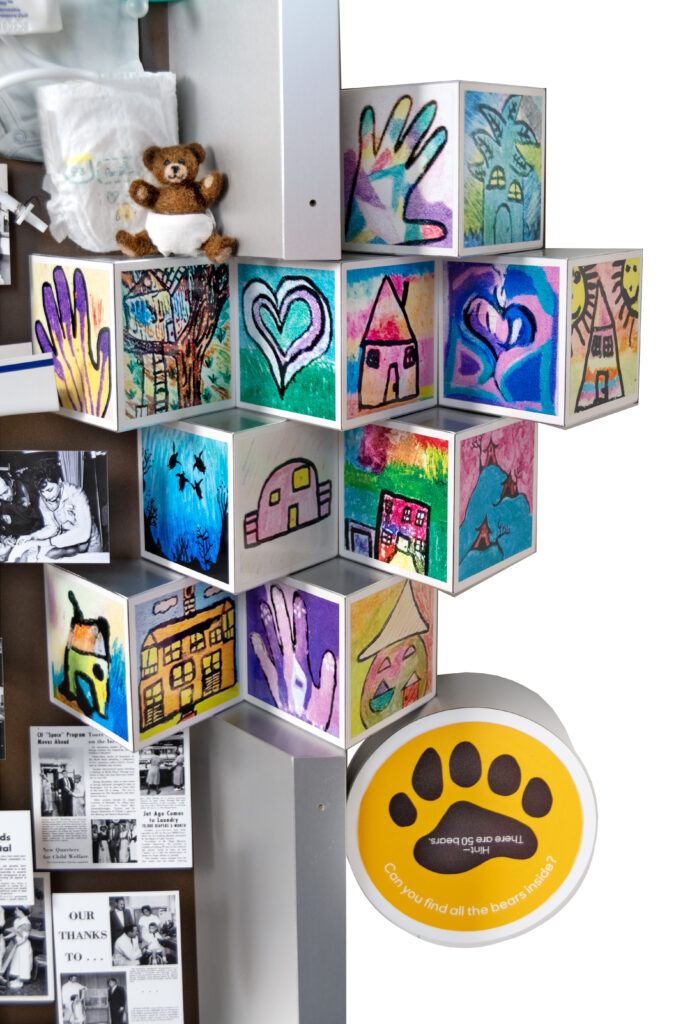 The 150-year story flows upward, from the founding to contemporary, beginning with a miniature of the first rented house containing only 12 beds for sick children. Early images are reproduced in sepia tone, transitioning to black and white, and then full color from the 1960's onward.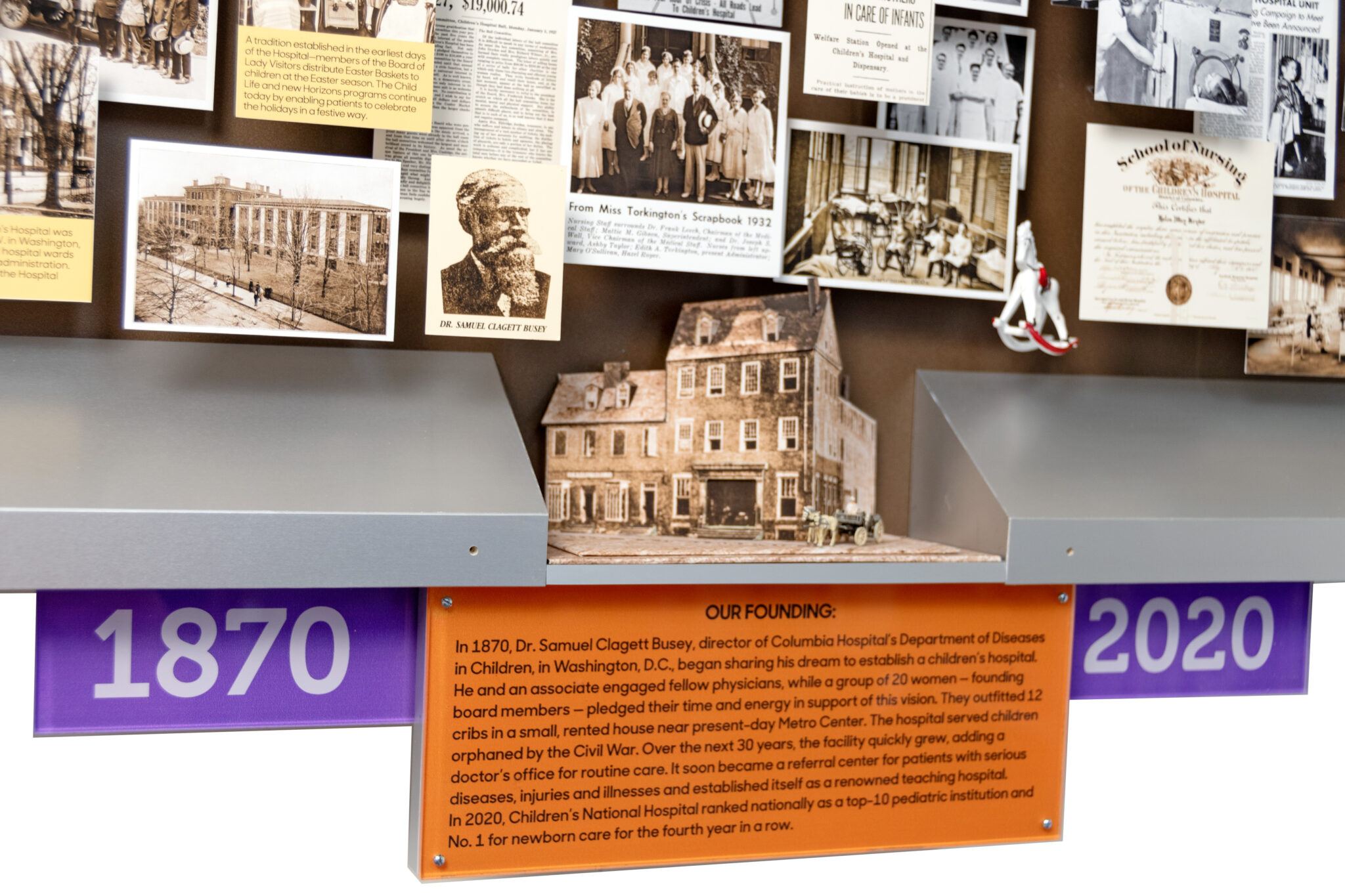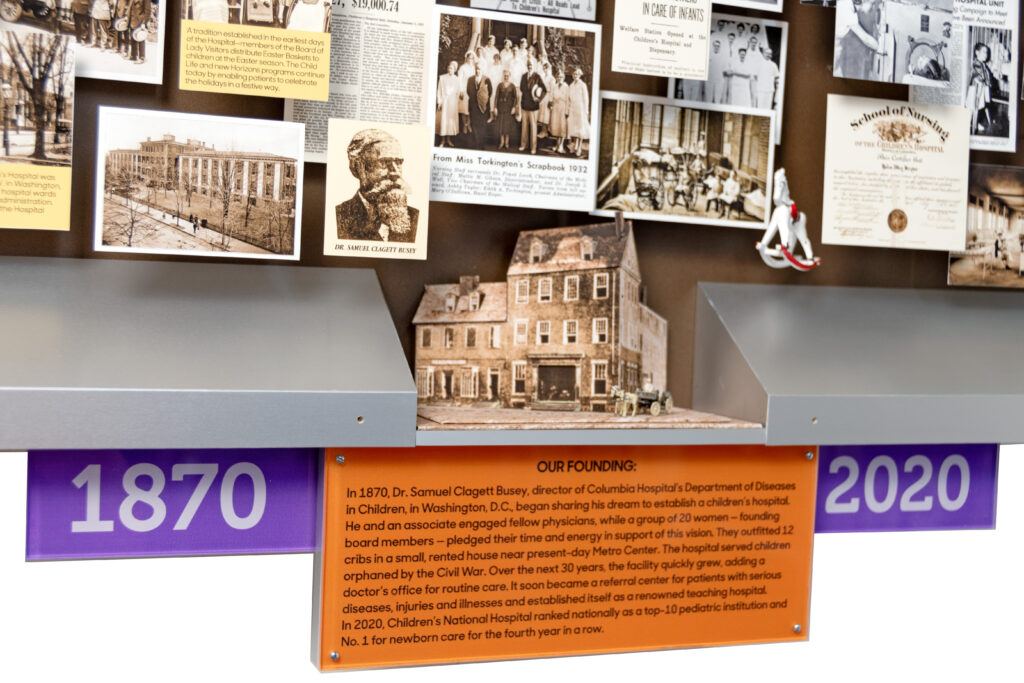 A filmstrip features images of U.S. Presidents, First Ladies, and celebrities who have visited Children's National over the decades.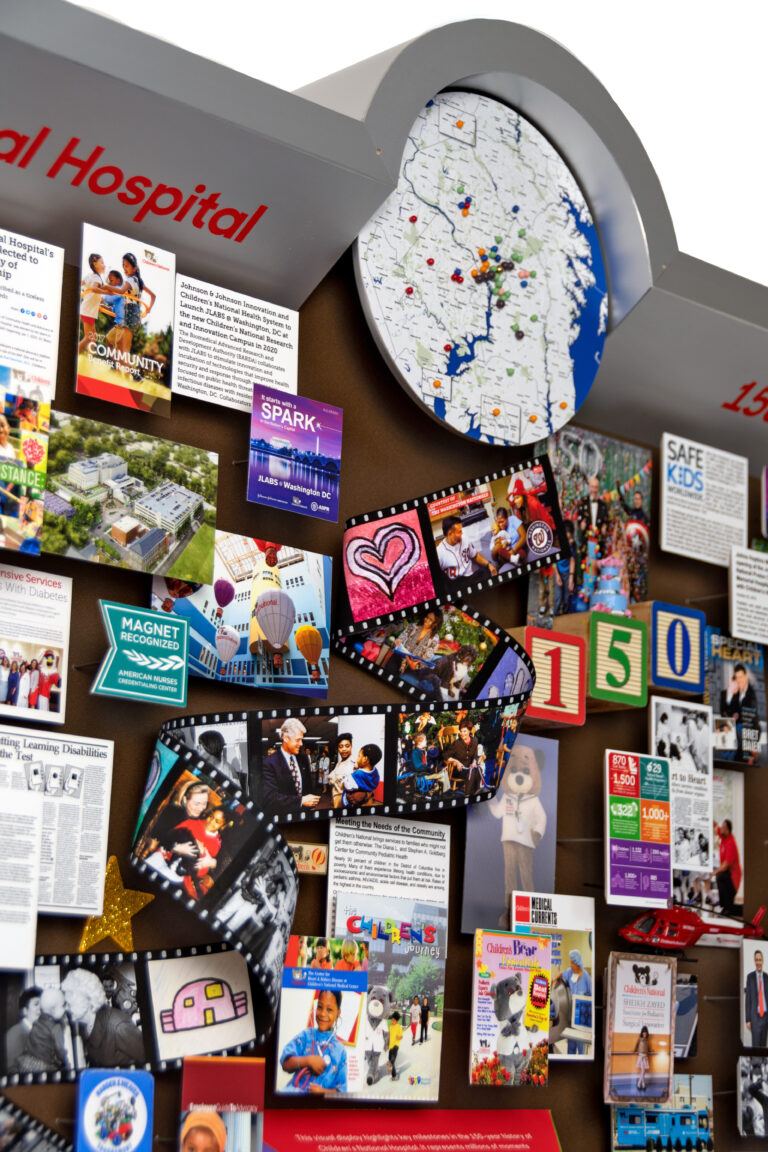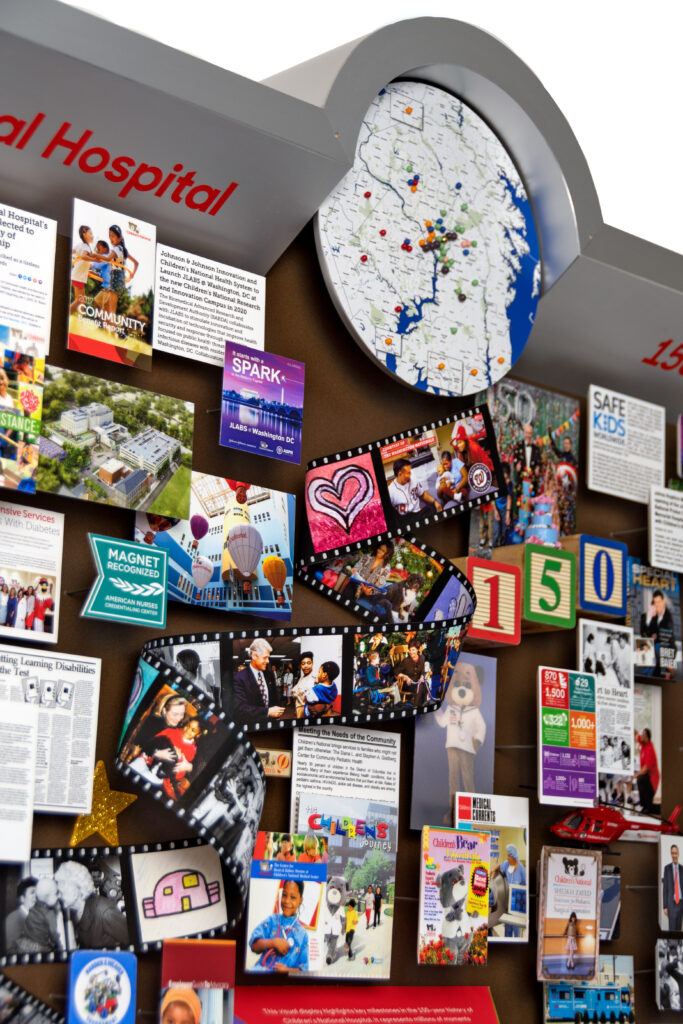 Along with the photos and publications to chronicle milestones, there are 3D items and miniature toys to discover within the art. These include a miniature heart, spine, bears, vintage toys, and more.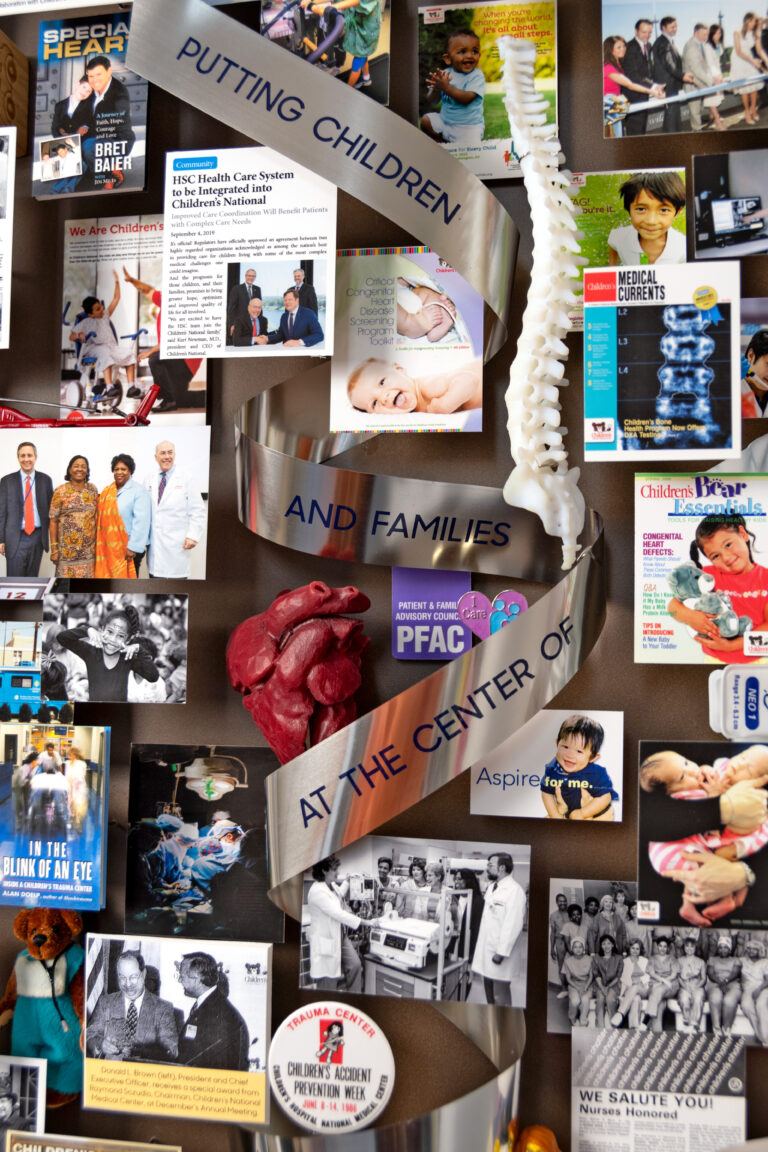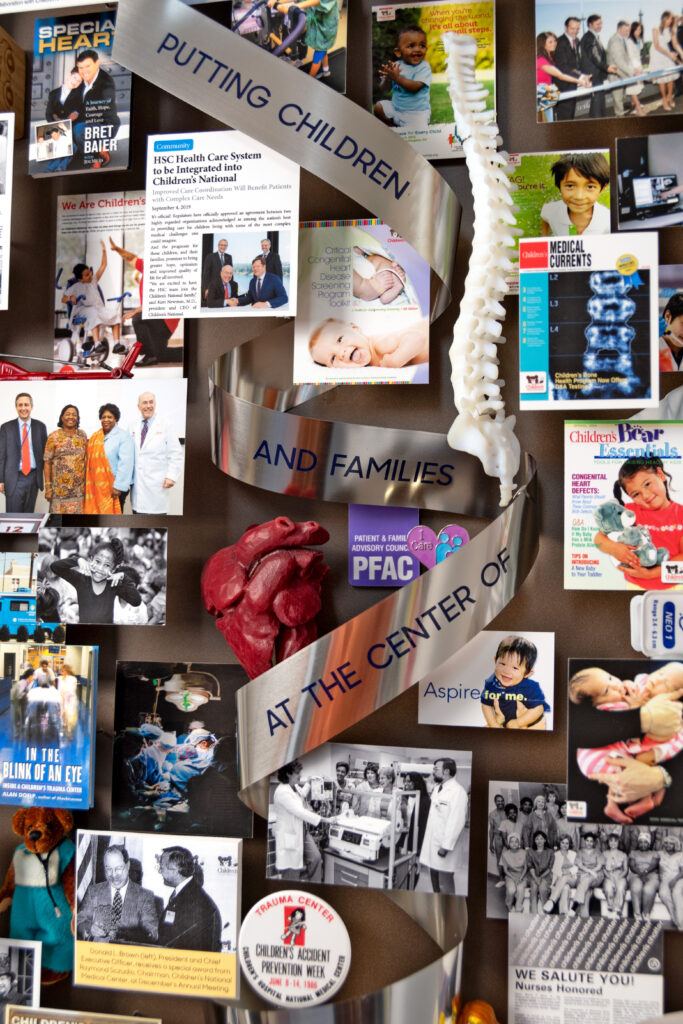 Other highlights include the Children's National logo created in 3D, surrounded by the 3 Pillars: RESEARCH – CARE – COMMUNITY. A 3D locator map of the region that Children's National serves reflects the growth in the area.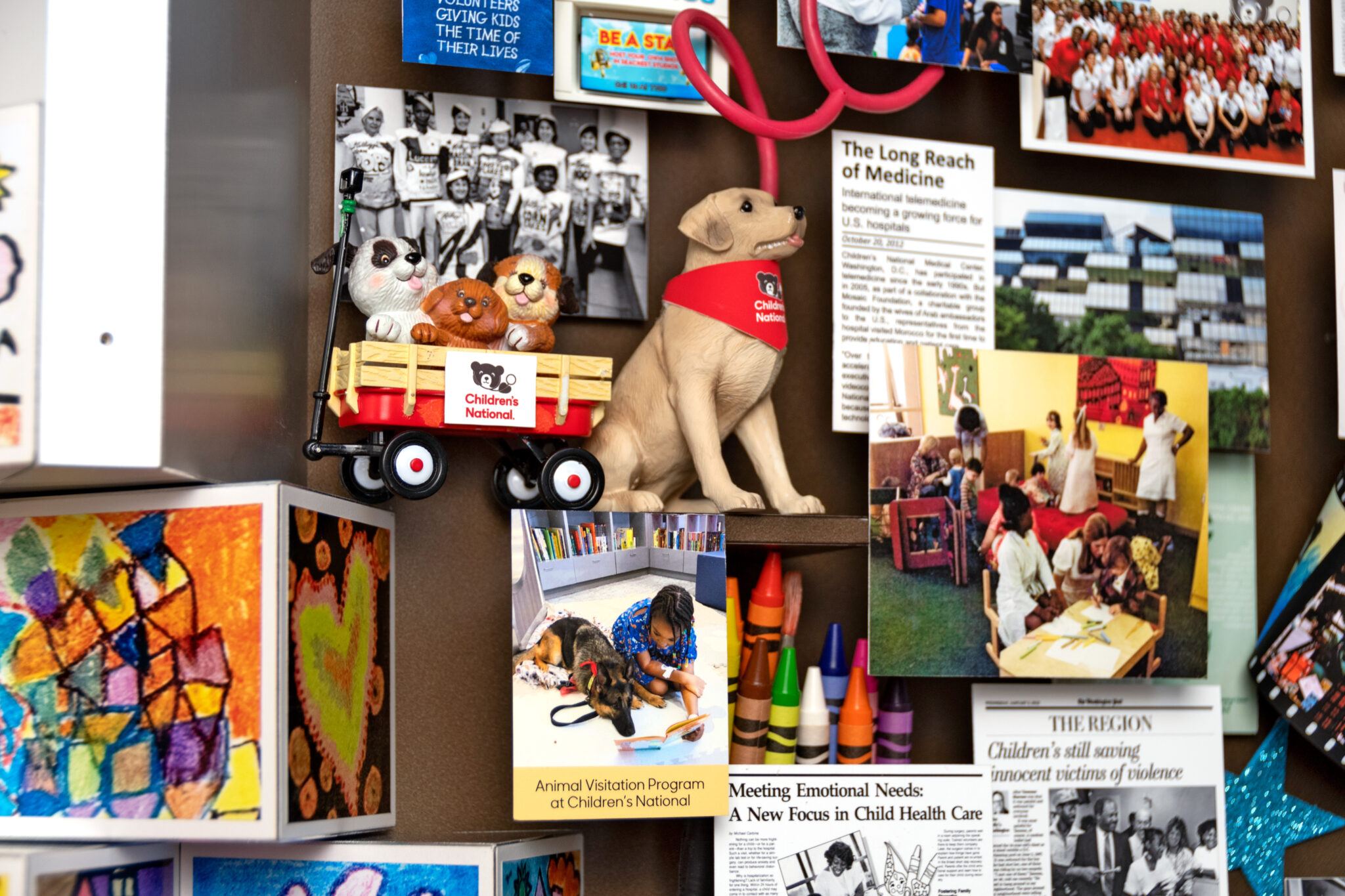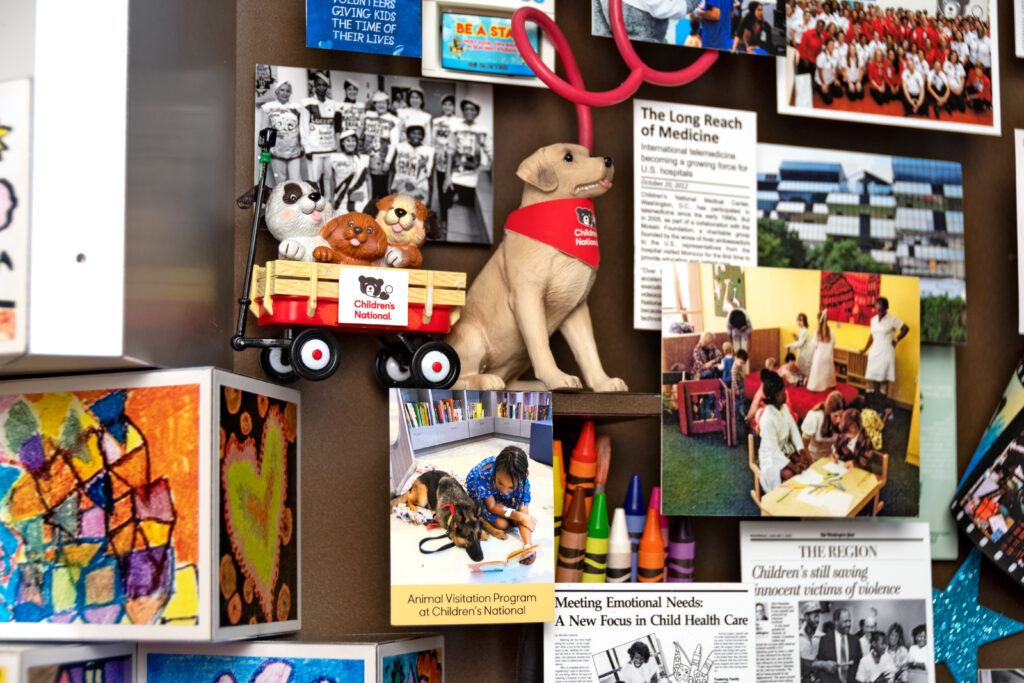 As the dedication reads, "This visual display highlights key milestones in the 150-year history of Children's National Hospital. It represents millions of moments that mattered, saved lives, provided comfort, inspired new discoveries, imparted knowledge and served our community. It is a tribute to all who shared in those moments."
The hospital's One Of A Kind anniversary art hangs proudly in the new entrance lobby, welcoming all visitors to the place that puts children and families at the center of all they do.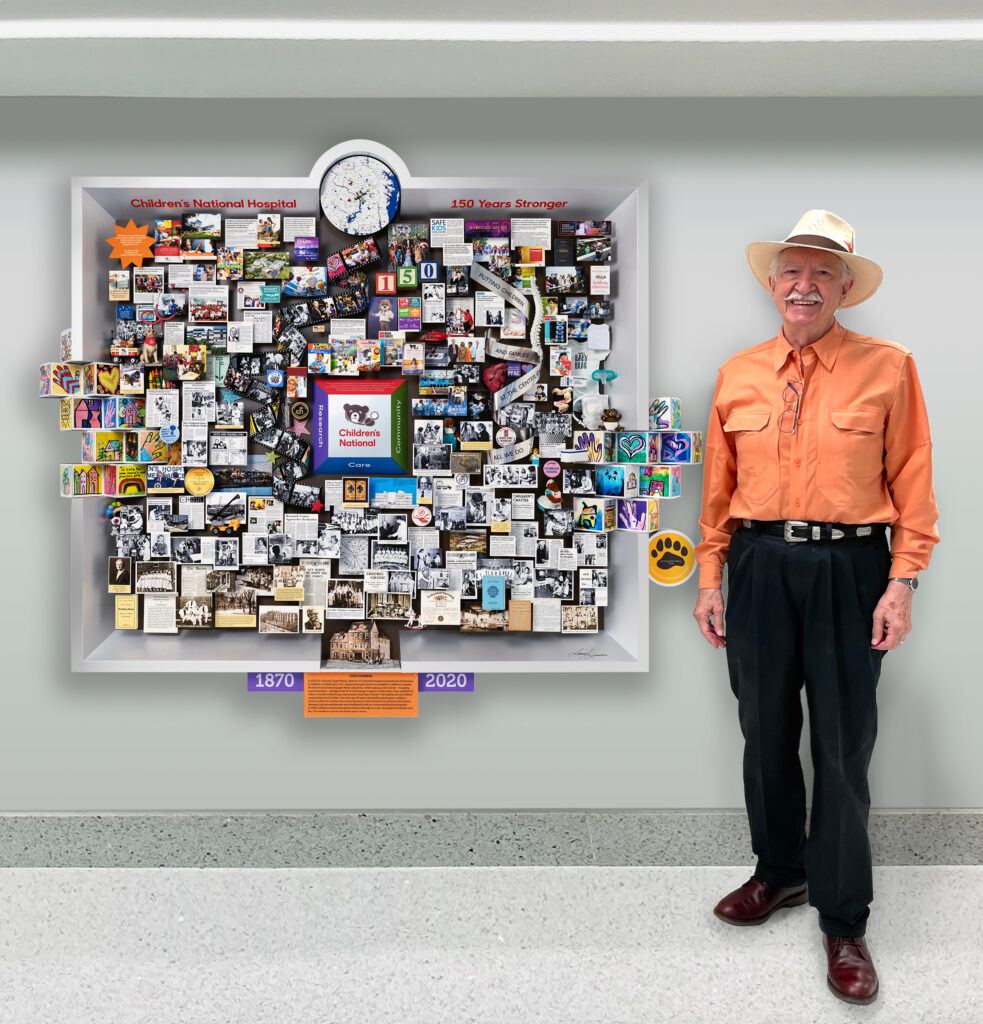 "The dedication of CEO Dr. Kurt Newman, Children's doctors, staff, and volunteers was inspiring, along with their amazing specialties," says Lawrence Romorini. "It was really a privilege to visit the hospital and appreciate firsthand what a difference their people make in the lives of children and their families—every day, for over 150 years."