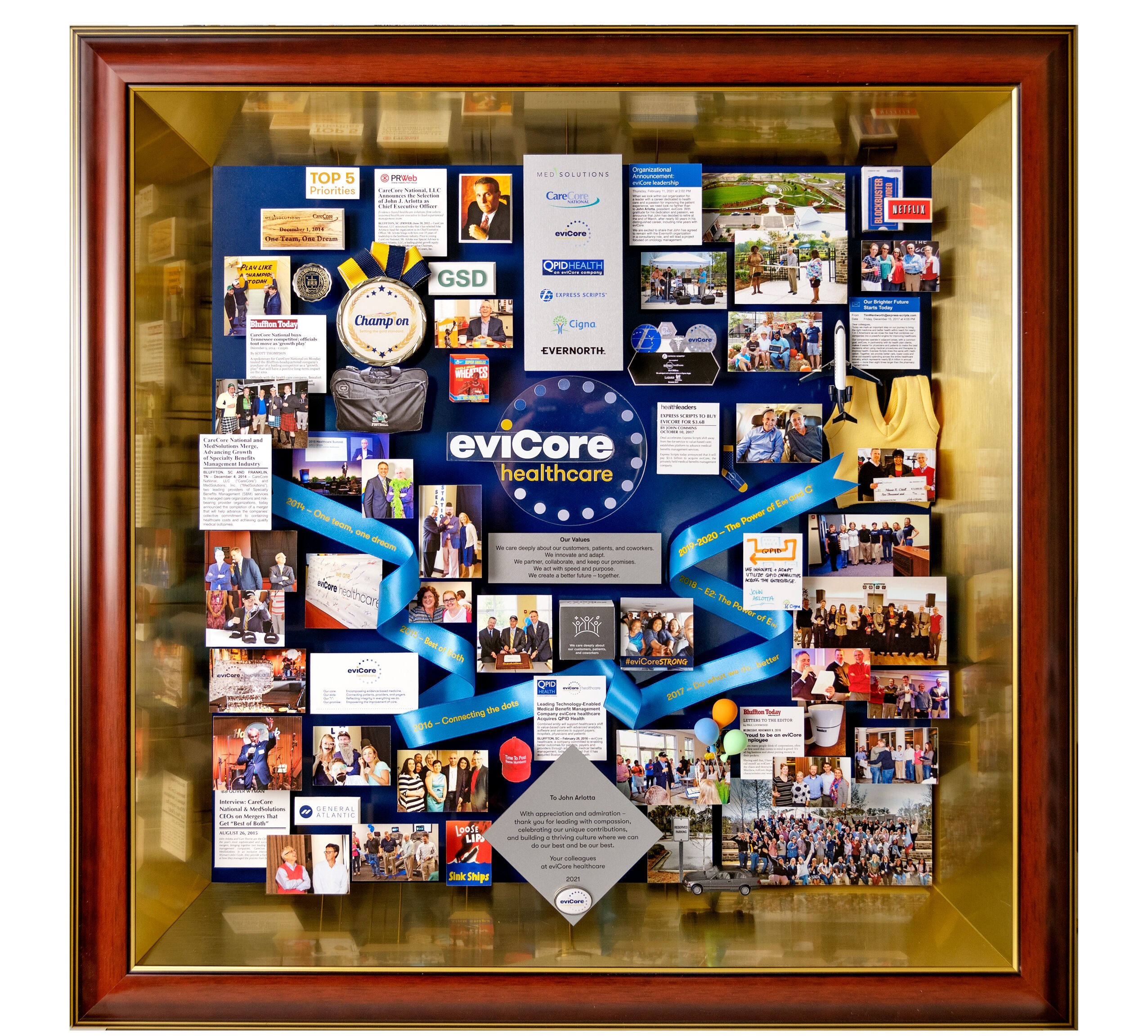 The role of the Chief Executive Officer emerged early in the 20th century as modern corporations grew. The managerial structures called for individual executives to run different business units and functions. As large firms developed with lots of employees, hierarchies, and divisions, the business world started seeing more CEOs.
CEOs have always had to adapt to new challenges, but the speed and urgency with which these arise has increased dramatically over the years. For example, a CEO from the 1950s had a certain number of business-critical decisions maybe once or twice in their tenure; today, CEOs face those same kind of decisions several times a year. CEOs play an important role in providing deep, long-term thinking and finding elegant ways to align stakeholder interests with shareholder interests.
So what do you present the truly exceptional CEO upon retirement as a thank you for the years they dedicated to an organization? One Of A Kind offers the perfect solution. Our 3-dimensional commemorative art gifts provide a tribute worthy of honoring an executive's long career. The custom-made art is filled with images and items that showcase what the company achieved and milestones that occurred under their leadership – the perfect way to express appreciation and preserve favorite memories.
Size of the art: 25″ x 25″ x 4″
A One Of A Kind leader and recipient of our commemorative art was the CEO and President of eviCore healthcare. The art is filled with photos and 3D items that represent favorite memories during his tenure and reflect the importance of the people at the company – the management team and employees. eviCore's values are highlighted in the collage, along with mantras the President used as themes for each year.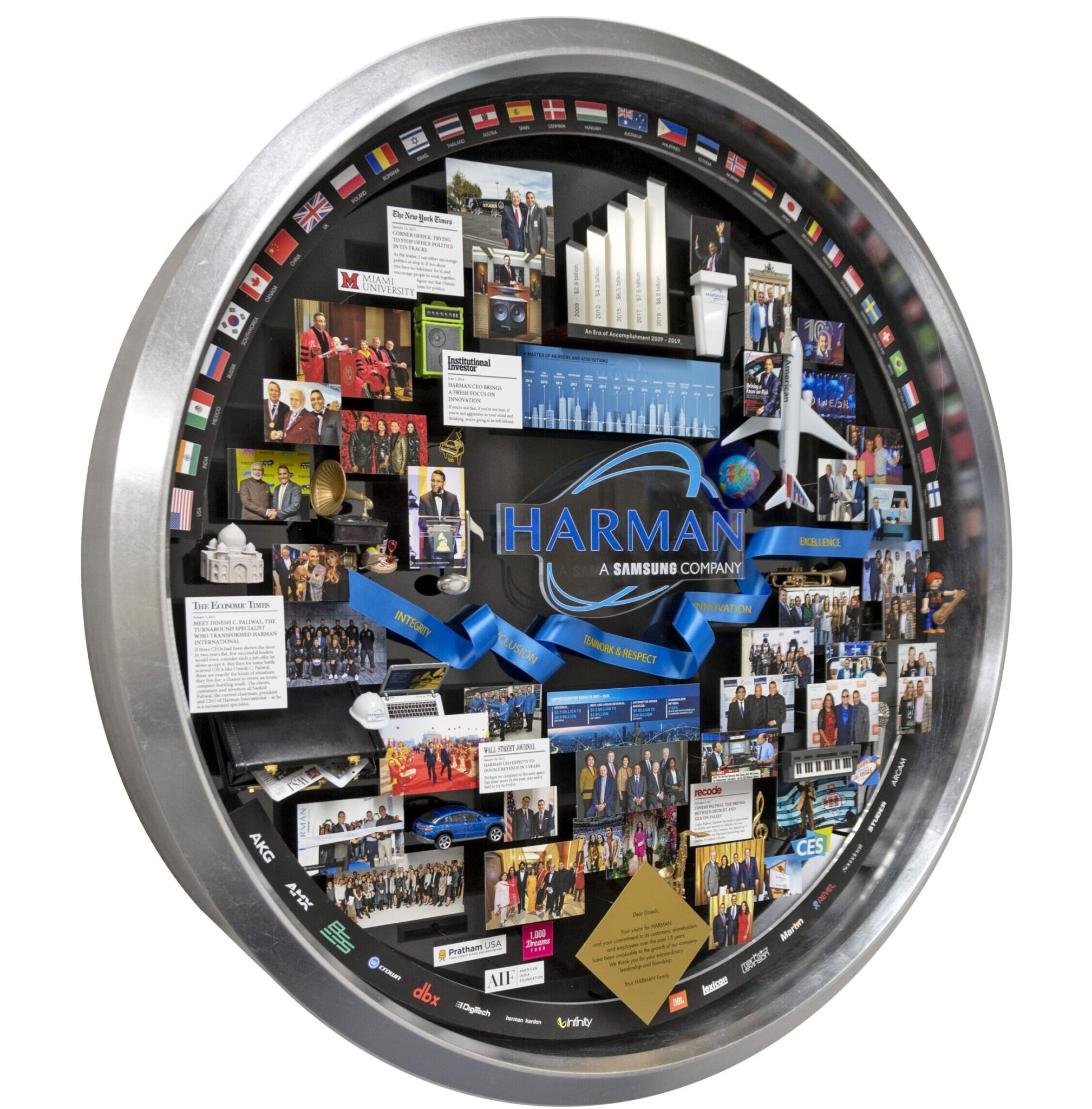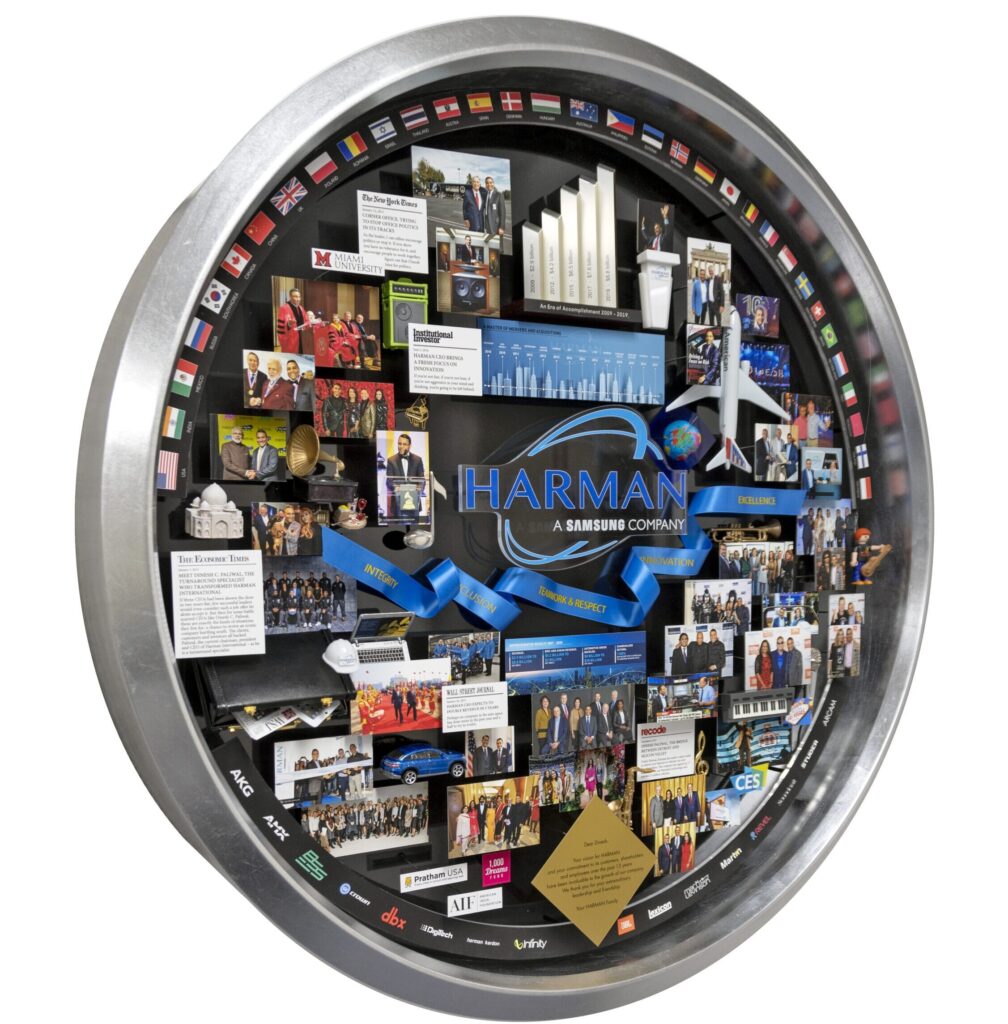 Size of the art: 30″ diameter x 4.5″
Another leader honored with a One Of A Kind retirement gift was the CEO of HARMAN. HARMAN is a global leader in connected car technology, lifestyle audio innovations, design analytics, cloud services and IoT solutions. This tribute honors the CEO and the company's impressive global growth and accomplishments over his ten years as a leader. It also reflects the way HARMAN's brands have changed the way people experience entertainment and information–at home, in cars, and at concert venues. Highlighting the Grammys, music industry, and many VIP appearances made this a unique surprise gift that will become a lasting legacy.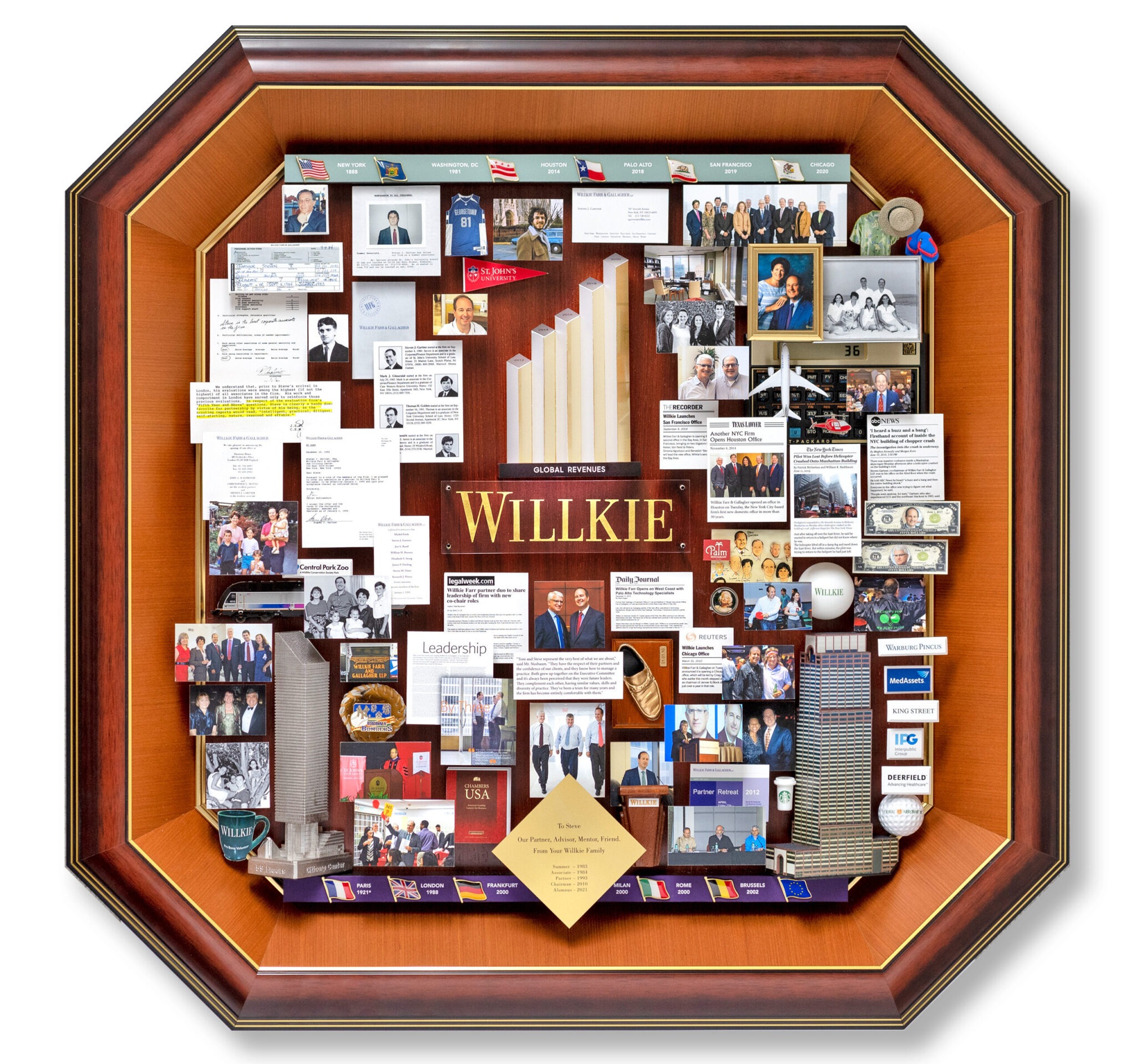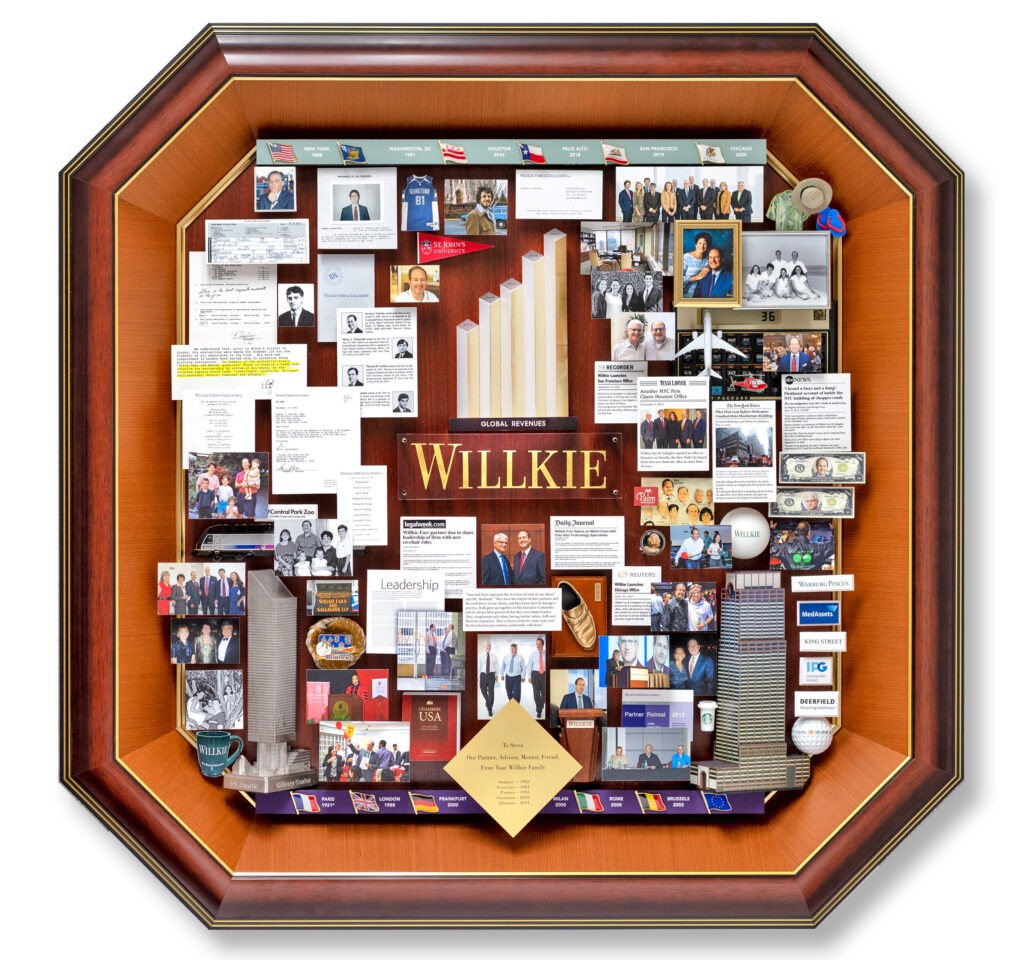 Size of the art: 27.5″ x 27.5″ x 4″
One Of A Kind creates retirement gifts for executives in any industry. The law firm Willkie Farr & Gallagher presented their outgoing Chairman with One Of A Kind 3-dimensional art that shows the growth of the firm during his tenure, and leadership as Chairman for over a decade. Through photos, publications, and 3D items, the collage expresses the firm's appreciation and respect for him as a leader, friend, and mentor.
To learn more about creating a unique retirement gift, contact One Of A Kind: email [email protected] or call 301-495-3361 ext. 102.