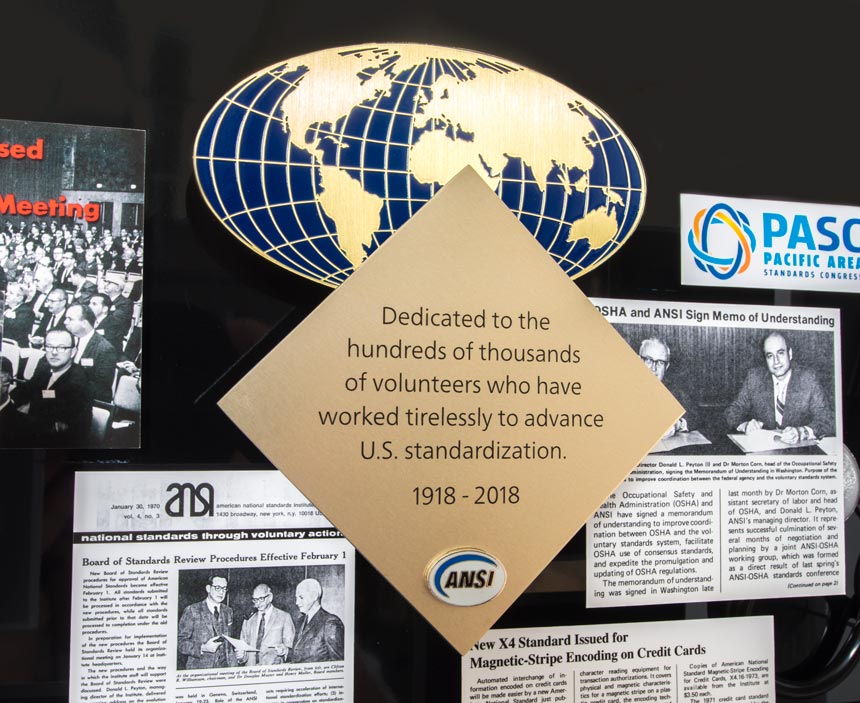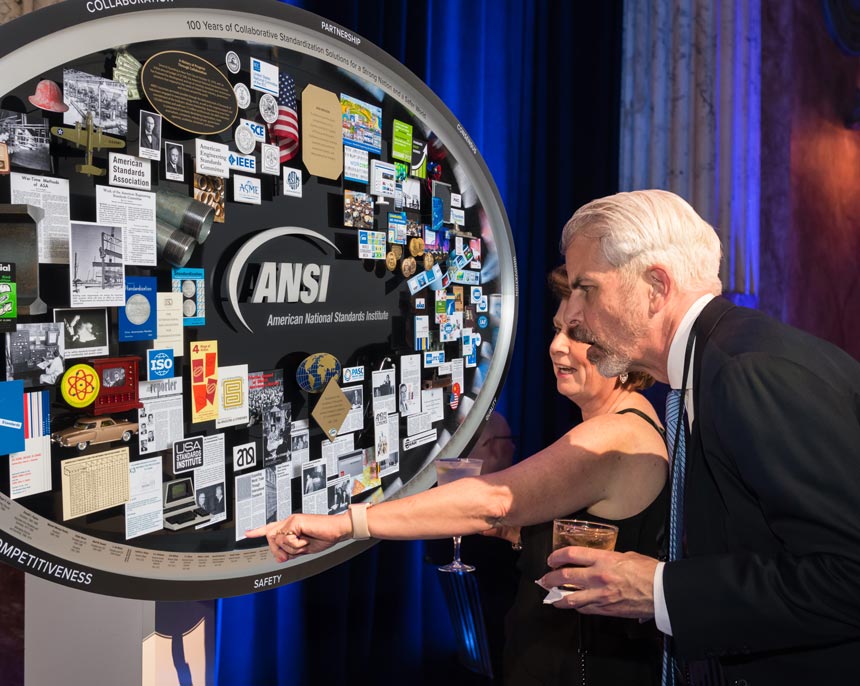 Washington, DC, May 15  – The American National Standards Institute (ANSI) highlighted their 100th anniversary celebration at Union Station, Washington, D.C., last Tuesday, May 8 by unveiling One Of A Kind 3-dimensional commemorative art to showcase the organization's rich history, mission, leaders, accomplishments and services since 1918.
Over a year in the creation, Lawrence Romorini, founder of One Of A Kind Art Studio and his team worked with ANSI's Communications Department to cull through hundreds of photos, publications, 3D items and memorabilia that commemorate the past century and reflect the present story.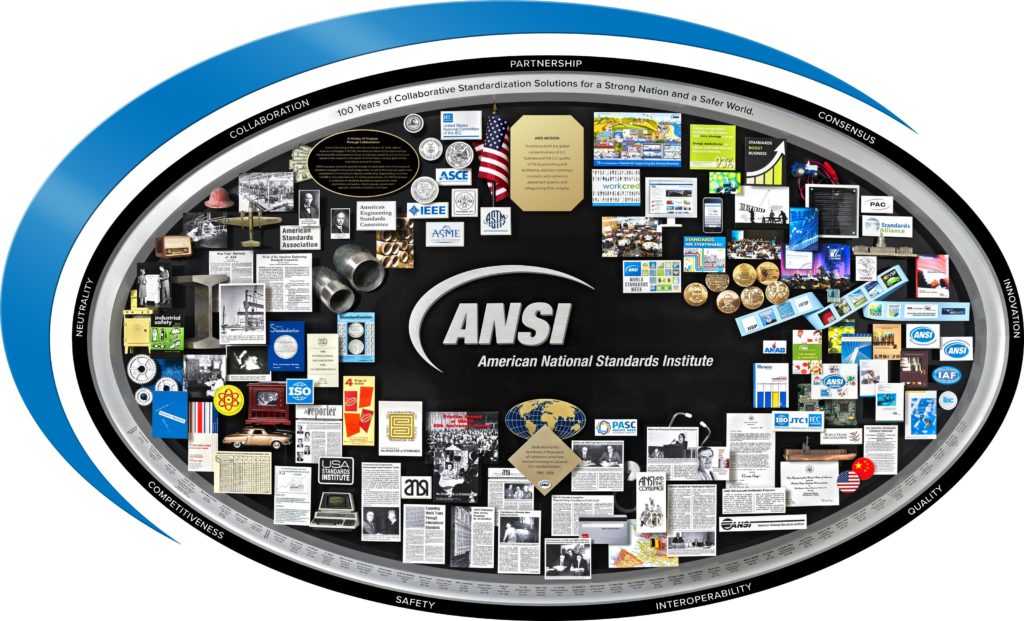 The oval structure design, measuring 65" x 40" x 5", reflects ANSI's logo and the collaborative nature of the organization. The story flows counterclockwise from the Mission, photoengraved in brass, and the logos of the founding organizations. The border design is engraved with the hallmarks of the ANSI community's standardization work: Collaboration, Partnership, Consensus, Innovation, Quality, Interoperability, Safety, Competitiveness, Neutrality.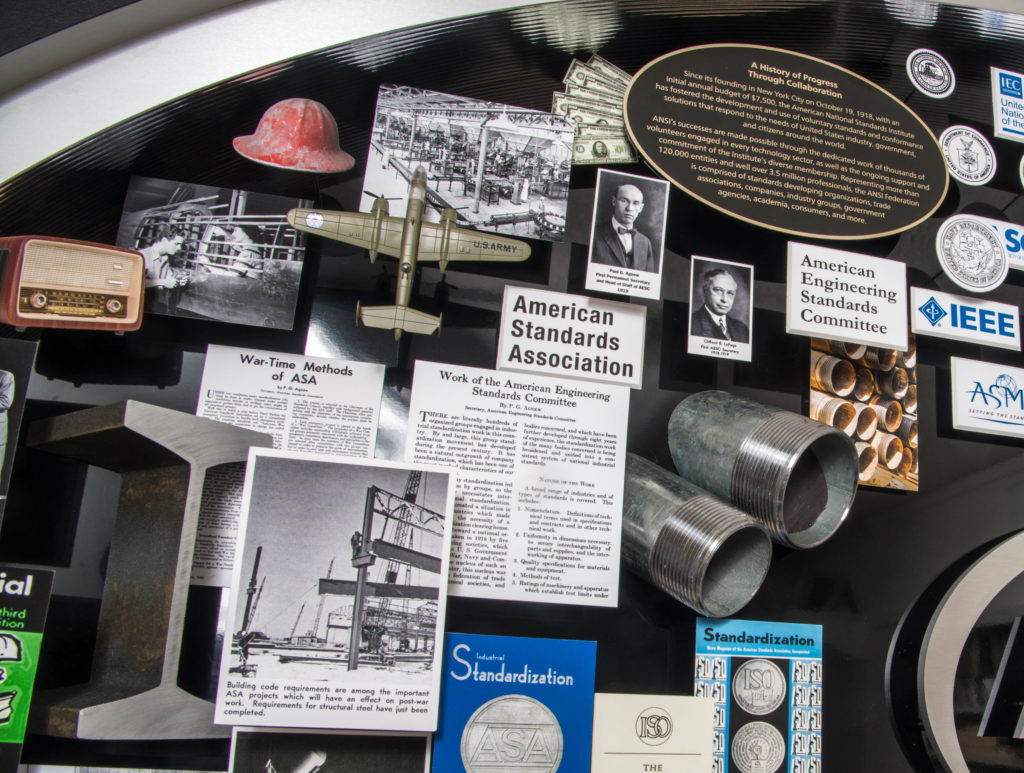 "The important role of the American National Standards Institute in standardization was a revelation and inspiration," says Romorini. "ANSI's art incorporates intriguing 3D items–pipes with threads, I Beam, stethoscope, circuit board, solar panel, miniature cargo container ship, vintage stove, much more–symbolizing the breadth of industries benefiting from the collaborative standardization ANSI has offered."
A brass engraved globe suggests how standards have become a strategic and competitive advantage both in the USA and in the global economy.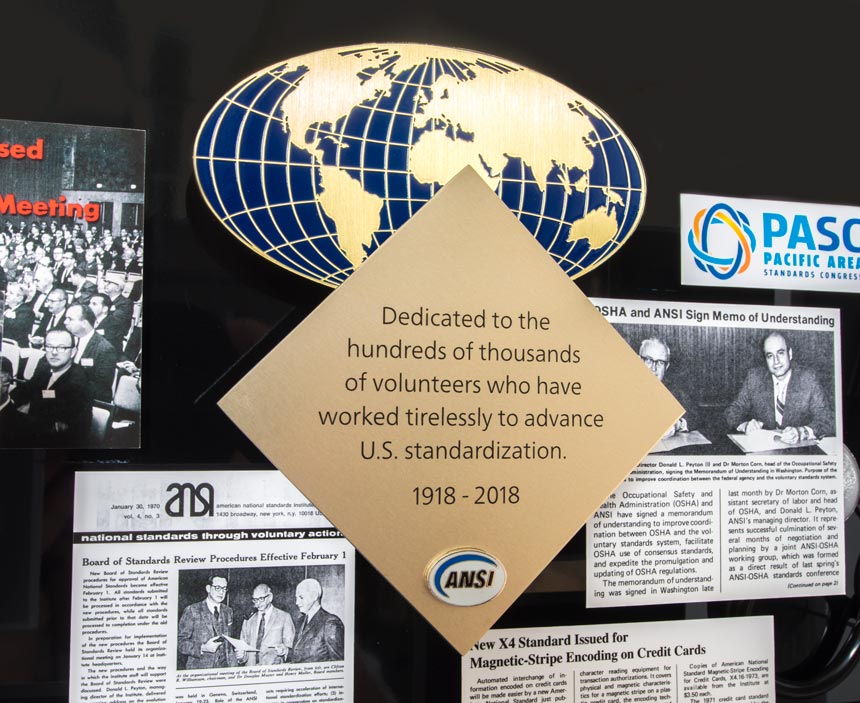 Names of ANSI leaders since 1918, along with their companies and organizations, are engraved in the border. A plaque reads: "Dedicated to the hundreds of thousands of volunteers who have worked tirelessly to advance U.S. Standardization. 1918-2018." The artwork will be installed in ANSI's Washington, D.C., headquarters, where it will serve as a lasting legacy that communicates a strong foundation for the next 100 years."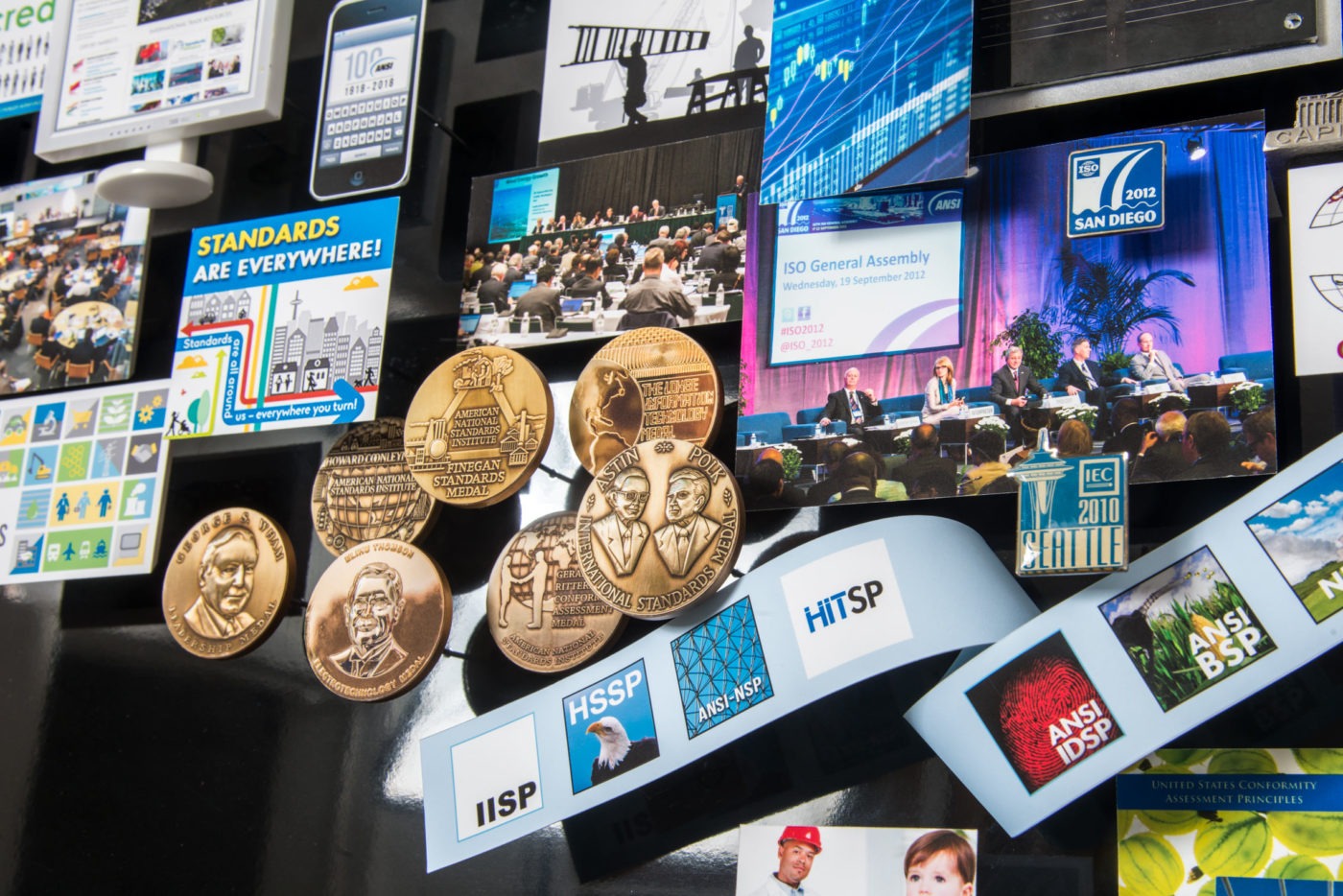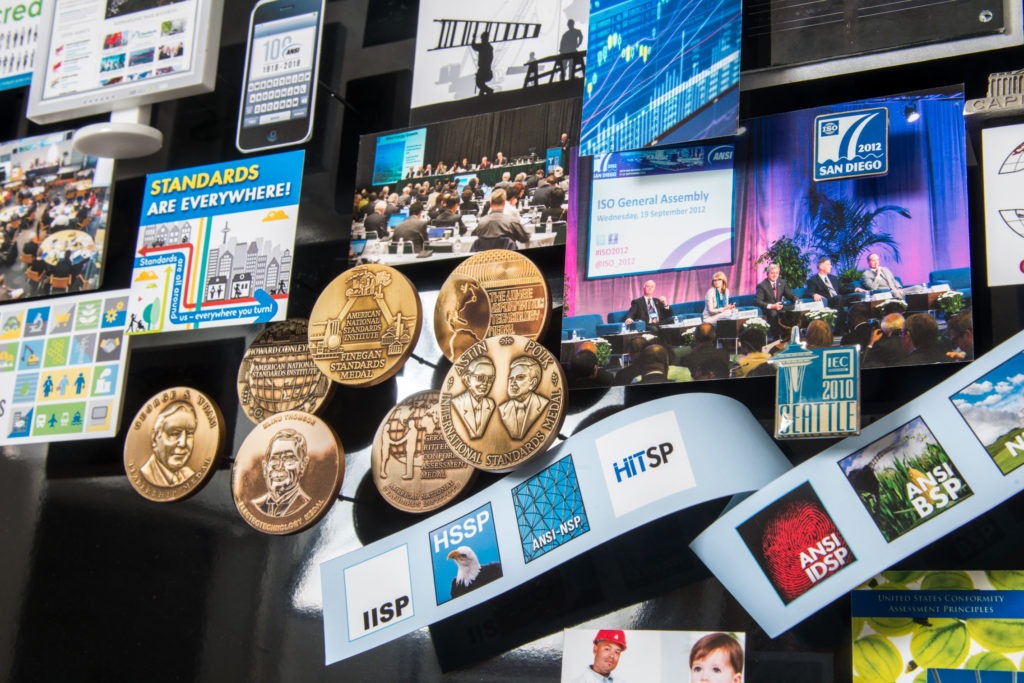 "As we ramp up the celebration of ANSI's 100th anniversary in 2018, it is my great pleasure to dedicate this exceptional work of art," said S. Joe Bhatia, ANSI president and CEO. "The unique and complex structure of the work – along with its quality and breadth – reflect the diverse contributions of ANSI's collaborative standardization community over ten decades. From construction components during the industrial revolution, to the interconnected cutting-edge technologies of today, ANSI and its members and partners have supported U.S. innovation and competitiveness in every industry sector and across all areas of life."
Lawrence Romorini and his One Of A Kind Art Studio transform photographs, publications, 3D items and mementos into works of art that commemorate history, leaders, mission and accomplishments. ANSI joins an extraordinary group of organizations whose stories have been showcased in One Of A Kind Artwork over the past 33 years. They include American Society of Civil Engineers, American Chemical Society, SHRM, USA Today, Andersen Windows, EY, Marriott, Johns Hopkins, American Academy of Orthopedic Surgeons, with many featured on www.oneofakindinc.com
Contact:
Donna Rome
[email protected]
301-495-3361 ext. 102