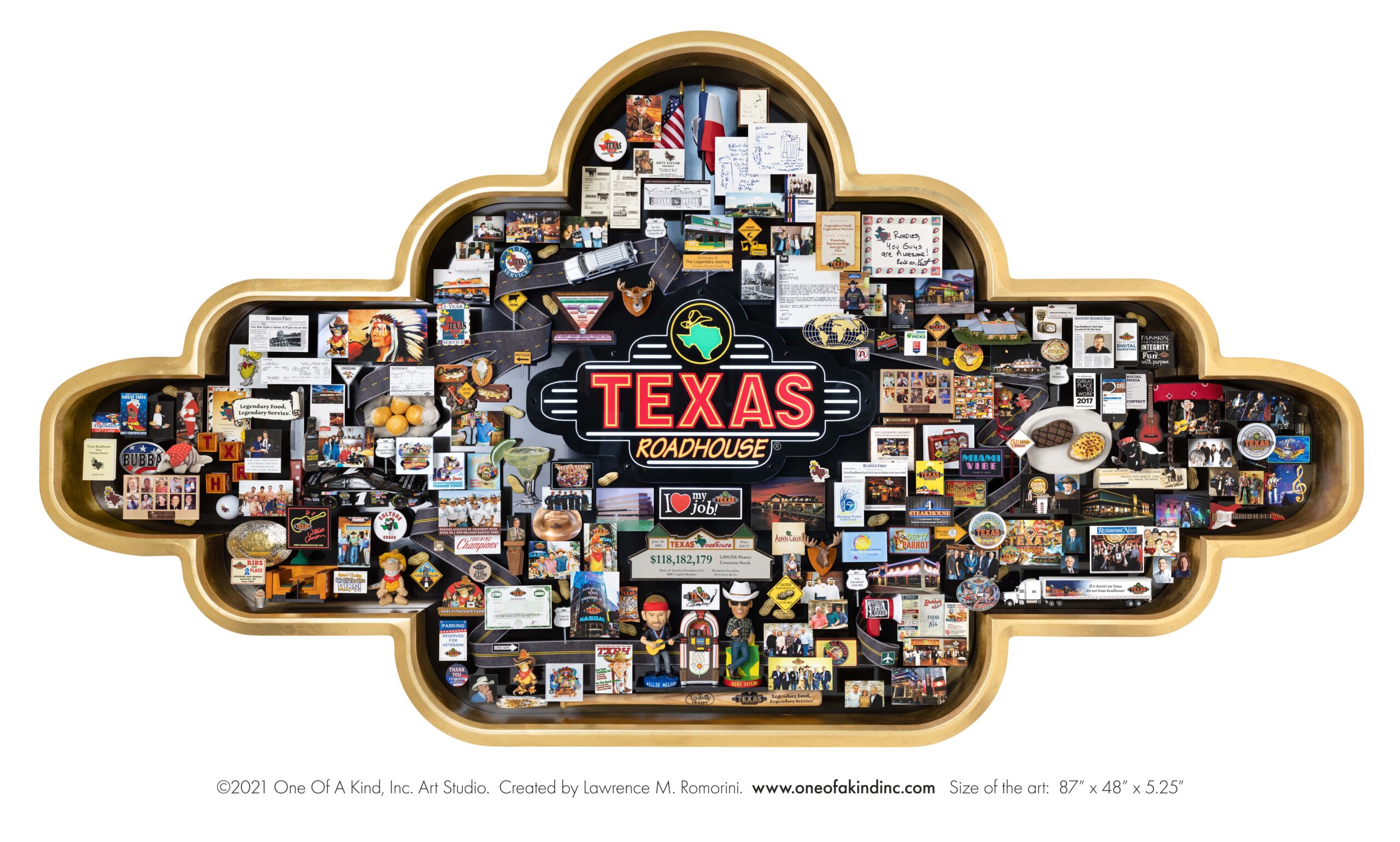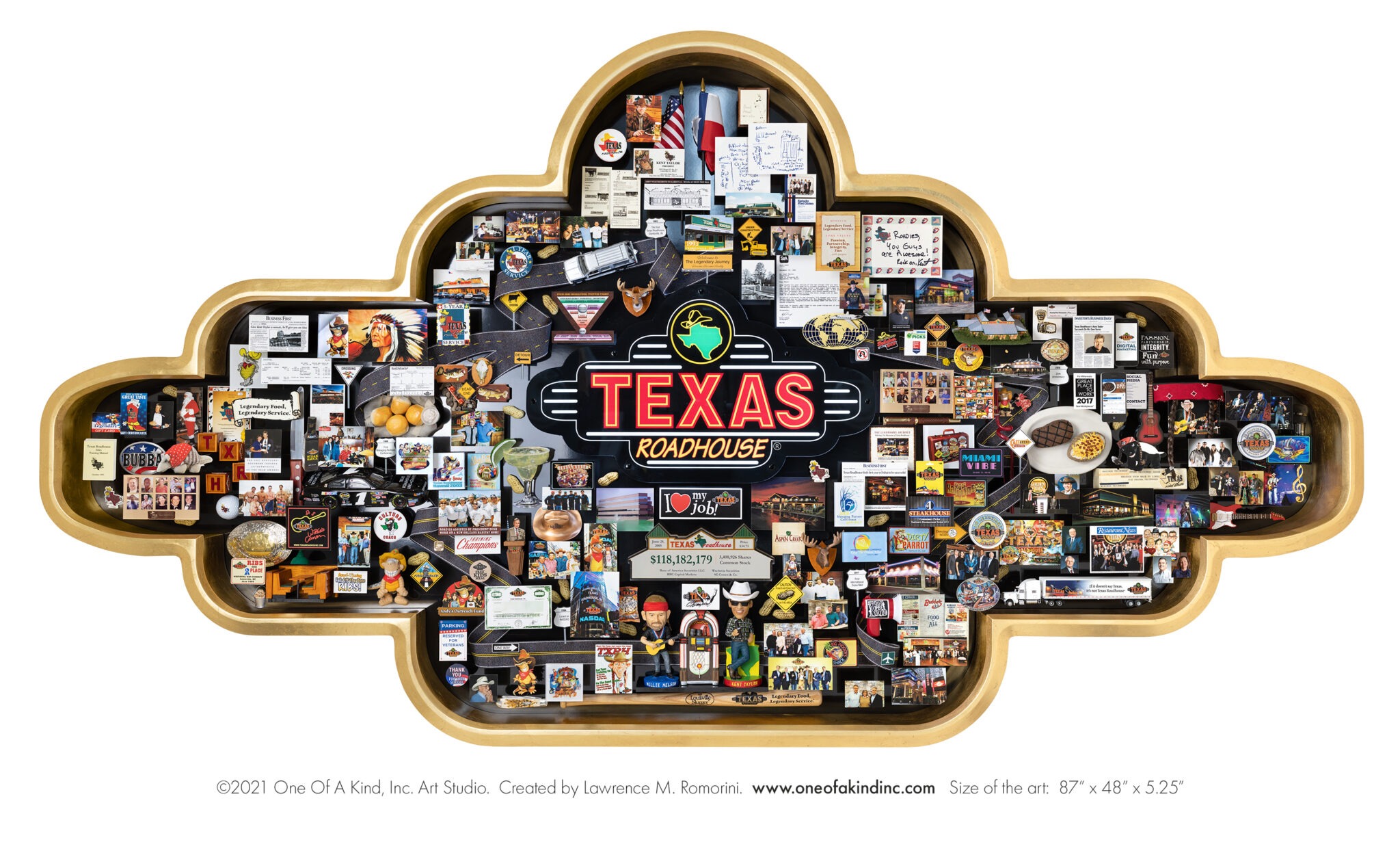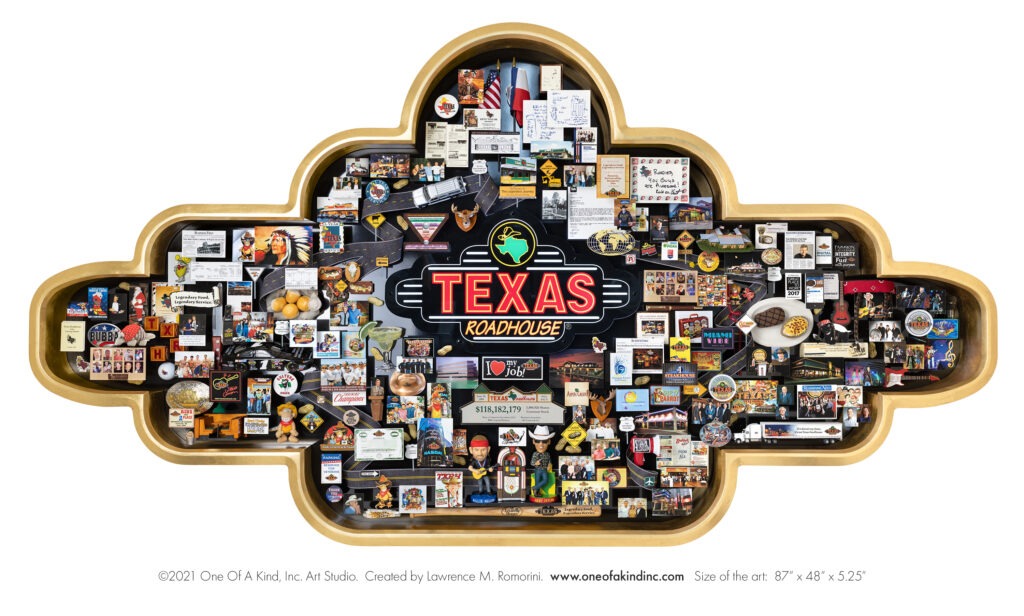 Texas Roadhouse is "Legendary to the Core!" And working with Founder Kent Taylor, Lawrence Romorini transformed this unique chain restaurant's story into One Of A Kind 3-dimensional art for their Louisville headquarters. Since Texas Roadhouse is legendary for their steaks, their Texan and Southwestern theme, and award-winning team, all these feature prominently on their road to success.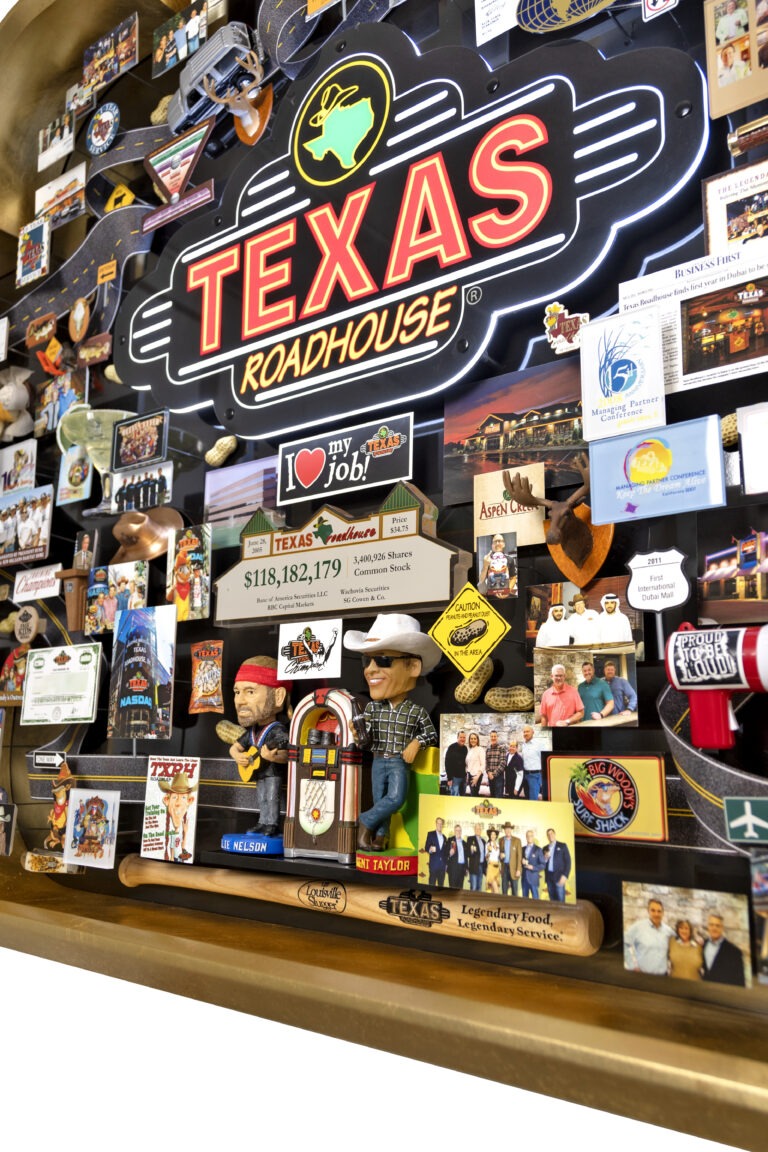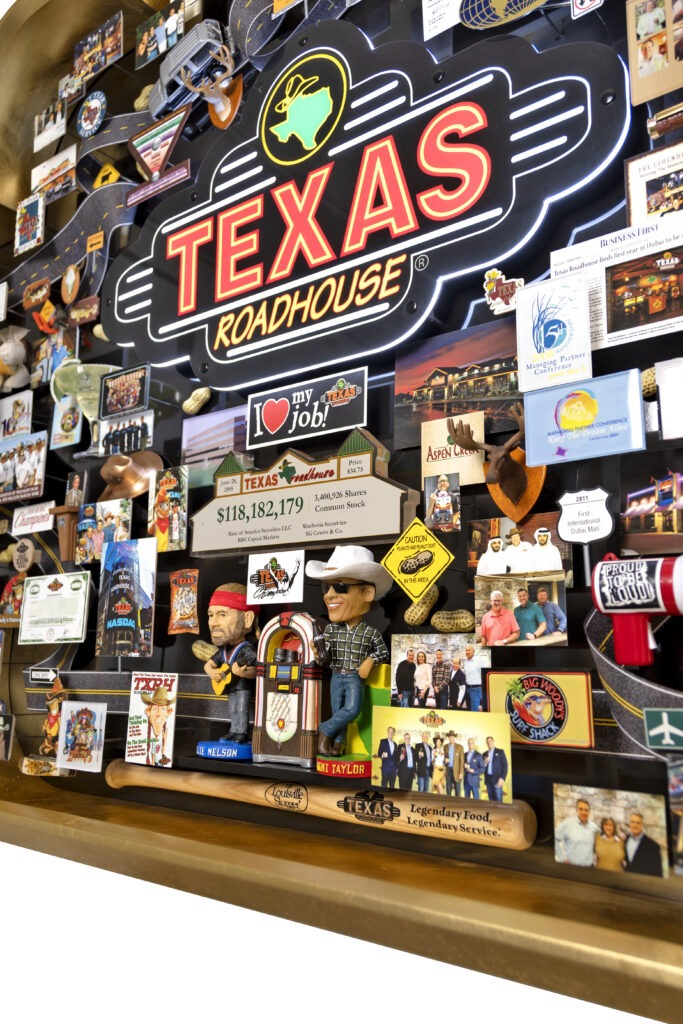 Founded in 1993, Texas Roadhouse prides itself on providing Legendary Food and Legendary Service. And now they have a legendary work of art providing a visual representation of their story and Kent Taylor's journey to turn his vision into reality.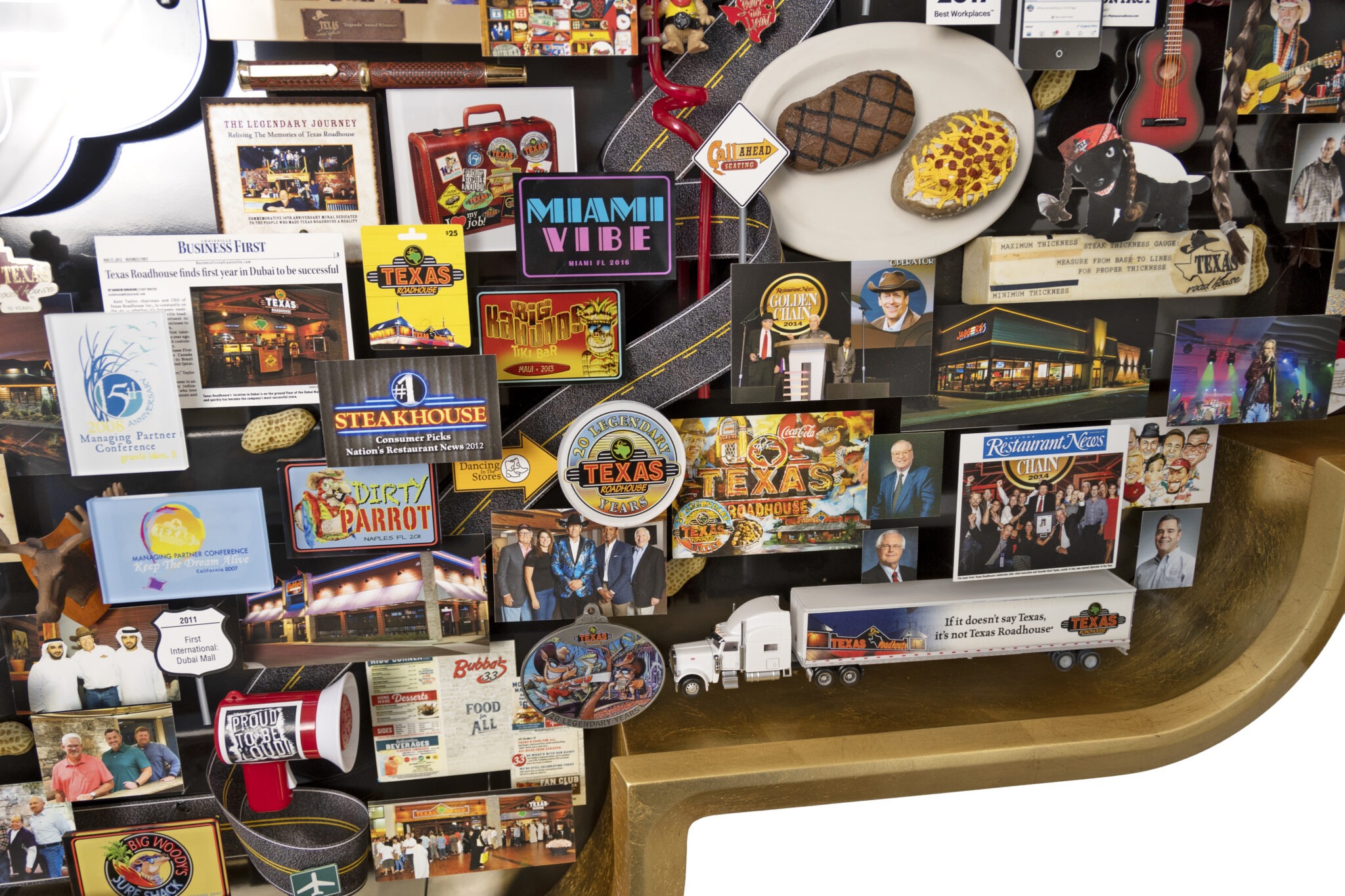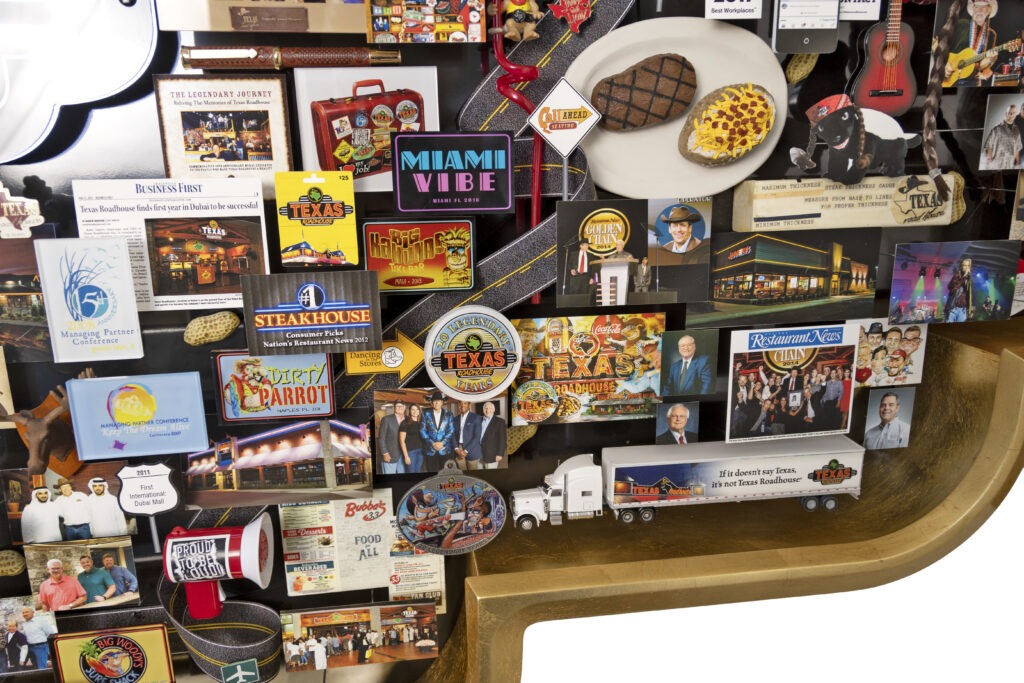 The 3-dimensional art celebrating Texas Roadhouse is designed with a black lacquer base and gold leaf frame. The shape echoes the Texas Roadhouse logo, with the actual logo featured in the center of the art in neon lighting – that actually lights up!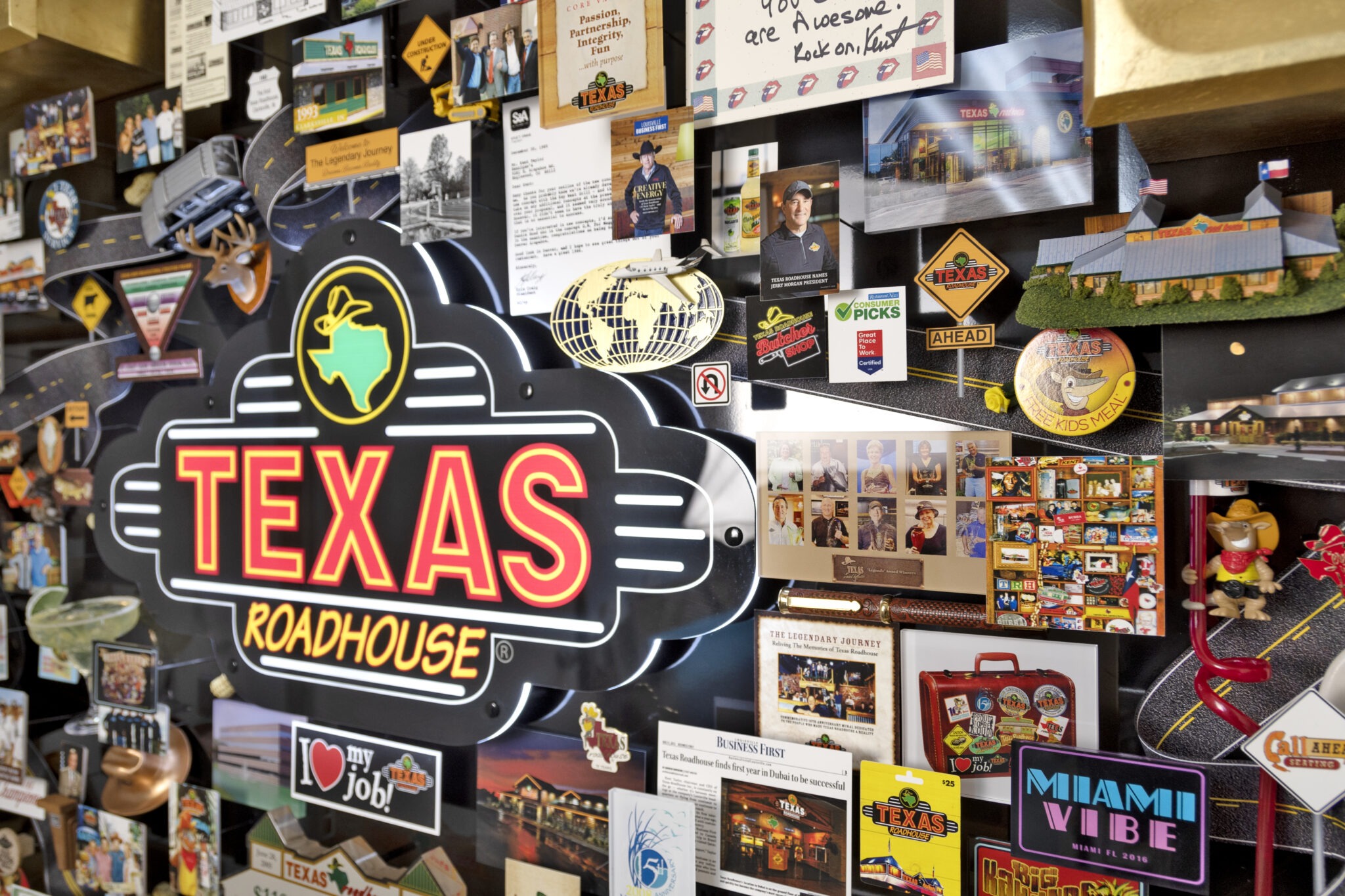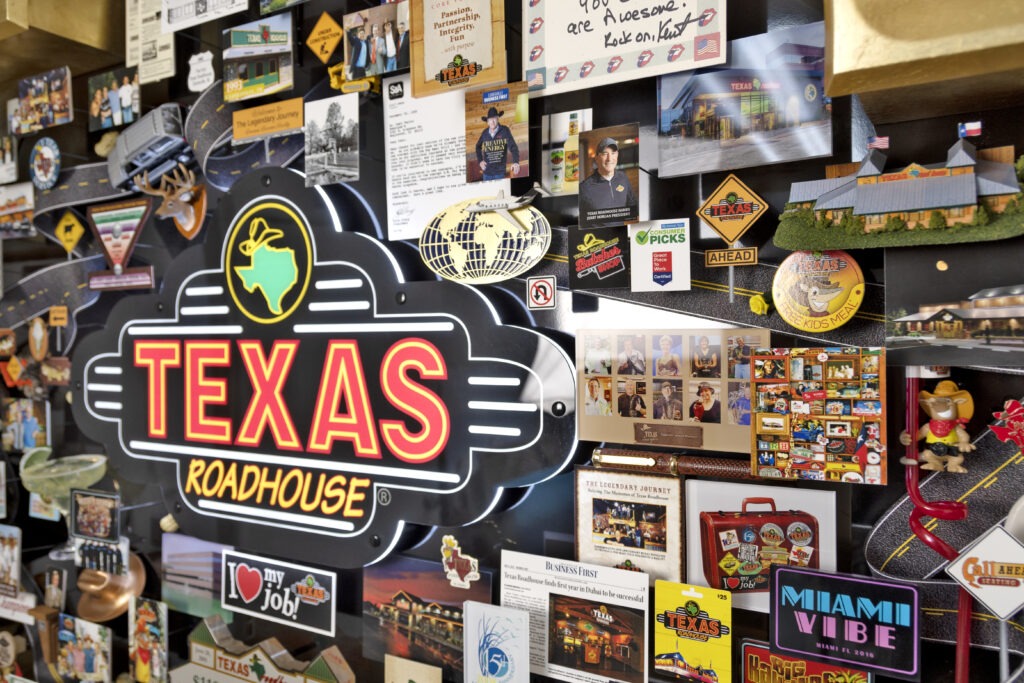 The story of Texas Roadhouse flows counterclockwise from the top center, following a road ribbon. Along the road, major milestones are highlighted on road signs. There's a great dedication message at the end of the road, on Kent Taylor's stationery: "Roadies, you guys are awesome! Rock on, Kent."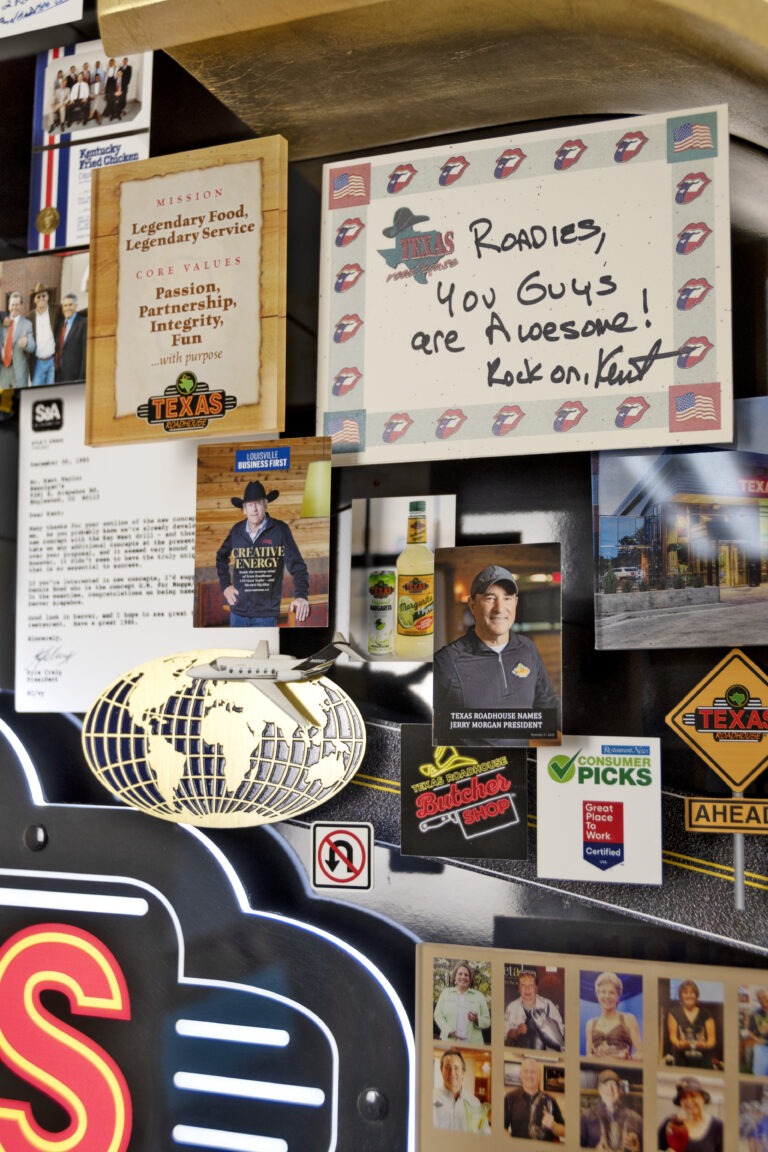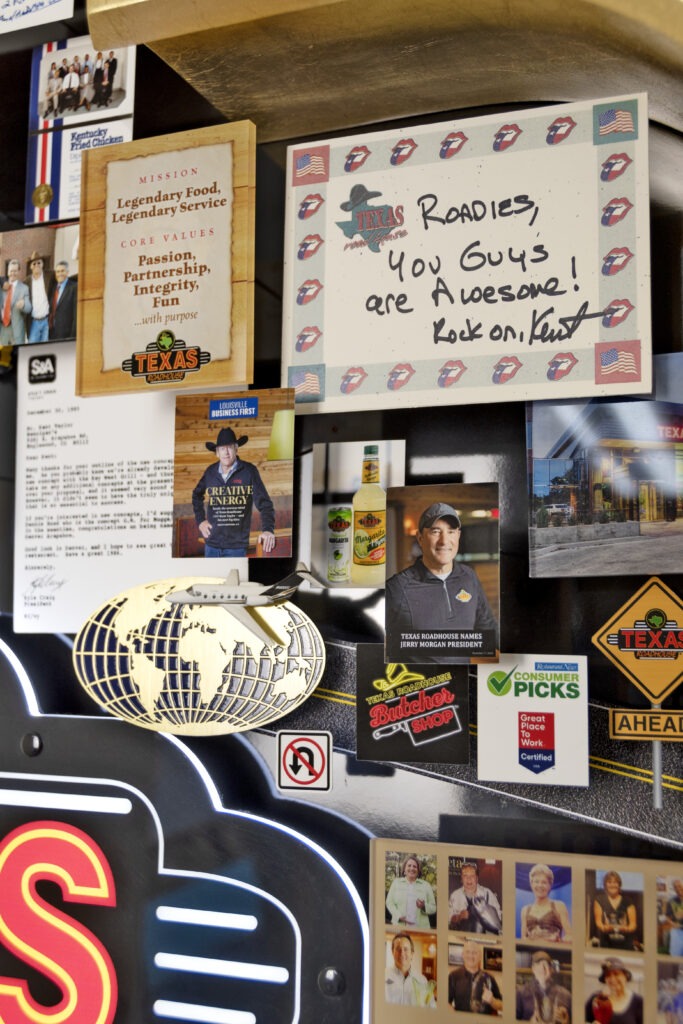 The art features photos, publications, and memorabilia, and is filled with fun 3D items and miniatures. They include a Kent Taylor and Willie Nelson bobble head rocking out next to a miniature juke box, a Texas Roadhouse Louisville Slugger bat, multiple armadillos, belt buckles, a metal Texas Roadhouse cowboy hat, a pocket knife, a miniature Proud To Be Loud megaphone, a Texas Roadhouse golf ball, pins, buttons, and much more!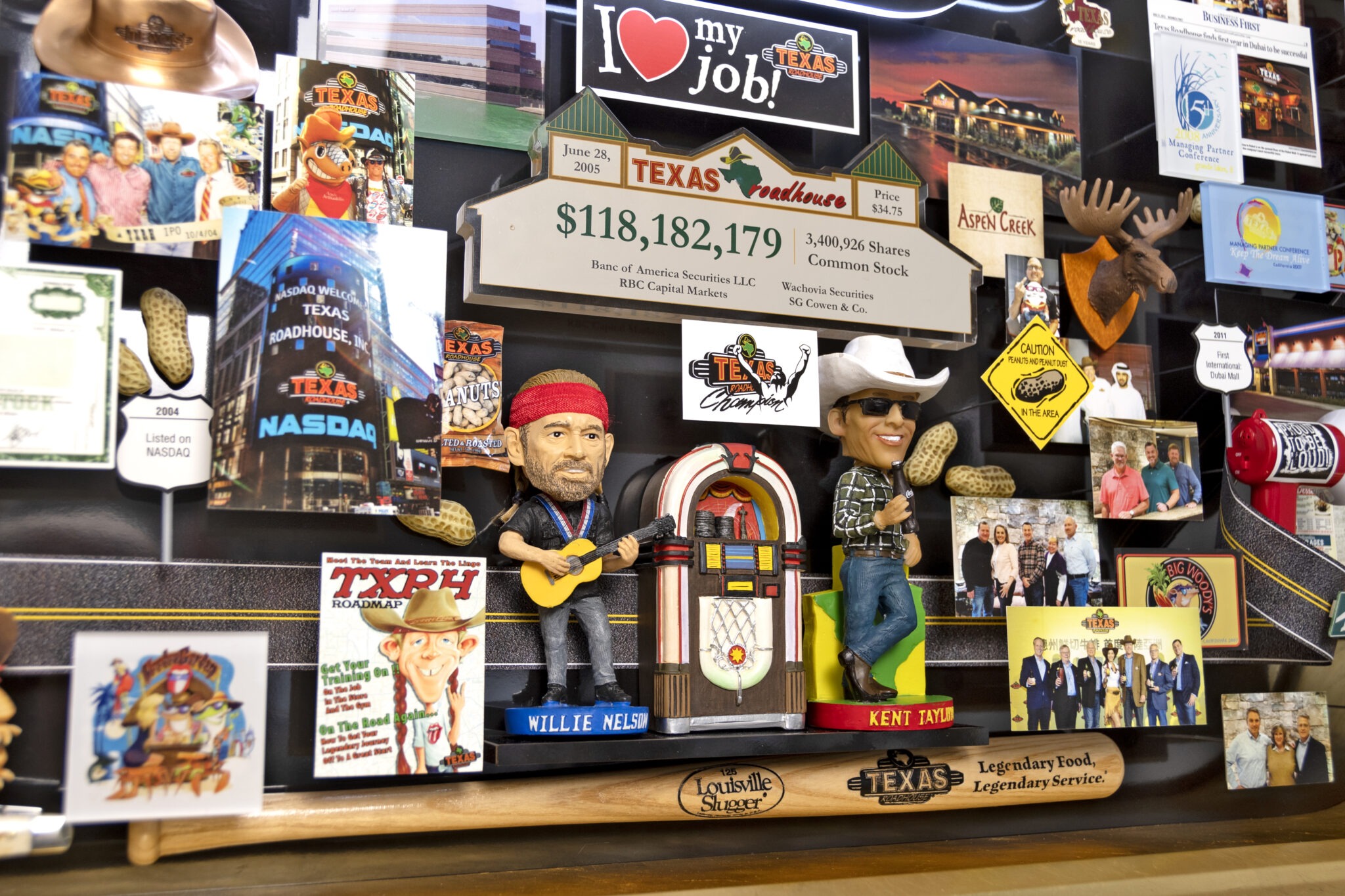 As a restaurant, Texas Roadhouse serves American cuisine, from the best steaks and ribs to made-from-scratch sides and fresh-baked rolls. So of course, there are many food and restaurant related items in the art – some even look real enough to eat! Items include a miniature bread basket with butter, steak knife, a bottle of Texas Roadhouse Steak Sauce, a margarita complete with a lime wedge, steak and loaded baked potato on a plate, a kid's swirly straw, a stick of butter, and multiple peanuts strewn throughout the piece.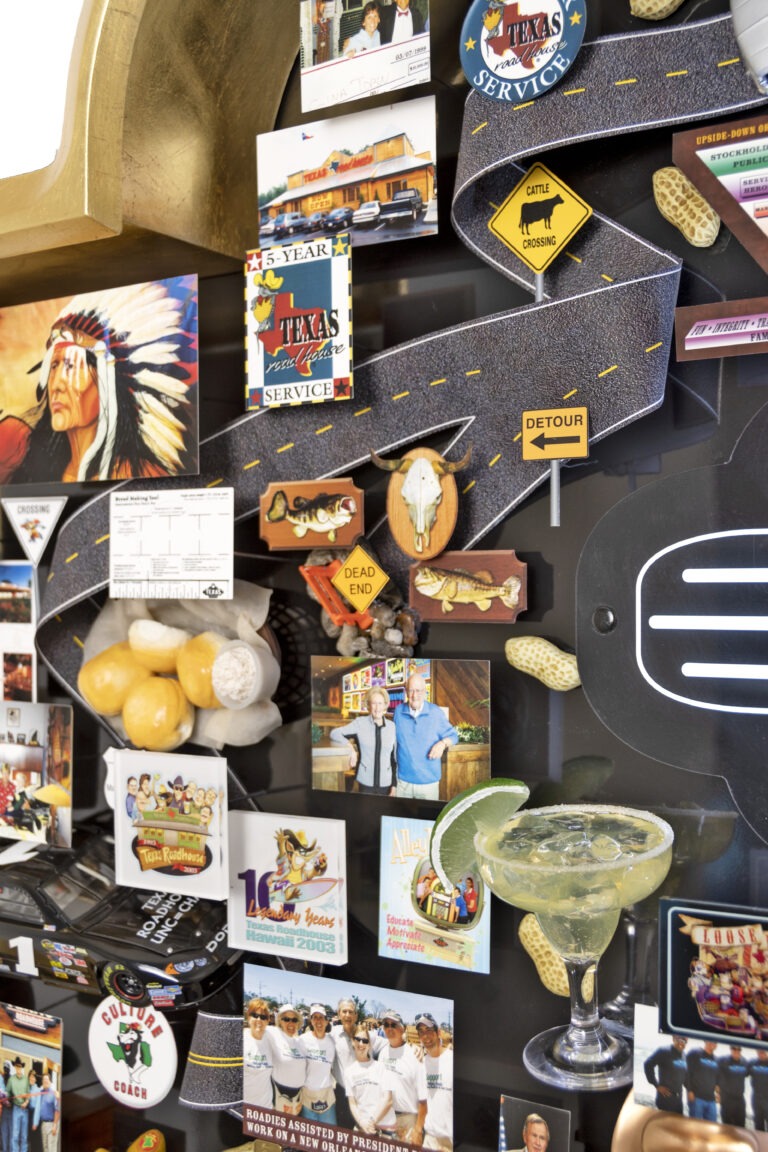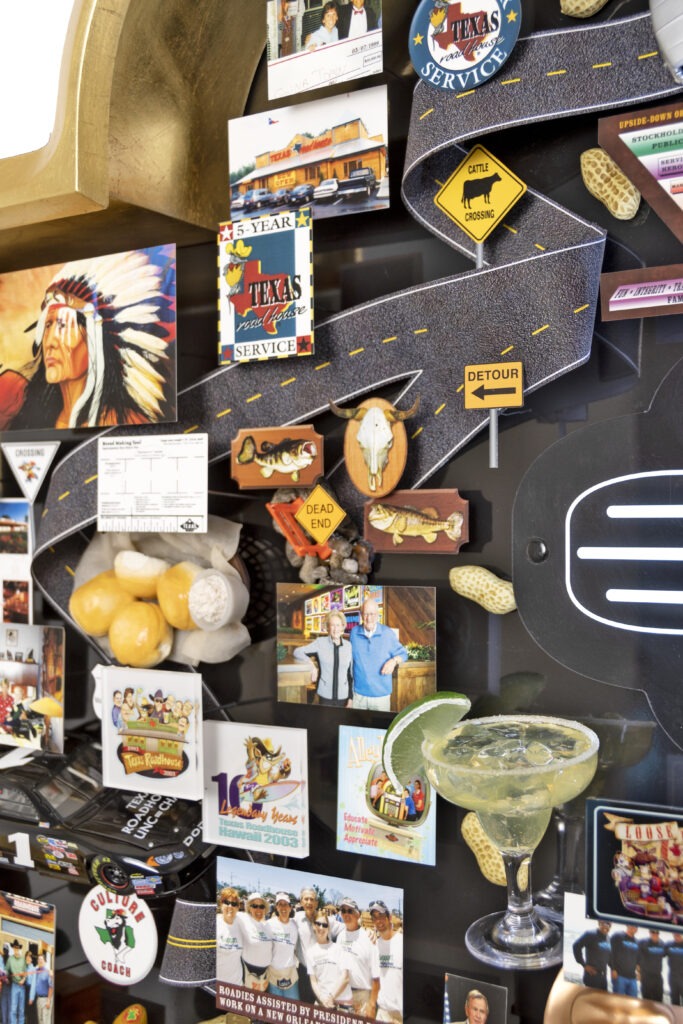 The "music section" on the right side features pictures of famous musicians that performed at Texas Roadhouse's 25th anniversary celebration. Musical 3D items include a miniature acoustic and electric guitar, a treble clef pin, a microphone, and Willie Nelson braids with a bandana.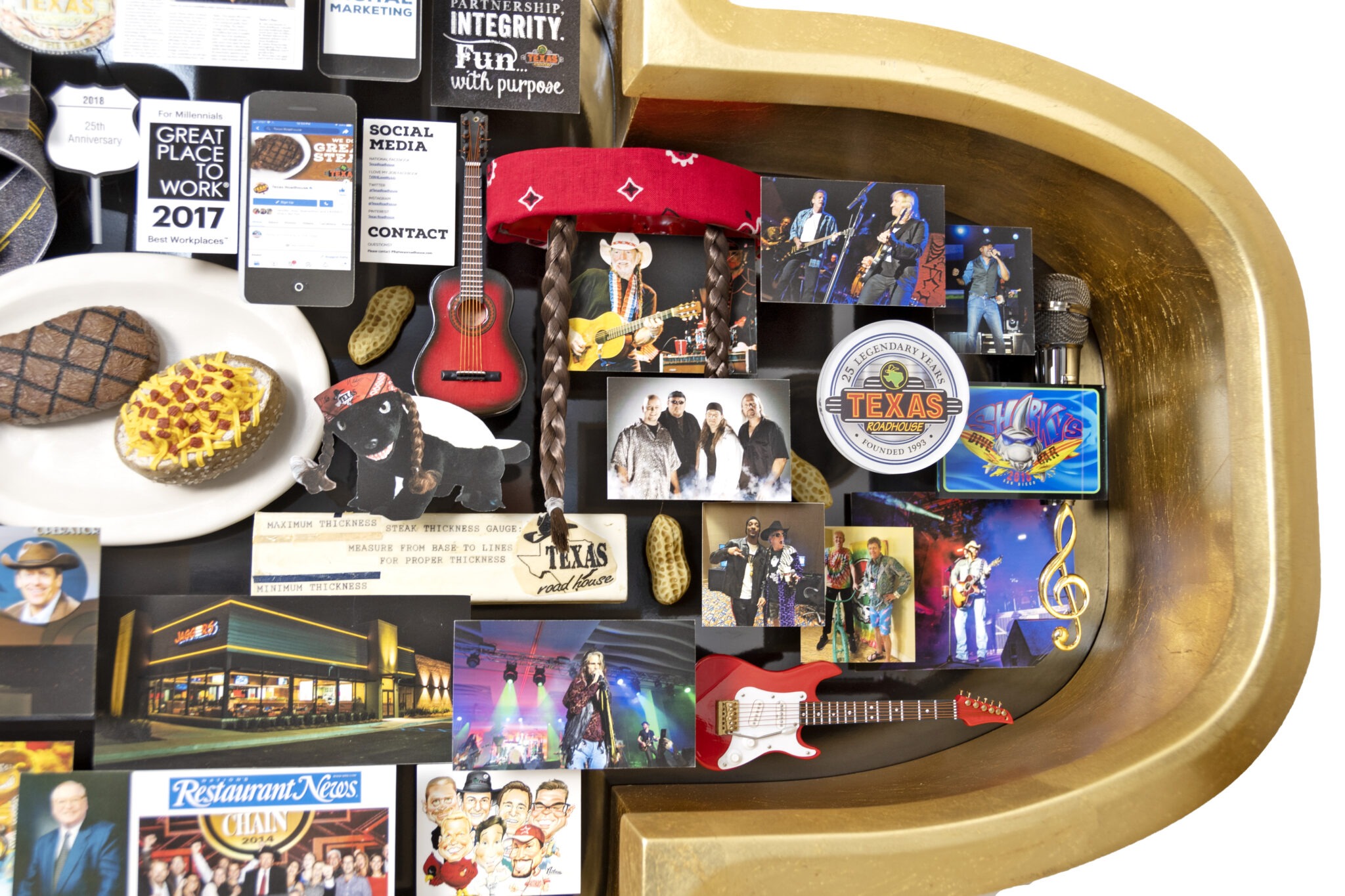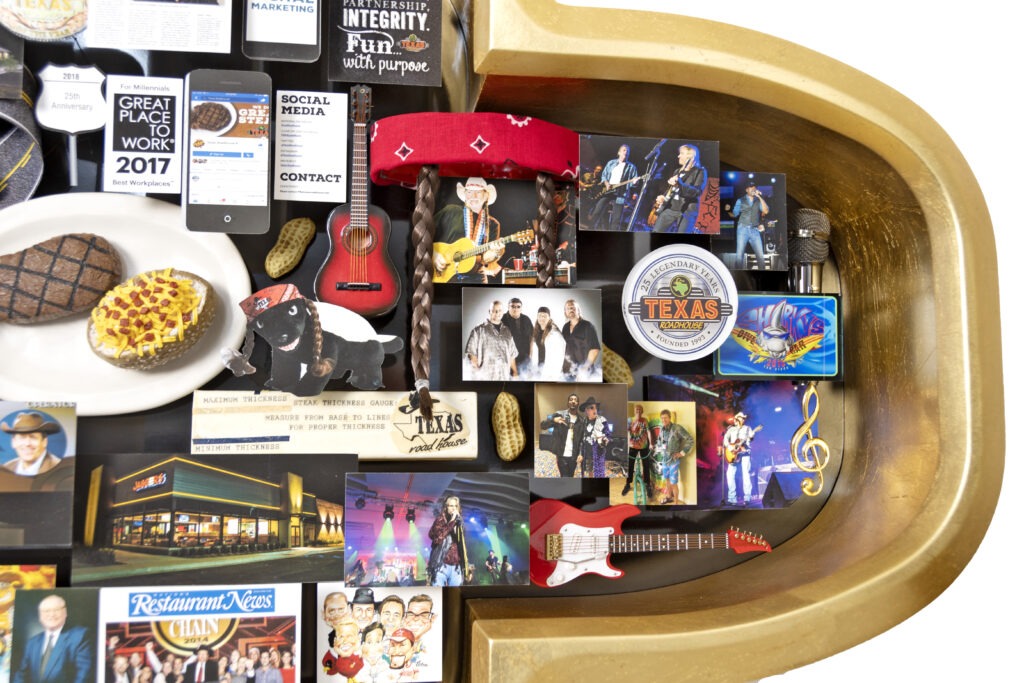 Two years in the creation, this commemorative art is installed at Texas Roadhouse's headquarters in Louisville. A great destination to explore this legendary One Of A Kind piece in person! "If it doesn't say Texas, it's not Texas Roadhouse."