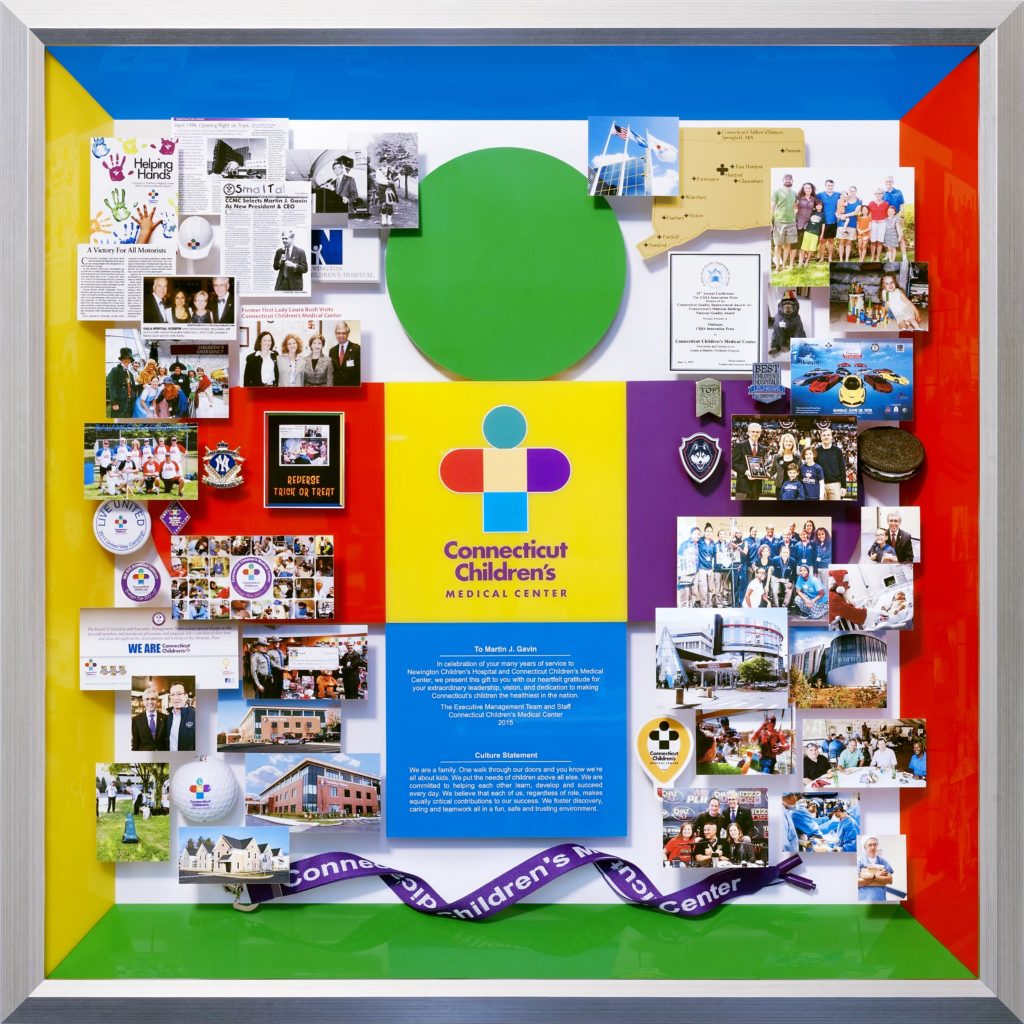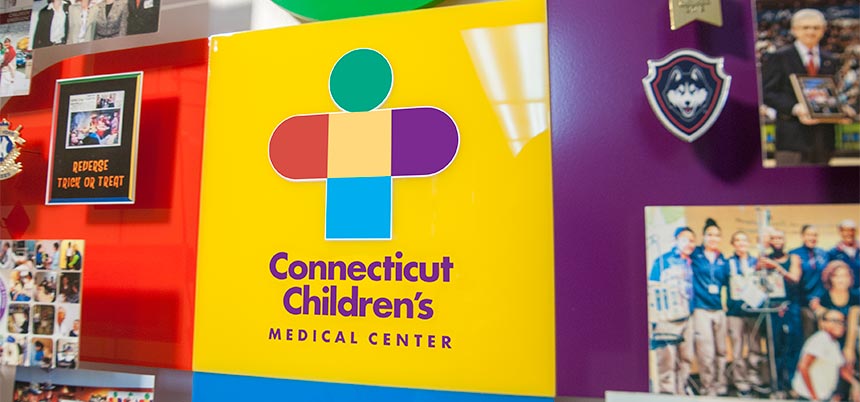 Connecticut Children's Medical Center honored CEO and President Martin Gavin last week with One Of a Kind 3-dimensional retirement art. A visual history of his stewardship and commitment to the community, the artwork was a highlight at the retirement celebration for this extraordinary leader.
"It was fantastic! Marty loved it," our client wrote after the presentation. "I met him along with some of the members of our executive management team [at the retirement party]… he was very surprised!"
Mr. Gavin's career retrospective celebrates the growth of CCMC under his tenure, and captures the spirit of exceptionalism that has made the hospital a leader in children's health care in the New England area since their opening in April of 1996.
Over the past year, we have had the pleasure of collaborating with Mr. Gavin's colleagues on this surprise gift.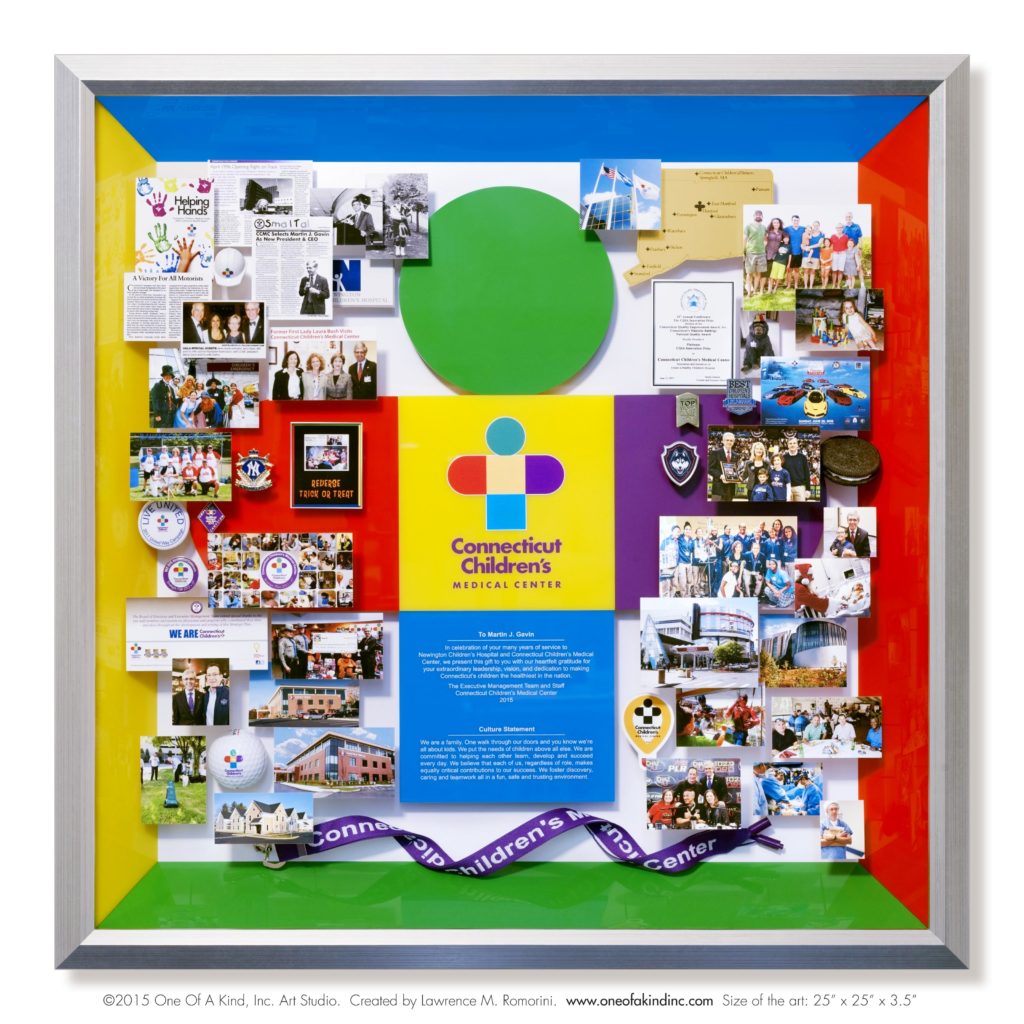 The centerpiece is the colorful and creative CCMC logo rendered in multicolored 3D acrylic. The logo colors are repeated in the border of the artwork, creating a fun and dynamic atmosphere. Surrounded by a sculpted silver frame and placed on a bright, white background, the structure artistically complements the caring story of Connecticut Children's Medical Center and the CEO's extraordinary leadership.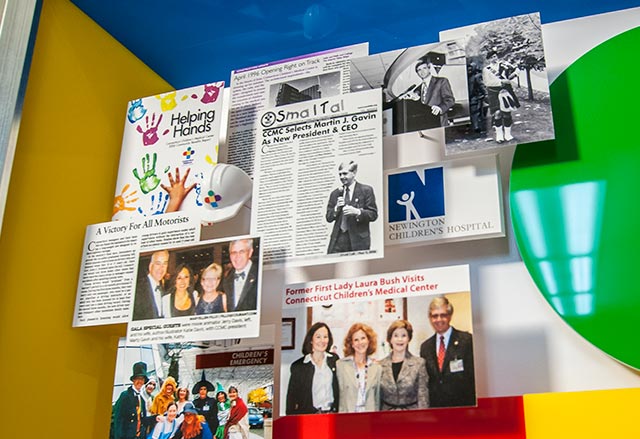 Important photos and newspaper articles from the hospital's history are featured prominently throughout the art. Each item is miniaturized, preserved on archival quality paper, mounted on acid free board, then suspended from the background to create a 3-dimensional texture. When lit with a spotlight, the interplay of shadow and light as you move around the piece bring life and drama to the art.
Actual 3D memorabilia are also on display within the structure, such as a CCMC golf ball, purple lanyard, and miniature hard hat. Commemorative pins shine like jewels and a brass silhouette of the state of Connecticut, photoengraved with all the locations in the CCMC system, makes a gleaming focal point to reflect growth.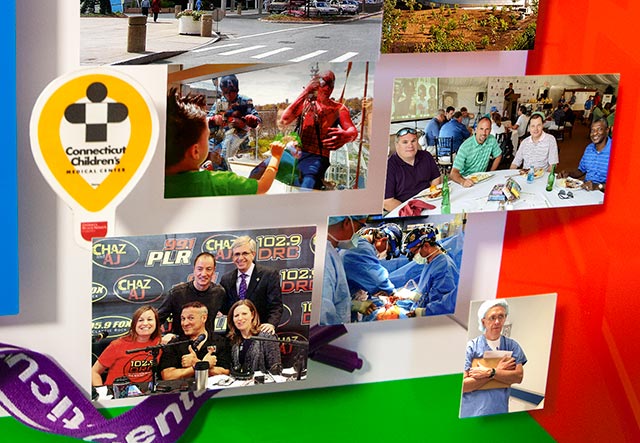 Favorite memories and photographs are also included in this tribute. Especially endearing are photos of the hospital's window washing crew, who dress up as superheroes to bring smiles to the faces of the young patients inside, and of employees dressed up on Halloween during a visit to the children's emergency room. There is even a faux Oreo that we plaster-cast from an actual Nabisco cookie, a nod to Mr. Gavin's favorite snack.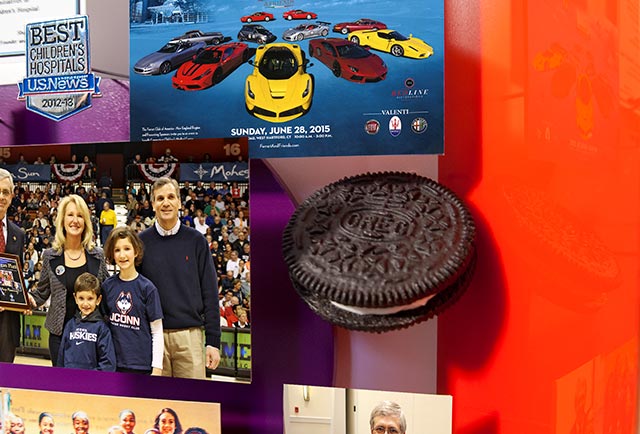 The blue square of the 3-dimensional logo features CCMC's Culture Statement, as well as a heartfelt dedication message to the retiring leader. The dedication reads:
To Martin J. Gavin
In celebration of your many years of service to
Newington Children's Hospital and Connecticut Children's Medical Center,
we present this gift to you with our heartfelt gratitude for
your extraordinary leadership, vision, and dedication to making
Connecticut's children the healthiest in the nation.
 The Executive Management Team and Staff
Connecticut Children's Medical Center
2015
Congratulations to all on a wonderful collaboration!
Connecticut Children's Medical Center is a nationally recognized, 187-bed not-for-profit children's hospital serving as the primary teaching hospital for the University of Connecticut School of Medicine Department of Pediatrics. Connecticut Children's Medical Center is consistently named among the best in the nation in the annual U.S. News & World Report "Best Children's Hospitals" rankings.
The history of Connecticut Children's spans more than 100 years, with its predecessor being founded as a 10-bed hospital for children who suffered incurable conditions such as cerebral palsy, spina bifida and polio. Connecticut Children's is now one of only two freestanding children's hospitals in New England—the only freestanding children's hospital in Connecticut—that offers comprehensive, world-class health care to children and adolescents in a patient- and family-centered environment with a focus on research, education and advocacy.
Mr. Gavin was President & Chief Executive Officer of Connecticut Children's Medical Center until his retirement in 2015. Prior to being named on May 11, 2006, he served as interim President and CEO since January 6, 2006. In addition, Mr. Gavin also served as the President of Connecticut Children's corporate board of directors and CEO of Connecticut Children's Foundation board of directors. Previously, he served as a member of the board of directors of the Medical Center and its predecessor, Newington Children's Hospital, from 1989 to 2000. He was chairman of the board when Connecticut Children's opened on April 2, 1996, and also served as chair of the building committee during the construction of the hospital. 
Previously an executive with more than 27 years of experience in the insurance and investment industries, Mr. Gavin worked for 16 years at the Phoenix Companies, in Hartford, retiring in 2000. While at the Phoenix, he held various positions, including Senior Vice President of Phoenix Home Life, Executive Vice President of its investment subsidiaries, and President of its national trust company.  Active in the community, Mr. Gavin currently serves on the boards of trustees at Connecticut Health Foundation, Connecticut Hospital Association and Saint Joseph College.
Mr. Gavin is a 1972 graduate of the University of Connecticut and a Senior Fellow of the American Leadership Forum.