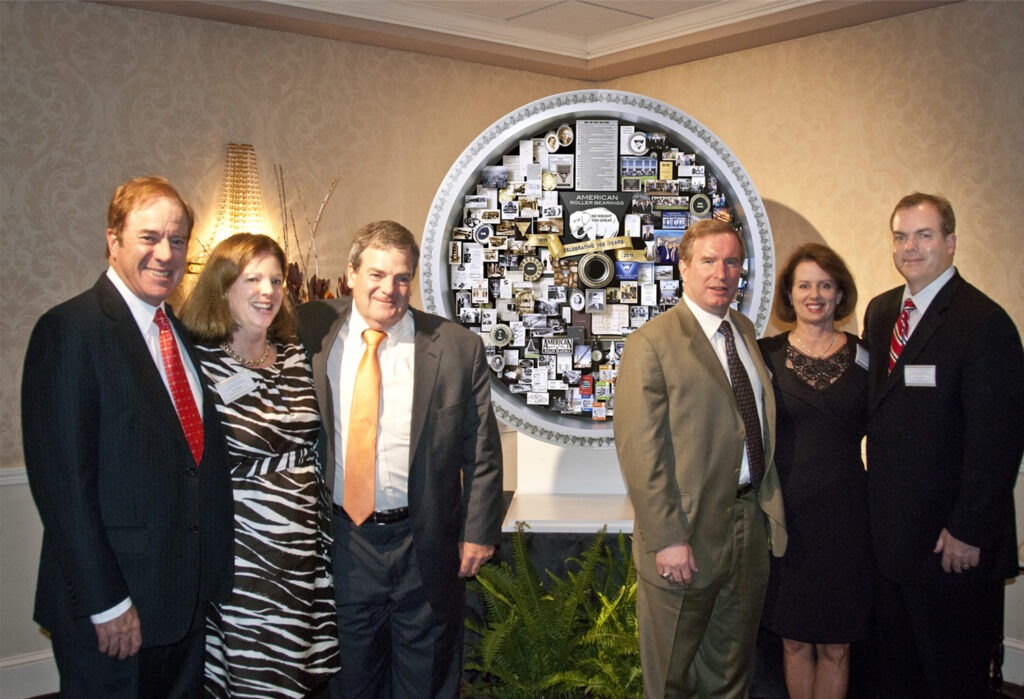 Your company's anniversary is on the radar—but too far out to be concerned?  Or it's in 6 months? Suddenly you need to move ahead. Looking for anniversary ideas?
There are "5 P's" that can make your celebration a memorable success. After helping hundreds of companies celebrate major milestones with One Of A Kind 3-dimensional commemorative art, we are always impressed by the same five best practices that maximize an anniversary's success:
Plan   Promote   Party   Praise   Preserve 
PLAN
This is one of the most fun, gratifying projects you'll ever work on—and more so when it's not a crisis situation. It takes time to go through boxes and drawers to discover archival material that give a celebration more meaning. Two years before Andersen Windows' 100th anniversary, their Director of Communications designated a Centennial Manager to oversee planning of the celebration. We visited Andersen's Bayport, Minnesota headquarters for a tour of operations and participation by key stakeholders. These included the Chairman and 4th generation Sarah Andersen. Creating a strategy provided ample time to build consensus on what Andersen wished to communicate. We also had the opportunity to review/edit archives in several storage areas.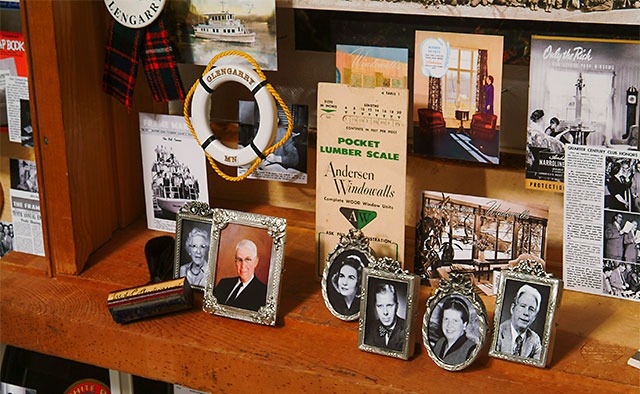 This on-site research was invaluable to appreciate their unique story and edit material. When Lawrence found a pile of wood in the corner he asked, "What's this?" As the original "10-Minute Window" that revolutionized the industry, it turned out to be a perfect 3D design element for the art.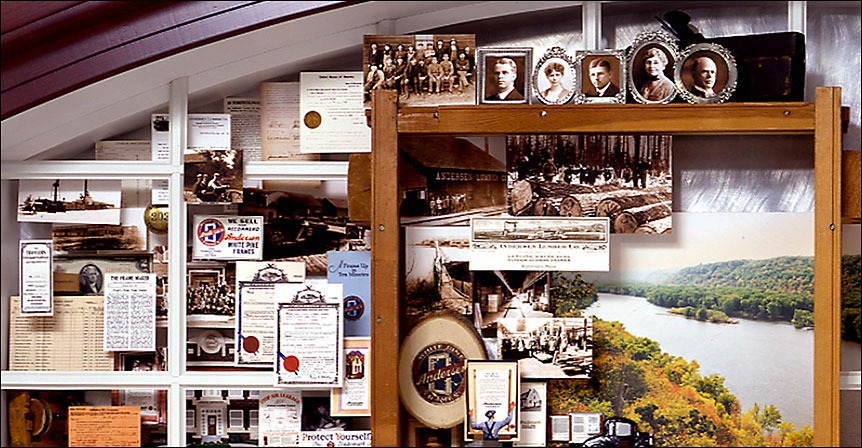 Our brainstorming and on-site research inspired Lawrence Romorini to feature the beauty of the  St. Croix River, where Andersen has been located for a century. It reflects the company's consistency, even as it evolved. The river also was essential in early years to transport logs for wood used in creating the windows. The overall structure was suggested by the Chairman.
"Could you possibly use a contemporary Andersen Window for the frame?"
"Great idea—sure!"
There's a powerful juxtaposition between the 10-Minute Window and the latest Andersen Window. The luxury of time enables creative ideas to emerge.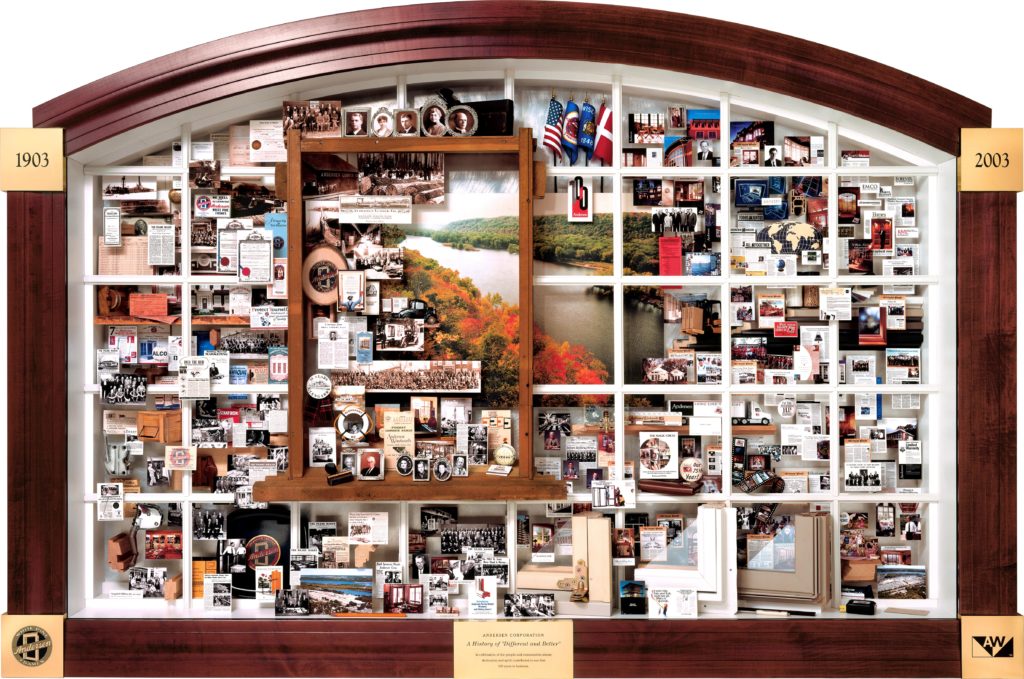 Andersen used the art to unveil their centennial celebration. 15 years later, the lobby art remains an overview of their story for corporate headquarter tours.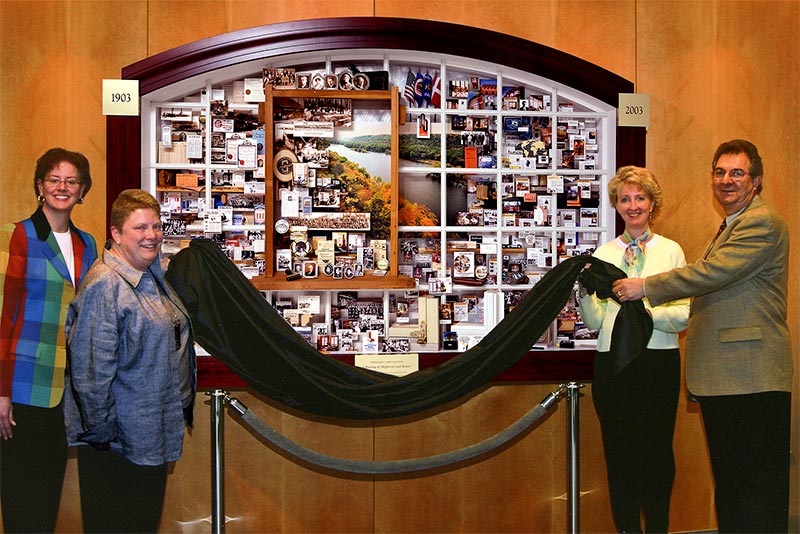 Andersen used their 100th anniversary art in other ways throughout their centennial year:
-Reproduced in 10,000 posters for all employees
-Sent as box-framed prints to all locations
-Featured in Andersen publications
PROMOTE
Anniversary promotion can build anticipation for the celebration and underscore the significance of the occasion. Edward C. Levy Companies sent out a "Call for Memorabilia" to contribute to their centennial art. The collage became a collaboration with a payoff at the celebration, when participants saw their vintage photos and memorabilia as part of their company's artwork. A longtime employee could proudly point out, "I contributed that!"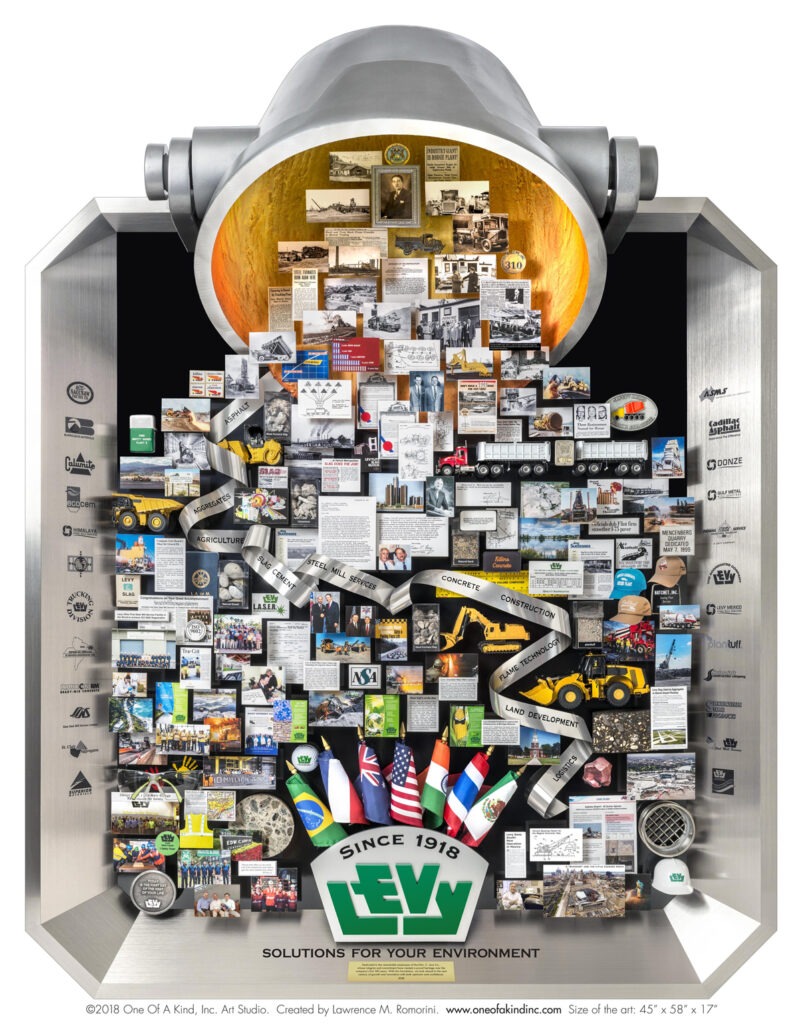 Be sure to contact local news outlets and trade publications to cover the importance of your company's anniversary to its community. Every anniversary ending in a zero or five is a significant one. The uniqueness of corporate custom-made 3-dimensional art makes it a perfect photo opportunity with key leaders to accompany a press release. Leonard S. Fiore, Inc. shared their story with the community in a local newspaper featuring a photo and article.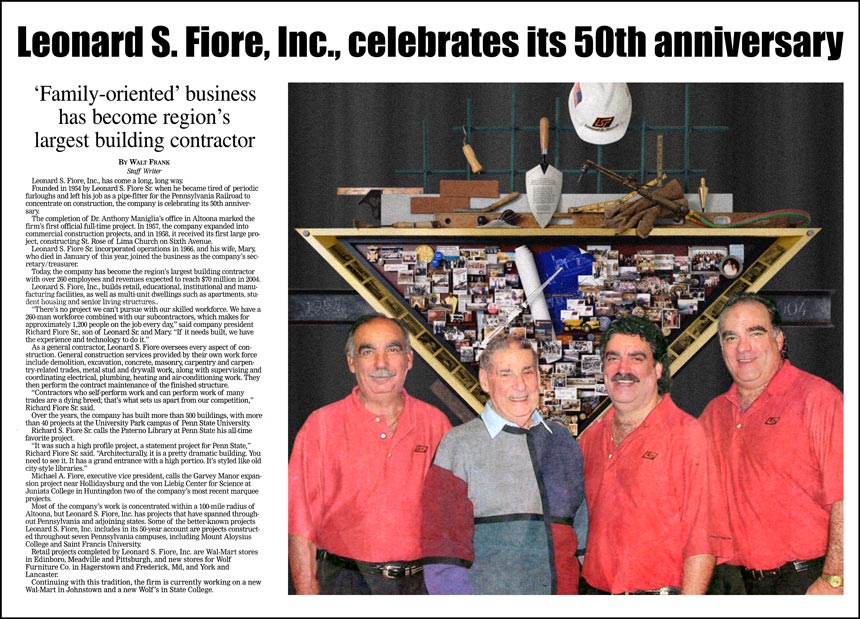 Your history reflects success, and the longevity builds trust with customers. Using your anniversary as a tool to reach out to your customers is a practical business anniversary idea that can strengthen the relationship. Make sure your website features the company anniversary and your story. Include anniversary collateral in your direct mail and social media campaigns.
"An anniversary is a good moment to recommit to what should never change," Judith Rodin states in a 2012 Harvard Business Review article.  That is why our clients so often wish to feature Values, Mission and dynamic leadership in their 3-dimensional commemorative art. Photoengraved in metal, featured as cornerstones, surrounding photos, publications and actual 3D items as a border, typographical messages underscore the facets that distinguish an institution—and should never change.
Pacific Life's 150th anniversary art continues to promote all that distinguishes the company. Values are integrated into the border, while the cornerstones reflect Mission and Vision.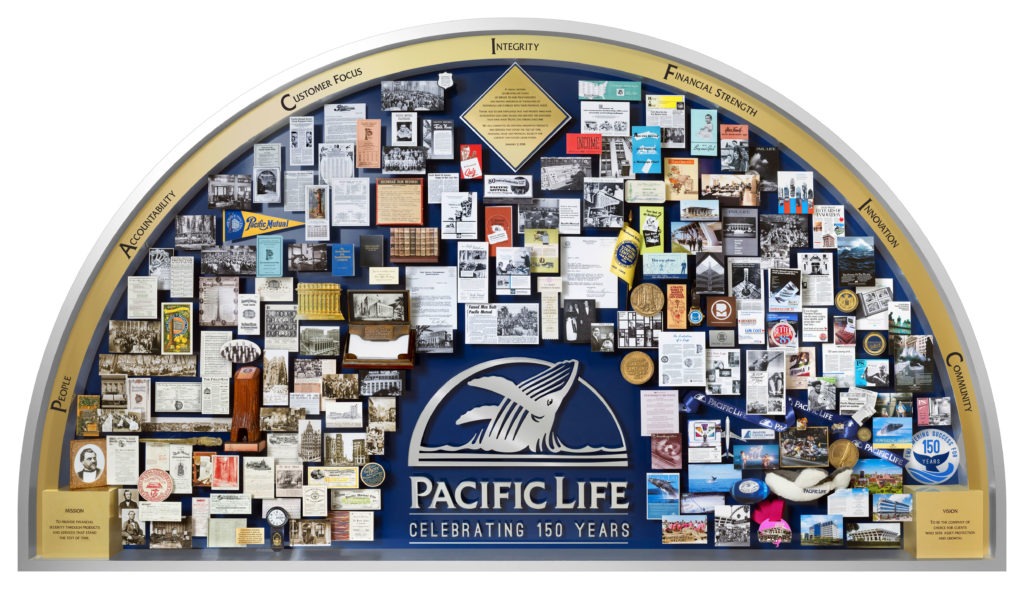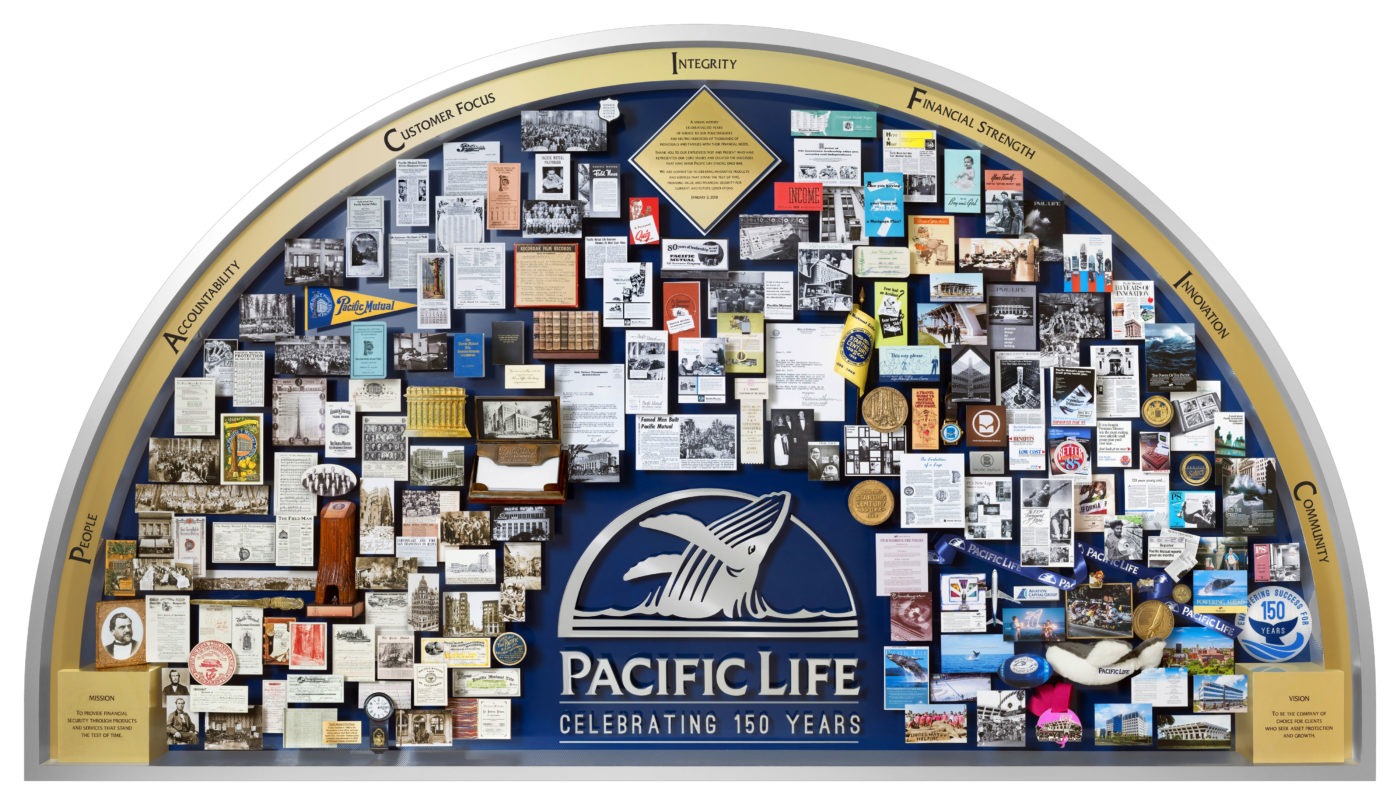 PARTY!!
Our clients party in amazing, wonderful ways, from picnics on the premises with hot dogs to galas at the Waldorf Astoria.The celebrations include employees, customers, longtime vendors and community leaders. Often a month is selected for optimal weather, so the event, such as Sandy Spring Bank's 150th Anniversary celebration, can be outside, offering more room and accommodating more people. Other times it is a yearlong anniversary party, with surprises for each month of the calendar.
The autumn weather was perfect for Sandy Spring Bank to unveil their 150th anniversary art at a Smokey Glen Farm picnic, attended by hundreds of employees, spouses and guests.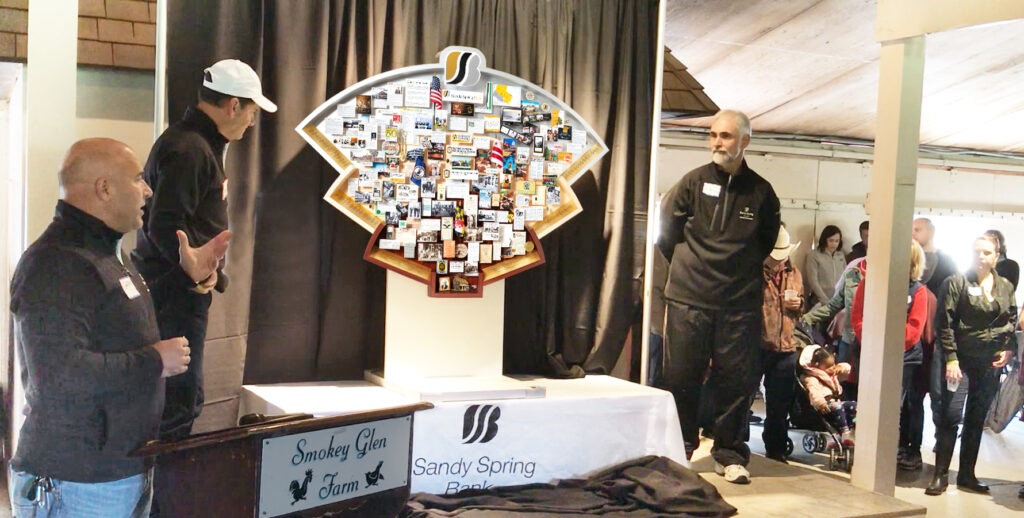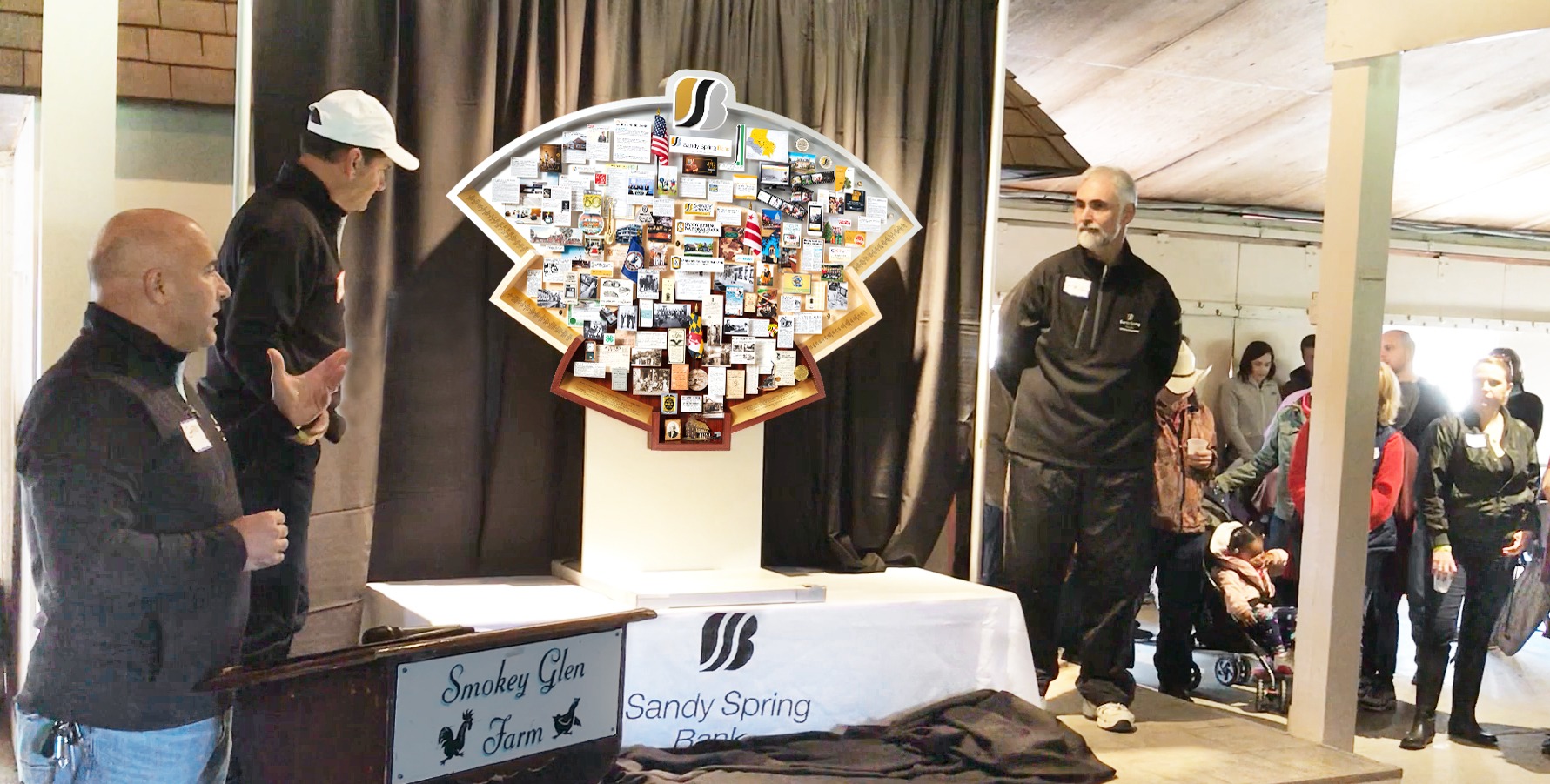 The celebration continued at a formal country club anniversary event, where their art again reinforced the Bank's history, leaders, accomplishments and vision for the future. At Sandy Spring Bank's annual meeting, commemorative brochures featuring the art and a descriptive key provided a meaningful take-away to culminate the sesquicentennial.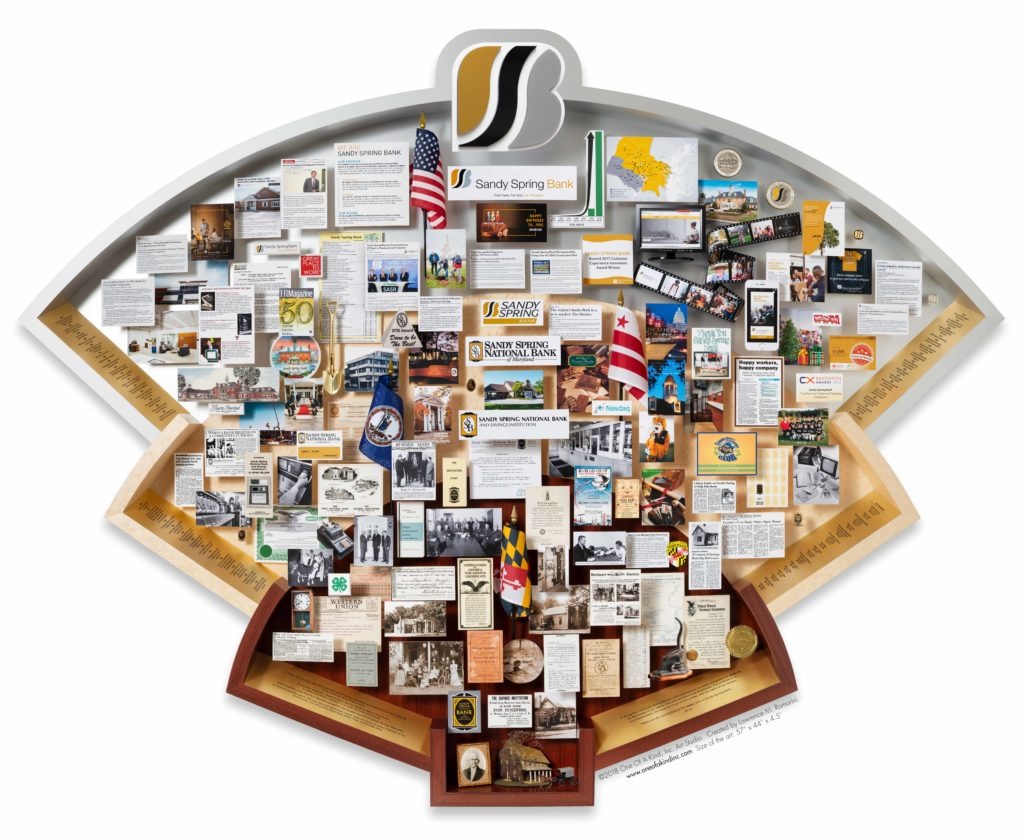 PRAISE
You can cast a broad net in expressing thanks to all who have contributed to your company's success. Reach out to founders, founders' families, longtime leaders and their families to recognize them at an anniversary celebration.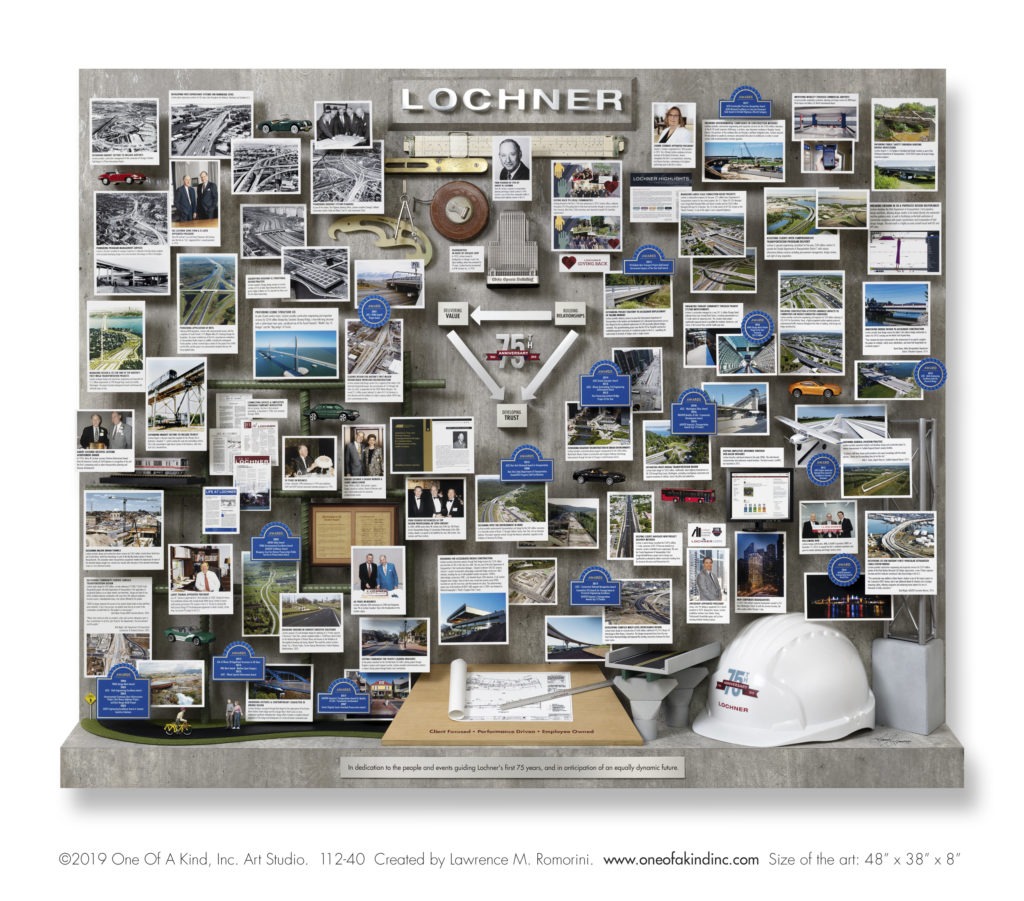 At the cutting edge of transportation planning since 1944, Lochner honored their history, accomplishments and visionary leaders in their 75th anniversary lobby art. On hand for the unveiling was Hal Lochner, the son of Founder Harry W. Lochner and the firm's 2nd President. The art is a lasting communication piece on the firm's website, as an interactive feature with descriptive key.
The dedication plaque reads:
In dedication to the people and events guiding Lochner's first 75 years, and in anticipation of an equally dynamic future.
Ms. Rodin's Harvard Business Review article concludes with, "Imbue your commemoration with the understanding that looking back can be more than mere nostalgia for the past. It can inform a whole body of work for the future."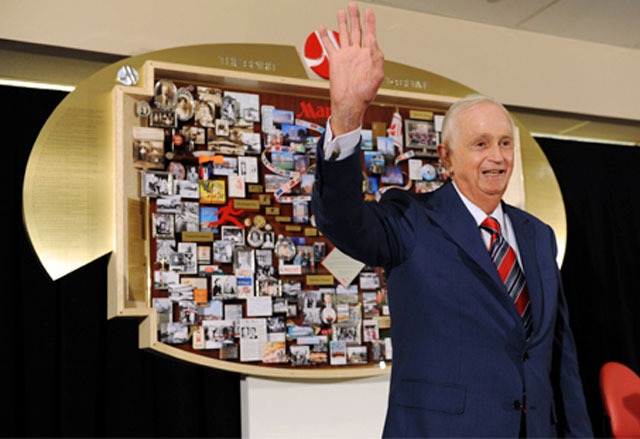 After commissioning 85th anniversary art to honor J.W. Marriott, Jr., Marriott returned to commission 90th anniversary art. In the newer lobby art, the story shows 2 perspectives, one looking back on history, the other looking to the present and future.
Our collaborators at American National Standards Institute ensured that their 100th anniversary art not only reflected the past but also celebrated the current story. While honoring the past, the structure has a contemporary design celebrating the benefits of membership and echoing their current brand.
PRESERVE
After the anniversary, leave a legacy that will be appreciated for years to come. Organizing the archives for future generations is a good start. To add to the archives, One Of A Kind provides a free CD with images used in the art, scanned, retouched and ready for future reproductions.
With One Of A Kind 3-dimensional art, highlights of the archives can continue communicating your story and mission every day to staff and visitors in a fascinating lobby display.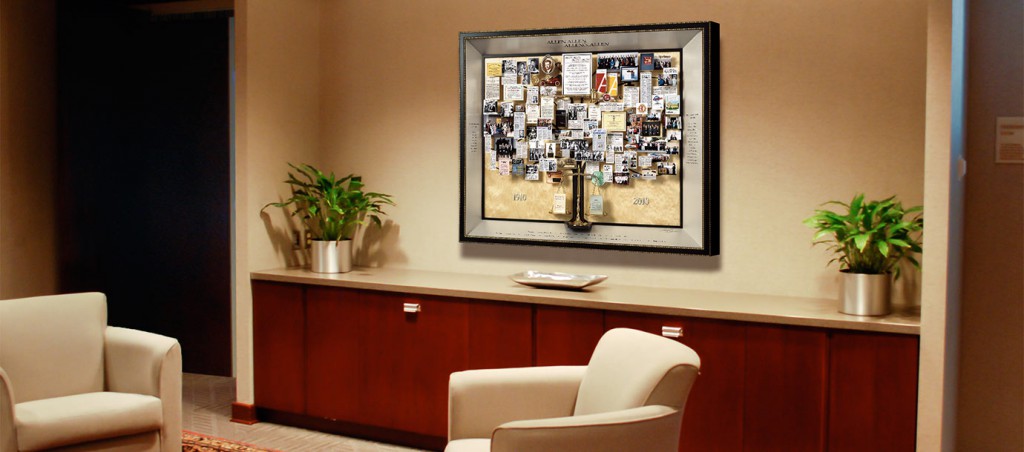 Reproduced as a  commemorative brochure with descriptive key and as an interactive website feature, you share your history, leaders and accomplishments far into the future. Years later, posters from Tech International, Marriott, Boar's Head, USA Today, Cisco Systems, and more are no doubt still on display.
Milestone anniversaries are an exciting, unique opportunity. Please let us know how we can help you PLAN, PROMOTE, PARTY, PRAISE, PRESERVE!
---