Indianapolis, IN – Wilhelm Construction commemorated their 90th anniversary story in a unique, meaningful way: 3-dimensional retrospective anniversary art. Guests attending Wilhelm Construction's 90th anniversary celebration at the Eiteljorg Museum of American Indians and Western Art previewed the artwork created by Lawrence Romorini. The custom-made piece celebrates Wilhelm's story and is exclusively designed to mirror the firm's iconic "W" logo.
"I came to appreciate the significance of the Wilhelm "W" to Indianapolis as a symbol of trust in their contribution to the skyline of the city and far beyond," says Romorini. "It was a great idea, which the company actually suggested, to create the art in the shape of a "W"—and a first for One Of A Kind."
A hard hat, slide rule, brick, and memorabilia, along with scores of photos and publications, create a fascinating texture in the unique structure to showcase Wilhelm's history, projects, and three generations of Wilhelm family leadership. From the first project of building a neighbor's porch, to constructing many of greater Indiana's most impressive structures, the values of founder F. A. Wilhelm have endured. Rebar extends the story into the future, as it can be updated to showcase new milestone projects.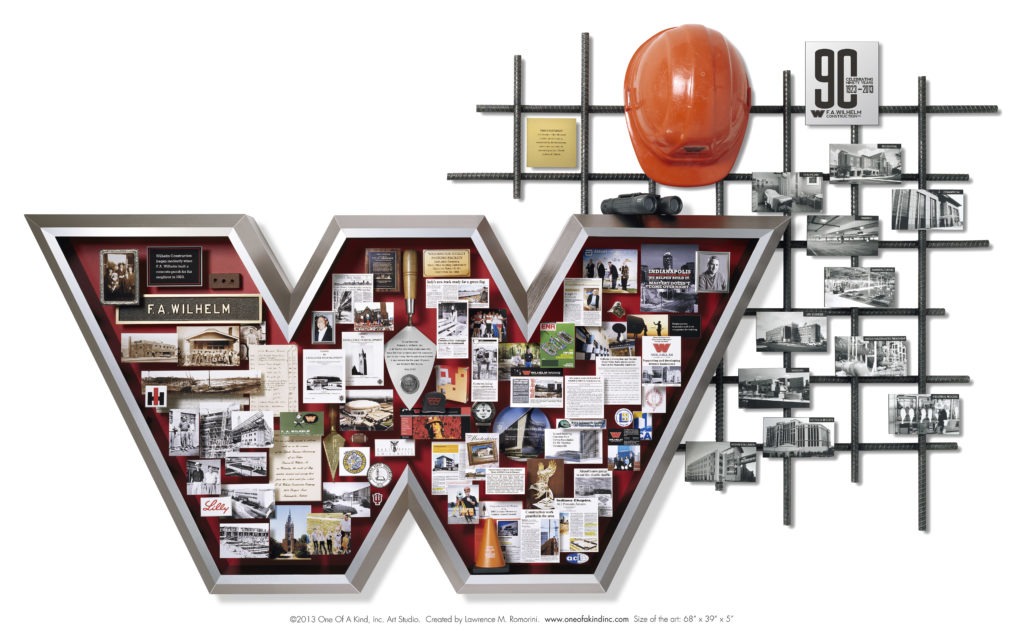 The collage, which is 68" x 40" x 5", is installed in the headquarters of Wilhelm Construction as a lasting legacy and communication piece. The company also launched an interactive website showcasing their 90th anniversary commemorative artwork. Explore the art by clicking on the individual images to see a close-up and in-depth description of each item featured. This interactive website, created by One Of A Kind, allows Wilhelm to reach a worldwide audience with their lobby display, and is an amazing tool for describing the nuances of all the fascinating memorabilia contained therein.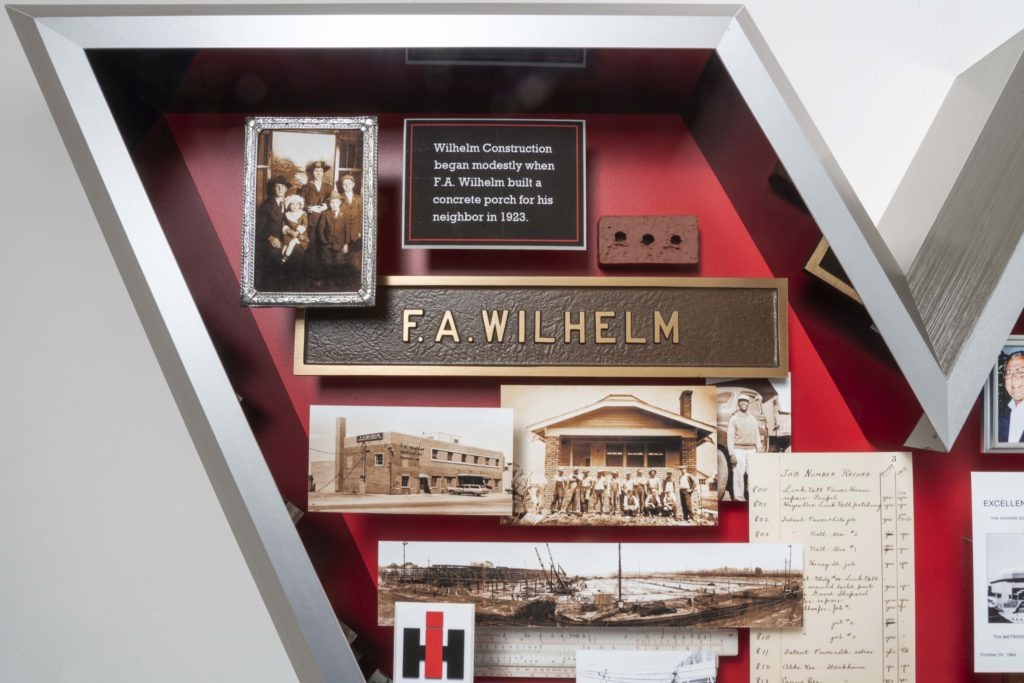 Lawrence Romorini, founder of One Of A Kind Art Studio, has gained a national reputation for the three-dimensional retrospective collages he has created for over 35 years—from American Society of Civil Engineers and Marriott International, to Oprah Winfrey and Michael Jordan, with many featured on One Of A Kind's website: www.oneofakindinc.com. To learn about creating your own One Of A Kind art, contact Studio Director Donna Rome: donna@oneofakindinc.com or 301.495.3361 ext. 102.
---