The amount of care and attention to detail that goes into every One Of A Kind commemorative collage is a matter of pride to all of us. Take comfort in knowing that all of your original memorabilia is carefully scanned, retouched and restored, and reprinted on archival paper, preserving a lifetime of memories for another generation.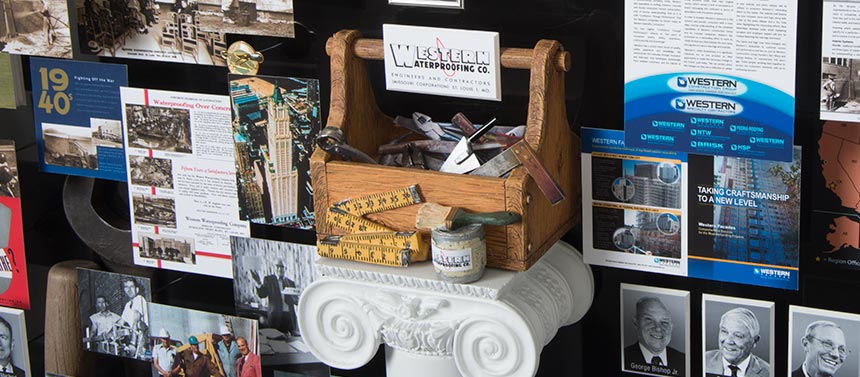 Lawrence and I often collaborate by phone and email with our clients and have wonderful long-distance relationships all over the country to create One Of A Kind art. But there's nothing like meeting in person—either at a client's headquarters or at our studio. So it was especially exciting to welcome Jess and Lisa, who travelled from New Jersey to our studio, to review and edit material for their 50th anniversary art. They brought so much enthusiasm and care for the organization—what a perfect team for the project.
Together we organized big bins full of old and new photos, publications and 3D items into piles to consider what was essential, what was discretionary, and what was not important. A key first step. The next step is to email our clients composites with miniaturized images of the proposed content so they can share with the rest of the anniversary team for ideas/comments/approval.
We're always excited and energized when our clients have a special meaningful 3D item that they want to include in their retrospective art. But sometime the item is too large–that's when our team goes to work! Our team uses all of the resources available to add that 3D touch to the art that people like to point to and talk about.
For example: after an exhaustive search, we just could not find a good tiny replica of the Similac Bear. So our Artist Representative handcrafted a miniature wool version of the bear that captured the charm of their iconic logo and was perfectly sized to fit in the art.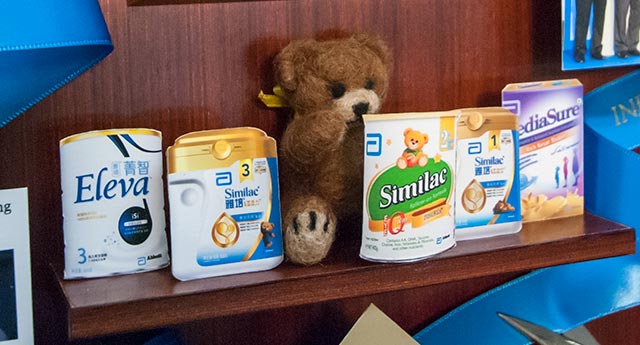 Sometimes there is a single item that is especially important to our client's story. Ideally it is a size that can fit into the art—a bobble-head, die cast vehicle, construction tools or doctor's bag, knee implant, a gavel—but due to size or circumstance, it may not always be possible.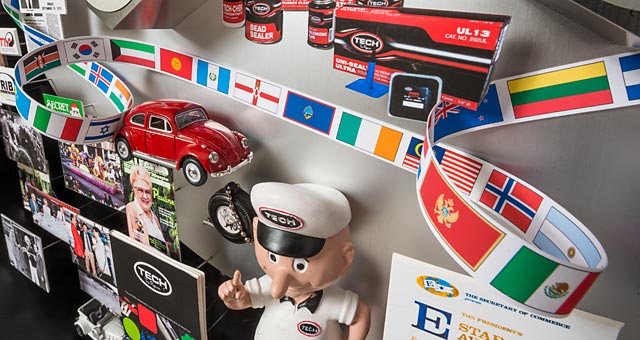 In these instances, we can provide exact miniatures that simply aren't available "off the shelf." One solution is silhouetting, which involves photographing the item to emphasize its 3D characteristics and cutting out the photo to give the illusion of 3-dimensionality. This effect can be emphasized by using layering techniques.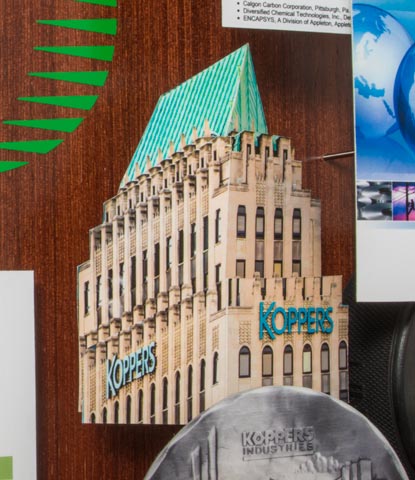 Although few people ever realize it, NY Stock Exchange medallions, for instance, have been represented with photographs, silhouetted and mounted on a round ¼" thick Plexiglas with painted sides to simulate the original brass medallion.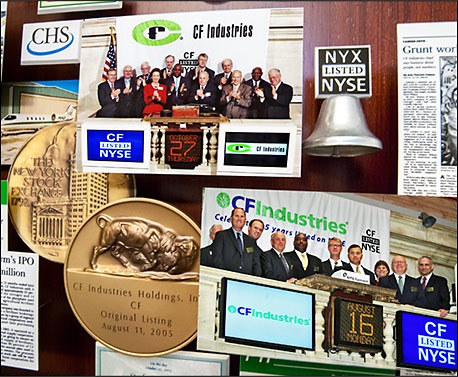 The steady, artistic hands of Mark Aruta have contributed to the beauty of our One of a Kind's artwork for 15 years now! As the studio's premier mat-cutter, Mark takes the archival prints and mounts them to acid-free, museum-quality mounting board. He then painstakingly bevel cuts each photo by hand to ensure perfection. The patience and care required to maintain such a high level of quality is impressive. The number of photographs that Mark has put his seal of approval on surely numbers in the tens of thousands.
Occasionally, the architectural heritage of our clients is an important component of their story. For example, the Kuehne Bell Tower is an iconic symbol of Washburn University. So our amazing model artisan created a perfect scale model to showcase the unique structure, including 3 bronze bells.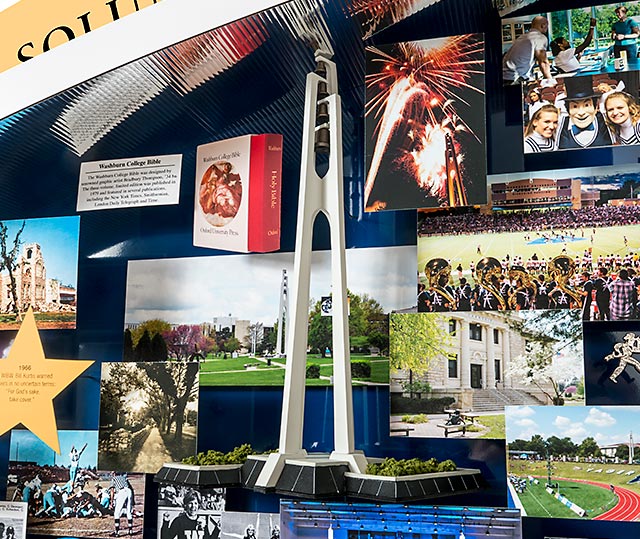 Every piece of art that comes out of the studio is totally custom and One Of A Kind. And you will always discover some small little treasures that are one-of-a-kind in their own right.
With our art, it's all in the details.
---