Case Study: How do you Honor Founders on a Company's 10th Anniversary?
The Opportunity 
Tailwater Capital focuses on energy and growth infrastructure solutions with investments that improve human life. With an impressive first decade, they looked for a way to mark the 10th anniversary and honor their two enterprising founders. One Of A Kind provided the answer.
The Client: Tailwater Capital
Headquarters: Dallas, TX
Industry: Energy
The Story
As a diversified, middle-market firm, Tailwater addresses gaps in the energy transition to low carbon economies. The firm received an array of accolades in response to their achievements including PE Firm of the Year at D CEO's 2019 Oil and Gas Awards and D CEO's Deal of the Year Award in 2021.
The founders established a vibrant work culture at Tailwater Capital. Stemming from working together for over two decades, they understood the significance of teamwork and included it as one of the firm's core values. The work hard, play hard crew has enjoyed many work events together from BBQs to holiday parties.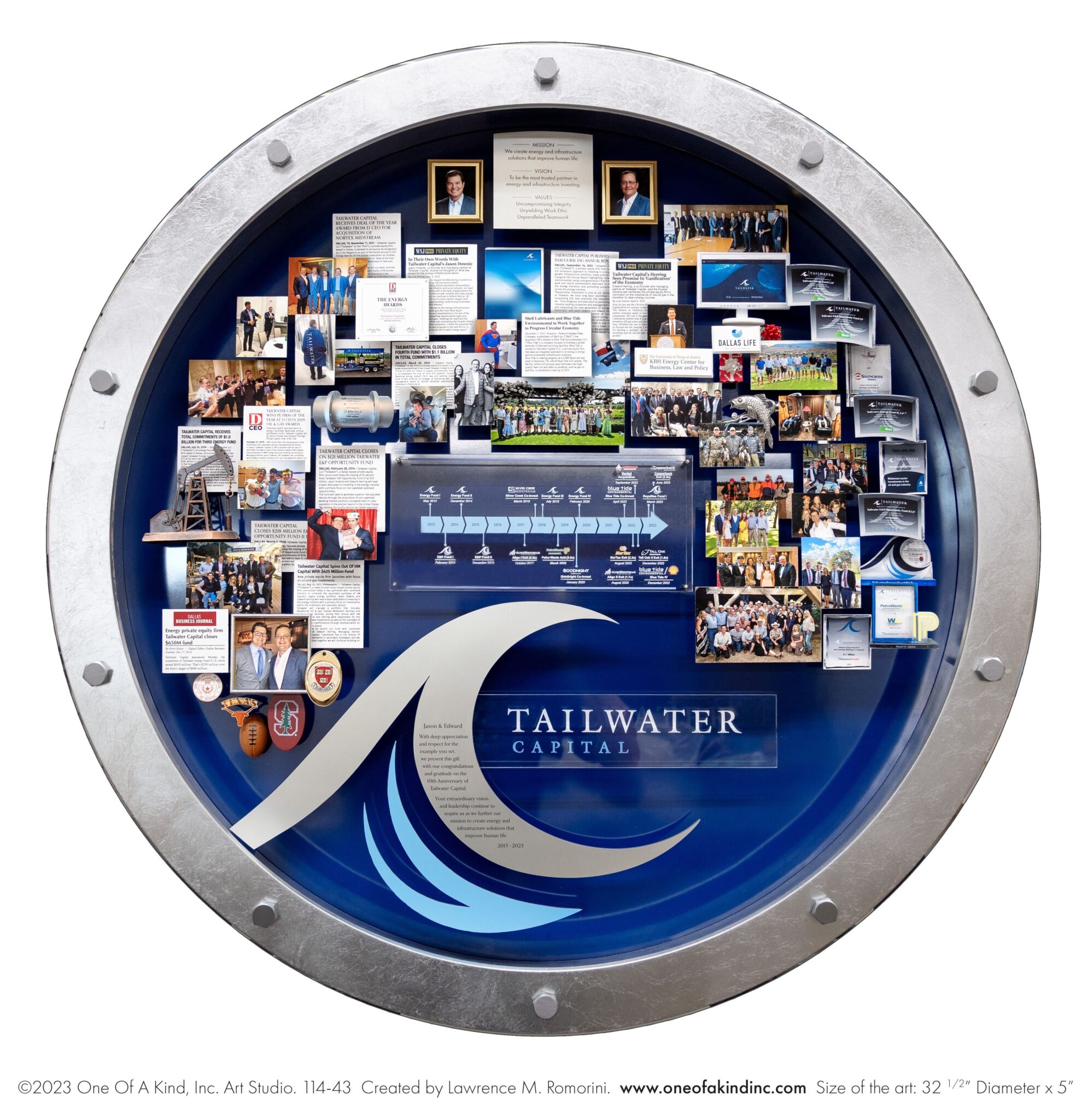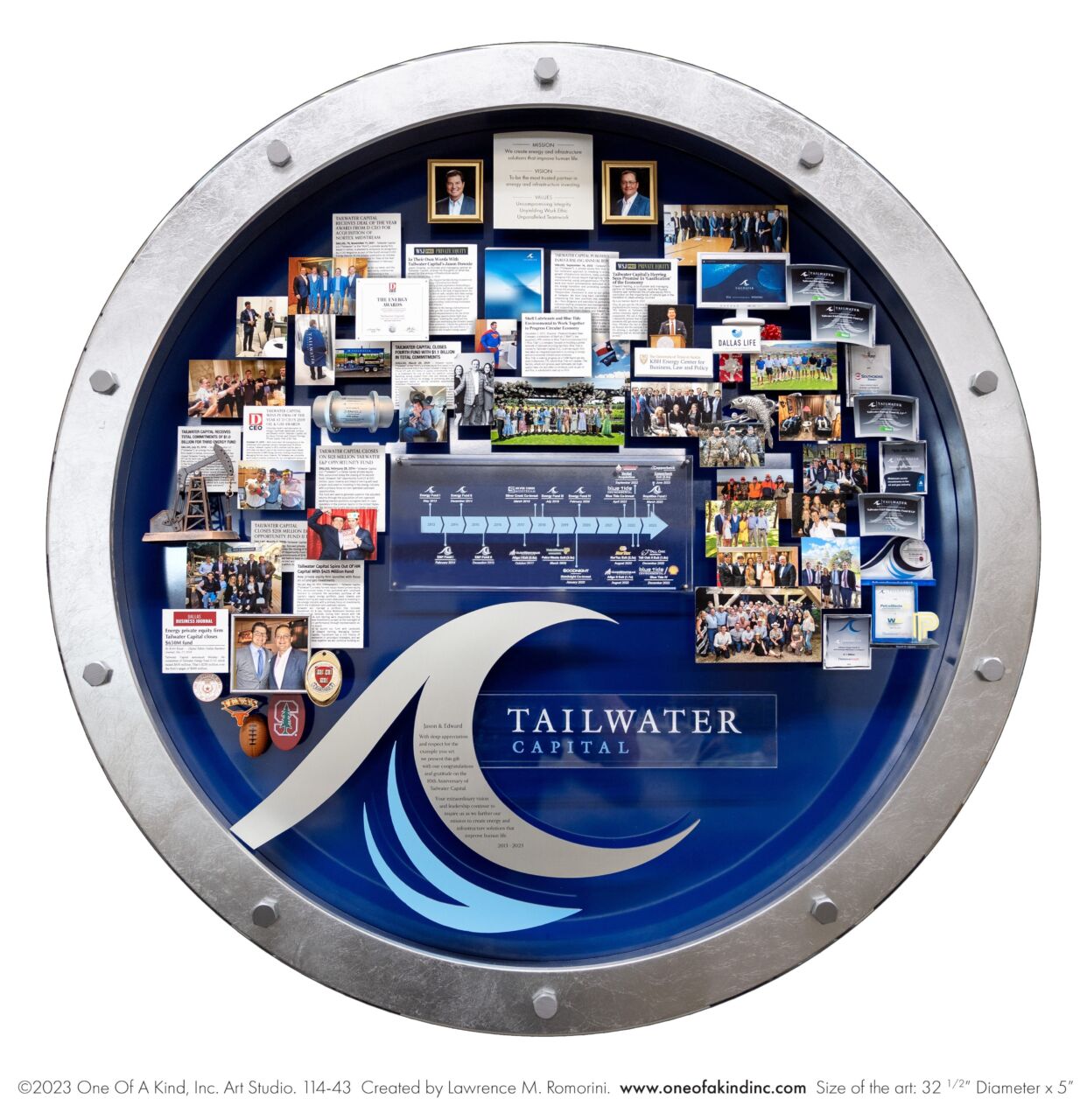 Responding to Challenges
What to Give the Leader Who has Everything?
What's the best gift for the person who has everything? Personalized 3-dimensional art commemorates career milestones and favorite memories. Like nothing else, it is an unimaginable surprise to express appreciation and lasting legacy.
Our client worked with us previously at another company and had seen firsthand the work and the incredible response from recipients to One Of A Kind 3-dimensional art. She was confident about the process and outcome.

The One Of A Kind Expertise
One Of A Kind's 3-dimensional commemorative art was chosen to honor Tailwater's 10-year anniversary and its founders. When it comes to crafting anniversary collages, Artist Lawrence Romorini and Studio Director Donna Rome have 30+ years of experience commemorating milestones—10th, 50th, 100th anniversaries and more! They have worked with companies of all sizes, from Fortune 500 to family-owned and operated small businesses, to honor executives.  
Timeframe
Challenges often arise during projects, and One Of A Kind rises to meet each one. With Tailwater, One Of A Kind first addressed the delivery timeframe. When the firm approached the studio to commission a project, they hoped to present the collage at a June event. However, there was not enough time for the methodical approach that guarantees success: Brainstorming, Research, Retrieval, and 3D Mock-up. One Of A Kind offered a solution—Tailwater would present an intriguing bespoke gift at the June event announcing that a surprise is coming.
One Of A Kind's bespoke gifts are perfect when an event is quickly approaching. A charming response to timing challenges. For clients who would like to commission a collage but their presentation is imminent, One Of A Kind can customize a framed announcement. A company logo is added to a puzzle piece image with a playful message that doesn't give way the magnitude of the gift. The bespoke announcement worked well for Tailwater and built anticipation to see the final art.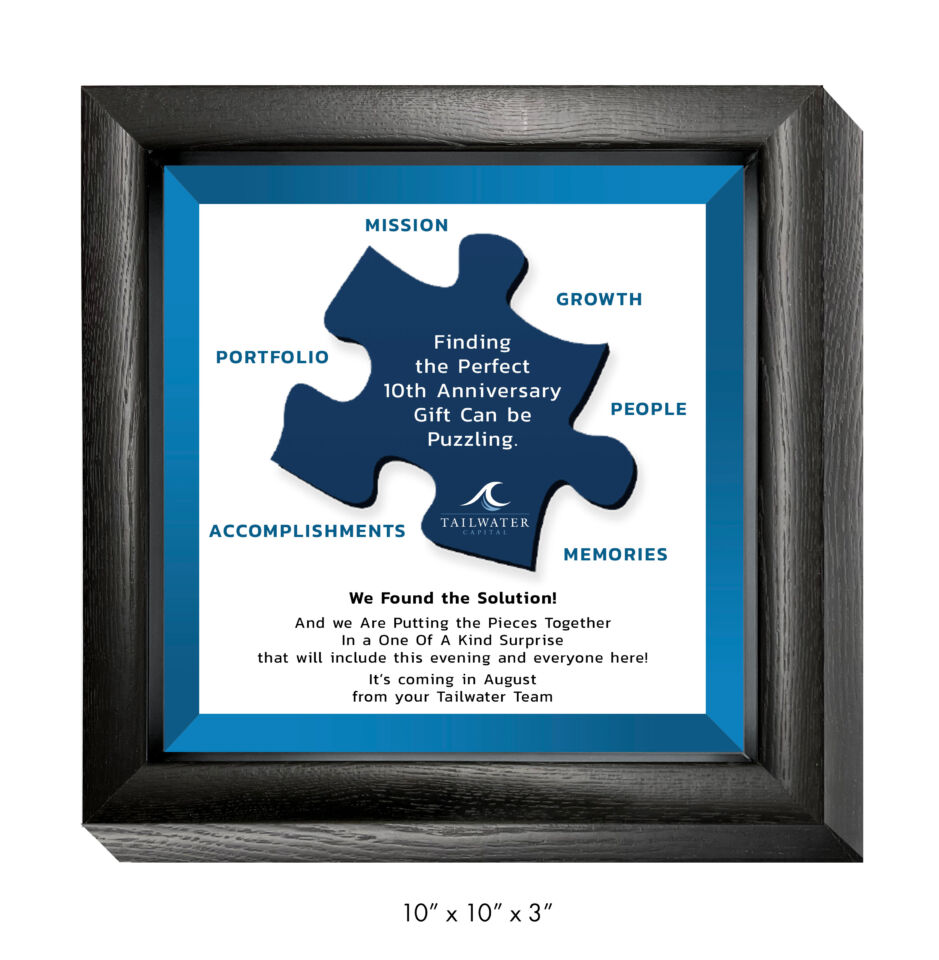 Typography
The next challenge concerned fonts and their readability. As an investment business, Tailwater opted to feature their tombstones, which represent the closings of major deals. However, the original tombstone typography proved difficult to read when recreated in miniature. Therefore, One Of A Kind reset it for legibility. A detailed timeline, also printed in color on acrylic, required a keen eye to ensure every fund and its date were legible after printing. The result? A striking centerpiece.

Tailwater also provided press releases to include in the art–a great resource to include in One Of A Kind collages! They speak to a company's history and accomplishments. However, the Tailwater articles visually blended together with similar formatting. One Of A Kind reset the typography in different fonts to differentiate articles and draw the eye to read each one.
Photography
Other essential images to include in commemorative collages are photographs! Both moments at work and personal memories– time spent with family or friends, can be included. In this case, Tailwater had photos from business functions and teambuilding events that they wished to share. As with all projects, One Of A Kind retouched their photographs for lighting and clarity, allowing the colors to pop within the ocean blue background. Retouching became especially valuable for vintage photos, so that they shined along with the others. The Tailwater team spirit came across with many smiles and good times.
3D Items
If a client doesn't have 3-dimensional items to include within the art, One Of A Kind brainstorms options. They confirm with the client which items may be most appropriate to add. For Tailwater, One Of A Kind added an oil derrick to represent the energy industry and a miniature football to represent founders' interest in the sport and their athletic prowess. Alma maters were also highlighted. Enamel school logos for University of Texas, Stanford, and Harvard were grouped together with the miniature football as a nod to an athletic scholarship. 3D miniature gifts wrapped in holiday paper and a pewter fishing pin symbolized special interest and community outreach.

Logo
For a client who has an iconic logo, how does One Of A Kind feature it? Often in metalwork, Plexiglas, and with 3-dimensionality! In this case, One Of A Kind installed a large-scale adaptation of the Tailwater Capital wave logo at the base of a circular structure. A dedication with thanks to the founders was engraved onto the wave's silver metal. The iconic wave, suggesting their "total immersion" approach is framed with a silver leaf pipe structure, suggesting the energy industry.
The Final Result
"The surprise gift was a HUGE success," wrote our client. A "memorable evening."
The commemorative collage shipped to Dallas easily. It came in a foam-lined custom-made crate with handles. Unveiled at an Annual Partner Meeting. The lobby art is now communicating the first decade to team members and visitors in a lasting legacy. Collaborating with One Of A Kind to create unique 3-dimensional art, Tailwater was able to achieve both goals—to honor their founders and celebrate their first 10 years. 
Start Your Story!
Looking for a way to honor your founders? Or mark a milestone occasion? Team up with One Of A Kind to create the art they won't forget. Contact our Studio Director Donna Rome to get started. Explore past examples for inspiration. Donna is also available via [email protected] or call 301.495.3361 x 102