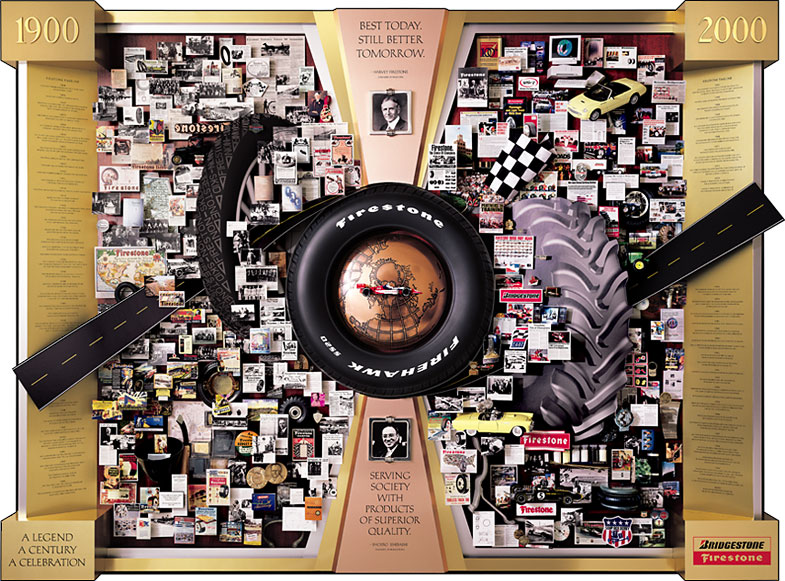 Congratulations to Firestone Tires and 2013 winner Tony Kanaan!
If you happened to watch the Indianapolis 500 yesterday, you may have noticed that all the cars were running on Firestone Tires. In 2000, One Of A Kind created a retrospective collage for the 100th anniversary of Firestone, which is now an integral part of the Bridgestone Corporation.
At the center of the artwork is a Firestone Firehawk high performance tire which is surrounded by numerous references to their winning history at Indy. At the very first Indy 500 in 1911, the winning car was shod with stock Firestone tires, and Firestone equipped cars won the race an impressive 47 years in a row from 1920 through 1966.
Spanning 6 x 8 feet, the design of the collage reflects the coming together of these two great companies, Bridgestone and Firestone. The keystones feature their respective founders, Shojiro Ishibashi and Harvey Firestone, joining in the center with a brass globe, signifying the global strength of their combined operations.
We wish Firestone continued success in the IZOD IndyCar series. After returning to the sport in 1995, they will now be the exclusive supplier of tires through the 2018 race season. And congratulations again to Tony Kanaan and Firestone Tires!
---