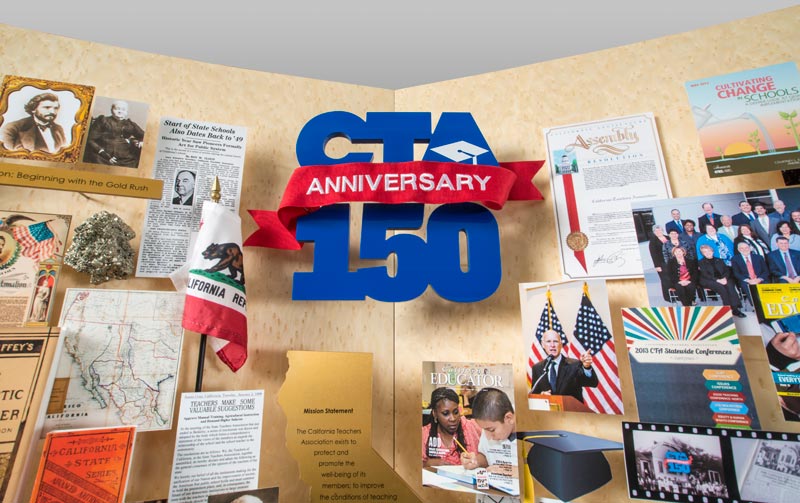 "Labor Day, the first Monday in September, is a creation of the labor movement and is dedicated to the social and economic achievements of American workers. It constitutes a yearly national tribute to the contributions workers have made to the strength, prosperity, and well-being of our country," explains the Department of Labor. Congress passed an act in 1894 recognizing this national holiday.
As we celebrate Labor Day 2015, One Of A Kind salutes some of the inspiring labor stories that we have had the opportunity to commemorate in 3-dimensional retrospective art.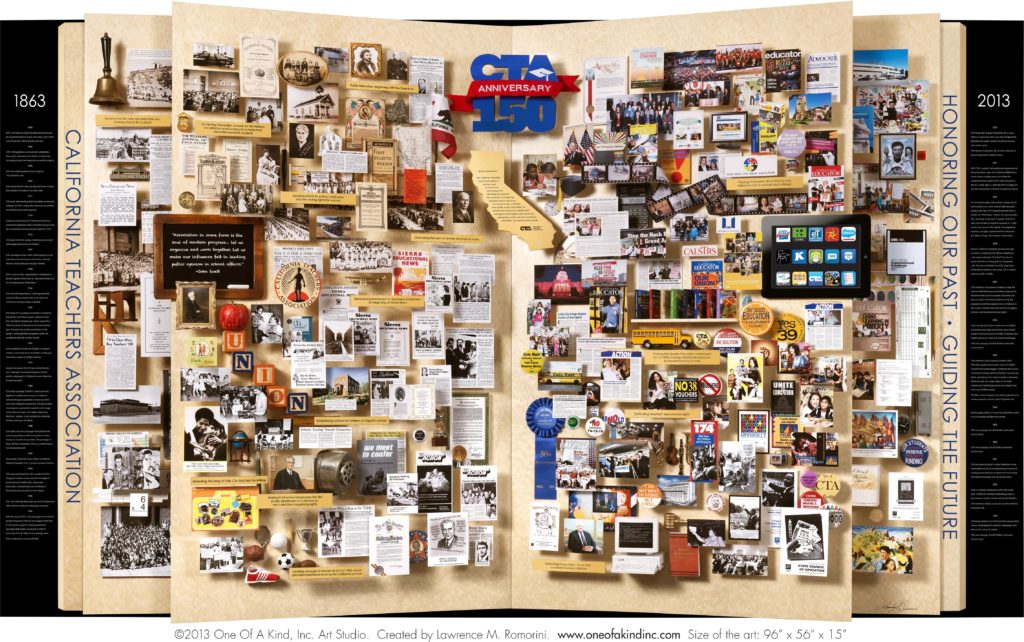 California Teachers Association commissioned One Of A Kind Commemorative Artwork to celebrate their 150th Anniversary. The collage features an open book design to showcase CTA's history, milestones and advocacy. It is installed in their San Francisco headquarters and is also featured online as an interactive website feature.
The evolution of teaching tools is highlighted throughout, including a vintage chalkboard with a quote from CTA's founder on the left. In juxtaposition, on the right, is a contemporary iPad filled with CTA apps.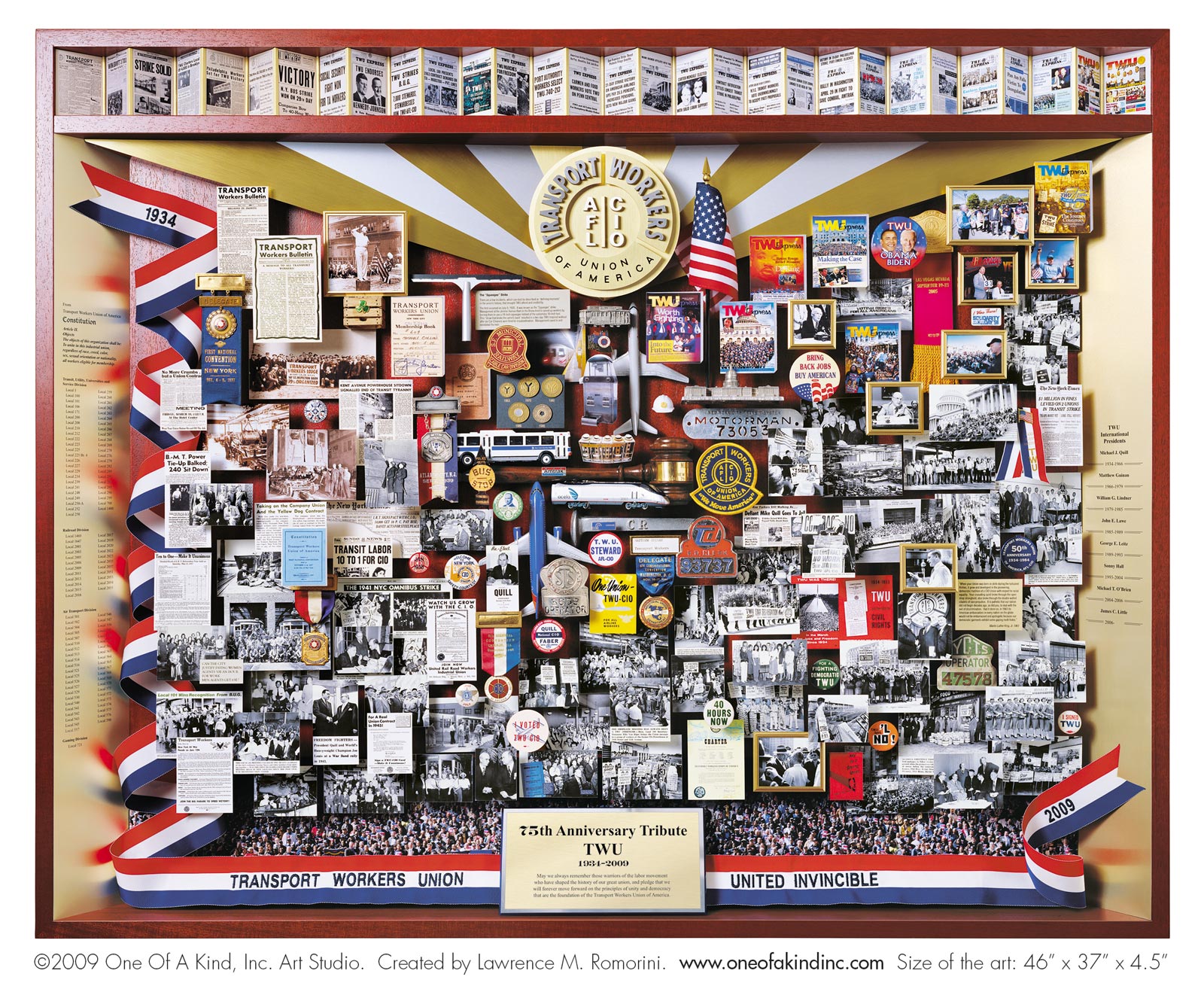 Transport Workers Union celebrated their 75th Anniversary by unveiling a One Of A Kind custom collage in 2009. The artwork tracks the progress of TWU from their beginnings in 1934, forming in New York City during the height of the Great Depression to combat transit company abuses. A red-white-and-blue ribbon draws your eye through the history, with TWU's motto, "United Invincible" inscribed upon it. The art was reproduced in commemorative posters for TWU's annual meeting.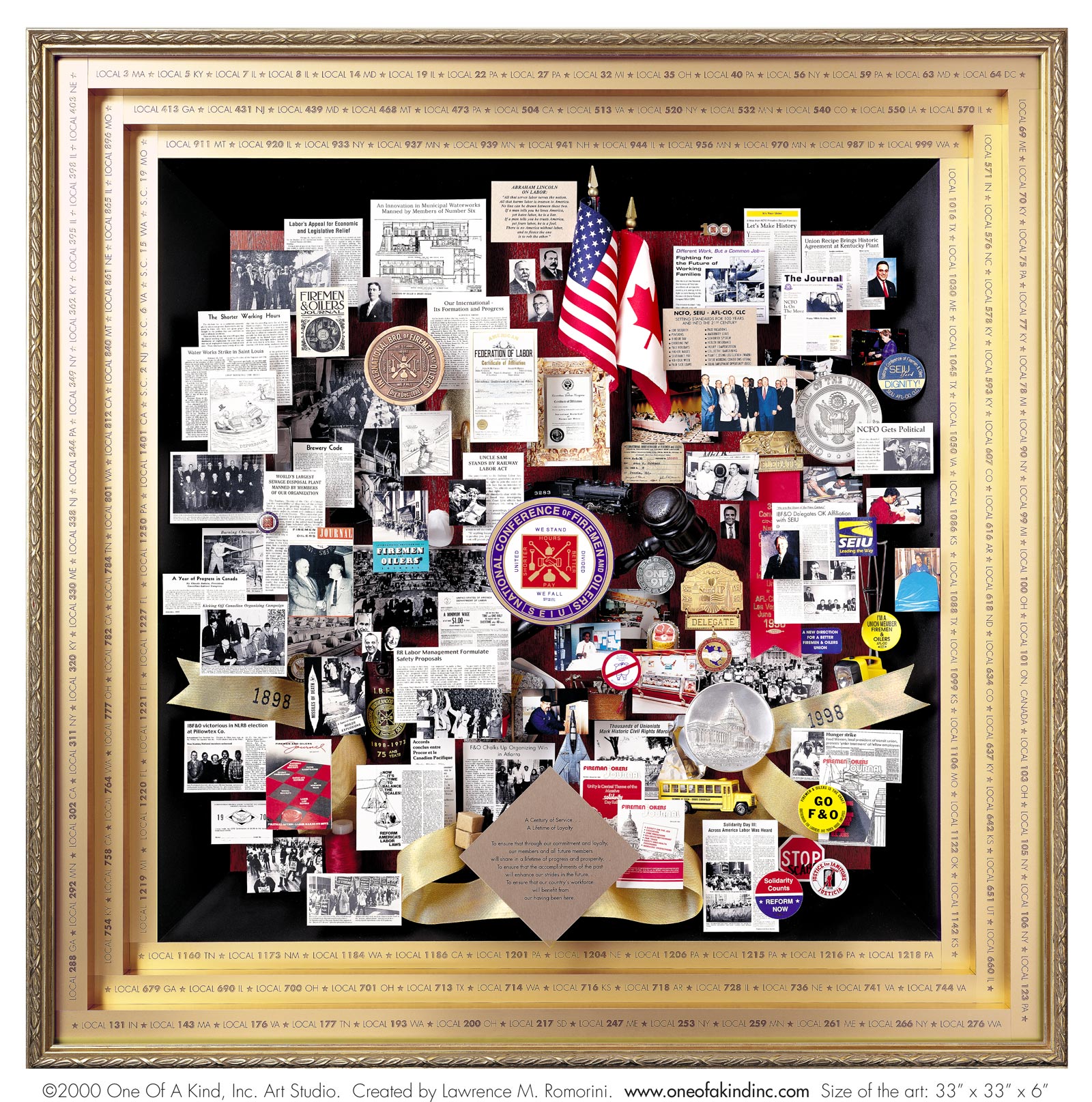 NCFO – National Conference of Firemen and Oilers celebrated their 100th Anniversary in 1998. The centennial artwork that One Of A Kind created looks back to their early days as the International Brotherhood of Stationary Firemen, and their expansion through the years to represent workers in building services, food processing, distilleries, manufacturing, federal parks and recreation areas, utilities, public services and both passenger and freight rail. A brass border of photoengraved metal bears the inscriptions of all of NCFO's local chapters. NCFO reproduced their centennial art in posters for their celebration.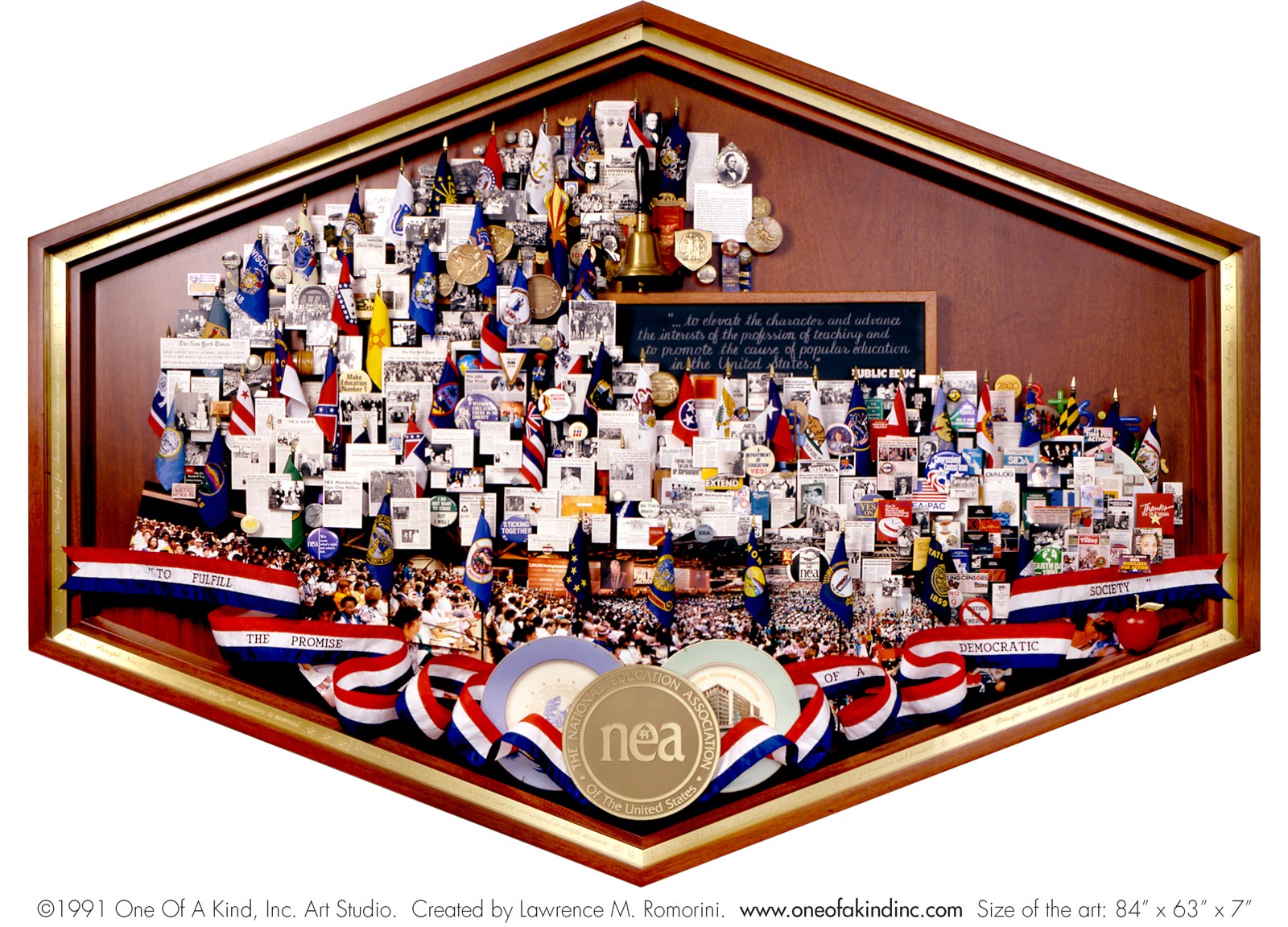 National Education Association was founded in 1857 by one hundred educators who answered a national call to unite as one voice in the cause of public education. At the time, learning to read and write was a luxury for most children—and a crime for many black children. Today, NEA membership numbers over 3.2 million. Their One Of A Kind retrospective artwork features vintage photographs, miniature state flags, and a ribbon bearing their motto, "To Fulfill The Promise Of A Democratic Society."
To explore the possibilities of custom 3-dimensional artwork for your own organization, contact our Studio Director Donna Rome for more information, via email or phone: donna@oneofakindinc.com / 301-495-3361 ext 102.
---