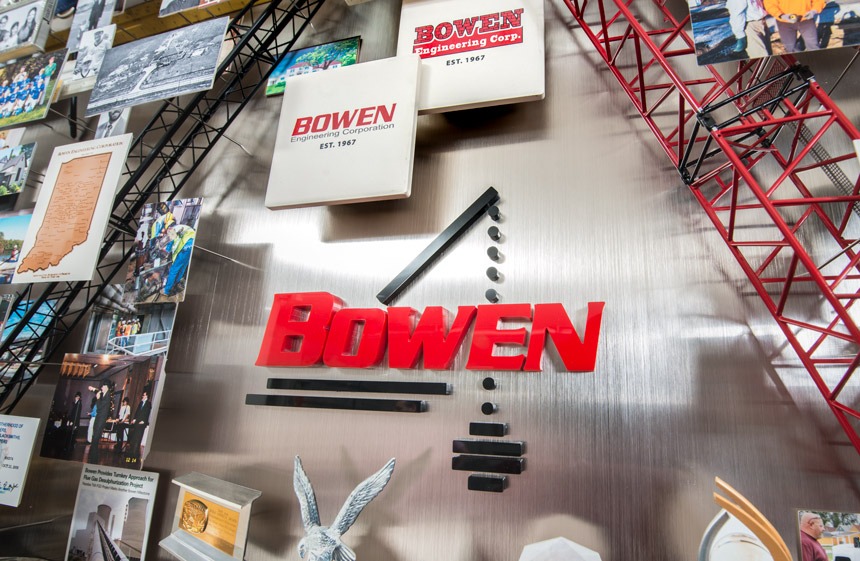 We are so grateful that Bowen Engineering in Indianapolis, Indiana found One Of A Kind! It's been a wonderful 2-year collaboration on their 50th anniversary art, unveiled this month in private and public celebrations. Commissioned to honor Founder Robert Bowen, the art's dynamic structure made of brushed stainless steel and corrugated aluminum reflects Bowen's expertise in Energy and Industrial and in Water and Wastewater, along with their Core Values.
A faux I-beam features motto "Resourceful, Responsive, Results" and "Since 1967" in 3D silver type. A vintage Bowen hardhat and work gloves are positioned above.
3D items add authenticity and charm to the lobby art, installed now in Bowen's headquarters. Most especially the exquisite custom model cranes frame the Bowen logo as a centerpiece.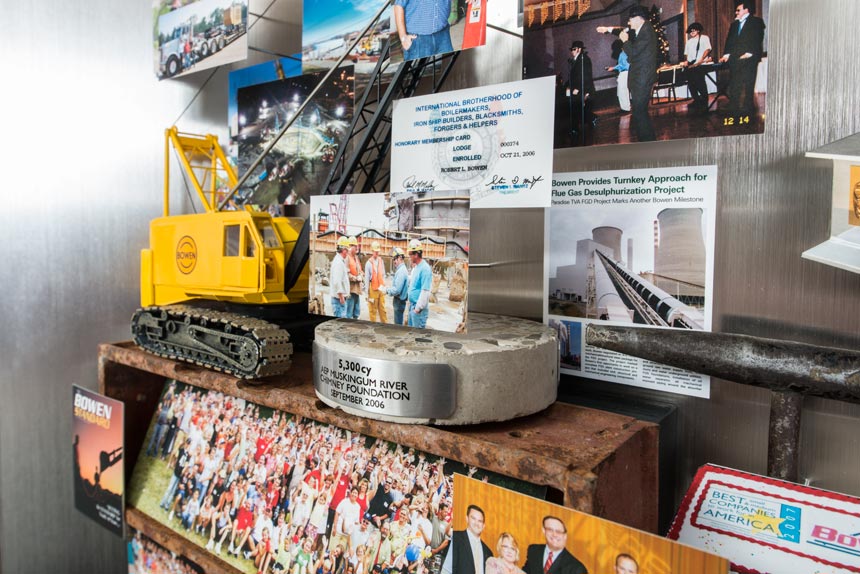 Other miniatures and 3D include work boots, slide rule, actual tools, a miniature Bowen semi-truck with construction equipment, a miniature windmill, Bowen belt buckle, and commemorative groundbreaking shovel and more.
Rebar showcases iconic Bowen projects, along with a Bowen hardhat and the 50th anniversary dedication. The message reads:
"This commemorative artwork is a visual history of our first 50 years in business.
It is dedicated to the loyal, hardworking employees of Bowen Engineering Corporation who helped achieve this milestone.

2017″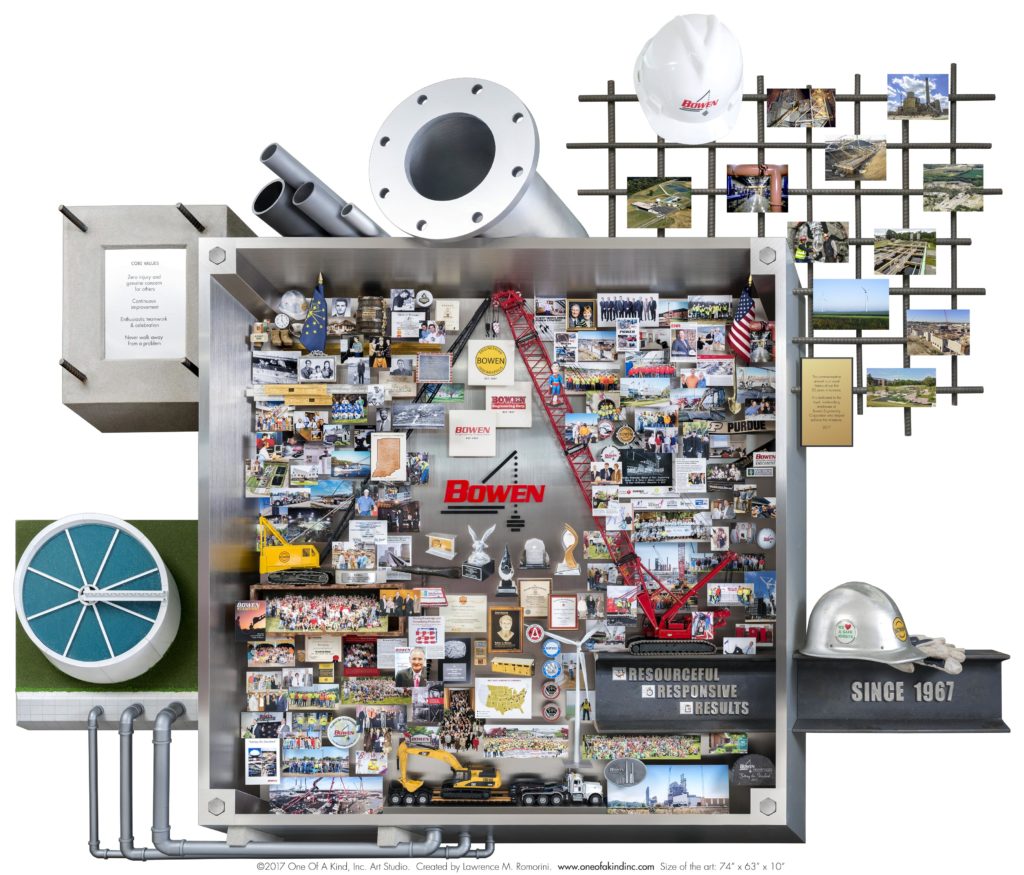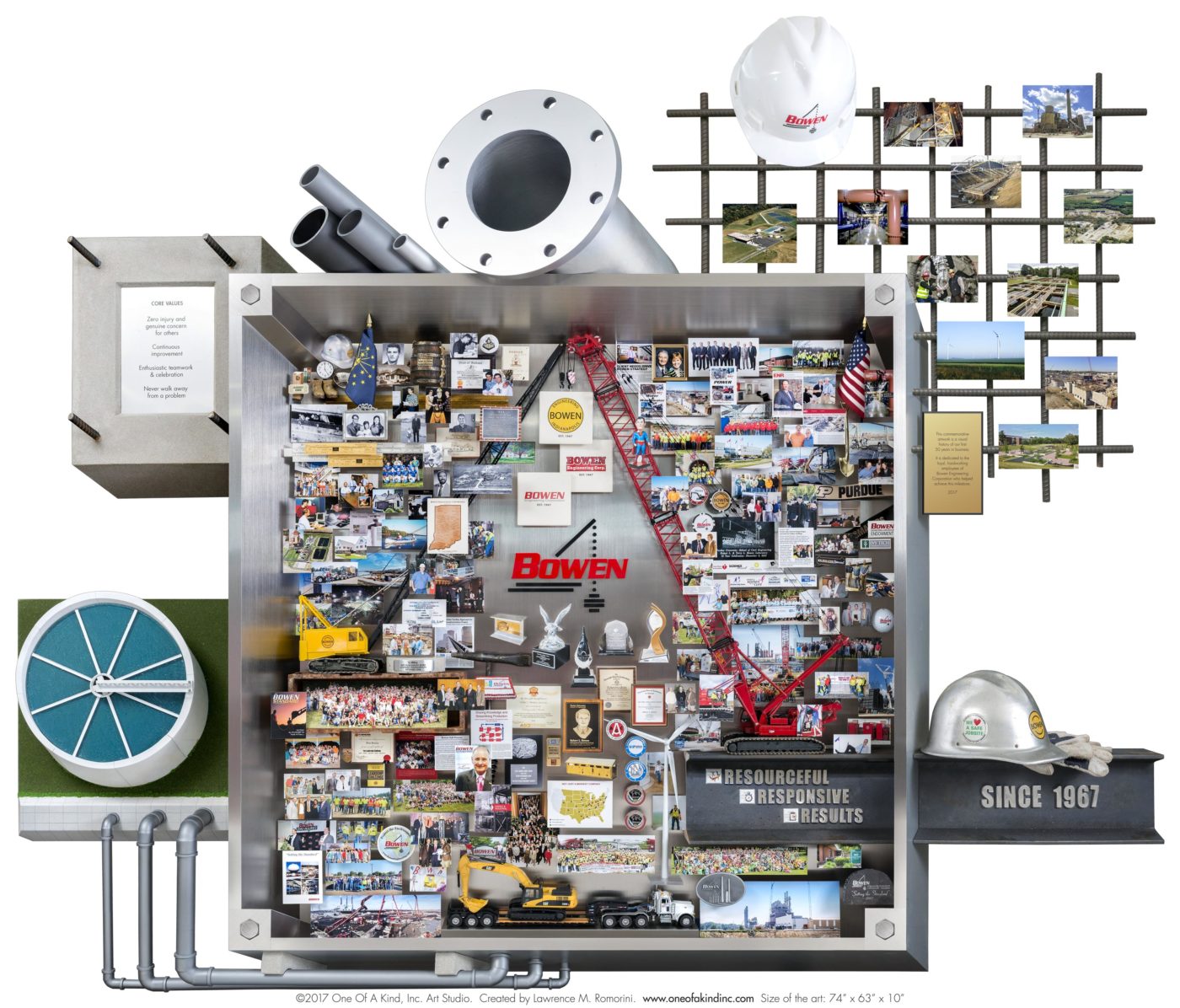 The Bowen story flows in a counterclockwise direction from the top left, showcasing strong Purdue University roots, early years, growth, awards, accomplishments, Bowen employees at work and philanthropic endeavors through the years.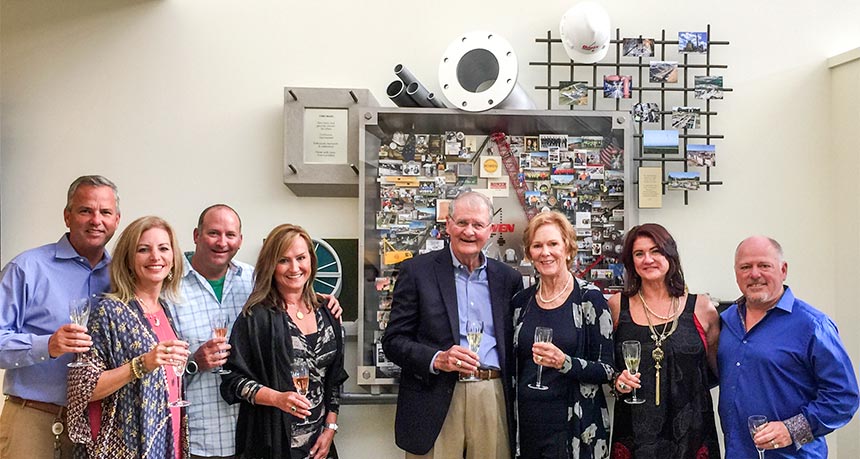 The art was first unveiled privately to Founder Robert Bowen by the 2nd generation and key executives before display at a major 50th anniversary party. On the unveiling, our client emailed, "Everyone was amazed at your artwork, your attention to detail and the creativity involved. Hats off to you for a fantastic collage that will be a treasured piece of Bowen history!"
Thanks to Bowen for the opportunity to commemorate this great American story of enterprise, ingenuity and success!
---