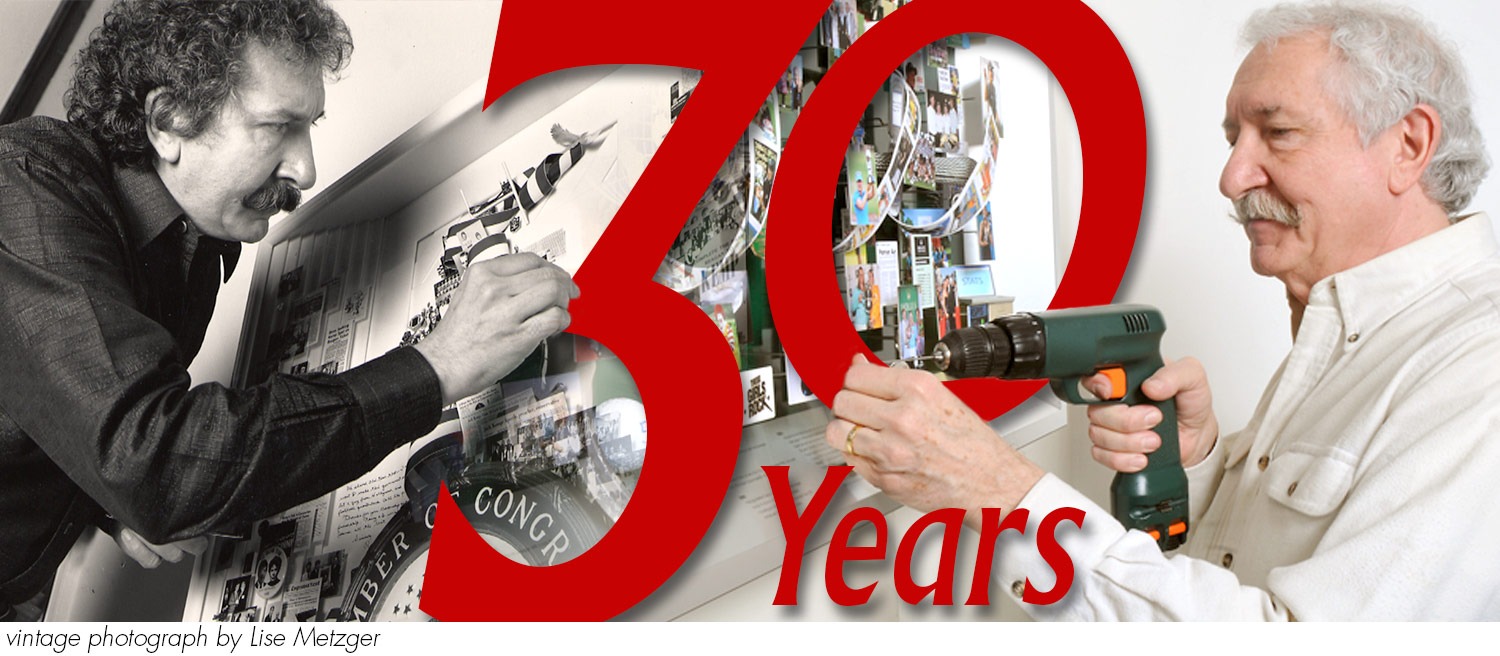 It's hard to believe that One Of A Kind Art Studio has now been creating our signature brand of 3-dimensional commemorative artwork for 30 years. The time has flown by. The studio began working out of the home of Founders Lawrence Romorini and Donna Rome, with USA Today's 5th anniversary as the first corporate commission. The studio relocated in 1990 to resurgent Silver Spring, MD, just minutes from Washington, D.C Since then, over 1,100 custom works of art have been created for clients large and small (see the latest).
Looking back to 1985, it's fun to reflect on some of the amazing events that happened that founding year, and our own connection to many of them.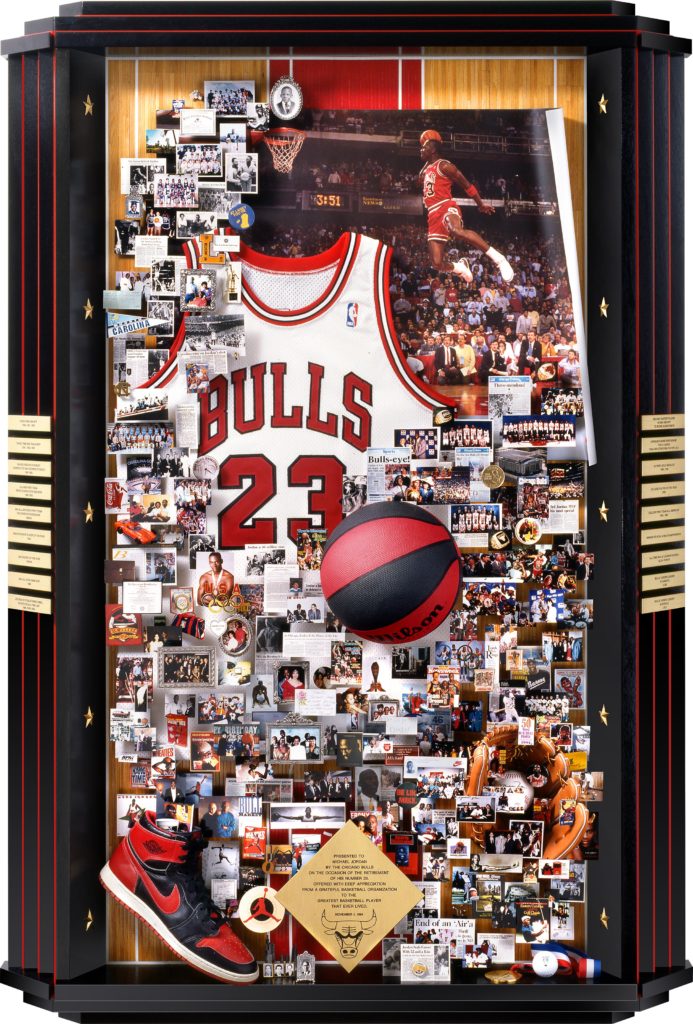 • Michael Jordan was recognized as Rookie of the Year by the NBA in 1985. Years later, upon his retirement, the Chicago Bulls collaborated with One Of A Kind to award Jordan with the ultimate retirement gift, commemorating his unparalleled career. The beautiful red and black Plexiglas structure, measuring almost four feet wide by six feet high, includes Michael's #23 jersey, a Bulls basketball, and size 13 Nike shoe.
• The Color Purple marked Oprah Winfrey's film debut in December 1985. In 1991 Lawrence Romorini and Donna Rome collaborated with KingWorld Productions to create a stunning Christmas gift for Oprah. A gold TV screen features 340 gold wires beaming out of the center to TV call letters, representing her national and international syndication. A visual representation of Oprah's life story in photos, publications and 3D items intertwines throughout the screen. The artwork has been on display for years at Harpo Productions.

• USA For Africa, the charity, pop music supergroup, recorded their hit single "We Are The World" and later performed the song at the Live Aid concert, raising $70 million for African famine and disease relief. Organized by producer Ken Kragen, the group featured the talent of Michael Jackson, Lionel Richie, Bruce Springsteen, Cyndi Lauper, Stevie Wonder, Kenny Rogers and many other stars of the day, 44 vocalists in all. It was very exciting when Ken Kragen called One Of A Kind back in 1988 to create a spectacular 50th birthday collage commemorating Kenny Rogers' life story and career. It was unveiled at a Bel Air party with over 500 celebrities and guests.

Image courtesy of marriott.com
• J. Willard Marriott, Jr. was elected as Chairman of the Board for Marriott International in 1985. In 2012, One Of A Kind created not one, but two commemorative pieces in honor of his 80th birthday, the 85th anniversary of Marriott International, and his 65th year of service to the company. The larger collage is installed in Marriott International's Bethesda, MD headquarters; the smaller piece hangs in Mr. Marriott's home.
• The National Beverage Corp., fifth-largest soft drink company in the U.S, was also founded in 1985. On their 10th anniversary, One Of A Kind custom artwork was created to honor their founder, Nick Caporella. Today they manufacture the brands Shasta, Ritz, Crystal Bay, and La Croix Sparkling Water among other beverages.
• Also, a tip of the hat to our Silver Spring neighbors, Discovery Communications, who launched The Discovery Channel in 1985—perhaps a future One Of A Kind client!
These past 30 years have been nothing short of a celebration, for us as well as our clients. The stories we have been able to share continue to inspire us, and we are honored for the unique opportunities our work brings to commemorate history, leadership and accomplishments in an extraordinary, meaningful way.
---