In a display of appreciation for their retiring Senior Vice-President of Commercial Operations, Thermo Fisher Scientific honored Bob Lozano with a special tribute – a 3-dimensional commemorative collage by Lawrence Romorini and his team at One Of A Kind Art Studio. The artwork, containing miniaturized photos, publications, and 3D items elevated individually from the background, tells the story of Lozano's career by arranging memorabilia with an artistic eye to celebrate a leader who has inspired a team of 1,000+. 
Lisa Witte, President Research Safety Division, unveiled the art  to Bob Lozano with a moving speech at their annual Sales meeting in Phoenix, AZ.
The retrospective begins when Bob Lozano joined Fisher Scientific, prior to the merger with Thermo Electron in 2006. It flows counterclockwise around a 3D creation of the company logo. The structure of the artwork itself consists of a base layer of aluminum, and upper layers of brass and black laminate, forming a stepped circle that replicates the circular shape in the original Fisher Scientific logo.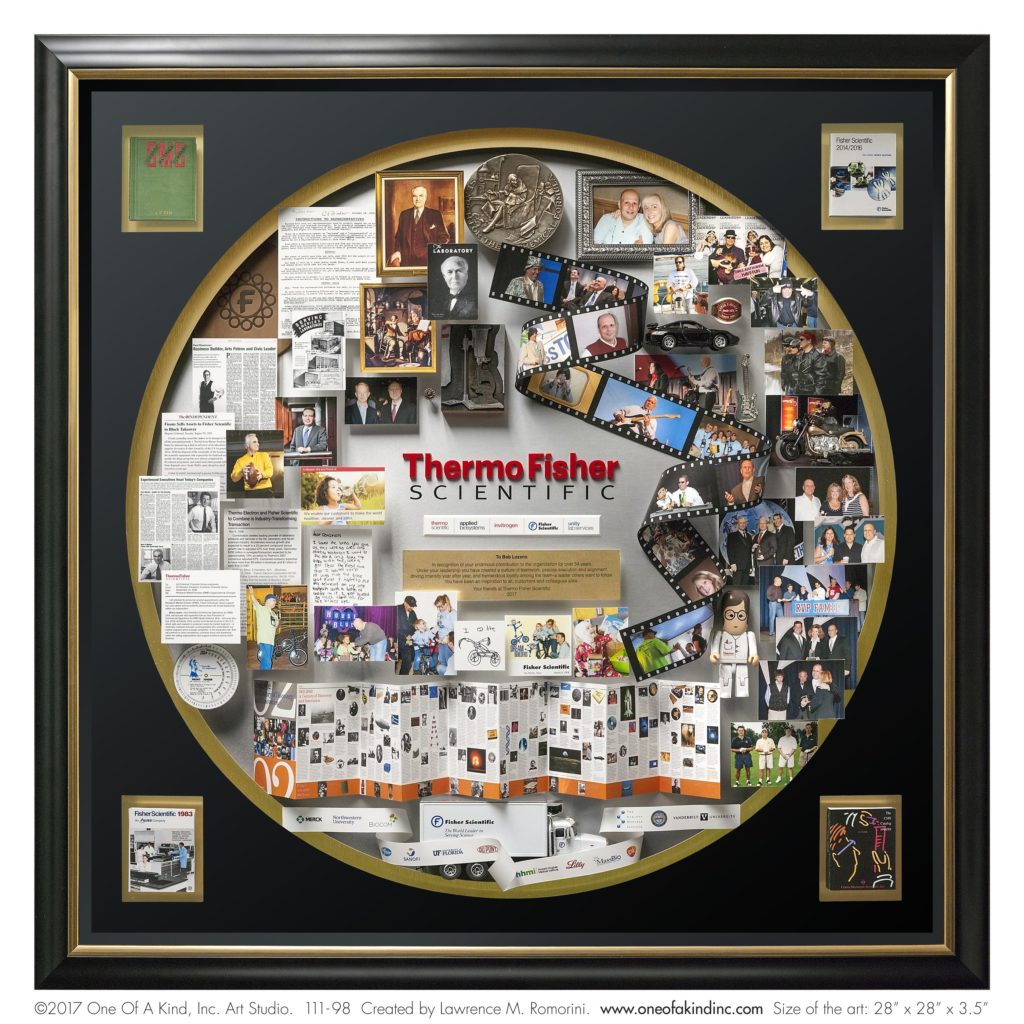 Featured 3-D items include an alchemy medallion from the company archives, a Fisher Scientific coaster and pin, and a miniature Fender Stratocaster guitar, Harley Davidson motorcycle and Porsche 911 sports car reflecting Bob's personal hobbies.
An evolution of four catalogs from different eras, recreated as miniature books, show the dramatic growth in products over time. A filmstrip containing 12 images weaves through the art, capturing favorite memories and more of Bob's engaging personality.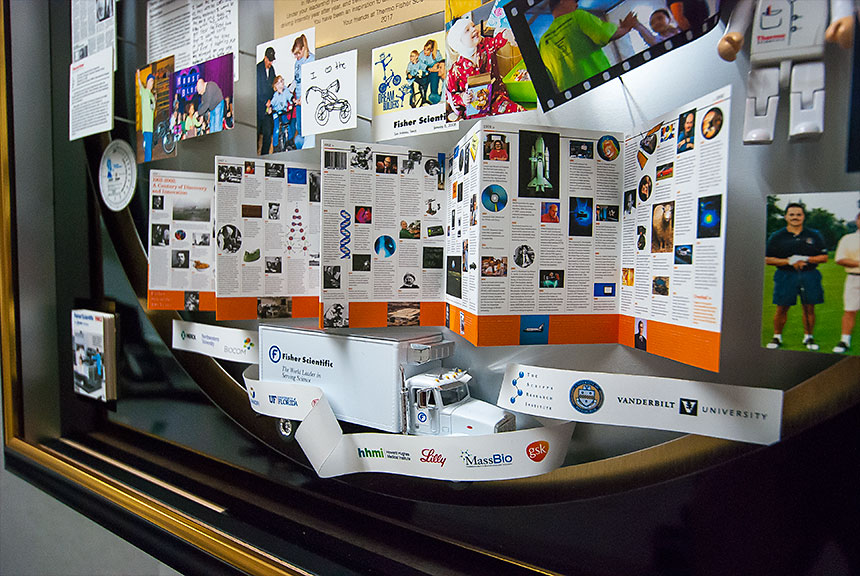 Placed prominently at the base of the art is the 1902-2002: A Century of Discovery and Innovation brochure, created as a miniature 3D foldout. Directly underneath is a model of a Fisher Scientific box truck and a white ribbon of logos from distinguished clients that the company has serviced over the years.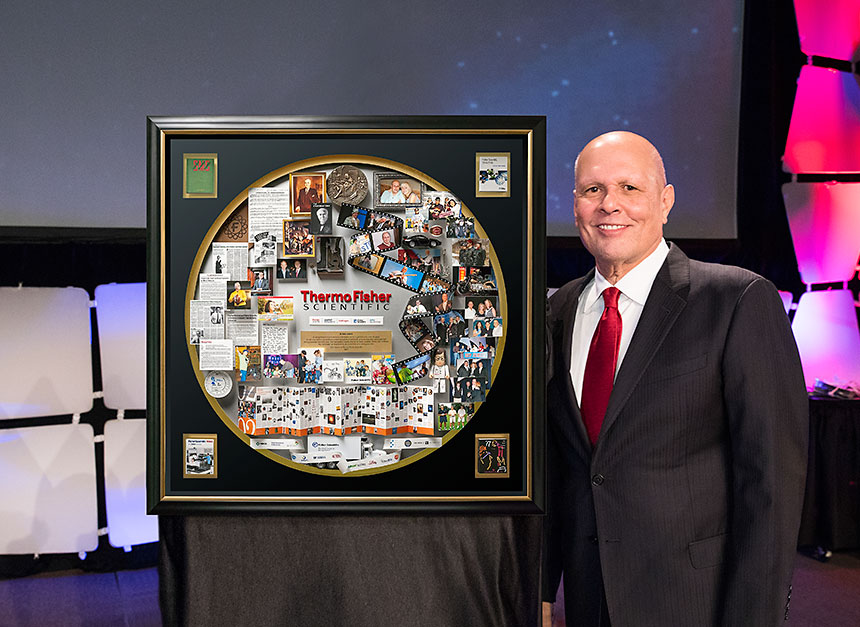 A photoengraved metal plaque with a customized message of dedication from the company to Mr. Lozano reads:
To Bob Lozano

In recognition of your enormous contribution to the organization for over 34 years. Under your leadership, you have created a culture of teamwork, precise execution and alignment driving intensity year after year, and tremendous loyalty among the team–a leader others want to follow. You have been an inspiration to all, customers and colleagues alike.

Your friends at Thermo Fisher Scientific
2017
Thermo Fisher Scientific was created in 2006 with the merger of Thermo Electron and Fisher Scientific With more than 50,000 employees in over 50 countries and revenue over $17B, Thermo Fisher Scientific is one of the leading companies for the development, manufacture, and sales of precision laboratory equipment, software and services for the research, analysis, discovery and diagnostic markets.
---