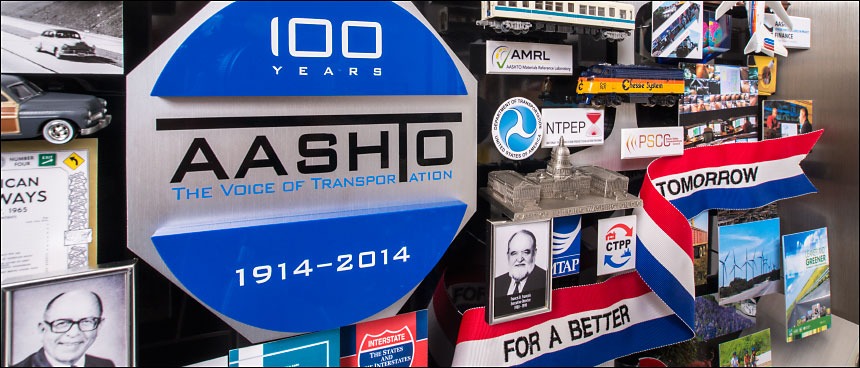 Washington, D.C., – February 25, 2014 – This week the American Association of State Highway and Transportation Officials unveiled One Of A Kind 3-dimensional art by Lawrence Romorini at their Washington Briefing Congressional Reception in Washington, D.C. to showcase their 100th anniversary story.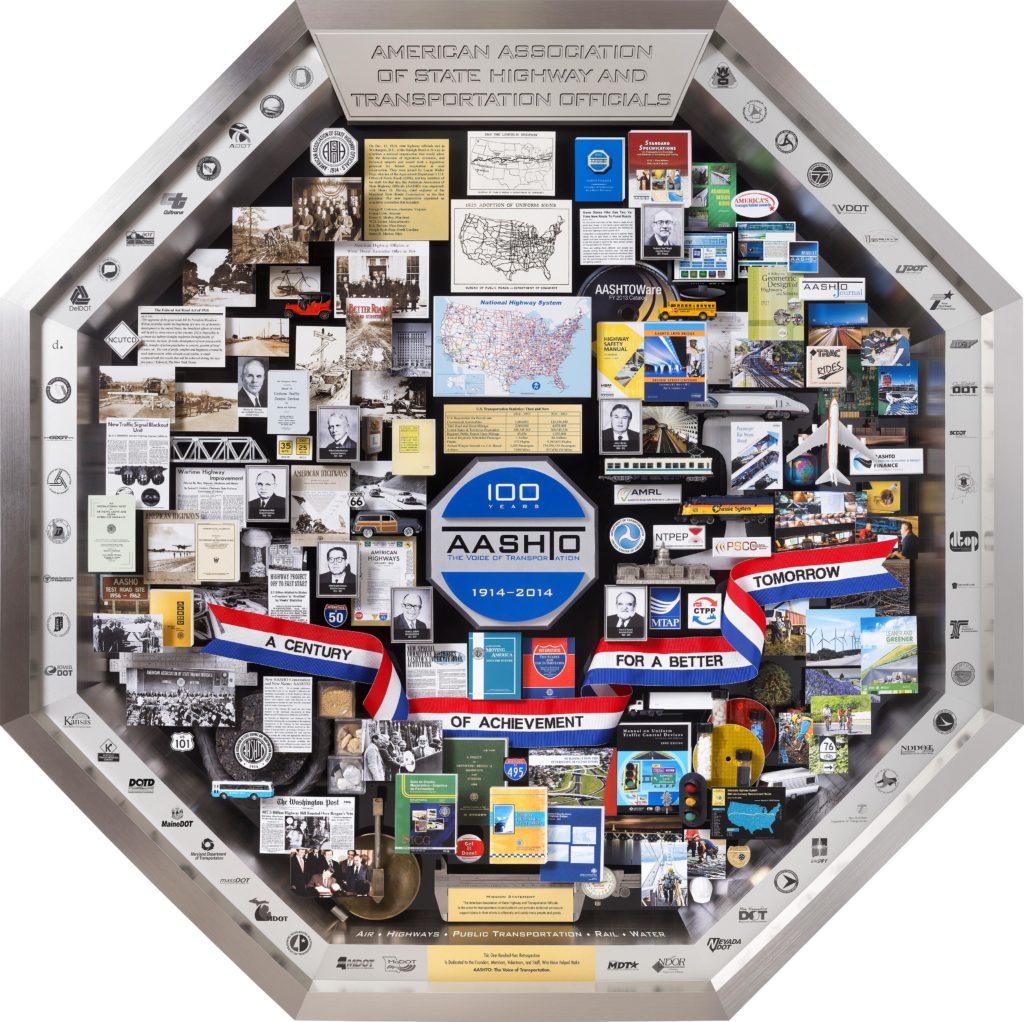 The retrospective art, which will be permanently installed in their Washington D.C. headquarters, chronicles AASHTO's history, leaders, mission and accomplishments as "The Voice of Transportation." Miniatures of all the modes of transportation, along with tools of the industry—asphalt, rebar, gravel, reflective markers, a vintage caliper–provide a fascinating texture and authenticity in the art.
"I was inspired by the many positive ways transportation touches our lives and the major impact that AASHTO and its members have had on our ability and ease to travel," says Romorini. "In collaborating with the AASHTO team, their ideas enabled me to create centennial art that not only honors the past but also celebrates the present."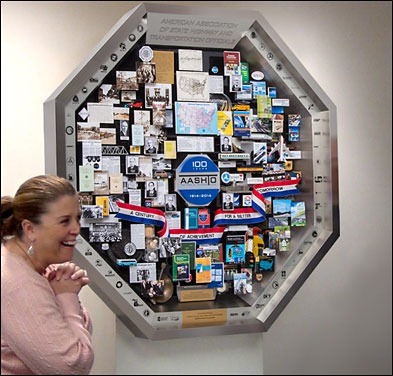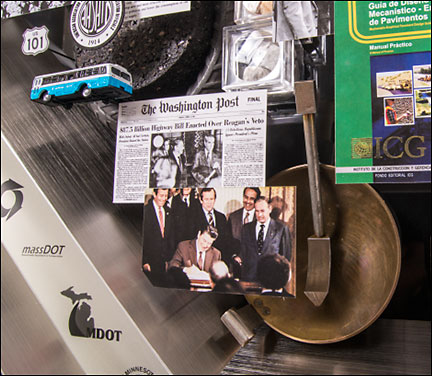 AASHTO's artwork features scores of photographs, publications and 3D objects spanning their history from the very beginning. Starting at the top and flowing in a counter-clockwise direction, these items tell the story of AASHTO in a way that must be seen to be believed.
These important artifacts are miniaturized and preserved on archival quality paper, mounted to acid-free board, and are suspended from the background at different levels to create a sculptural quality. When lit with a spotlight, the items appear to float; with a creative interplay of light and shadows as you move around the piece.
A series of centrally positioned maps highlight the progress of our nation's transportation infrastructure and lead the eye to a robust 3-dimensional AASHTO 100th Anniversary logo, created with layers of aluminum and Plexiglas. The octagonal shape of the art echoes this logo, with the brushed aluminum providing an industrial look. The border of the art contains the logos from each of the 50 states' Departments of Transportation, photoengraved in aluminum to ensure longevity.
It is the 3-dimensional items interspersed throughout the story that truly bring life and personality to the art. A miniature Ford Model-T illustrates just how far the nation's transportation infrastructure has come. Models of automobiles, trains, and modern airplanes echo that progression and the tagline stitched into the red-white-and-blue ribbon that leads your eye through the art, "A Century Of Achievement For A Better Tomorrow."
Lawrence Romorini and his studio transform everyday objects—photographs, articles, mementos—into personalized works of art, brimming with history and emotion. Romorini can now add AASHTO to the storied list of nationwide associations he has commemorated, including the American Society of Civil Engineers, the Mechanical Contractors Association of America, and the CLIO Award winning artwork for the American Academy of Orthopaedic Surgeons. Learn more about the process here.
---