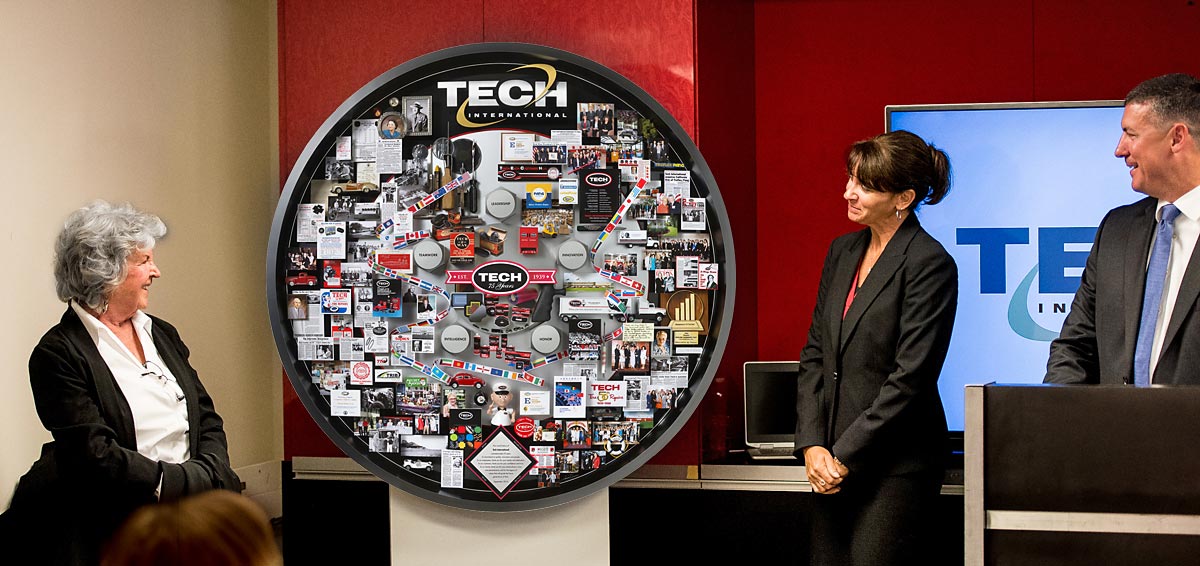 Johnstown, Ohio – September 12, 2014 – Tech International, the global leader in tire repairs and wheel service products, highlighted their 75th anniversary celebration today by unveiling One Of A Kind 3-dimensional commemorative art created by Lawrence Romorini. The party was held at Tech International's Johnstown, Ohio headquarters, with fourth-generation family leadership including Nikki and Dan Layne on hand for the presentation.
Industry reporters provided coverage for the event, which attracted members of Johnstown's Chamber of Commerce as well as Sean Staneart, the city's Mayor. Carol Rice, Tech International's Vice President of Business Development, had this to say:
"Our 75th Anniversary celebration was better than I ever hoped it would be and the art piece was a huge success. I watched for… [the] reaction when they unveiled it and they were delighted beyond words. Thank you for creating a wonderful commemoration to our company and its people."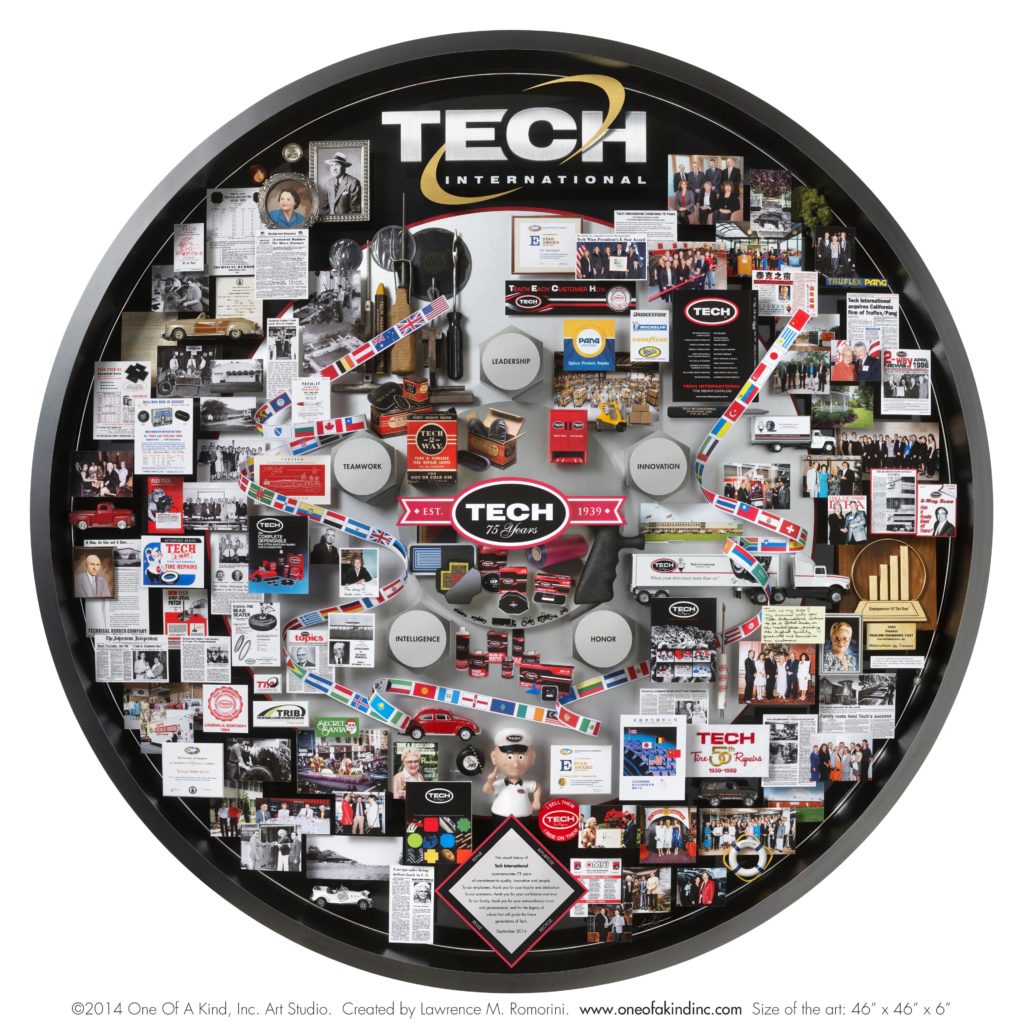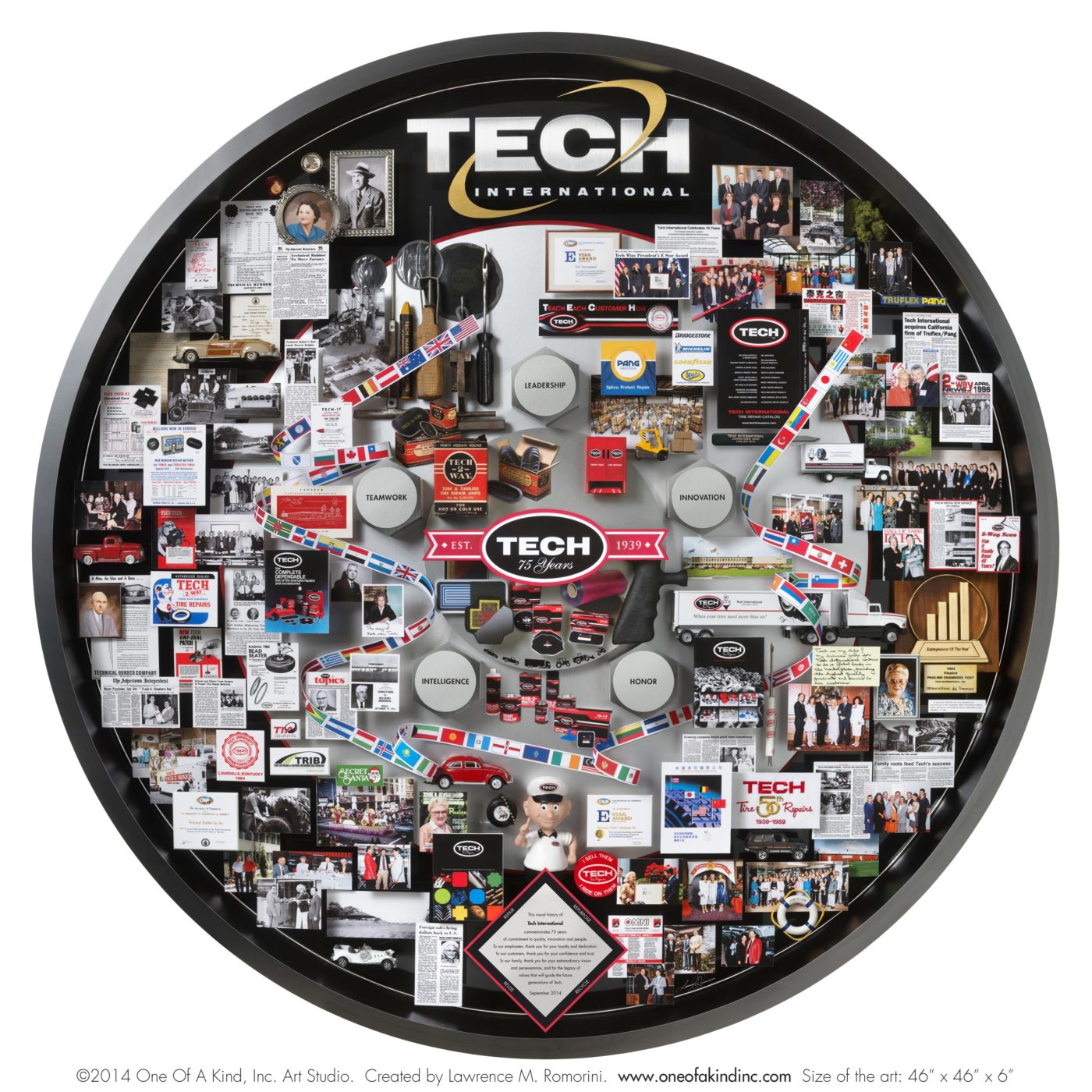 Tech's 75th Anniversary retrospective artwork chronicles the company's history from humble beginnings in the barn behind founder Charles Cornell's house, 75-years of family leadership, and the company's values and accomplishments. The artwork incorporates miniaturized photographs, publications and 3D items, including actual Tech 2 Way box and patches, to reflect the evolution and breadth of the Tech International brand and products.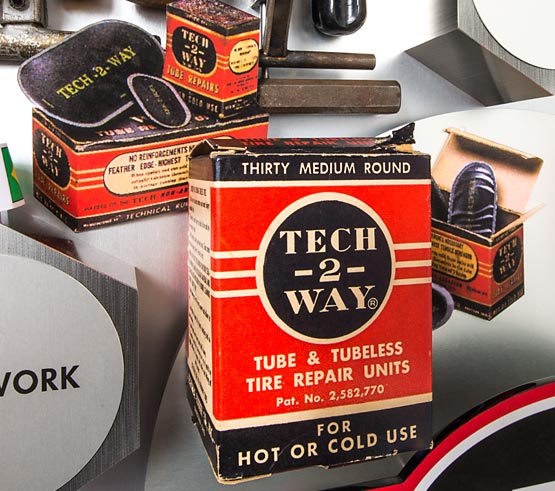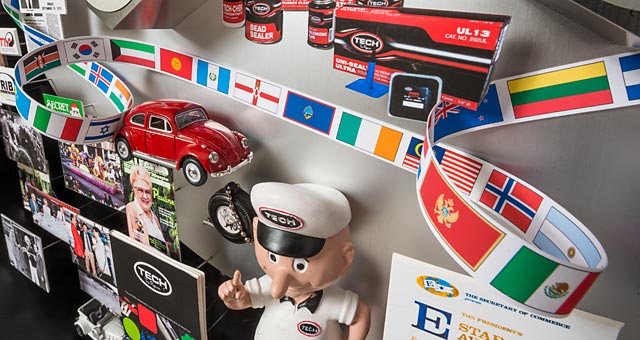 "I was especially inspired by the company's great care to communicate their heritage and the wonderful material that had been preserved over the decades. It really enabled the art to reach its potential," says Romorini.
The art's circular structure symbolizes a tire, highlighted by a hubcap with five lug nuts featuring TECH Core Values: Leadership – Teamwork – Intelligence – Honor – Innovation. The story flows in a counterclockwise direction from the top left.
The Tech logo is prominent, with a ribbon of 95 flags woven through the retrospective, representing all countries where Tech products are sold. Interspersed among the articles and photographs are 3D miniatures representing vintage and modern tire repair, as well as some charming period vehicles.
Lawrence Romorini and his One Of A Kind Art Studio transform everyday objects—photographs, publications, 3D items and mementos—into personalized works of art that commemorate history, leadership and accomplishments. Tech International joins an extraordinary group of companies and executives whose stories have been showcased in One Of A Kind Artwork over the past 30 years. They include Oprah Winfrey, General Electric, USA TODAY, Michael Jordan and Johns Hopkins, along with great success stories originating in Ohio, such as Wendy's International, Grange Insurance, Bridgestone/Firestone, Banc One, M/I Homes and The Limited. Many others are featured in our portfolio.
---