The Risk Management Association is the latest One Of A Kind client to honor their organization's history, leaders, benefits and accomplishments in 3-dimensional lobby art for their 100th anniversary.
Lawrence and Donna attended the unveiling yesterday in Philadelphia at RMA's annual conference.
"This artwork embodies all that is great about RMA, and highlights many of the treasures found in the RMA archives," said RMA President and CEO William Githens at the presentation. "And if you think it's impossible to capture 100 years in a four-by-four frame, then you've never met Lawrence Romorini and Donna Rome."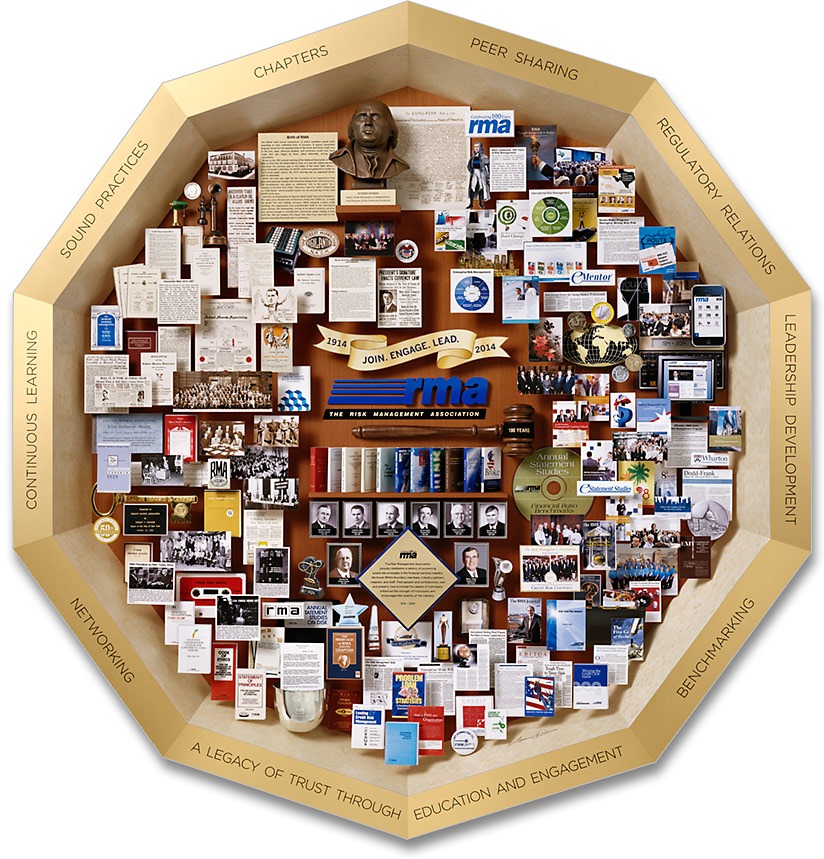 With over 170 photos, publications and actual 3-D items—including a bust of Robert Morris, signer of the Declaration of Independence, financier of the American Revolutionary War and first namesake of RMA—the collage is designed as a decagon to reflect the first 100 years. Benefits of RMA membership are engraved on the brass border that surrounds the chronological flow of memorabilia.
The artwork will be installed in the lobby of RMA headquarters in Philadelphia as a legacy of the first 100 years. One Of A Kind also provided an interactive feature with descriptive key (click the "Reveal the Artwork" button) for RMA's website, to share the 100th anniversary artwork and identify the significance of every item to members nationally and internationally.
---