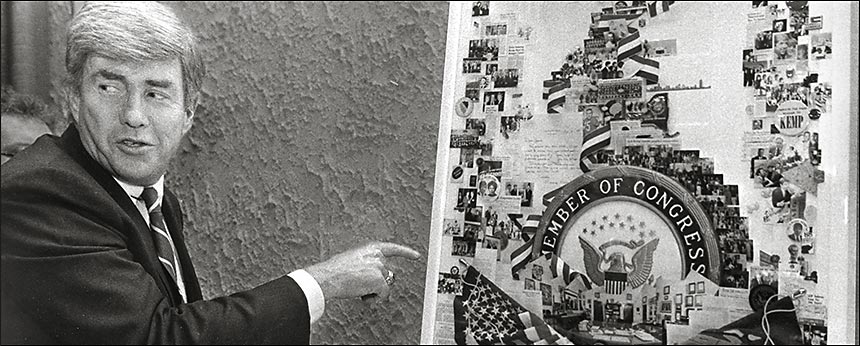 Lawrence and I will never forget the excitement of the retirement party in Buffalo 25 years ago, when Jack Kemp unveiled his One Of A Kind commemorative art. And we are ever grateful to Sharon Zelaska, his Administrative Assistant, who organized the surprise tribute.  Sharon too recalls this special time:
"It's so hard to believe it has been 25 years since Jack left the House and we started the process of closing down his office after 18 years. As I stood there in those quiet moments and looked around his office, I saw that it was going to be a daunting task to do so. But I had a compelling need to somehow "preserve" the memories that adorned the bookshelves and walls. Lawrence Romorini and Donna Rome of One of a Kind Art Studio came to the rescue and provided Jack and his family with a beautiful remembrance of those years in Congress. 

Unbeknownst to everyone, Donna and I worked quietly behind the scenes to find all the right items for the 3-dimensional collage which started with just a panoramic photocollage of his office as if he were sitting at his desk. From there we added such items as The Great Seal of the US, all the family Christmas cards, items depicting his football career including duplicates of his football rings, a piece of the tile from the Capitol floor, a picture of Jack being sworn in by Carl Albert for his first term and then ending with all the wonderful tributes by his colleagues in the Congressional Record when he retired. The final two items before the commemorative collage was sealed up were his last voting card and a beautiful, handwritten letter from President Ronald Reagan. Lawrence did an amazing job transforming the memorabilia into a work of art, designed to suggest both a football field and Congressional columns.
When the 3-dimensional artwork that Lawrence created was presented to him by some of his dearest friends, Jack looked at the collage for about one minute and then got up to the podium to thank everyone and proceeded to name just about every item in there. His photographic memory had kicked in instantly. He was truly overwhelmed. The collage still holds a very special place in the Kemp home for all to see." -Sharon Zelaska
Lawrence and I have followed with admiration Jack Kemp's service to his country after 1988. And with the nation and the world we mourned his loss in 2009. As the Jack Kemp Foundation and Kemp Legacy Project continue "to develop, engage and recognize exceptional leaders who champion the American Idea," we reflect on the unique privilege to have created a personal artistic legacy. We're thankful for the Kemp family and glad to learn they continue to enjoy the art and the memories it preserves. -Donna Rome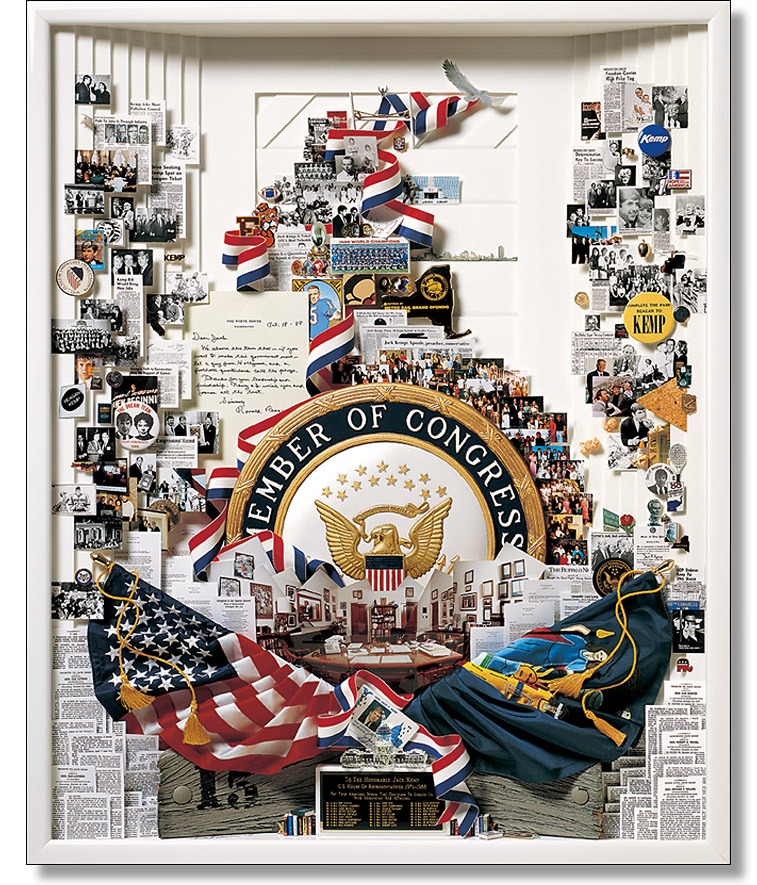 The design suggests both a football field and white pillars to commemorate Kemp's career as a star quarterback and as a Congressman. Included are his Congressional seal, a letter from President Reagan, and the back of a bleacher with his number "15" from War Memorial Stadium in Buffalo, where he won two world championships. The final size of the artwork is 31″ x 38″ x 4″
---