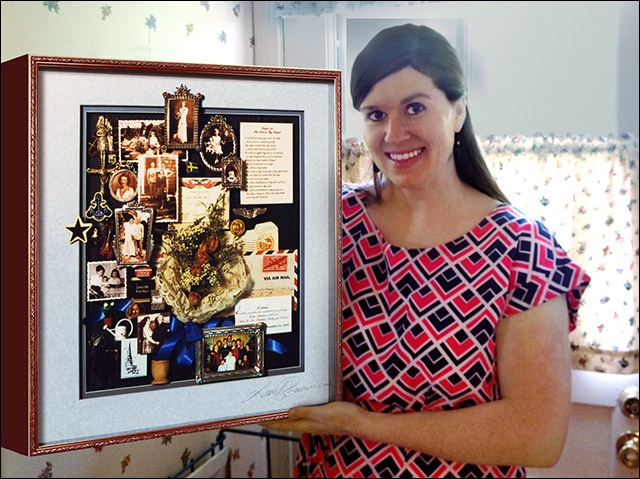 Guest post from Shelley Swendiman.
As I look at the collage created for my grandmother, Jessie Swendiman, and at each individual, carefully placed piece, I am once again reminded of how this beautiful visual representation of my Grammy's life conveys how special she was to our family.
Mr. Romorini, a good friend of our family, also thought Jessie was special, particularly since she very much reminded him of a school teacher he had as a child.  He said that creating Grammy's collage was a way for him to also honor this teacher, Mrs. Miller,  who encouraged him to enter the New York School of Art and Design, changing his life forever.
My grandmother Jessie was a first generation American whose parents met in New York City after arriving at Ellis Island from Sweden and Scotland.  Grammy grew up surrounded by plants and flowers as her father was a gardener, and eventually they had a nursery business. She worked her way through college, served in the Navy during World War II, taught high school English and Latin, married the love of her life, Bob, and started a family which included my father.
When our family presented the collage to Grammy at Christmas, 2002, she was delighted and overwhelmed. In three dimensions this piece of art wove together the amazing story of her life, her strong faith, and her loving family: a watering can and a bouquet of dried flowers to show her love of plants and flowers; psalm 121, her favorite Bible verse; photos of the family that she prioritized above herself; a letter from my grandfather during World War II, the wings her fighter pilot brother gave her after the war, a Hershey kiss for her sweet tooth; a Swedish pin and Scottish tartan representing her parents' heritages, and a chalkboard with the Latin words "by teaching, we learn," among many other special mementos.
I was blessed to have lived so close to Grammy's house while I was growing up and to have had her in my life for more than two decades.  She is an example of the kind of person I want to be, and she set a high standard.  It was never anything she said, rather the way she lived her life.  I miss her greatly.
---