Dana Point, California – March 2, 2014 – Reliance Steel & Aluminum Co., (NYSE: RS) the largest metals service center company in North America, highlighted their 75th anniversary at the Ritz-Carlton, Laguna Niguel by unveiling One Of A Kind 3-dimensional art by Lawrence Romorini.
"We had our unveiling of the art piece after day one of our annual Managers' Meeting and it was a huge hit!" wrote Vice President of Corporate Initiatives Brenda Miyamoto. "The piece is truly beautiful and there was a crowd around it all evening. David Hannah, our CEO, absolutely loved it."

©2014 One Of A Kind, Inc. Art Studio.  Size of the art: 89″ x 40″ x 7″
Reliance's 75th Anniversary retrospective artwork chronicles the company's history from humble beginnings in Los Angeles, the leaders, and accomplishments, and extraordinary growth into "A Family of Companies" across 39 states and 11 countries. As the distributor of over 100,000 metals products to a broad range of industries, the artwork incorporates photographs, publications and 3D items to reflect the impressive range of operations.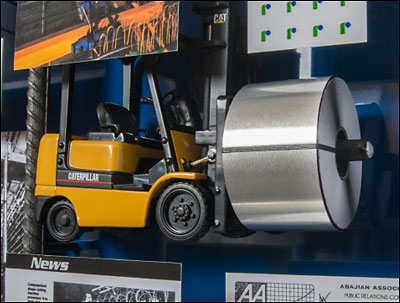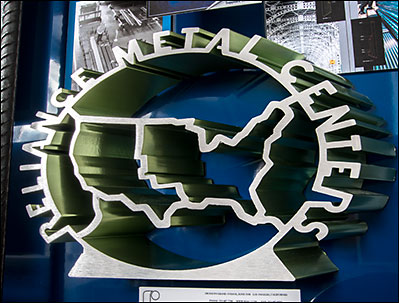 "It was amazing to discover the dynamic growth under the current leadership, symbolized in the 3-dimensional bar chart created in metal," says Romorini. On the left border copper, aluminum and brass shapes form a sculpture to suggest the metals that Reliance supplies. The distinctive Reliance "R" icon nearby displays a 75-year timeline: "75 Years Strong," photoengraved on the metal. Interspersed among the articles and photographs are 3D miniatures to represent the variety of end products using Reliance metals.
Lawrence Romorini and his One Of A Kind Art Studio transform everyday objects—photographs, articles, mementos—into personalized works of art, brimming with history and emotion. Romorini can now add Reliance to the list of incredible organizations that have celebrated their anniversary with One Of A Kind Artwork, including Metals Service Center Institute, General Electric, OPUS, Southwest Airlines, Marriott International and the CLIO Award winning artwork for the American Academy of Orthopaedic Surgeons. Learn more about our process here.
---