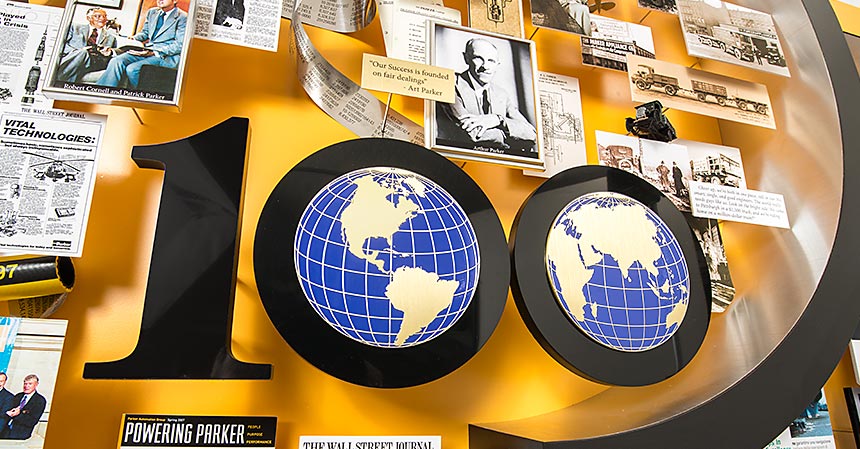 Cleveland, OH – March 13, 2017 – Parker, the global leader in motion and control technologies, launched its centennial celebration by unveiling One Of A Kind 3-dimensional commemorative art created by Lawrence Romorini at their Corporate Headquarters in Cleveland, Ohio. Parker shared the occasion worldwide in a Founding Day Centennial Webcast: Celebrating 100 Years of Growth and Innovation presented by Chairman and CEO Tom Williams and President and COO Lee Banks. Parker locations worldwide were able to tune in and see the artwork unveiled live.
The unique spiral structure of Parker's artwork symbolizes continuous motion, with over 200 miniaturized photos, publications and 3D items spinning around a framed photograph of Founder Art Parker and a 3-dimensional "100." The "100" features two engraved brass hemispheres to underscore Parker's global footprint.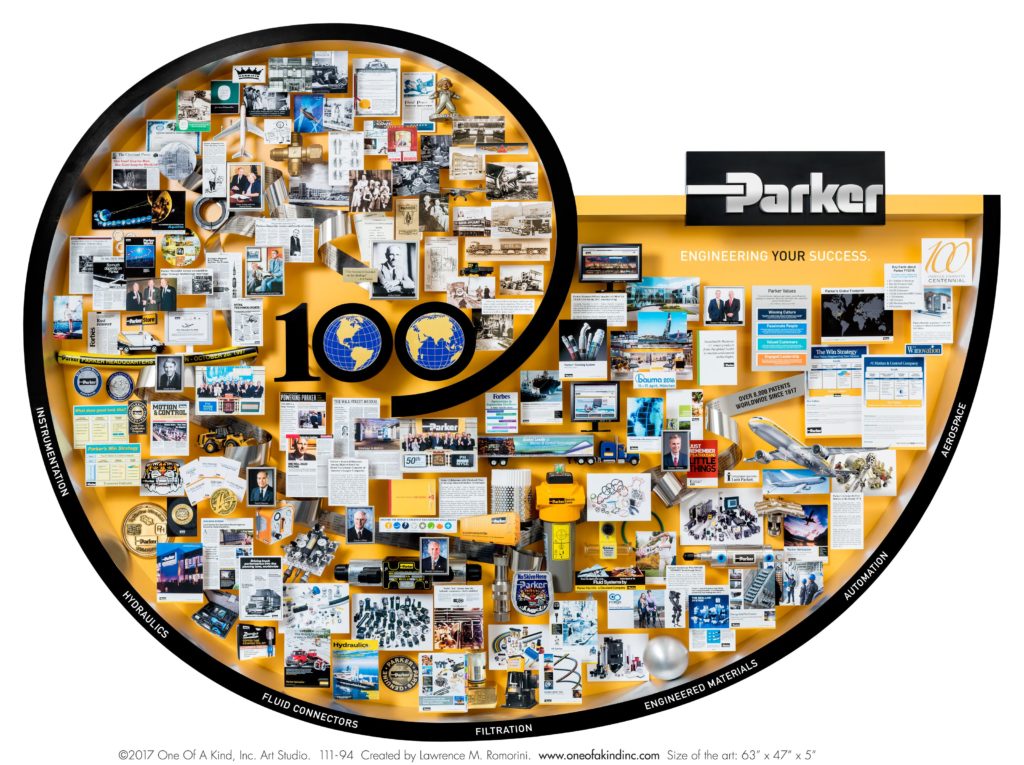 The earliest vignette honors Art Parker and his wife Helen and commemorates Parker's start-up. Vintage photos and a schematic reflecting the pair's ingenuity, tenacity and resilience are featured. The art celebrates the expansion of Parker products and services and their contribution to success in World War II, U.S. space missions and in essential industries related to motion and control.
A silver, stainless steel ribbon with thousands of patent numbers weaves through the art, reflecting the extraordinary innovation that distinguishes Parker with their more than 8,000 patents worldwide. The bottom border lists the various Parker Operating Groups, which correspond to the interior with Parker products, actual size memorabilia and photos, that provide a fascinating texture and authenticity.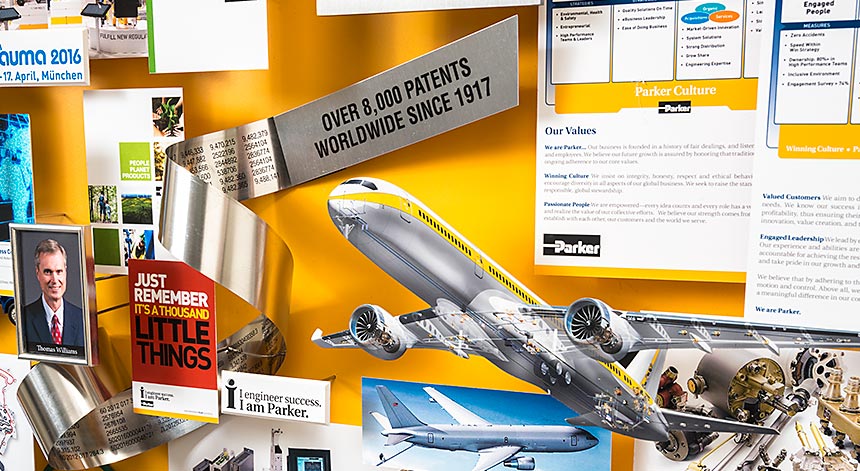 "Parker has an amazing only-in-America story, surmounting early challenges to succeed globally through a tradition of excellence and a culture of caring. It's been an honor to research this leader in motion control technologies and to create 3-dimensional art that I hope will inspire generations to come," says Romorini.
Following the unveiling, the artwork will travel to Parker locations throughout the centennial year. It also will be displayed at the New York Stock Exchange in April, when leadership rings the closing bell to celebrate their first 100 years. The centennial art will then serve as a lasting legacy on display in Parker's headquarters as the company moves into its second century.
"This year we honor the past and the great achievements that have come before us, and celebrate the people, culture and values that have made Parker the company it is today," said Tom Williams, Chairman and Chief Executive Officer. "Our remarkable team members are the foundation of Parker's success, and they will continue to drive the company's growth as we look ahead to a promising future over the next 100 years."
---