One Of A Kind goes international with our first unveiling in Hong Kong. Hongkong Land, a leader in property investment, management, and development across Asia, discovered us online and commissioned Lawrence Romorini to honor their dynamic outgoing Chief Executive, Y.K. Pang. Founded in 1889, Hongkong Land's business is built on excellence, integrity and partnership. While concentrated principally in Hong Kong and Singapore, their holdings stretch from Jakarta to Beijing, with further development in Greater China and Southeast Asia.
Our clients brought great enthusiasm for the project and respect for the accomplishments of their distinguished leader. Their ideas, attention to detail and enthusiasm ensured the art reached its maximum potential. Even with a 12-hour time difference, we communicated easily via Skype– 9:00 a.m. for them, 9:00 p.m. for us.
Lawrence and I came away from this project with a new appreciation for Hong Kong's amazing real estate properties, spectacular skyline and for the wonders of art, which transcend miles, language and culture. "A magnificent gift! Love to work with the professionals!" wrote our client after the presentation. The feeling's mutual, working with the Hongkong Land team, truly pros extraordinaire!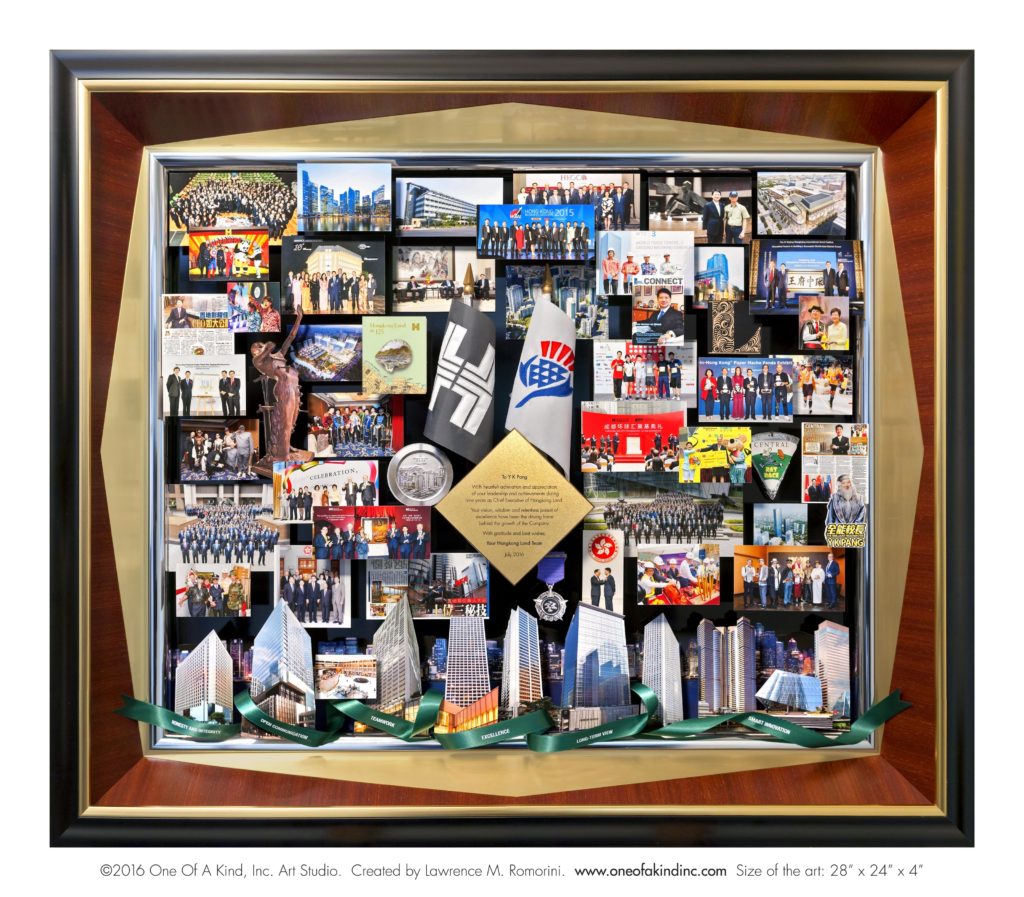 The resulting 3-dimensional art was designed with a glossy black background, accented with a shining chrome inner border. The mahogany slanted inner sides feature a stylized brass compass rose, representing 9 years of expansion under Pang's leadership.
Along the bottom are beautiful hand-cut photos of Hongkong Land's Central Portfolio buildings. These are suspended against a gleaming nighttime photo of the Hong Kong skyline, creating a layered, 3-dimensional effect that shifts dynamically as you move around the artwork.
Woven throughout the buildings is a green ribbon, symbolizing their innovative "green bridges" that provide eco-friendly pedestrian walkways between buildings. On the ribbon is printed the HongKong Land Values: Honesty and Integrity, Open Communication, Teamwork, Excellence, Long-term View and Smart Innovation.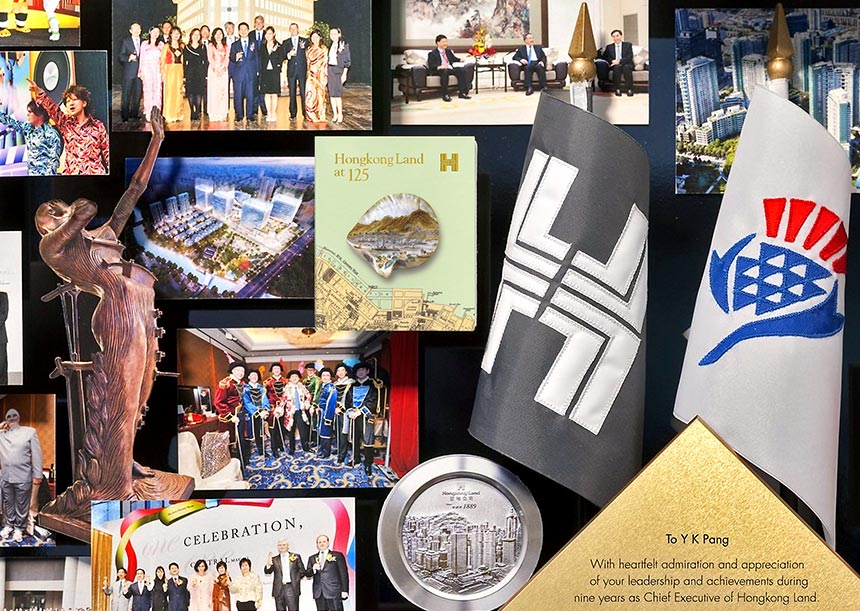 Other highlights include commemorative coins and medallions and photos of favorite memories, including a 3-D cutout of a Salvador Dali sculpture that adorns the lobby of one of their buildings.
The centerpiece of the art includes custom embroidered Hongkong Land and Jardine Matheson flags, which help anchor a brass dedication plaque. The dedication reads:
To Y.K. Pang

With heartfelt admiration and appreciation

Of your leadership and achievements during

Nine years as Chief Executive of Hongkong Land.

Your vision, wisdom and relentless pursuit of

Excellence have been the driving force

Behind the growth of the company.

With gratitude and best wishes,

Your Hongkong Land Team

July 2016
---