Lawrence and I were deeply saddened to learn of Al Neuharth's passing. As the Chairman of Gannett and Founder of USA TODAY, he was first recipient of a corporate One Of A Kind 3-dimensional collage. It was the 5th anniversary of USA TODAY, and thanks to the vision of John Curley, Lawrence was commissioned to create a gift for Neuharth to commemorate the occasion. The response was beyond anything we could have imagined. Al Neuharth inspired us to follow our dream; his enthusiastic note from 1987 still a treasured part of the studio's history.
I am personally grateful as well for new professional opportunities Al Neuharth provided at USA TODAY, where I was Director of Newsroom Administration.  He championed executive responsibilities for women and minorities and expected superior performance as no one I had ever known.
Since Mr. Neuharth's commemorative art, other amazing commissions have followed–for Jack Kemp, Oprah Winfrey, Michael Jordan, Jack Welch, many more. However, Lawrence and I reflect with great appreciation—especially at this time– on the collage that started it all and the leader it honored.
Donna Rome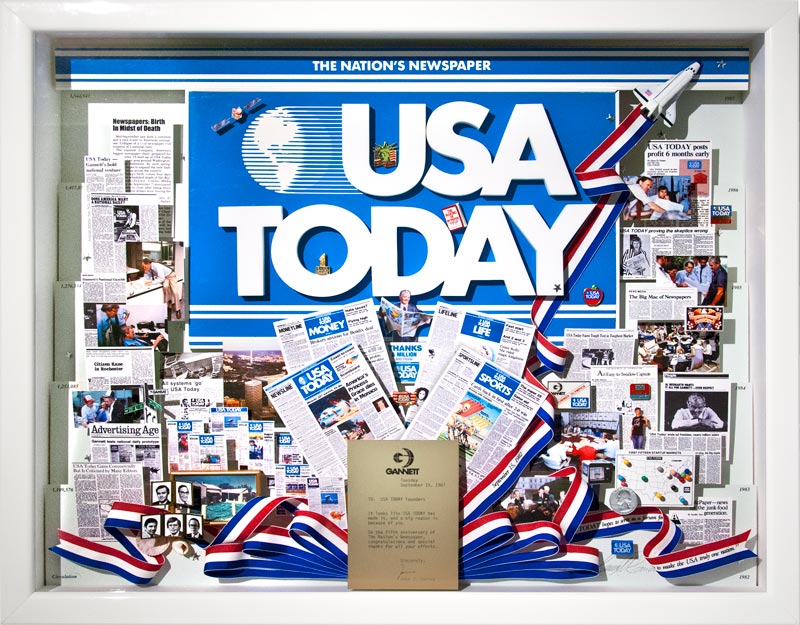 ---