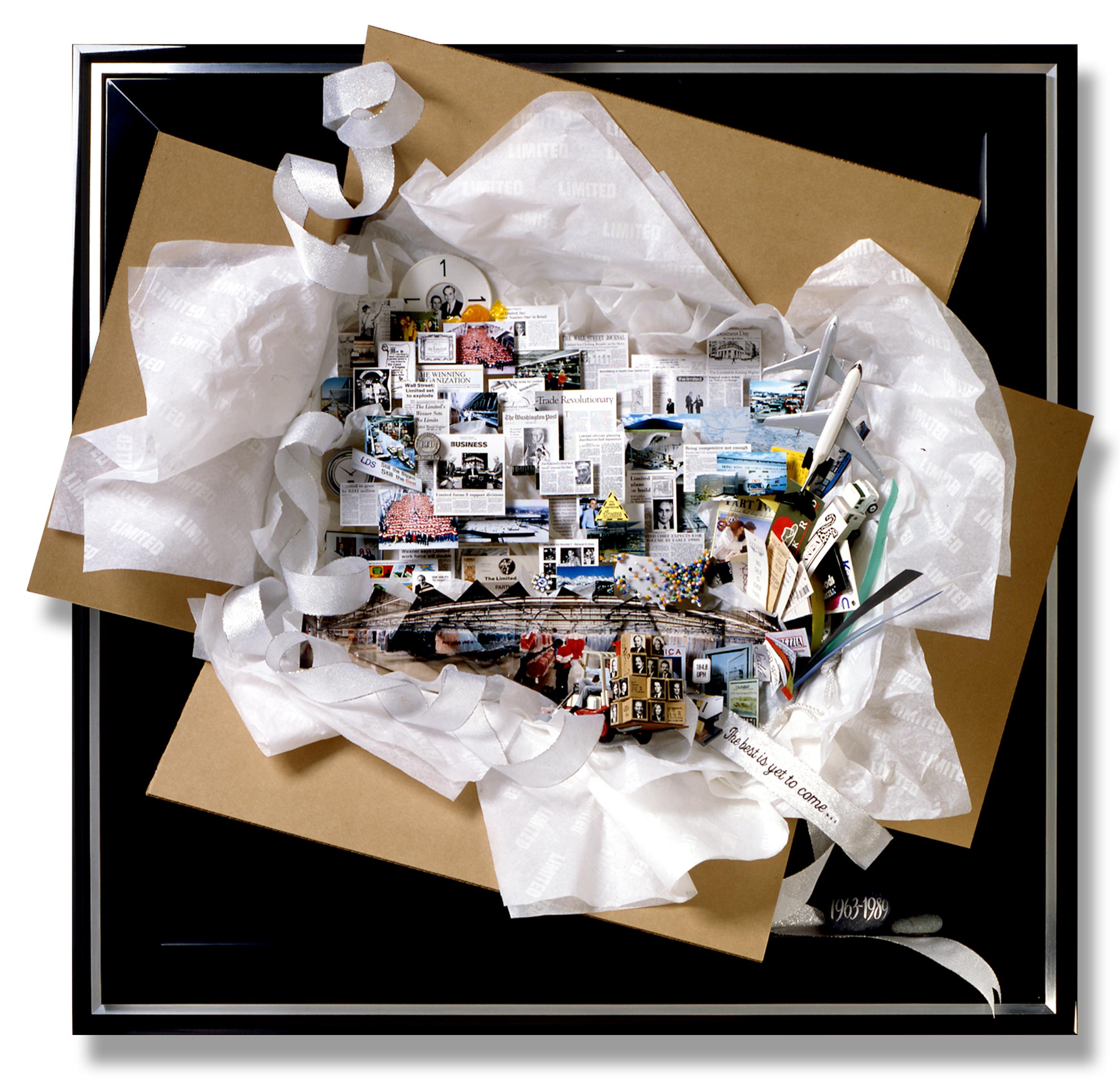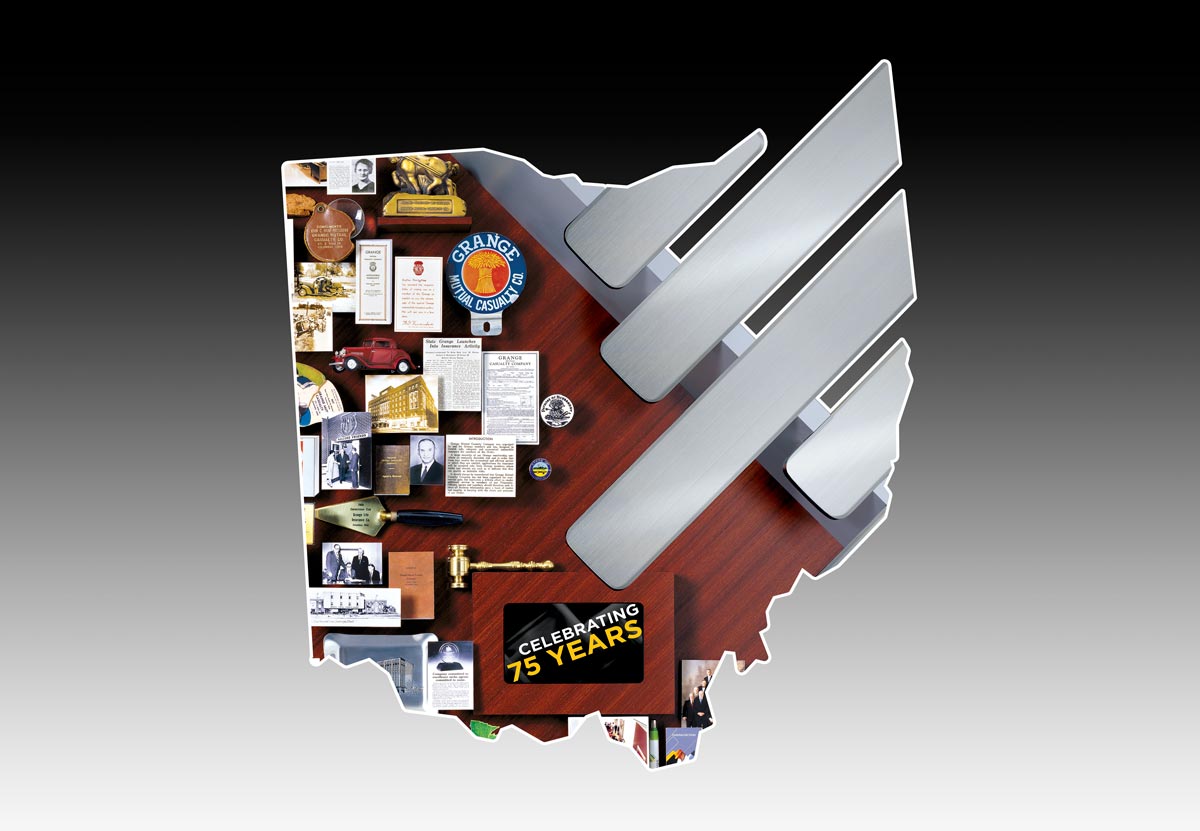 O-H-I-O—an amazing state for singers (Dean Martin, Doris Day), sharpshooters (Annie Oakley), astronauts (John Glenn, Neil Armstrong), comedians (Jonathan Winters, Bob Hope, Fred Willard), entrepreneurs (Dave Thomas, Leslie Wexner) and One Of A Kind commissions! From Cincinnati to Cleveland and assorted points in between, we've had the privilege of collaborating with over 30 distinguished Ohio companies, hospitals, and organizations since 1985. Their inspiring stories from The Heartland are as varied as their industries.
We've come to appreciate the vision, values, and success of Ohio companies—some internationally famous, like The Limited and Banc One. Others, such as Denier Electric and Sauder Woodworking, continue to thrive under family leadership, with executives commanding national roles in professional organizations. When viewed as a whole, our One Of A Kind art begins to capture the diversity and color of Ohio—especially meaningful to this Studio Director with deep Buckeye roots.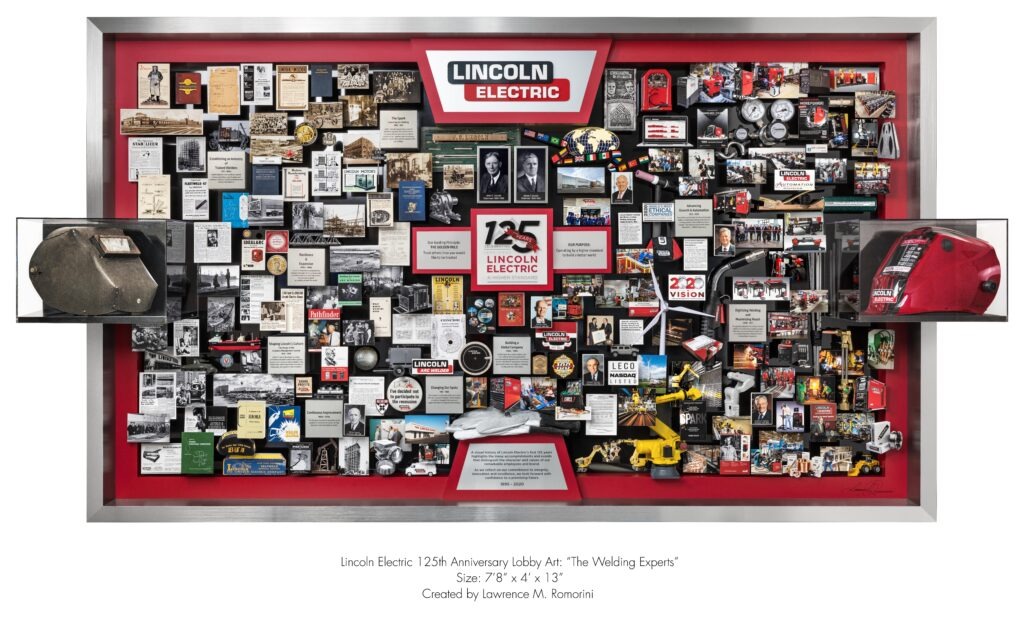 Lincoln Electric's CEO unveiled their 125th anniversary lobby art in their Cleveland, Ohio headquarters at a virtual celebration, viewed on their internal website throughout the world. Operating in 18 countries and known as "The Welding Experts," Lincoln Electric is the world leader in the design, development, and manufacture of arc welding products, automated joining, assembly and cutting systems, plasma and oxy-fuel cutting. An interactive digital feature with descriptive key on their website share their story globally, with all 59 manufacturing locations gaining access. Explore the interactive and click on any item for an identification of the image.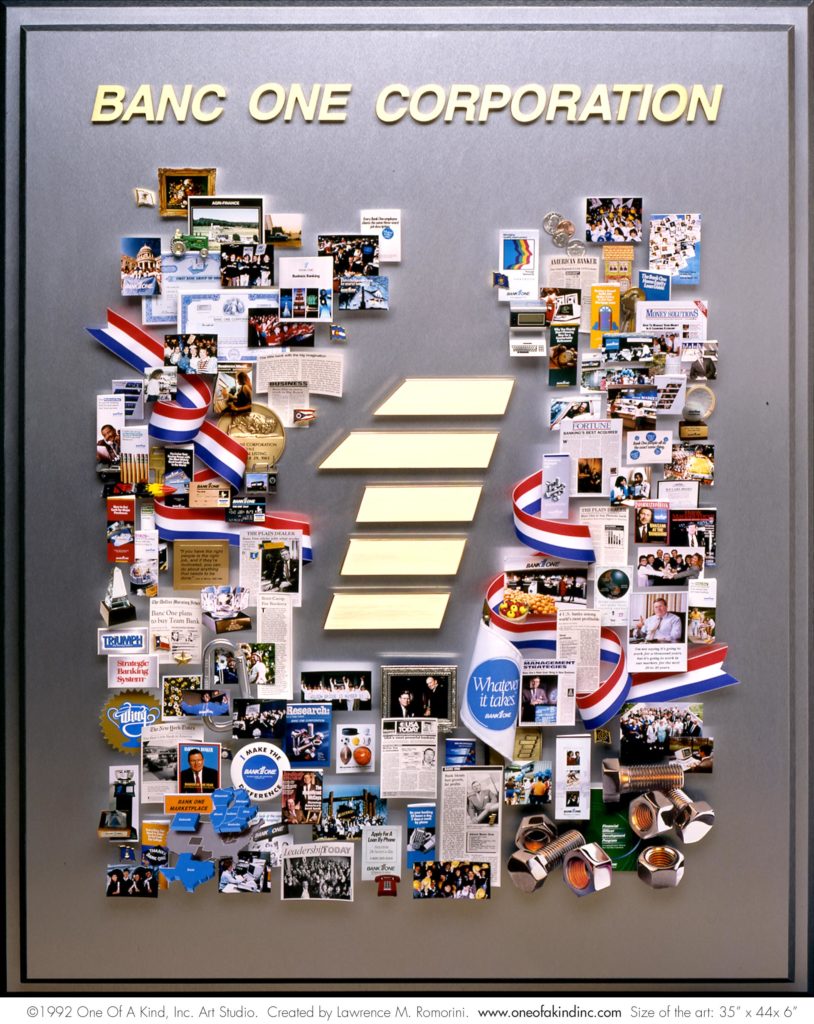 Banc One commissioned their artwork for their annual report cover. "We want an award-winning cover," our client told us. And, indeed, the collage went on to win the highest Gold Award from Financial World Magazine for Best Annual Report Cover of the year. The original art was installed in front of the CEO's office.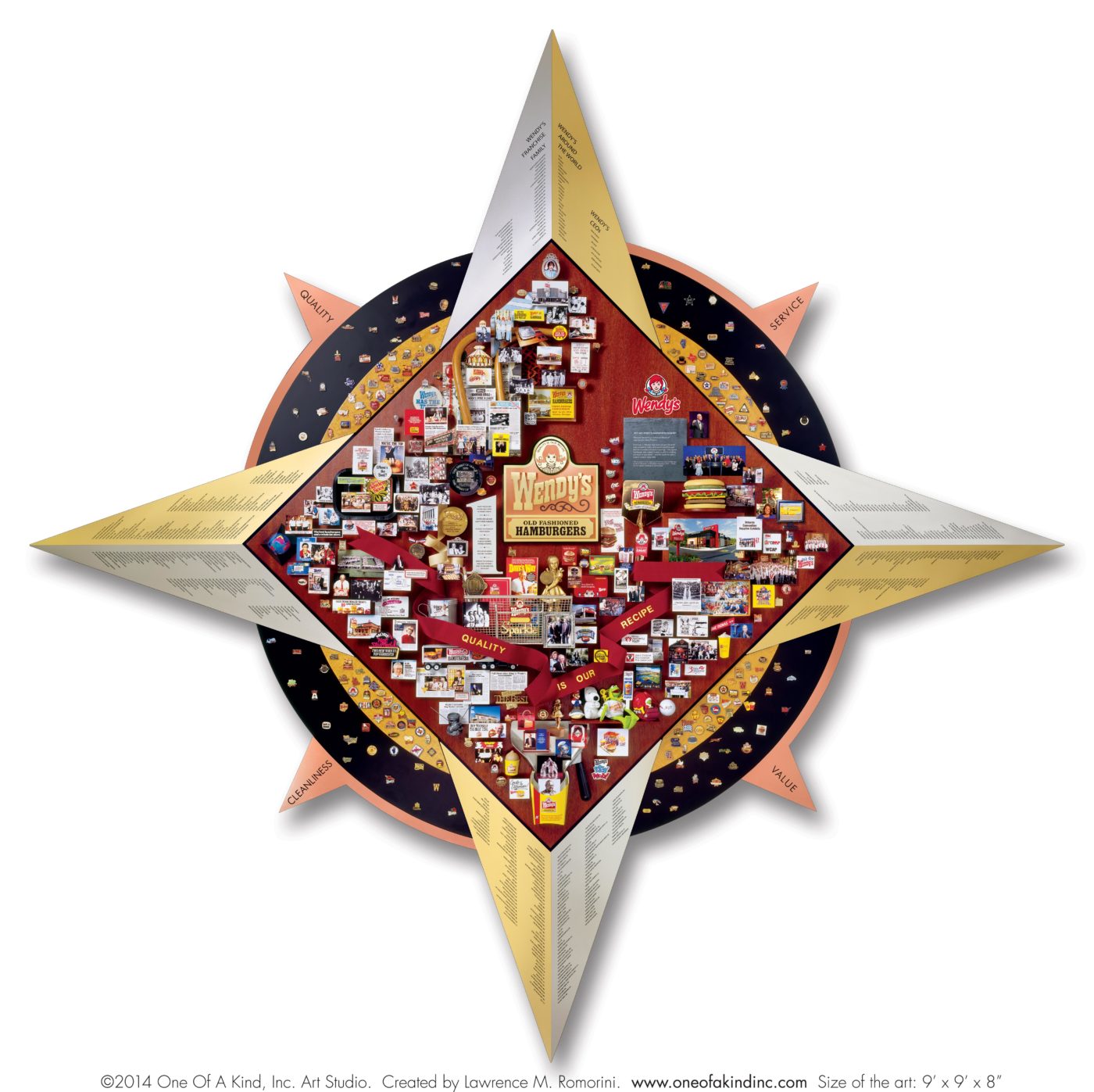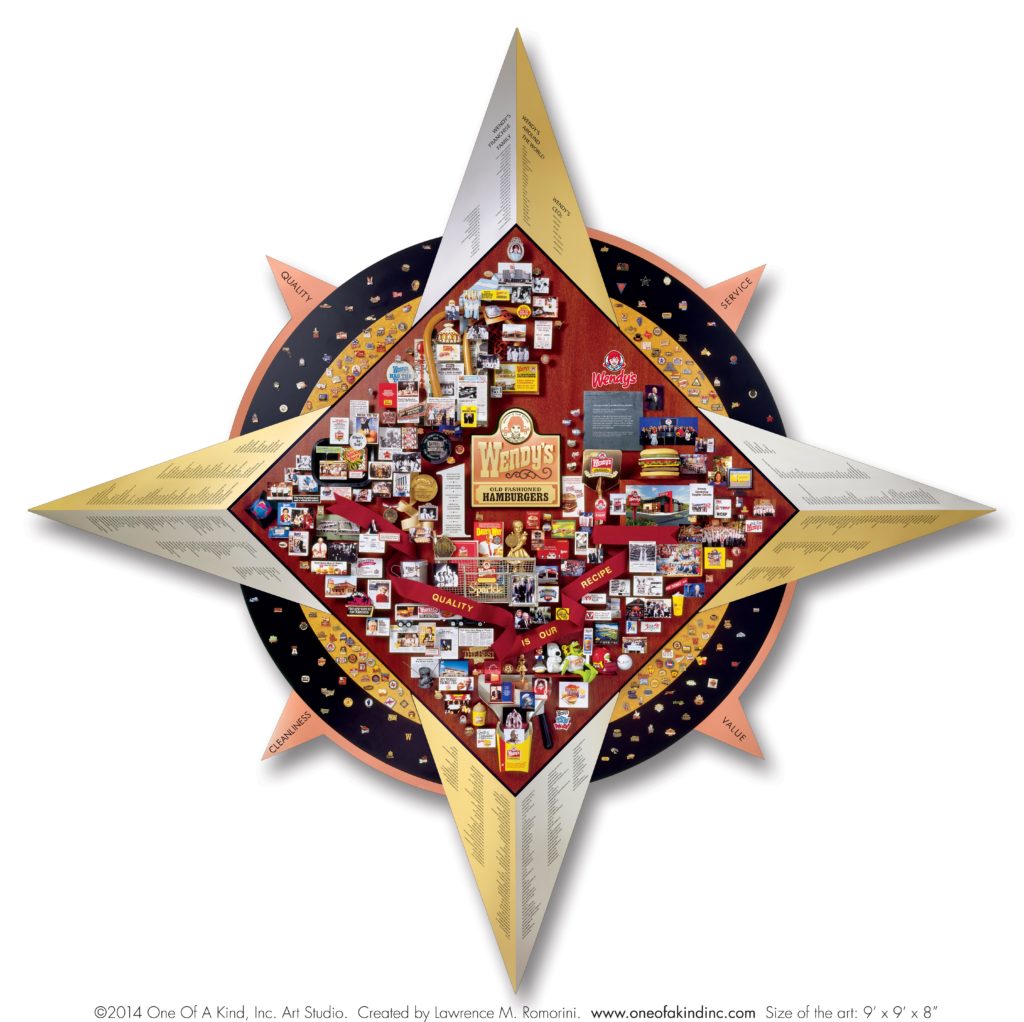 Wendy's commissioned artwork on their 25th anniversary, honoring Founder Dave Thomas and celebrating the growth of the company–North, South, East, West, as the "compass rose" design suggests and on which franchisees' names are photoengraved. We had the pleasure of updating the art for Wendy's 40th anniversary, working with our original clients, Denny Lynch and Kitty Munger, bringing the story up to date.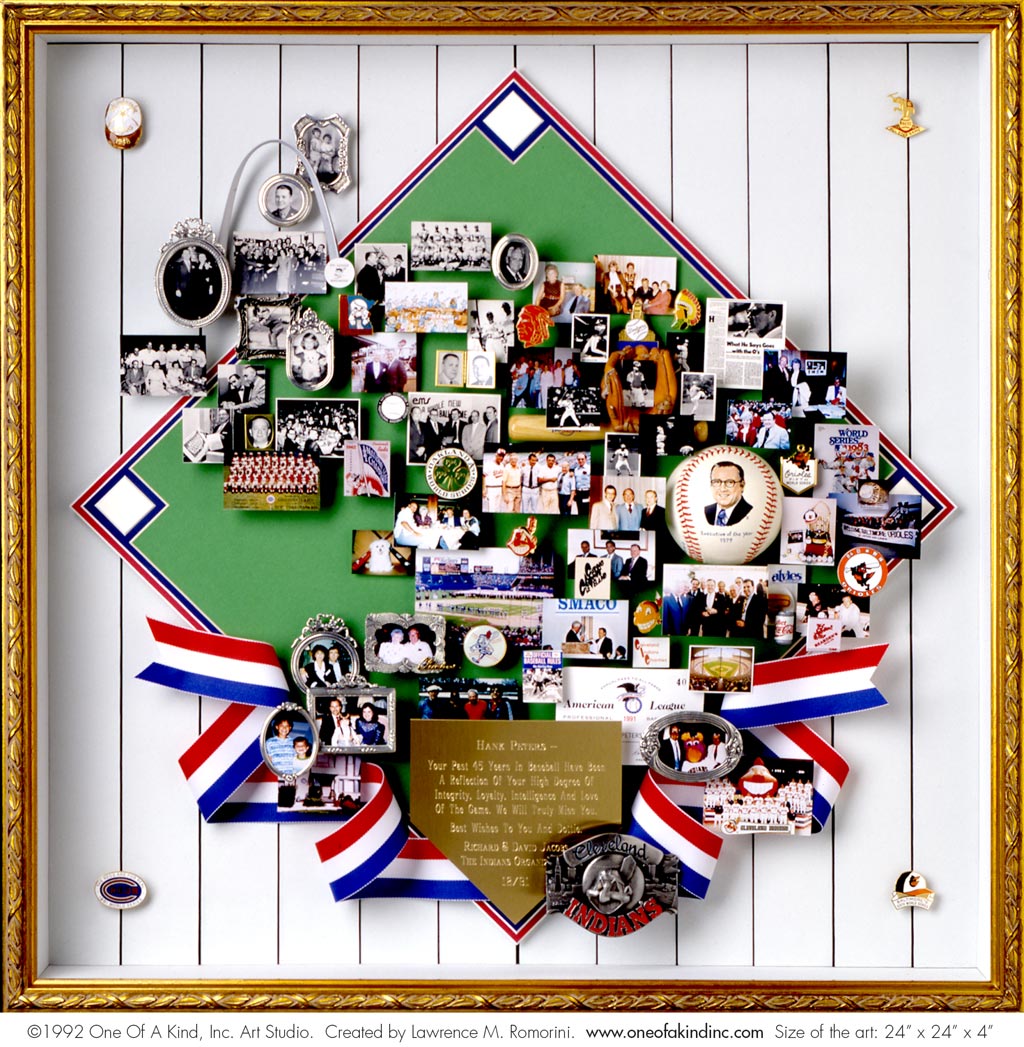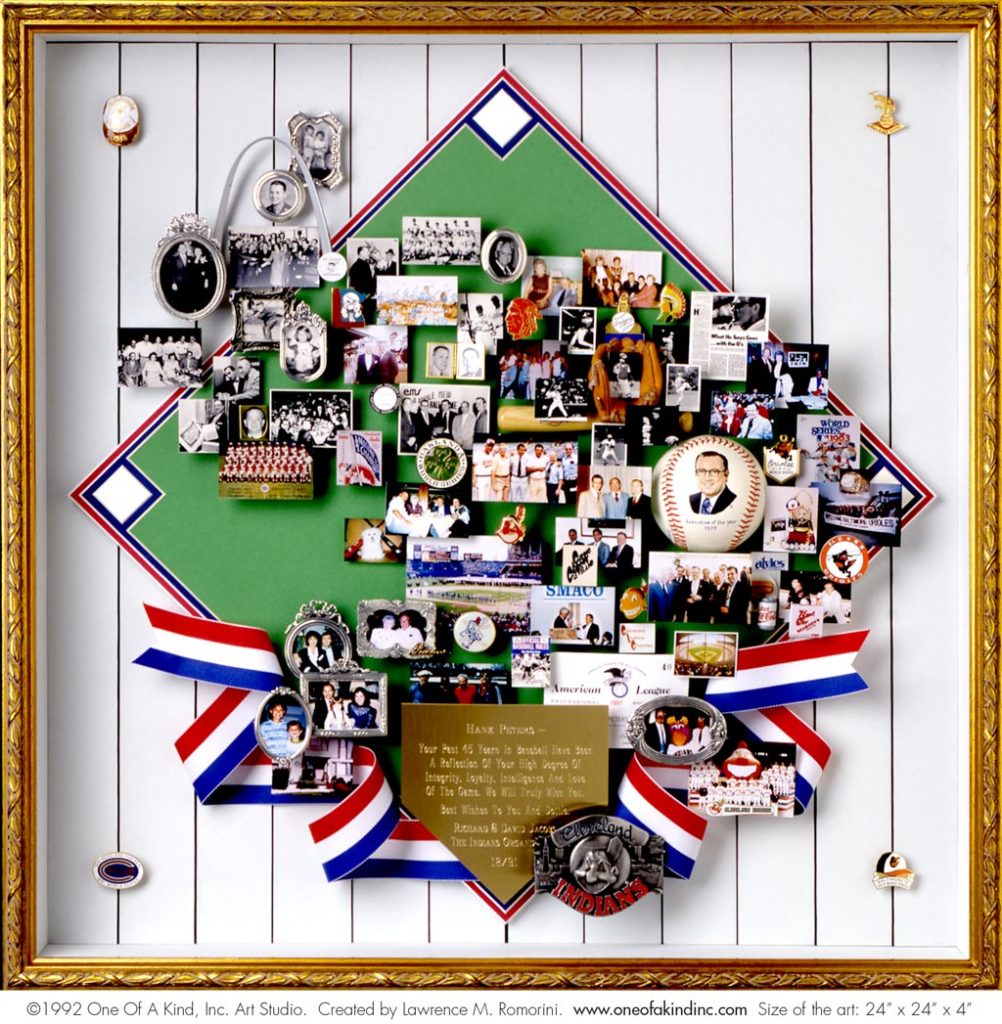 Cleveland Indians honored their retiring general manager Hank Peters in 1992. The background consist of layers of handcut and beveled boards forming a baseball diamond. The dedication is engraved on a metal "home plate."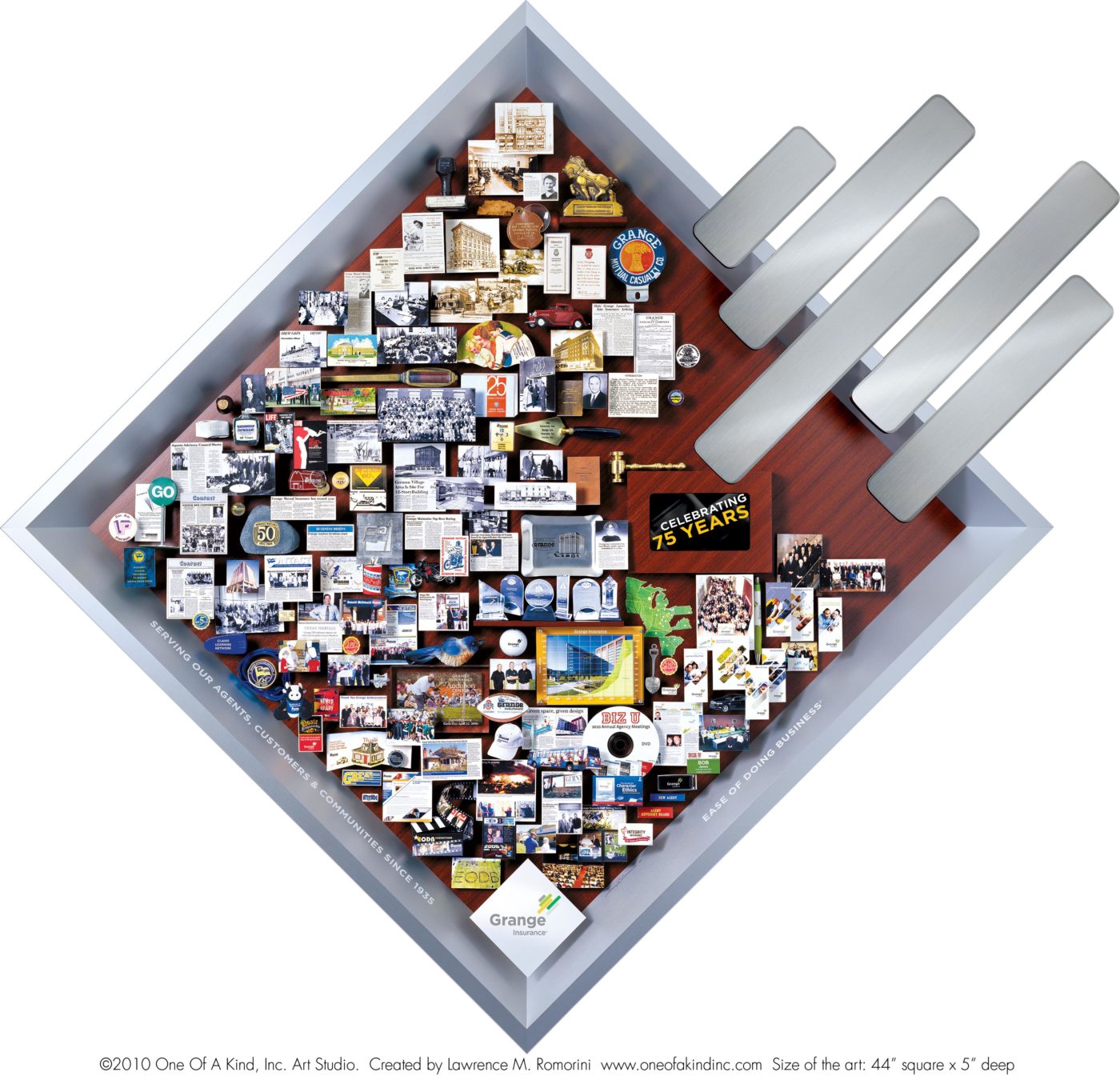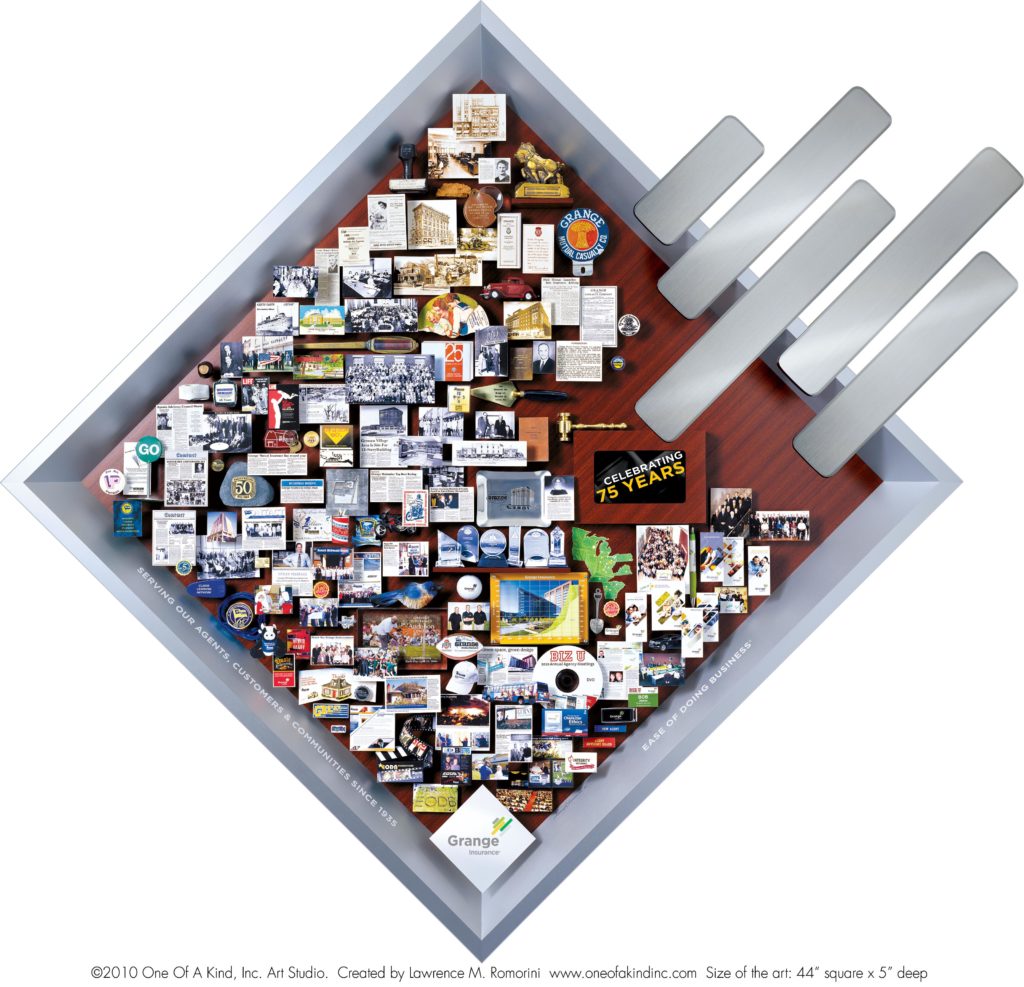 Grange Insurance commissioned 75th anniversary art for their headquarters in Columbus, Ohio. The dynamic shape for the art replicates their logo. Grange reproduced their artwork as souvenir posters for their celebration.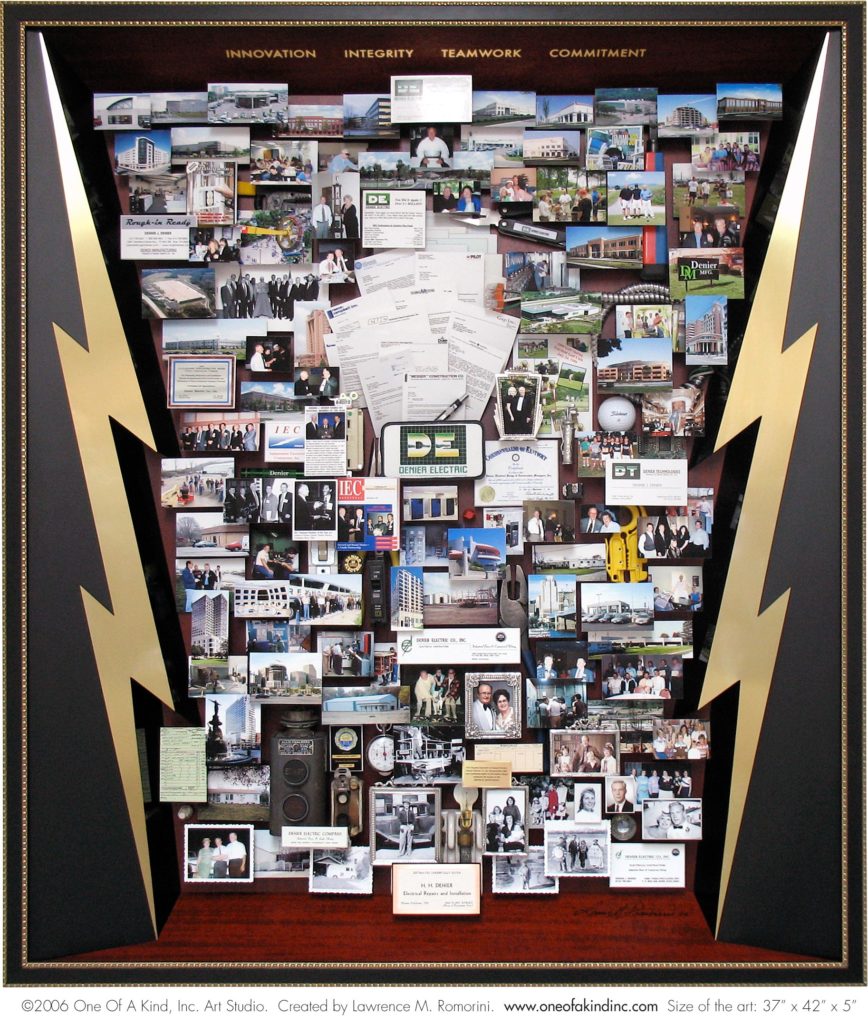 Denier Electric commissioned One Of A Kind to honor Denny Denier on the company's 65th anniversary in Cincinnati, Ohio. The side electrical bolts are created in brass. Letters from delighted customers are featured in the center. 3D tools of the industry and three generations of Denier family leadership are represented, making for a fascinating retrospective.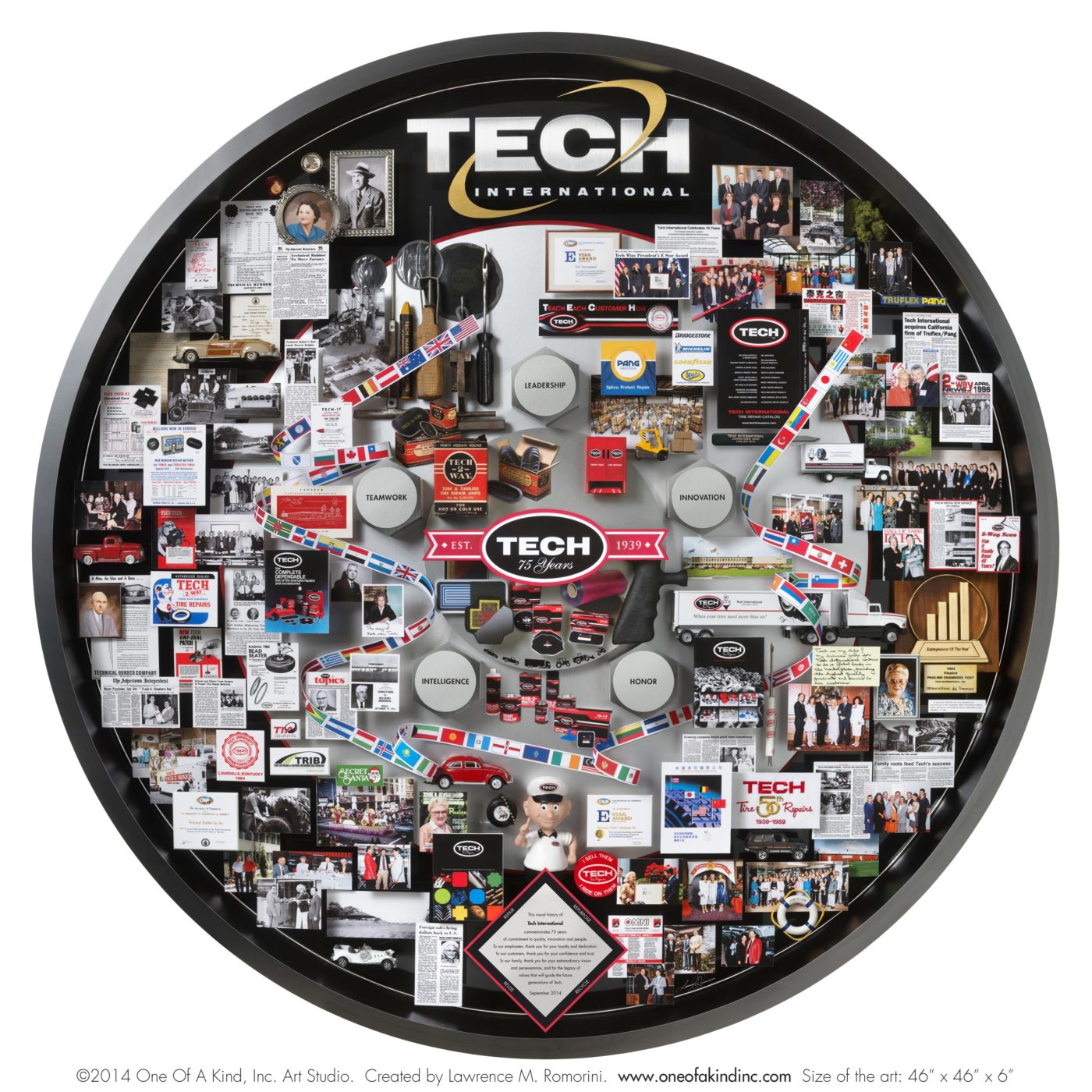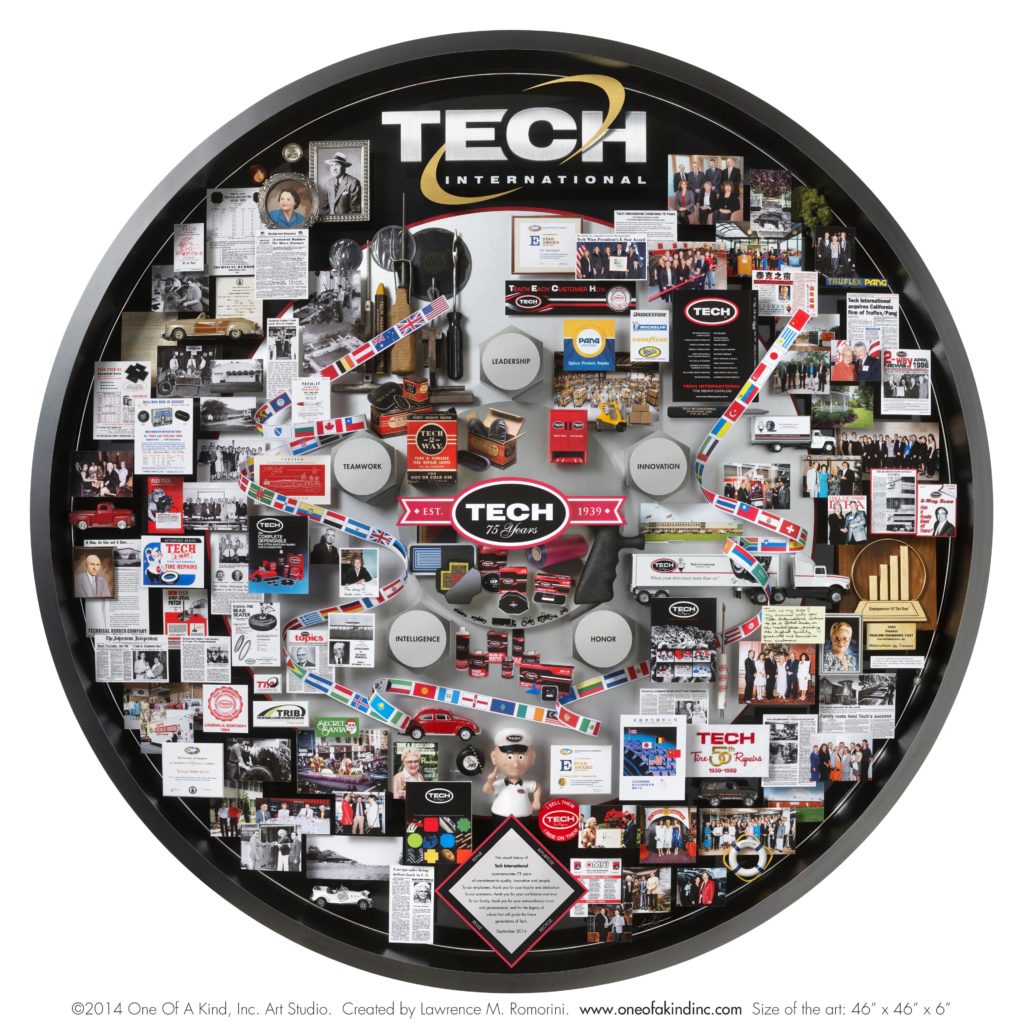 Tech International celebrated three generations of family leadership in their 75th anniversary commemorative art. As a leader in tire repair, the design is circular, suggesting a tire. The central hub of the artwork features five stylized "lug nuts" which provide a base for their Core Values, photoengraved on metal plates. A ribbon of international flags commemorates the amazing worldwide growth of this company, headquartered in Johnstown, Ohio.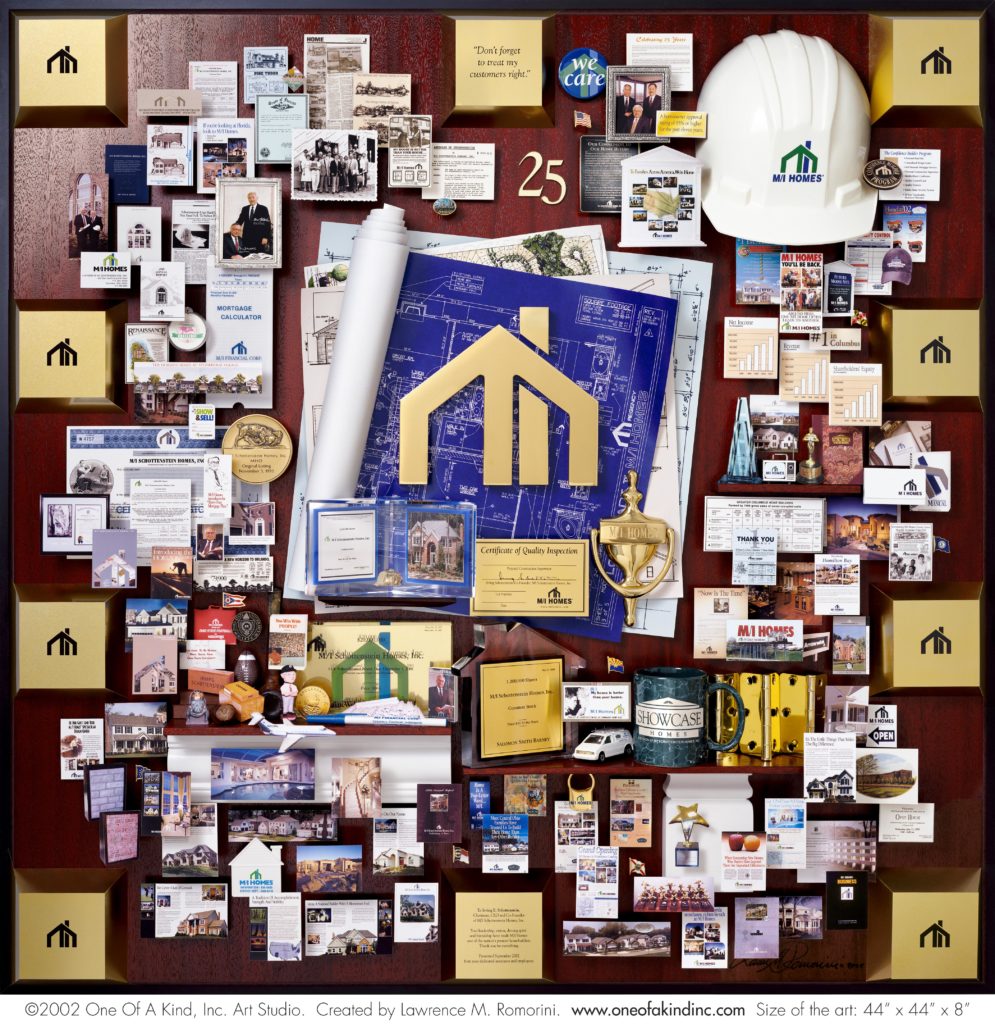 The second generation of Schottenstein family leadership honored the two founders of M/I Homes, on the 25th anniversary of the company. The centerpiece is a 3D brass recreation of their iconic logo, along with a door knocker and blueprint. Their retrospective reflects M/I Homes' impressive growth from Columbus, Ohio to locations across the country.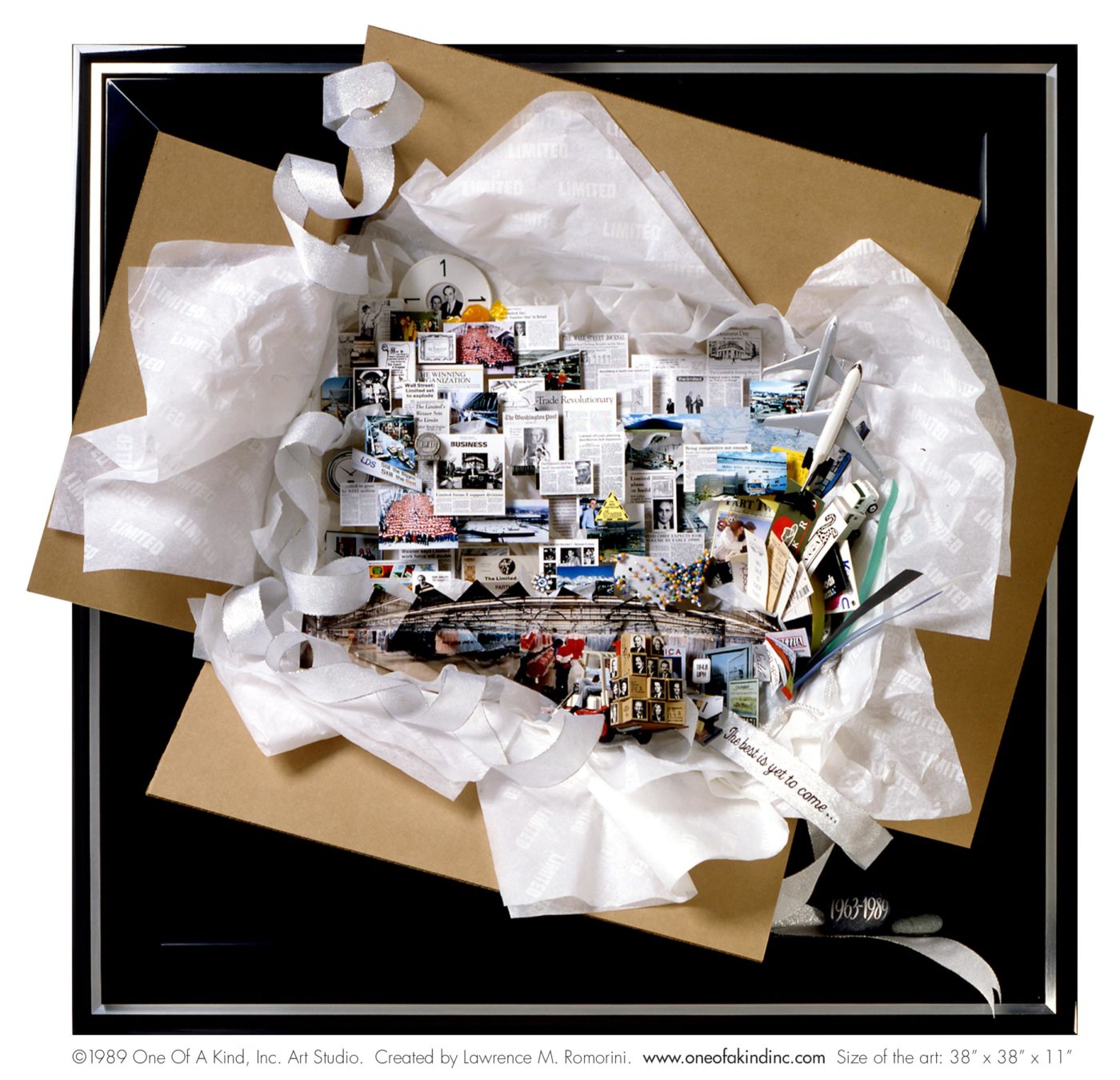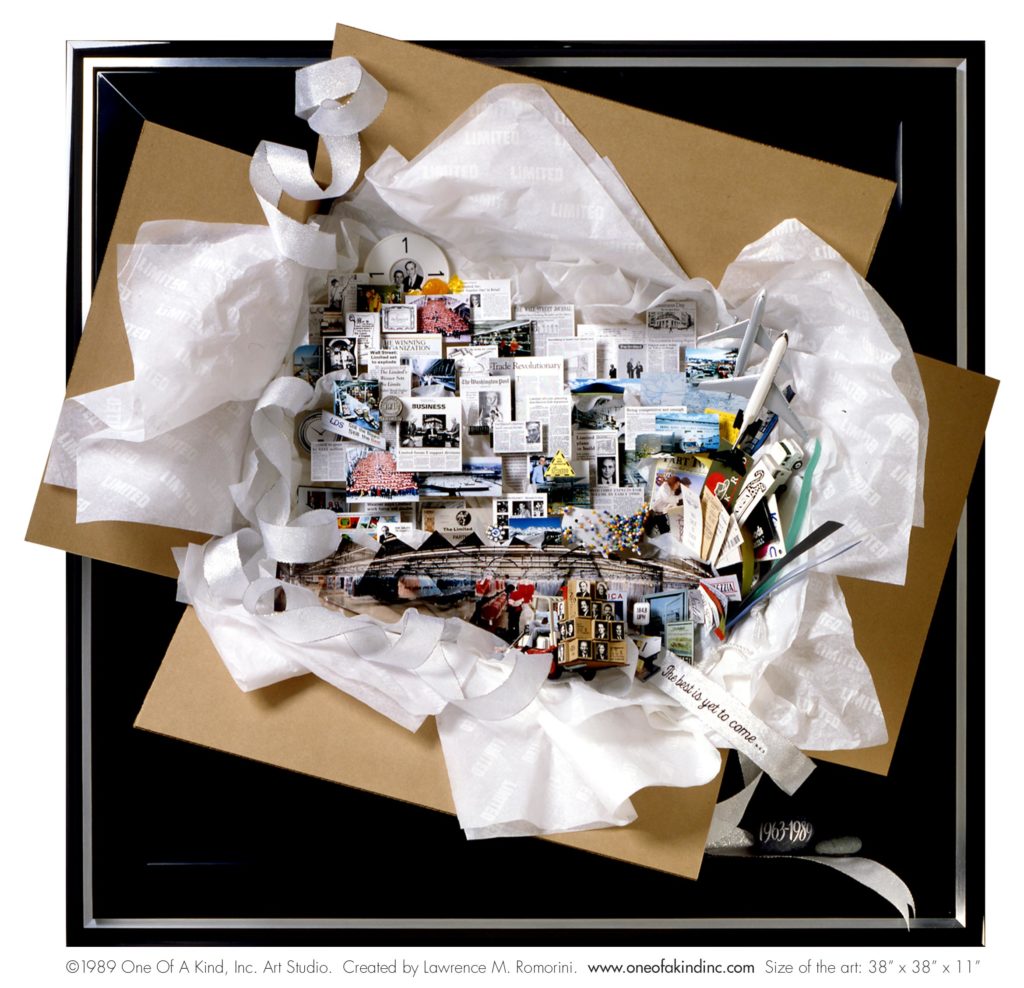 The Limited collage, our first Ohio commission, was presented to Founder Leslie Wexner by the company's Distribution Department on the company's 25th anniversary. The photographs, articles, and memorabilia displayed in the art bursts forth from an actual cardboard box.