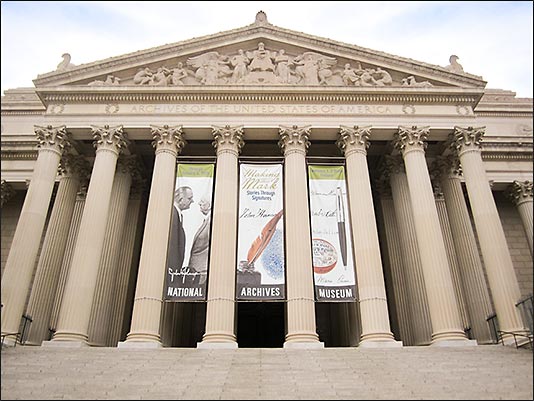 For the first time One Of A Kind art was displayed at the National Archives–in honor of National Foreign Trade Council's centennial celebration. It was a perfect and inspiring venue to reflect on NFTC and on American history. Their new E-Award presentation was an exciting highlight of the program.

(View NFTC's interactive website feature for their centennial art)
As Lawrence and I entered this grand building, the messages chiseled on the cornerstone statues resonated especially, a testimony of why we enjoy our work so much. When clients commission a One Of A Kind collage, it provides a unique way for generations to "Study The Past" (Confucius—full quote: "Study the past if you would define the future"). For a company or organization, the lobby art is a visual, continual reminder that indeed, "What Is Past Is Prologue" (Shakespeare, The Tempest.)
Congratulations to National Foreign Trade Council on your strong heritage and as you emerge into the next century as the leader on major issues in trade, sanctions, international taxation, innovation, and global human resources issues. It's been a great pleasure collaborating with you on this major milestone!
---