When Pat Natale arrived at American Society of Civil Engineers as Executive Director in 2002, the Society honored their Presidents by displaying portrait photos in the boardroom during their lifetime. Natale hoped to find a more lasting way to acknowledge Presidents' leadership and achievements. When he discovered One Of A Kind Art Studio at an ASAE Expo, Natale initiated a longstanding tradition unique to ASCE: 3-dimensional art commemorating the history of the profession and featuring Presidents' portraits, photoengraved in metal, as the centerpiece.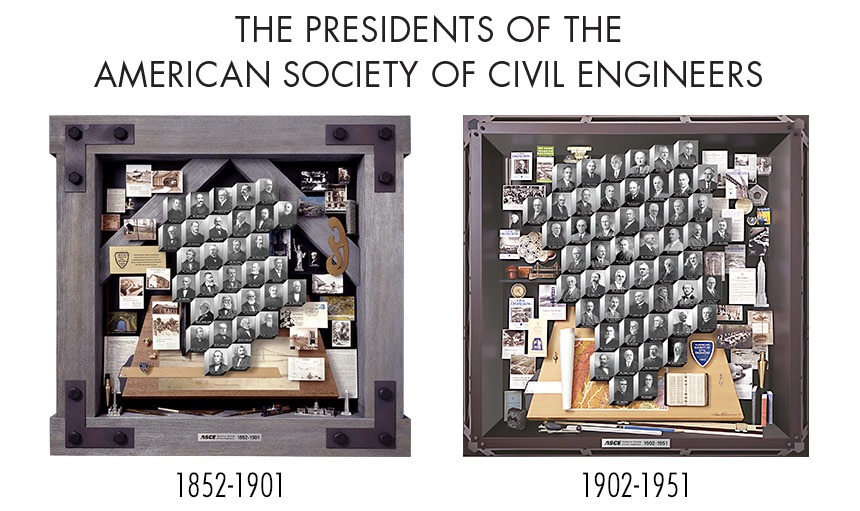 Four collages in 50-year increments are displayed in ASCE's executive lobby, communicating the milestones in civil engineering since 1852, and providing an overview for members and visitors on the essential importance of both the Society and its leaders. After Natale retired in 2014, Executive Director Tom Smith now carries on the tradition.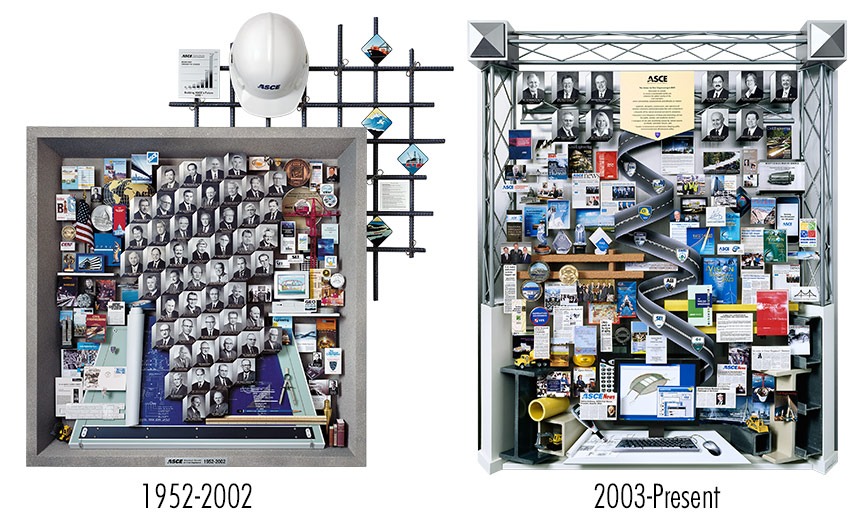 The structures reflect popular building materials in each era—from wood in the earliest years, to steel and then to concrete as technology advanced, to fiber reinforced plastic and glass in the modern era. Each retrospective contains scores of photos and publications, with 3D tools, instruments of the profession, and lapel pins contributed by members. 2016 ASCE President Mark Woodson, for example, contributed the field book used by his father during WWII: "Transit and Level Notes and Inter-American Highway, San Jose, Costa Rica Office Diary." Greg DiLoretto, who served as ASCE President in 2013, sent along a book of trig functions, a pocket protector, and standard field tables. Member Jim Howland offered bronze drafting tools used by his grandfather, James W. Chase.
In a tryptic plus one, we had the opportunity to reflect a tremendous history. Brainstorming with the ASCE team was really inspiring, with their archives providing an invaluable resource for our research. We were able to include dates, names, and organizations or companies with each portrait—which took some digging. Each year we add the President-Elect's portrait to the latest retrospective. Patty Jones, Managing Director, Executive and Board Operations, has been a great collaborator on all of this since the very beginning.
Pat Natale described this extraordinary commission best: "The artistic concept for these collages captures perfectly the history and achievements of ASCE spanning more than a century and a half. They tell a story, and each of our Presidents now has a seat of distinction in our Executive Office to commemorate the legacies they left behind. These leaders have helped shape our world and the collages are a great tribute to them."
---