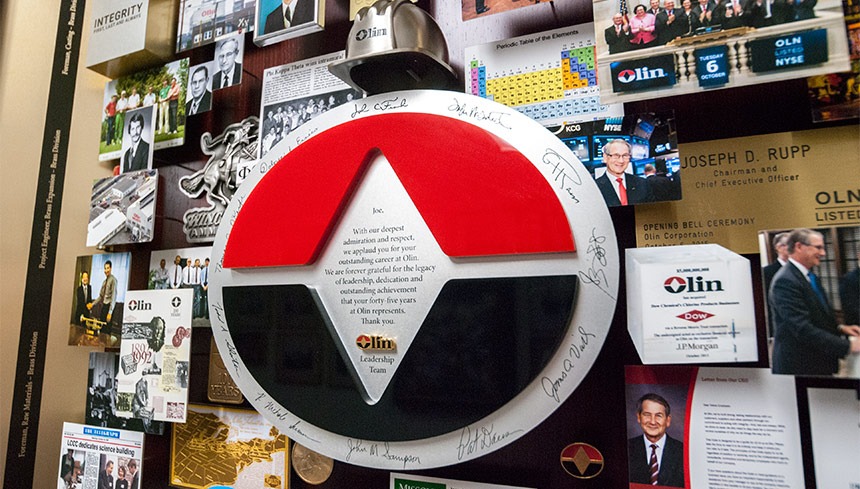 Olin, a 125-year old manufacturer concentrated in three business segments: Chlor Alkali Products, Chemical Distribution, and Winchester, was looking for just the right executive gift for their Chairman, retiring in April. They discovered One Of A Kind on the web in March, and it ended up being the perfect fit, with one limitation – not enough time to complete the art before the presentation. Fortunately, we had a creative solution!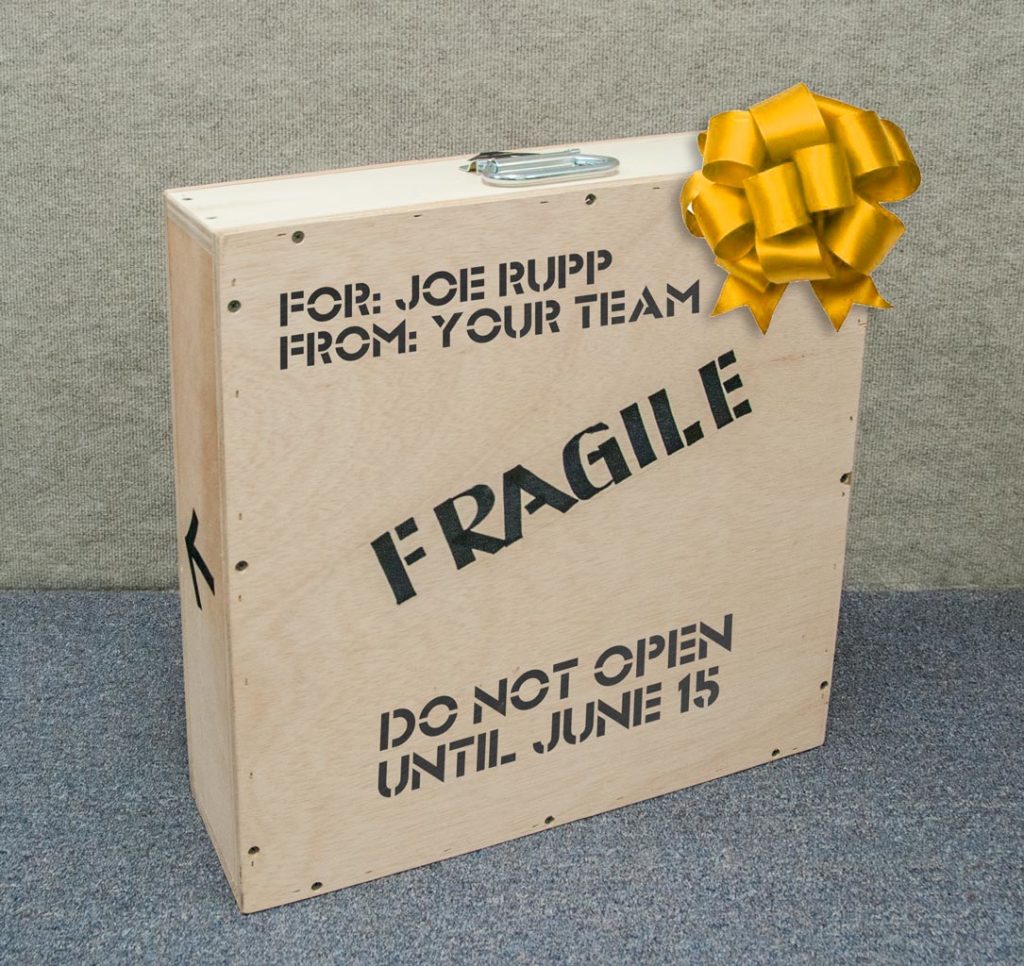 One Of A Kind shipped Olin a beautiful wood, foam-lined empty crate, with the words "Do Not Open Until June 15th." Executives unveiled the crate, complete with gold bow, at their April retirement dinner, and were able to provide photos from that event to include in the final artwork. Ultimately, the crate was returned to Olin in early June, filled with a beautiful 3-dimensional retirement collage.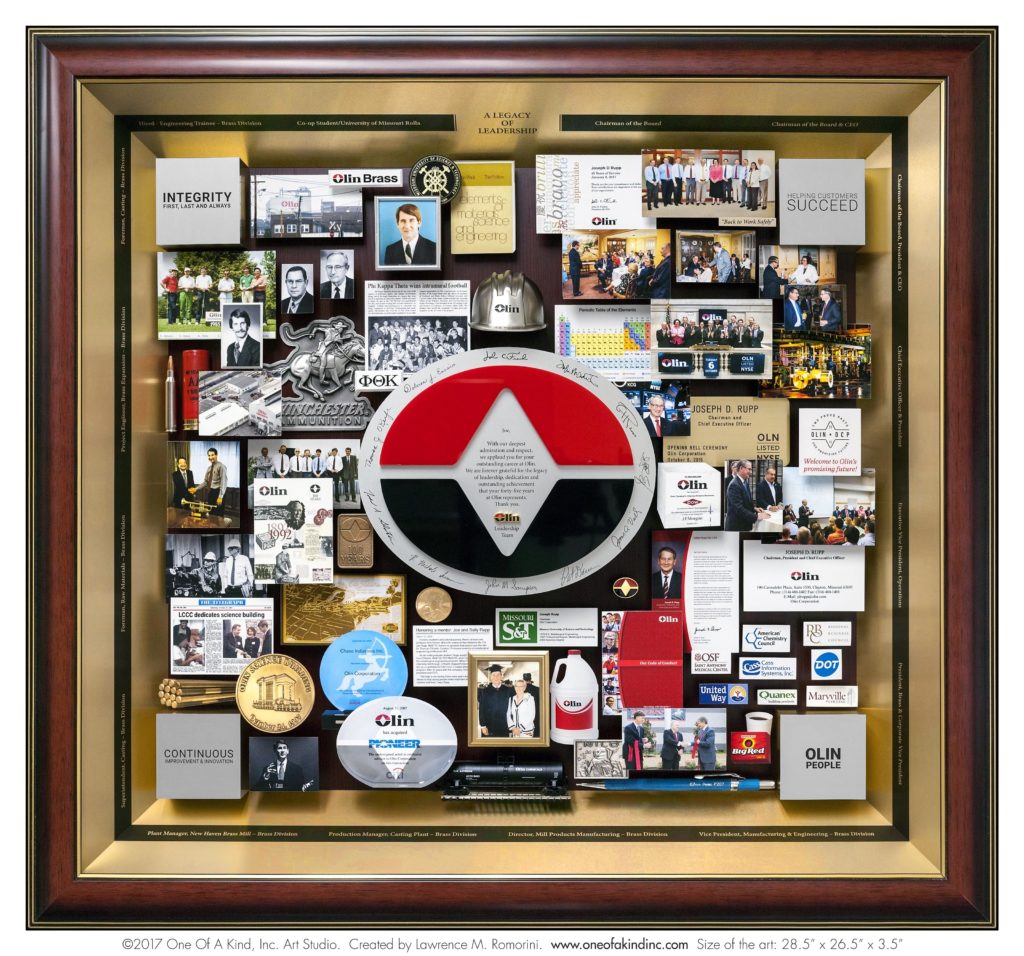 The centerpiece of the Olin art is the dedication plaque, engraved in metal, with signature of senior staff around the outer edges. Raised black and red Plexiglas create the Olin "O" logo around the dedication. The dedication reads:
Joe,
With our deepest admiration and respect,
we applaud you for youroutstanding career at Olin.
We are forever grateful for the legacy of leadership,
dedication and outstanding achievement
that your forty-five years at Olin represents.
Thank you.
Olin Leadership Team
The inner border reflects more literally Mr. Rupp's legacy of leadership – with each job title he has had since starting at Olin as a Co-op Student while still at the University of Missouri Rolla. Four cornerstones showcase the Olin Values: Integrity – First, Last and Always; Helping Customers Succeed; Continuous Improvement and Innovation; Olin People.
The story of Joe Rupp's 45 years career flows counterclockwise from the top center, and features photos, publications, memorabilia and actual 3D items.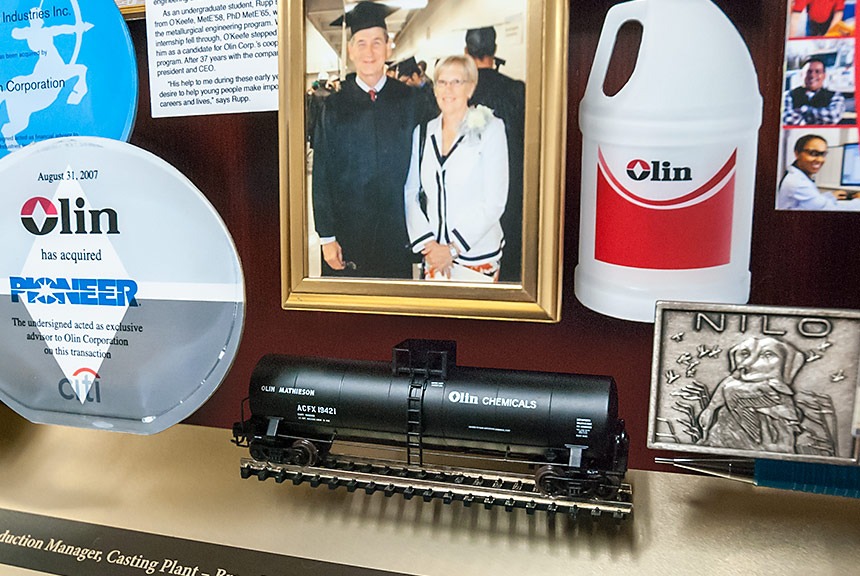 Unique three-dimensional items include actual Winchester ammunition (defused of course), an N scale Olin tank car. Mr. Rupp's favorite Pentel pencil, his nametag from the New York Stock Exchange, and a miniature pewter hardhat bearing the Olin logo celebrate his 45 years with the company.
We thank our excellent Olin collaborator, Rhonda, for her vision and follow-through. When she emailed, "Joe Rupp said it was the best gift that Olin had ever given…an incredible art piece!" it was a wonderful finish to a One Of A Kind project.
---