We appreciate the vision of IU Health's Director of Corporate Governance, who discovered the One Of A Kind creative option to honor Dan Evans' dynamic, longtime leadership. What an inspiring project! In a family tradition dating back to his grandfather in 1899, three generations of Evans leadership have contributed to the growth of Methodist Hospital, now award-winning IU Heath.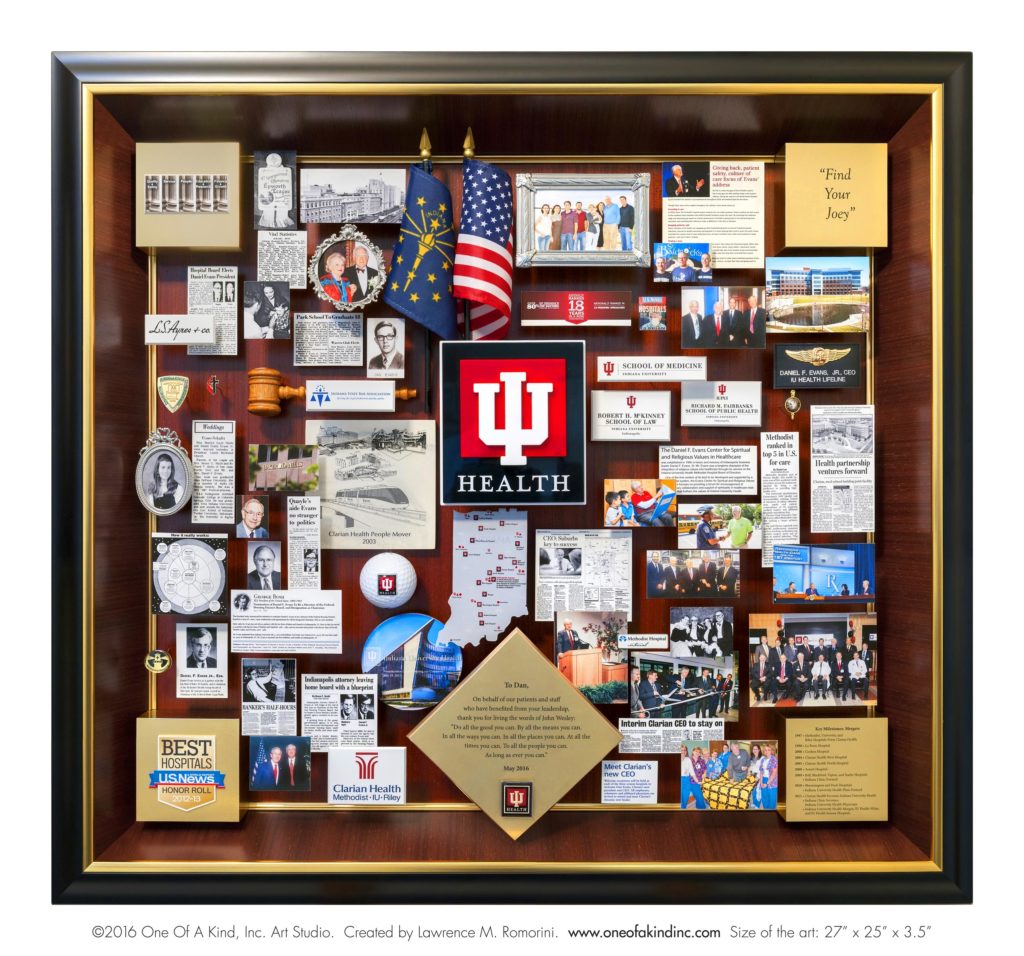 Photos, publications and actual 3D items celebrate a story of expansion, service and achievements, with family photos making the retrospective even more inclusive. A red and white IU Heath logo is created in Plexiglas as a centerpiece, against a mahogany structure, accented with a gold filigree.
The Indiana locator map reflections IU Health facilities statewide serving their communities.
Brass cornerstones feature items of special significance, including "Find Your Joey," a reference to Mr. Evans' philosophy of giving back and of caring, which he has imbued throughout the IU Health culture.
The dedication plaque reads:
To Dan,

 On behalf of our patients and staff who have benefited from your leadership, thank you for living the words of John Wesley:

"Do all the good you can. By all the means you can. In all the ways you can. In all the places you can. At all the times you can. To all the people you can. As long as ever you can."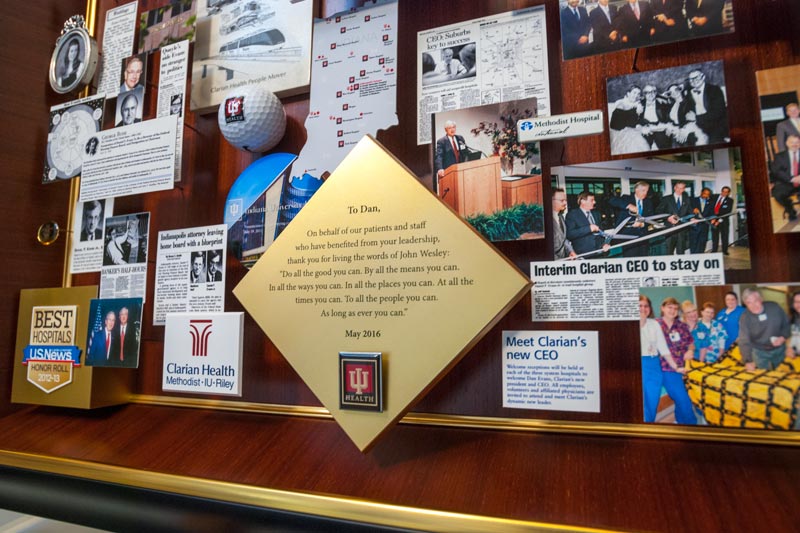 Over the past thirteen years as president and CEO, Mr. Evans oversaw IU Health's expansion from three downtown Indianapolis hospitals, to a statewide network of nearly twenty locations, treating over 2.5 million patients each year. Thanks to his leadership, IU Health has consistently ranked highly in the annual list of Best Hospitals by U.S. News & World Report, including recognition as the No.1 hospital in the state of Indiana.
Mr. Evans has been an advocate for health and wellness programs on both the federal and state levels, and has been involved with numerous legislative matters relating to healthcare. These include the  Healthy Indiana Plan (HIP), which provides access to affordable healthcare for low-income residents of Indiana, and the Graduate Medical Education (GME) program supporting the education and training of future physicians and health care professionals.
Recently, Evans announced a $1 billion investment in a new adult academic health center in downtown Indianapolis, which will treat patients with complex and severe cases. It will become a major component of IU Health's statewide system of care.
Mr Evans' dedication and leadership has earned him the admiration and praise of Indiana University's president, who had this to say about him:
"Under Dan's remarkable tenure as CEO, IU Health has evolved into one of the finest hospital systems in the country and one that is steadfastly devoted to providing Indiana residents the highest possible standard of care. The deep partnership between Indiana University and IU Health is vital to both institutions—as well as to the state of Indiana—and Dan's determined leadership and commitment to creating a world-class academic health enterprise has been critical to our combined success."
---