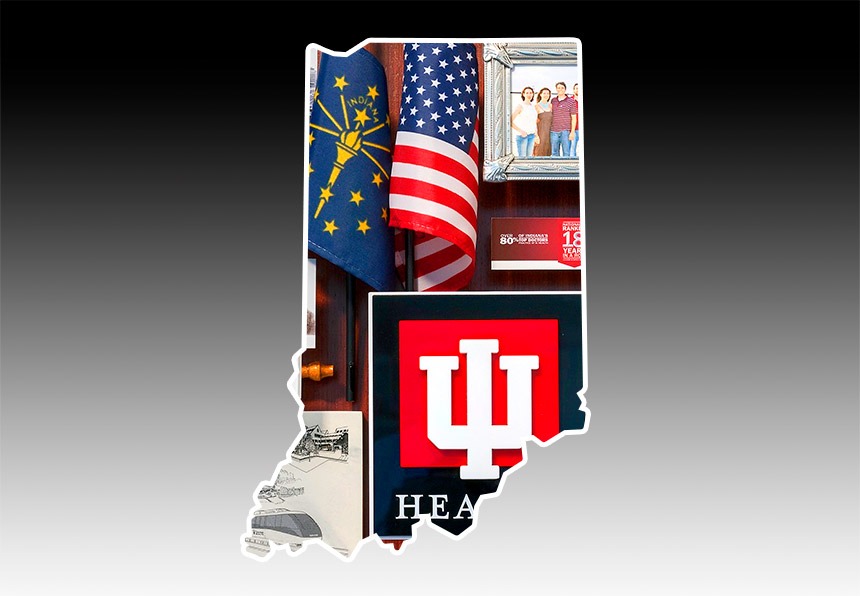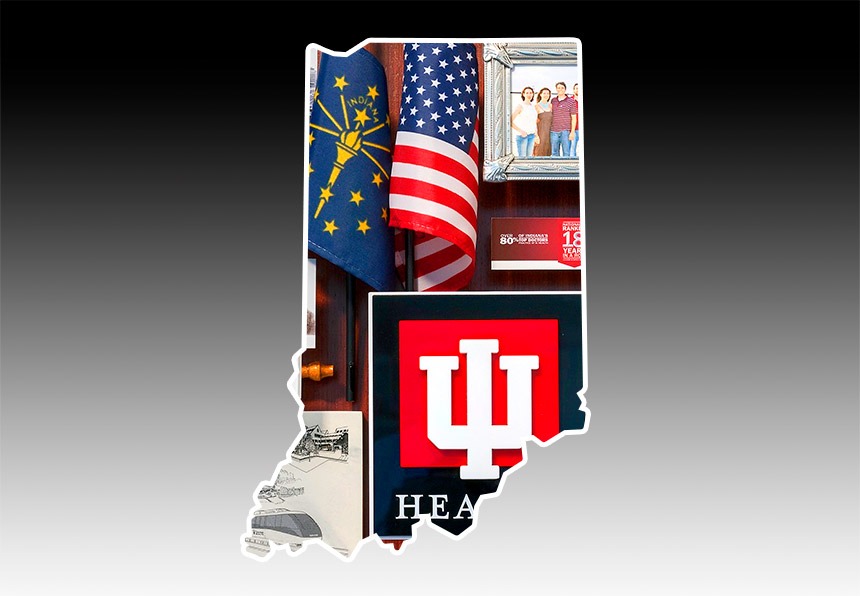 One of a Kind Art Studio is pleased to have three-dimensional commemorative art in 41 of our 50 states.  Indiana, however, is a standout in the number, diversity, creativity of 3D collages on display in lobbies and private collections. There may be a One Of A Kind piece of art right in your backyard. Come take a tour!
---
50th Wedding Anniversary Art for Rush County Farmers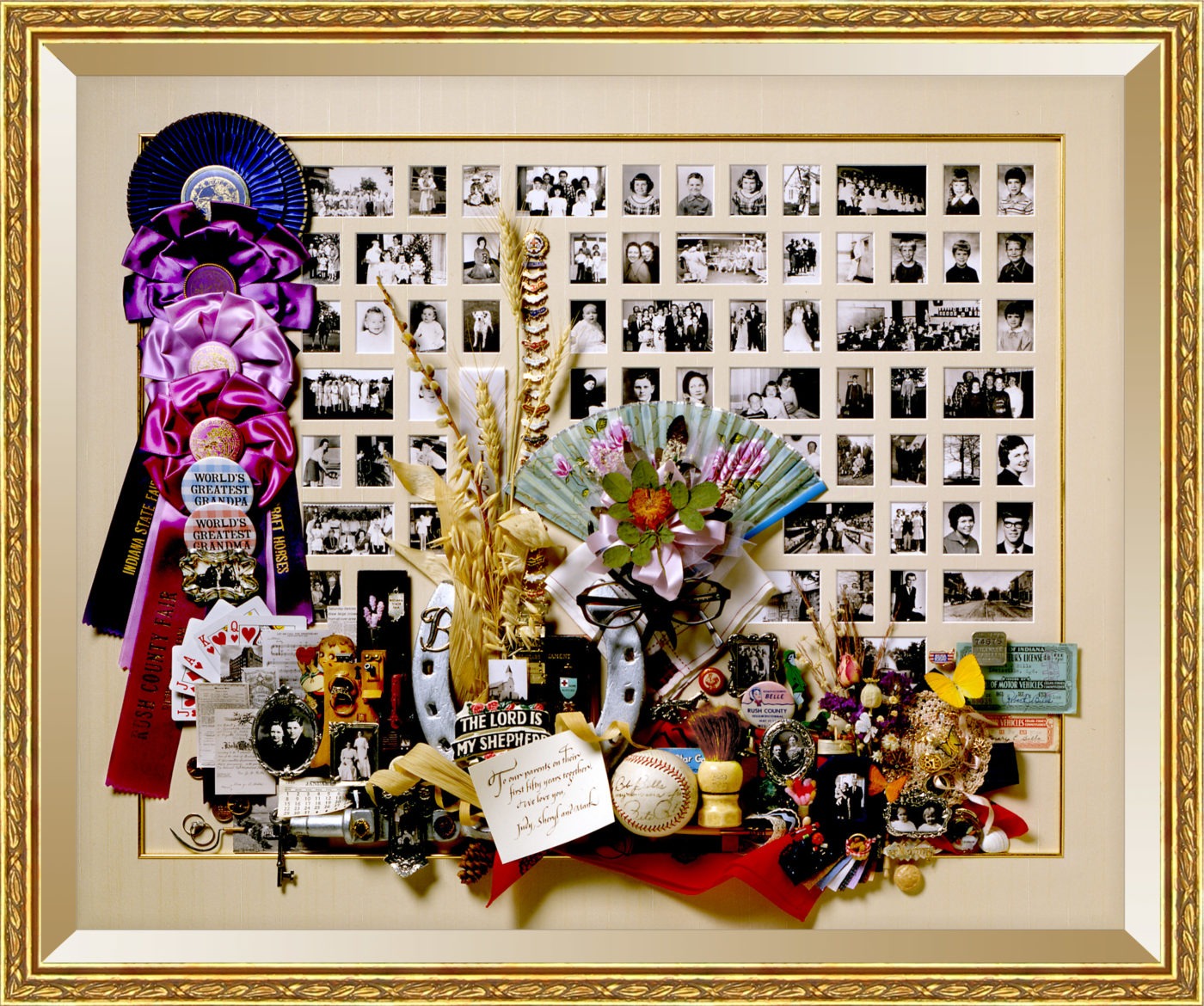 Size of the art: 35" x 29" x 4"  
An Indiana collage helped to launch One Of A Kind in 1989. The art was commissioned by three  children to honor their parents' 50th wedding anniversary. A monochromatic background features 50 years of black and white family photos–what parents most enjoy seeing! Images are meticulously hand-matted in cream. Colorful 3D items and memorabilia reflect Mr. and Mrs. Bills' talents, interests and values. A warm, gold-tooled frame surrounds this gift of great appreciation.
---
Hall Signs 50th Anniversary Art – Bloomington
https://vimeo.com/257796437
Size of the art: 34″ x 34″ x 5″
Second generation owners of Hall Signs commissioned this piece in 1999 to commemorate their family company's story and honor the founders. We were delighted to learn that they still have their art displayed proudly in their lobby—20 years later! The structure is designed in the shape of a stop sign octagonal. Various shapes of Hall Signs in aluminum silhouette make a fascinating centerpiece. A colorful border of Hall signs, accented by fluorescent sign materials, surrounds the art. Hall Signs posted a video recently with their CEO talking about his favorite items in the art!
---
Calumet Specialty Products Partners – Indianapolis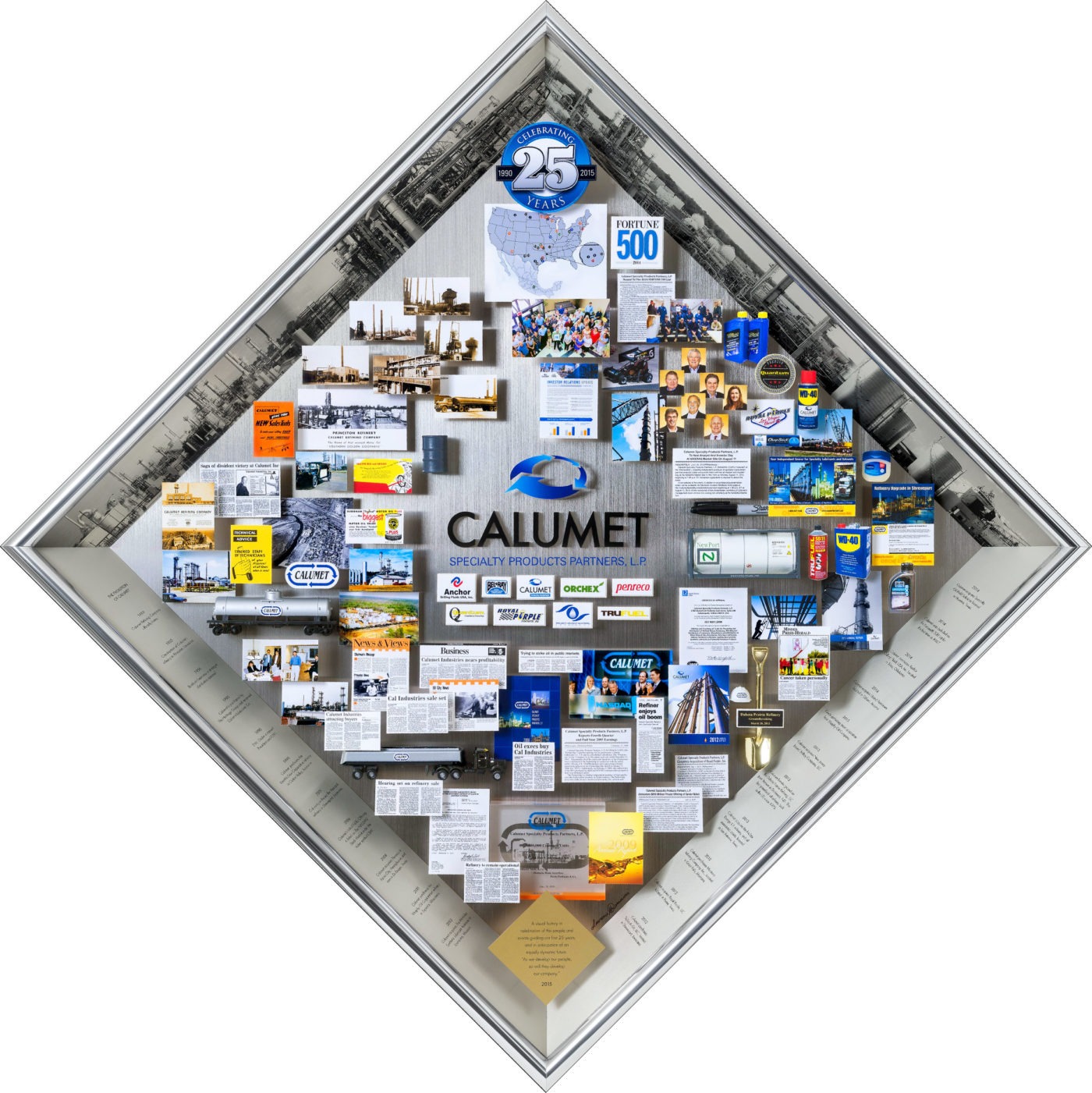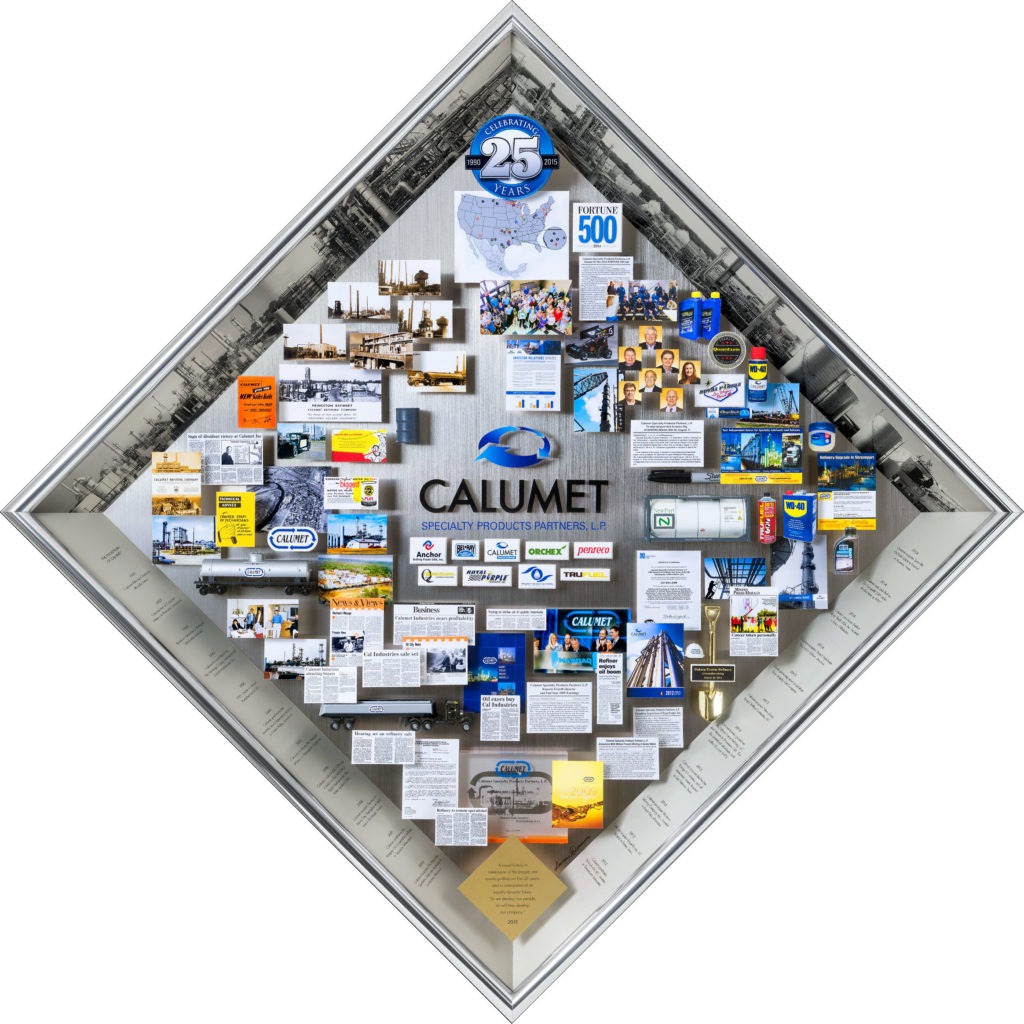 Size of the art: 33″ x 33″ x 3.5″
Calumet celebrated their company's history, growth and achievement as a Fortune 500 Company with One Of A Kind art. Photoengraving in metal on the two upper borders features images of their manufacturing locations. A timeline of milestones is engraved in the bottom borders.  The 3-D items reflect their recent products and innovations, with a legacy going back 100 years.
---
Witham Health Services Centennial Lobby Art: "A Century to Remember, A Future to Celebrate" – Lebanon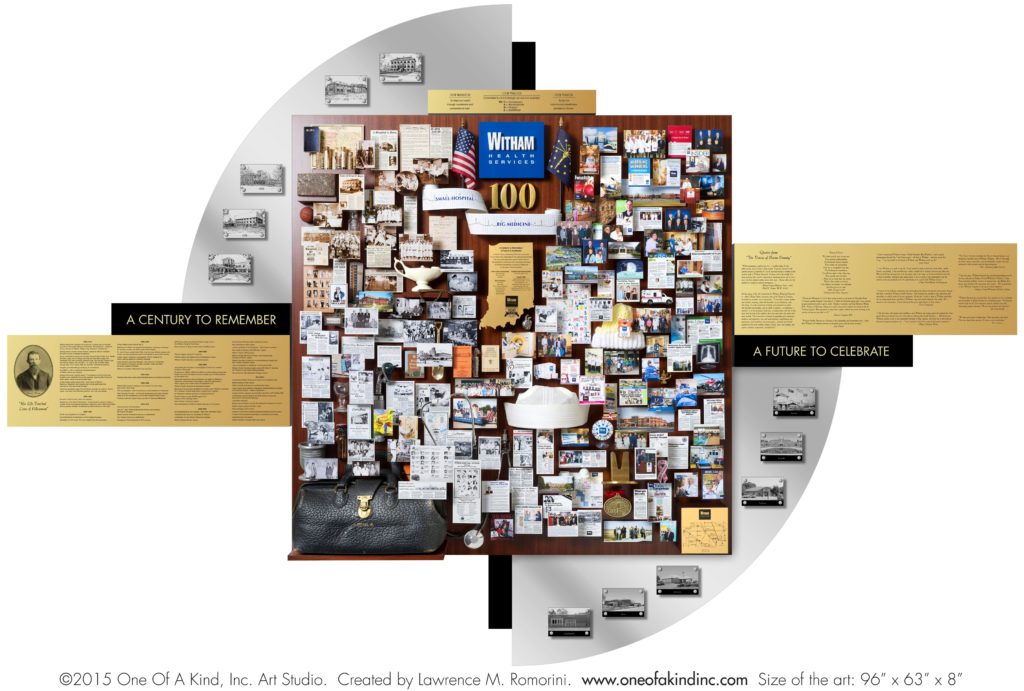 Size of the art: 96″ x 63″ x 8″
Witham Health Services turned 100 in 2015 and commemorated their rich history in One Of A Kind lobby art for their headquarters. The brass dedication plaque is in the shape of Indiana. The mahogany center is complemented with an outer structure of brass and satin aluminum, photoengraved with timeline, "Voices of Boone County" quotes and health service locations photos.   For detail images of the authentic 3D items like the doctor's bag, and pictures of the unveiling, click to see our blog post: /witham-celebrates-100th-anniversary-in-a-one-of-a-kind-way/
---
Indiana State University – Terre Haute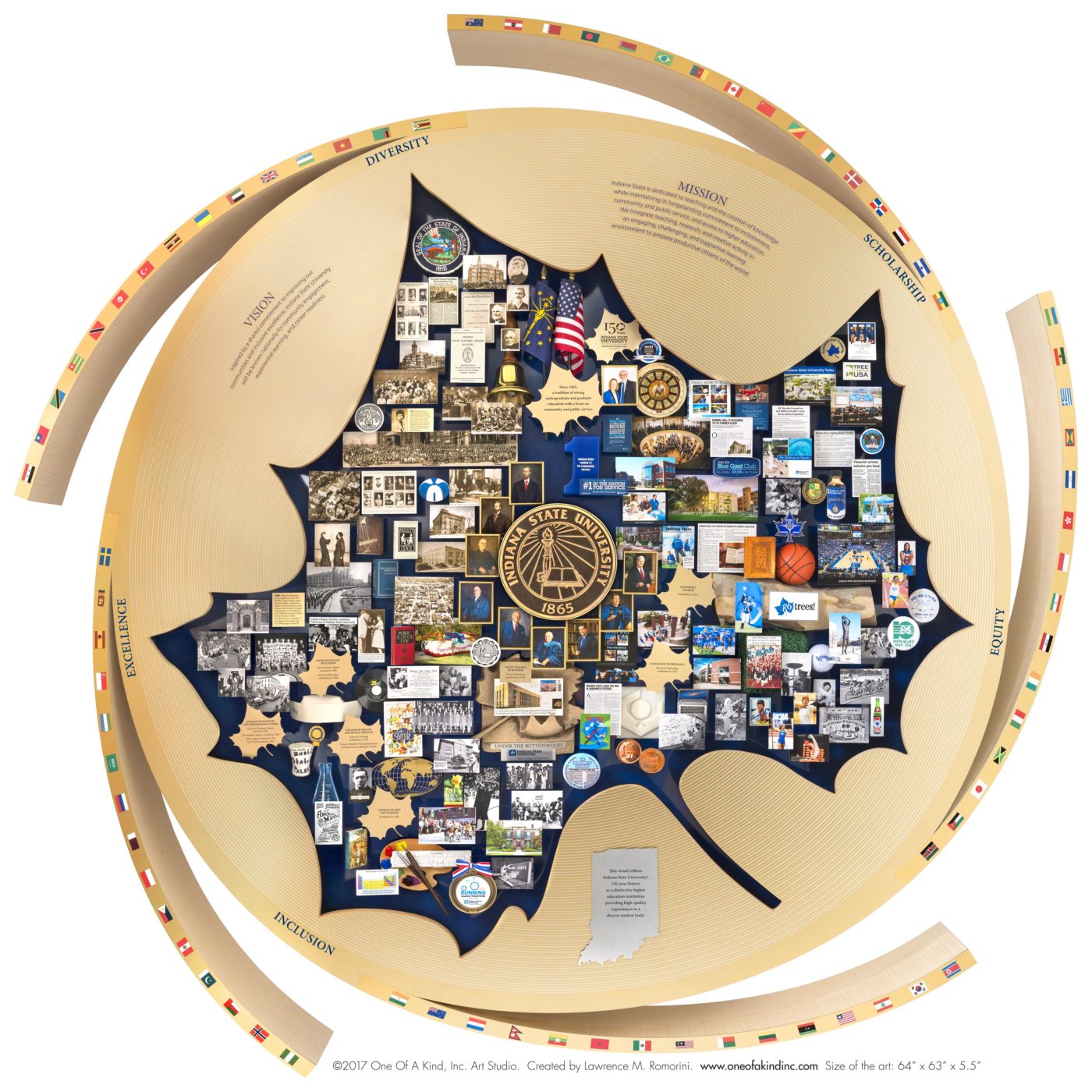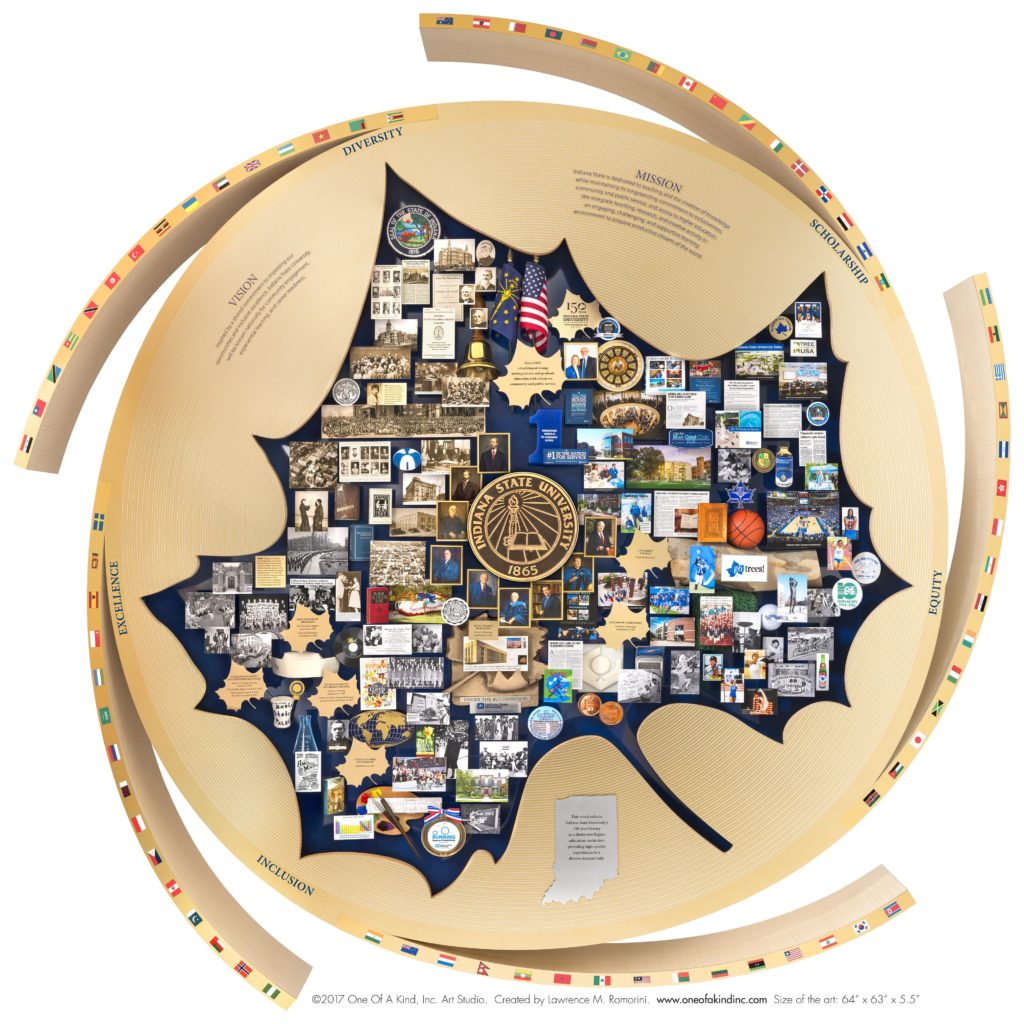 Size of the art: 64″ x 63″ x 5.5″
Indiana State University unveiled One Of A Kind 3-dimensional commemorative art to highlight their Founder's Day and 150th anniversary celebrations. The artwork reflects the evolution and distinction of ISU as a dynamic teaching institution, driver in the community and longtime advocate of diversity.
The circular structure of the artwork, which is installed in the John W. Moore Welcome Center, suggests the cross section of a 150-year-old sycamore tree trunk, on which 150 rings are inscribed. Superimposed is a sycamore-leaf shape surrounding ISU's 150-year story.
Like many of our clients, ISU wished to share their 3-dimensional art, and story, with the world. An interactive website was created to showcase the artwork and to feature individual items in the collage.
For more information, check out our blog:  /indiana-state-university-unveils-one-kind-sesquicentennial-art-founders-day-2018
---
Bowen Engineering 50th Anniversary – Indianapolis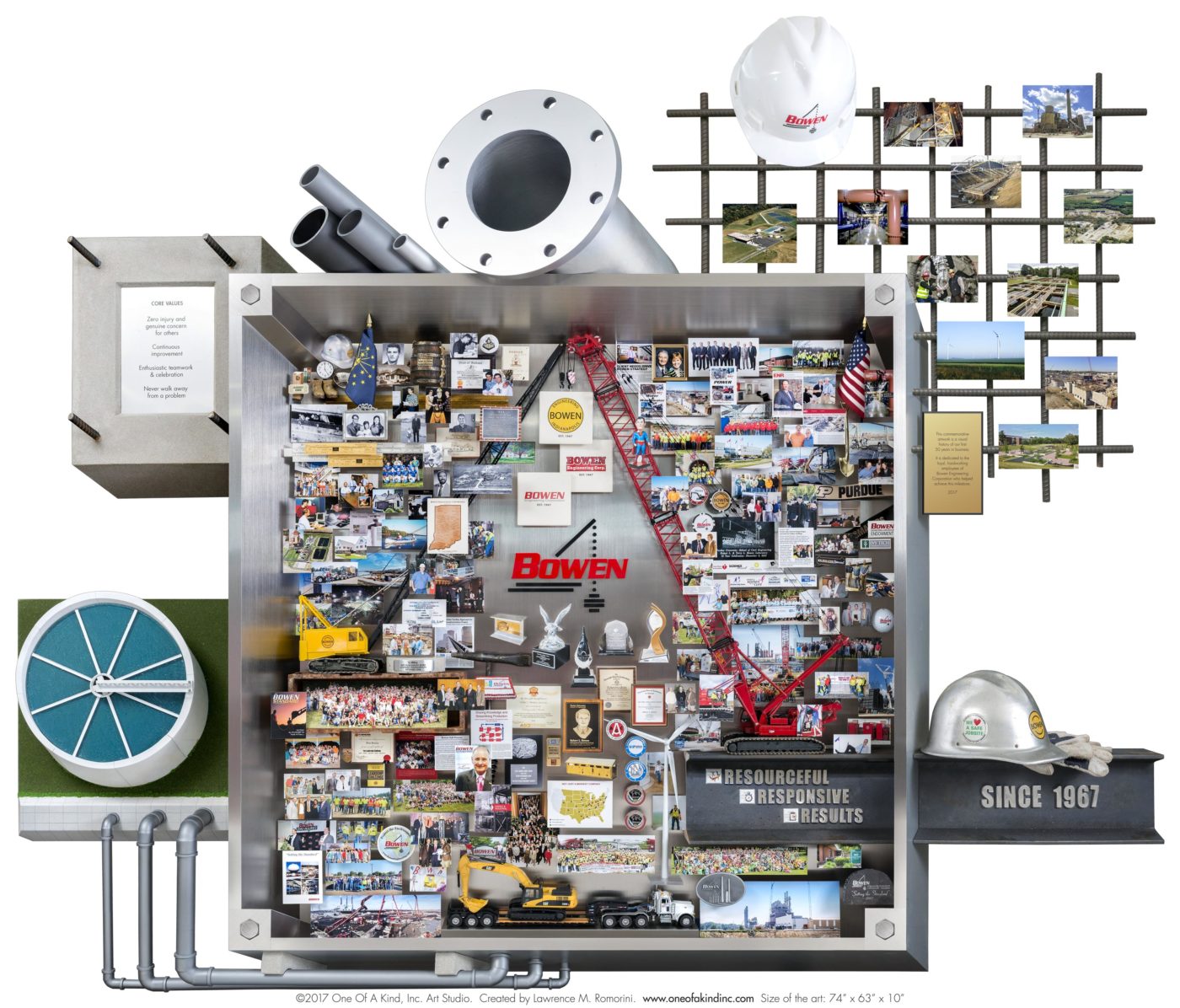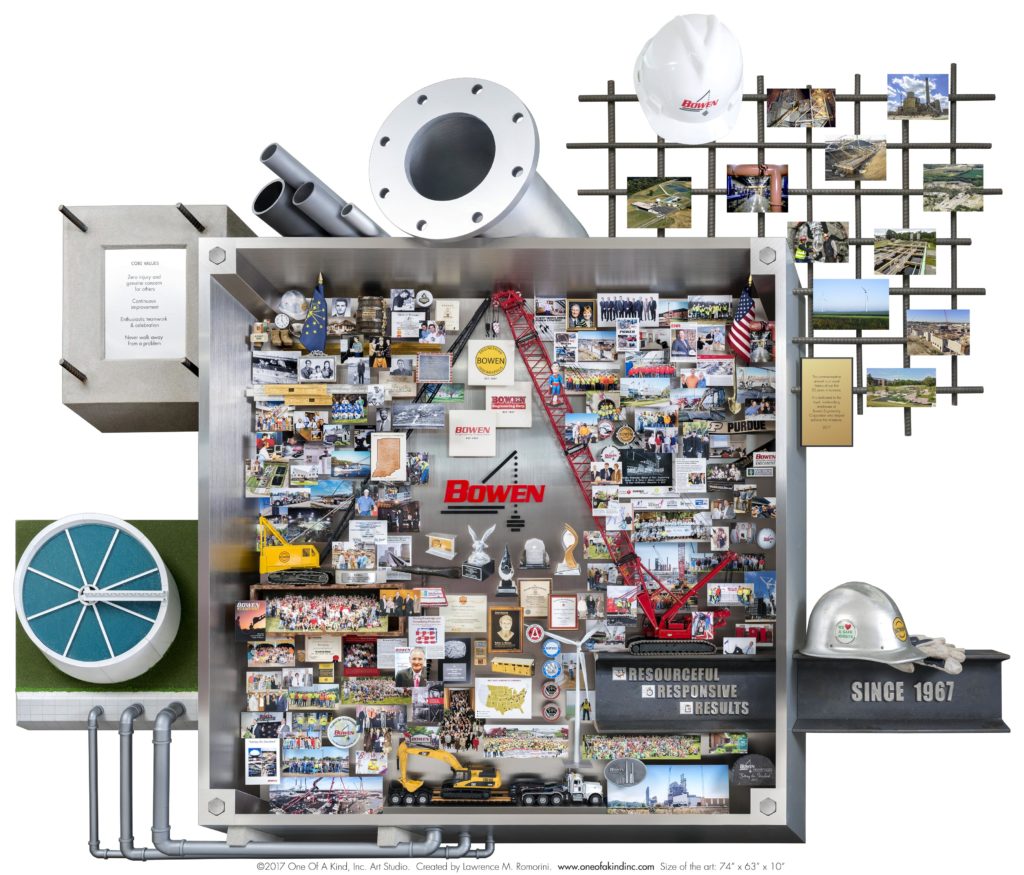 Size of the art: 74″ x 63″ x 10″
We are grateful that Bowen Engineering found One Of A Kind for a 2-year collaboration to create their 50th anniversary art. It honors Founder Dr. Robert Bowen and celebrates their growth and expertise in Energy and Industrial, as well as Water and Wastewater. The forced-perspective structure was made with brushed stainless steel and satin corrugated aluminum, surrounded by miniature models, highlighting the industries the company serves. Photoengraved images of iconic Bowen projects are mounted on rebar, complete with a trowel and hardhat. See more photos at our blog: /bowen-engineering-3-dimensional-art-celebrates-50th-anniversary-honors-founder-robert-bowen/
---
IU Health – Indianapolis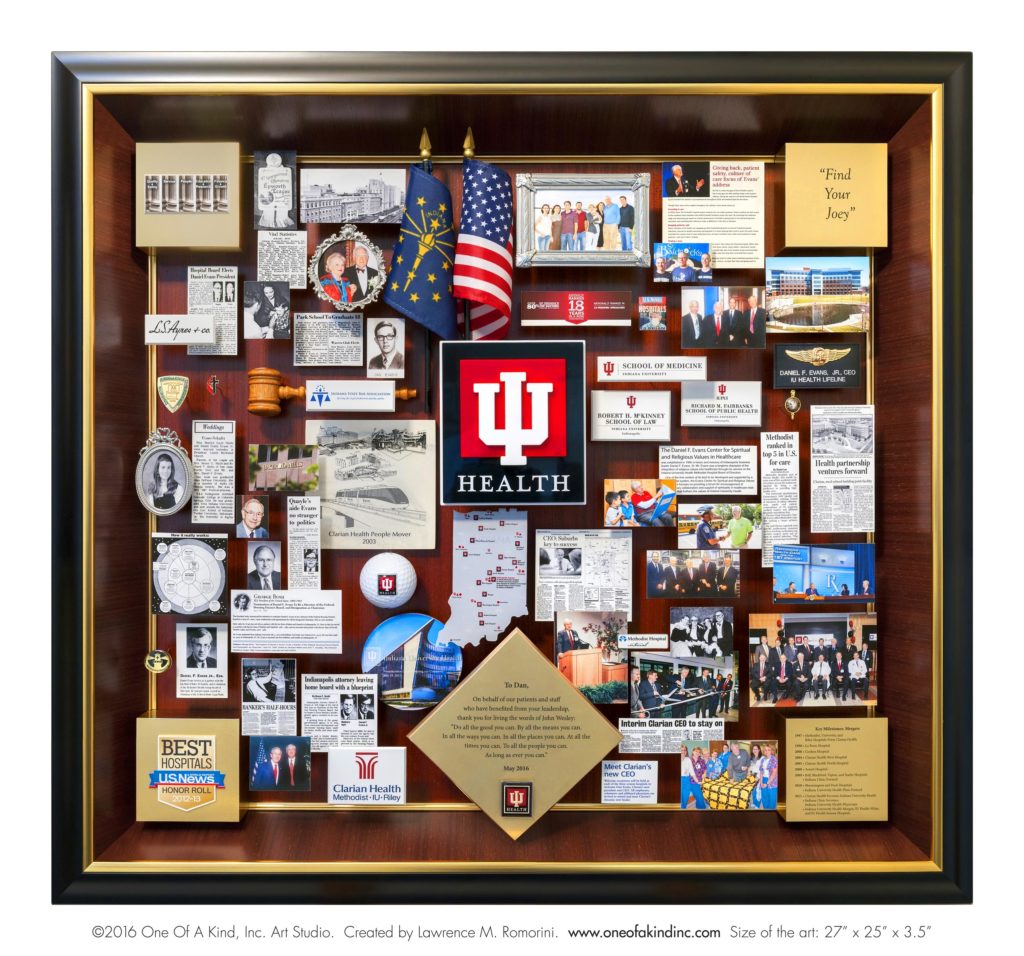 Size of the art: 27″ x 25″ x 3.5″
We appreciate the vision of IU Heath in commissioning One Of A Kind art to honor their retiring CEO, third generation of family leadership, dating back to 1899, when Methodist Hospital was founded. Photos, publications and 3D items celebrate a story of service and achievements, with IU Health's expansion from three downtown Indianapolis hospitals to a statewide network of nearly 20 locations, treating over 2.5 million patients a year. Check out our blog: /indiana-university-health-celebrates-the-legacy-of-retiring-ceo-dan-evans/
---
Is there a One of a Kind collage near you?
Wilhelm Construction, Indianapolis
Mays Chemical Company, Indianapolis
Harrison Steel Castings, Attica
American Legion Auxiliary, Indianapolis
Kiwanis International, Indianapolis