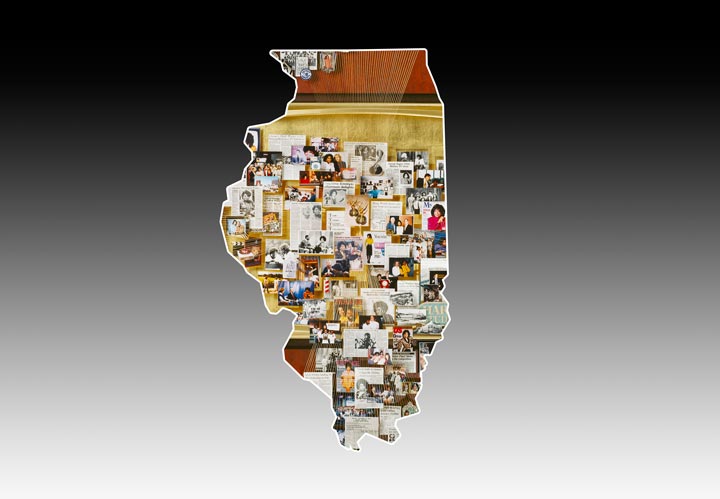 Illinois is the fifth most populous state in the United States, and the top state for One Of A Kind collages on display in both public and private collections. In Chicago alone we've collaborated on over 65 pieces of art, and from Bloomington to Peoria to Lisle, we've created over 145 wonderful projects throughout the years.
Some commissions are more notable, such as Oprah Winfrey, The Field Museum, and Michael Jordan, while other art commemorates a wide range of industries including the medical, agricultural, industrial, and financial fields, celebrating anniversaries and honoring their leaders.
We're especially pleased when clients return for a 2nd commission, such as the Chicago Bulls, The Duchossois Group, Elmhurst Memorial Healthcare, and American Academy of Orthopaedic Surgeons.
See a few of One Of A Kind's Illinois commissions below and experience the fascinating diversity in the artwork.
The Pampered Chef, 25th Anniversary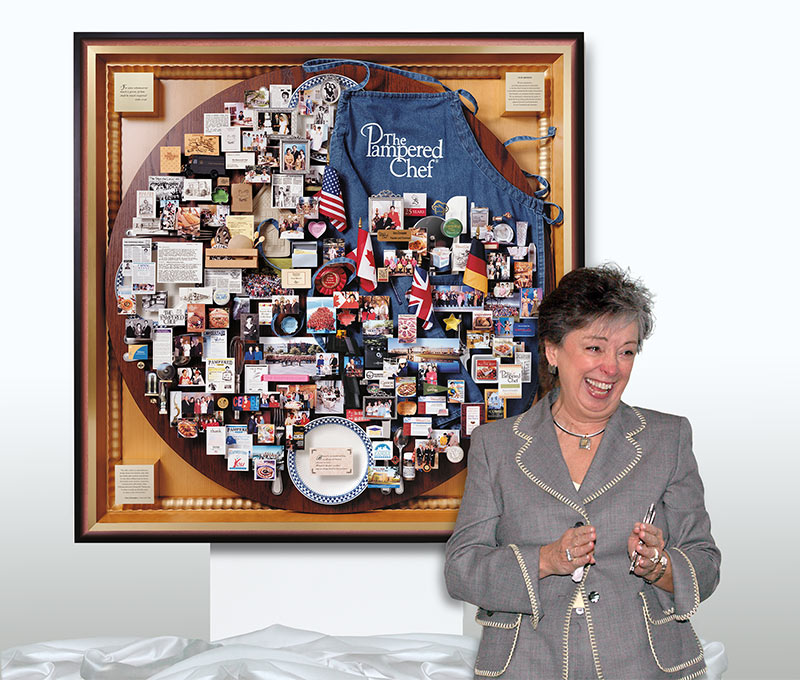 This 3-dimensional commemorative art was presented in appreciation to Doris Christopher, founder of The Pampered Chef, to commemorate the company's 25th anniversary. Doris Christopher wrote, "I had no idea that so many people could work on such a big project and keep it a secret. Every time I look, I see something that I hadn't noticed before. It's a gift that I treasure now, and that will be even more valuable as times passes and The Pampered Chef continues to grow."
Oprah Winfrey
This dazzling collage was given as a Christmas gift to Oprah Winfrey by KingWorld Productions a few years after the launch of the Oprah Winfrey Show. 215 golden strings radiate from a central television screen, representing her unparalleled reach into the hearts and homes of Americans all across the nation. They connect to the 215 station call letters of her show engraved on the brass border. While The Oprah Winfrey Show's run concluded in 2011, her good works and amazing success continue to inspire and change lives.
Michael Jordan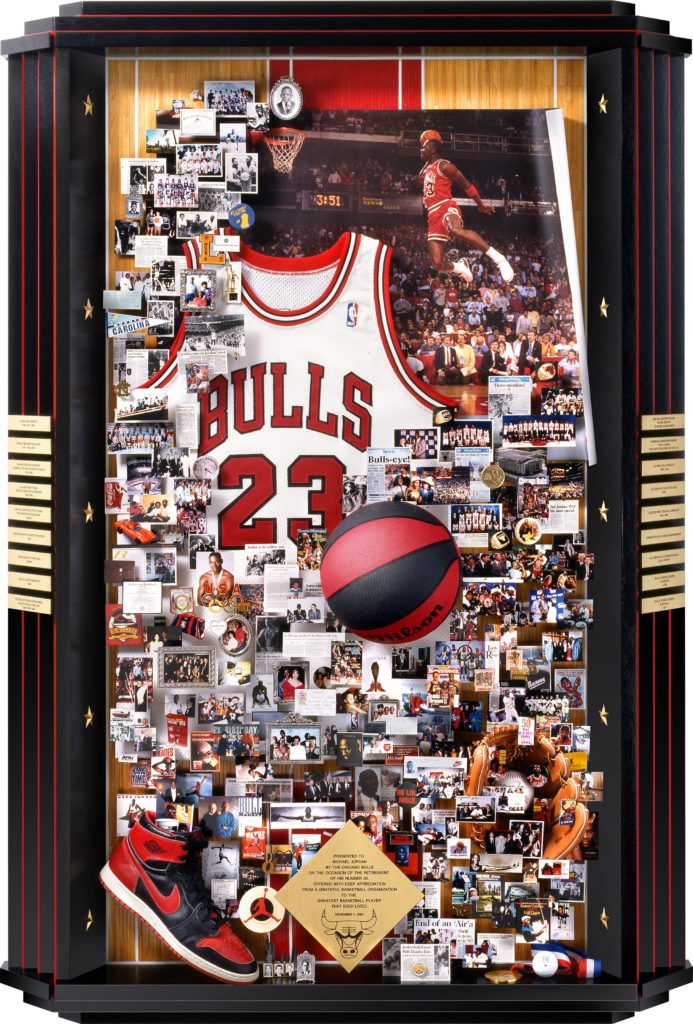 To commemorate the retirement in 1994 of this legendary basketball player's number, the Chicago Bulls commissioned One Of A Kind artwork. Featured prominently is his jersey with the famous number 23, as well as images of Jordan's unique slam dunk, a Nike Air Jordan shoe, as well as an actual basketball and baseball mitt. His awards and accomplishments are engraved in 18 metal plaques on the left and right sides of the structure. Photos from his childhood, sponsorships, and family tell the story of his life and career.
American Academy of Orthopaedic Surgeons, 75th Anniversary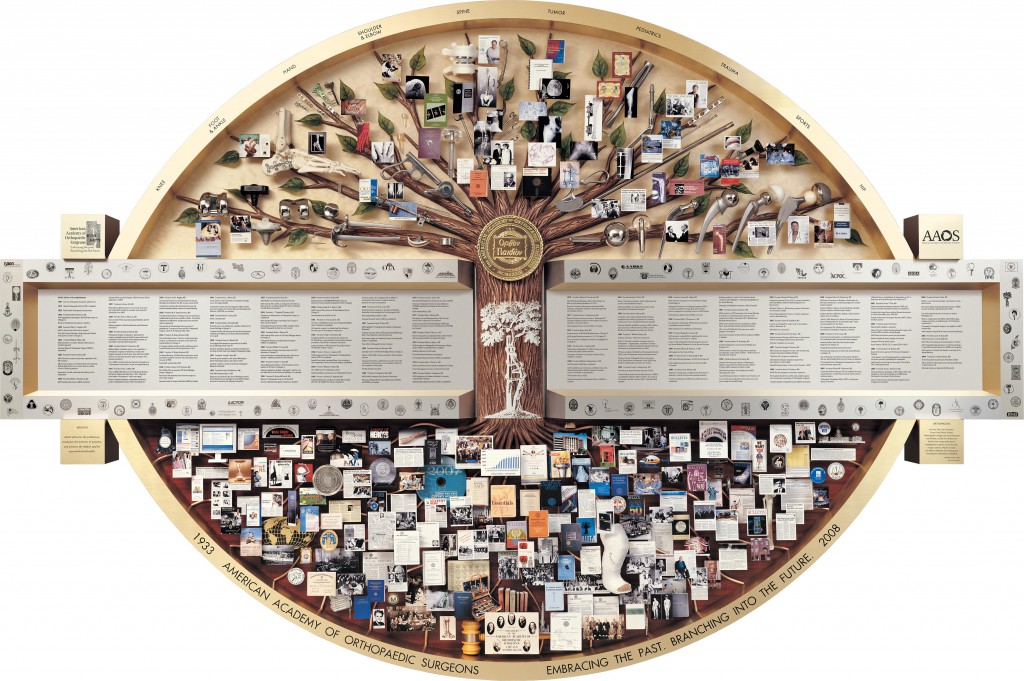 The centerpiece of this artwork is a rendition of "Andry's Tree," a traditional symbol of orthopedic medicine. This is backed up with a hand-carved and painted sculpture of a tree with deep roots and wide branches, reflecting the historical depth of AAOS and extensive orthopedic specialty branches in the modern era. An exhaustive timeline of accomplishments is engraved in metal and spans the complete history of the Academy. Actual implant devices are even included amongst the branches.
Bell Flavors and Fragrances, 100th Anniversary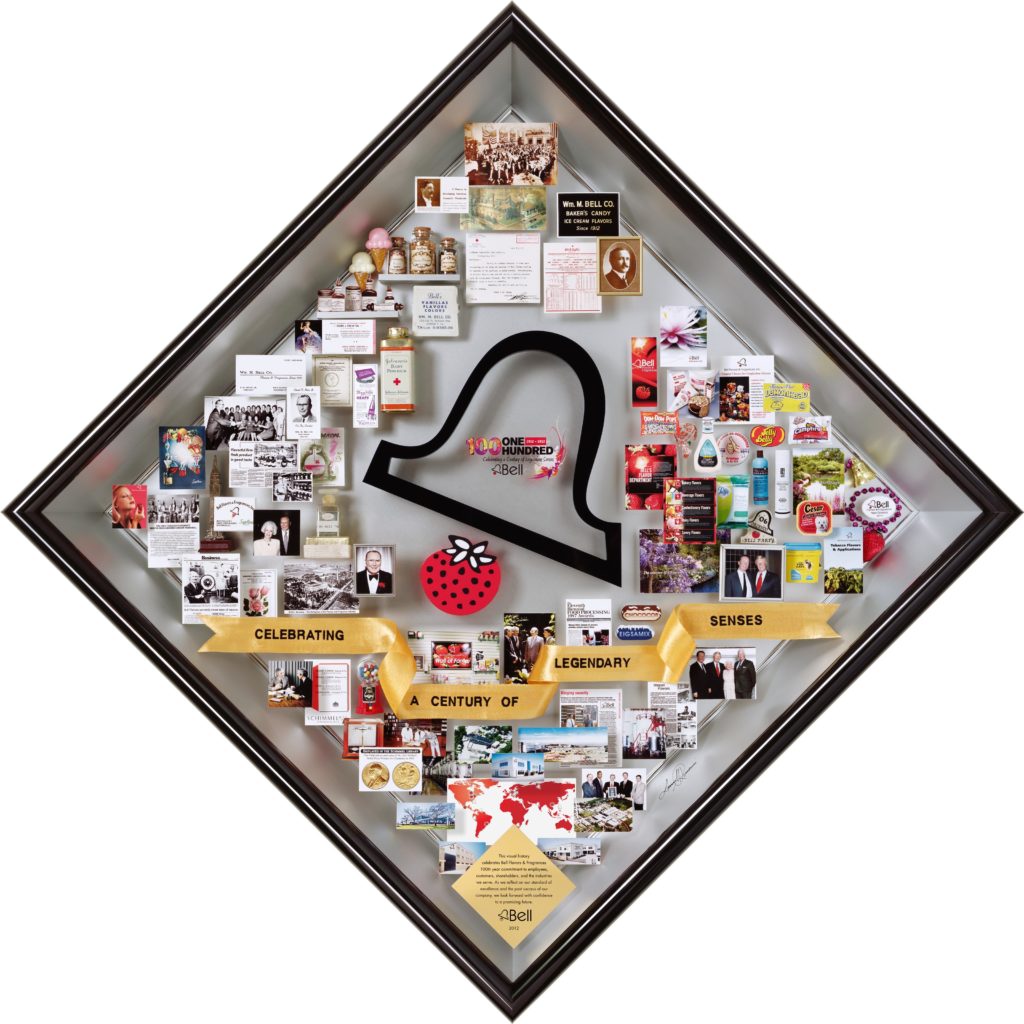 This 3-dimensional collage was commissioned by Bell Flavors and Fragrances to celebrate their 100th anniversary of this family-owned company. You might not recognize the name unless you work in the industry, but your tongue has tasted their flavors in Lemonheads, Dum Dums, Ken's Steak House salad dressings, and more!
Allstate, 75th Anniversary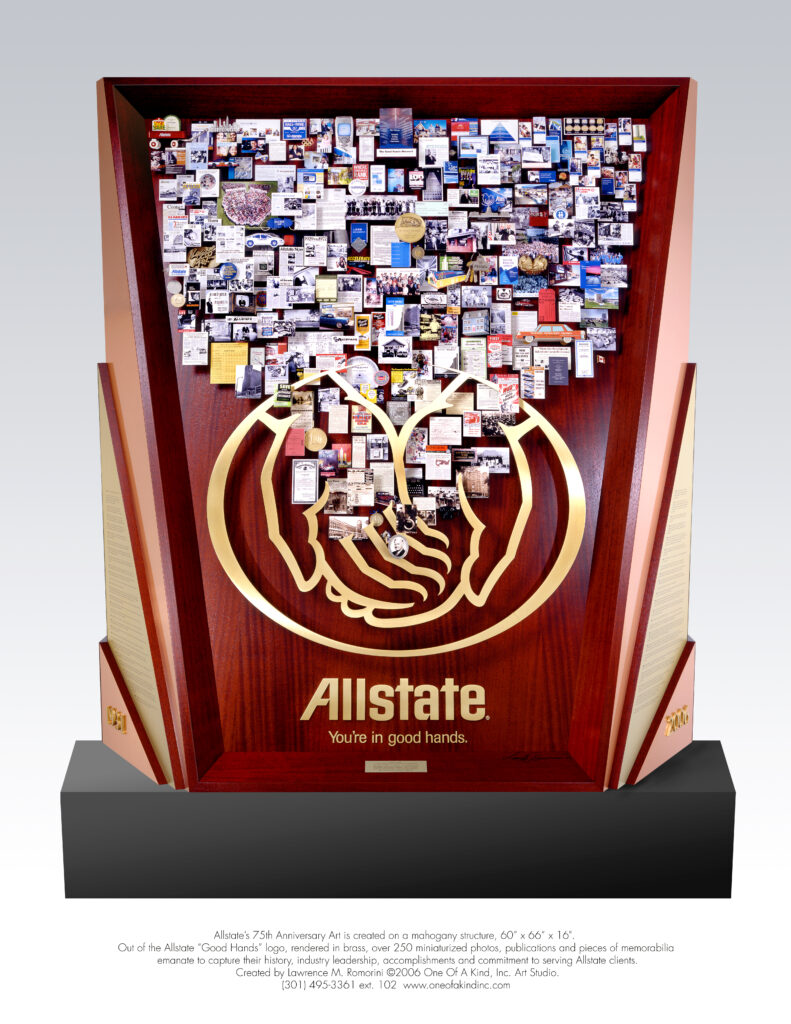 ---