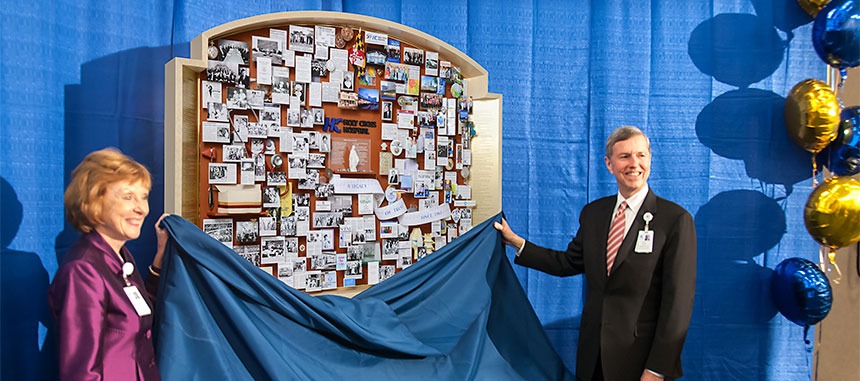 Your hospital anniversary is on the radar—but too far out to be concerned? Or it's in 6 months? Suddenly you need to move ahead. What's the plan? Where are great hospital anniversary ideas? There are "5 P's" that can make your celebration a memorable success.
After helping hundreds of hospitals commemorate major milestones with One Of A Kind 3-dimensional art – showcasing photos, publications and actual 3D items – we are always impressed by the same five best practices that maximize an anniversary's success:
Plan   Promote   Party   Praise   Preserve
Read how our clients have incorporated these 5 P's into celebrations with amazing results! And for more ideas, let's talk!
---
1. PLAN
Three years before their 75th anniversary, American Academy of Orthopaedic Surgeons assembled a team of doctor-members to participate in planning the celebration. AAOS executives wanted direct input and participation from key stakeholders. Getting a strategy in place provided ample time to build consensus on what AAOS wished to communicate and to review/edit archives in several storage areas.
This early planning also enabled AAOS to find a longtime supplier to sponsor the One Of A Kind 3-dimensional art that highlighted their celebration.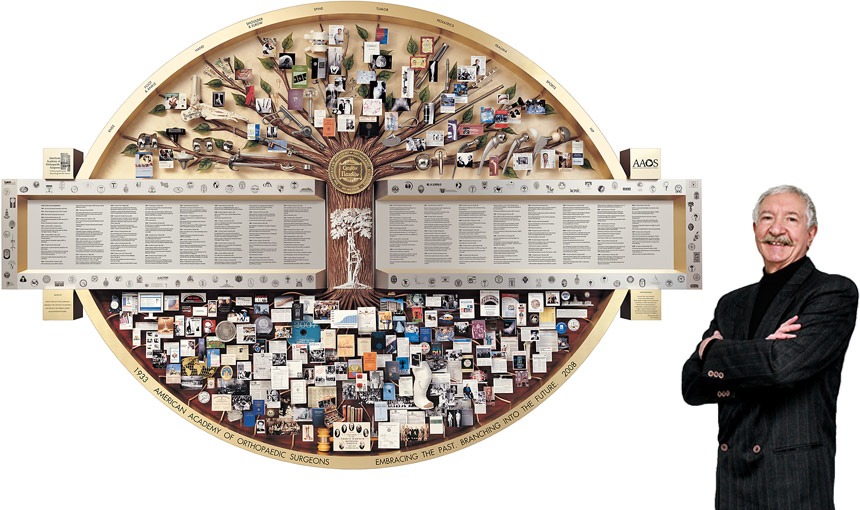 Our brainstorming with doctors inspired Lawrence Romorini to design the art as a tree. The roots featured history, the tree's canopy featured orthopedic specialties and devices, with the century old symbol of orthopedic surgery (the crooked tree made straight) on the trunk. It was a wonderful, visual idea. The luxury of time enables creative ideas to emerge.
AAOS Director of Public Relations used the AAOS 3-dimensional commemorative art throughout the 75th anniversary year and beyond:
• Displayed at the AAOS Annual Meeting in San Francisco.
• Reproduced as the centerfold brochure with descriptive key in the meeting's magazine.
• Reproduced as a calendar cover.
• Featured on the AAOS website as an interactive feature with descriptions.
• Installed in the AAOS lobby as a lasting legacy and communication piece for staff, members and visitors.
BONUS: For the 75th anniversary commemoration, AAOS and One Of A Kind won a CLIO, the prestigious global recognition for creative excellence!
---
2. PROMOTE
Anniversary promotion can build anticipation for the celebration and underscore the significance of the occasion. Kennedy Health built momentum for their 50th anniversary with a "Call for Memorabilia" to contribute to their 3-dimensional art. The collage became a collaboration with a payoff at the celebration, when participants then saw their vintage photos and memorabilia as part of the hospital's artwork. Often a staffer proudly points out, "I contributed that!"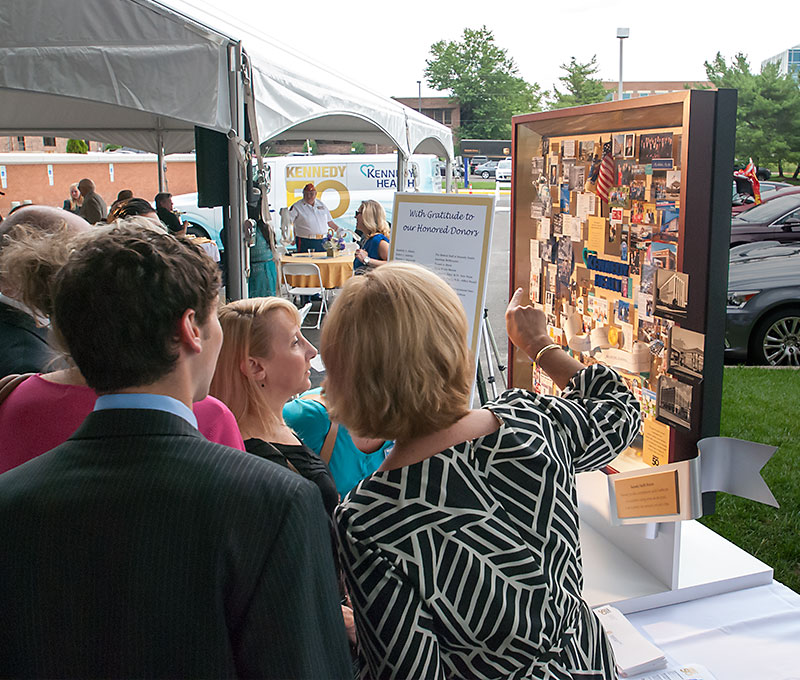 Be sure to contact local news outlets and trade publications to cover the importance of your hospital's anniversary to its community. The uniqueness of a hospital's custom-made 3-dimensional retrospective art makes it a perfect photo opportunity with key executives and local leaders to accompany a press release.
As the headline of Valley Hospital's news article reads, "Valley's 50th Anniversary Celebration Belongs of the Community."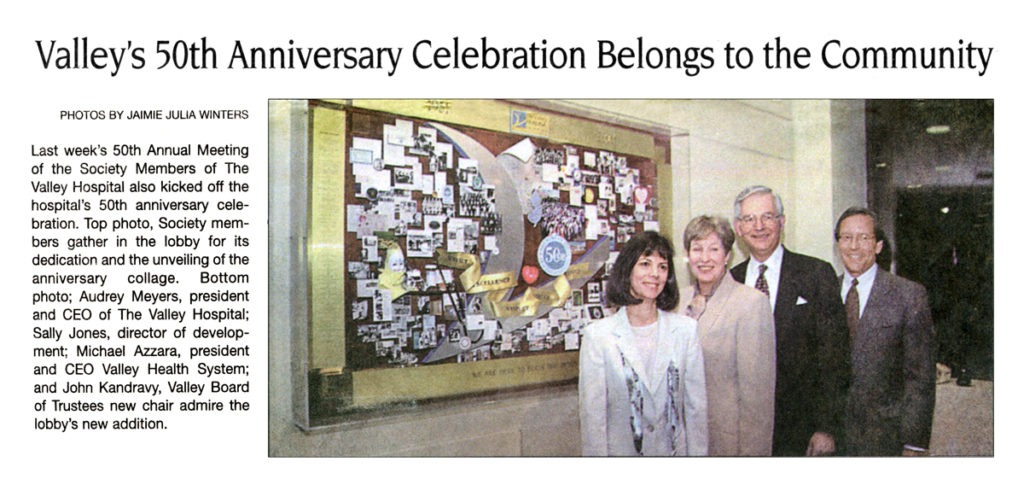 "An anniversary is a good moment to recommit to what should never change," Judith Rodin states in a 2012 Harvard Business Review article. That is why our clients so often wish to feature their Values, Mission and dynamic leadership in their 3-dimensional commemorative art. Photoengraved in metal and featured as cornerstones or as a border for the artwork, these typographical messages underscore the facets that distinguish an institution—and should never change.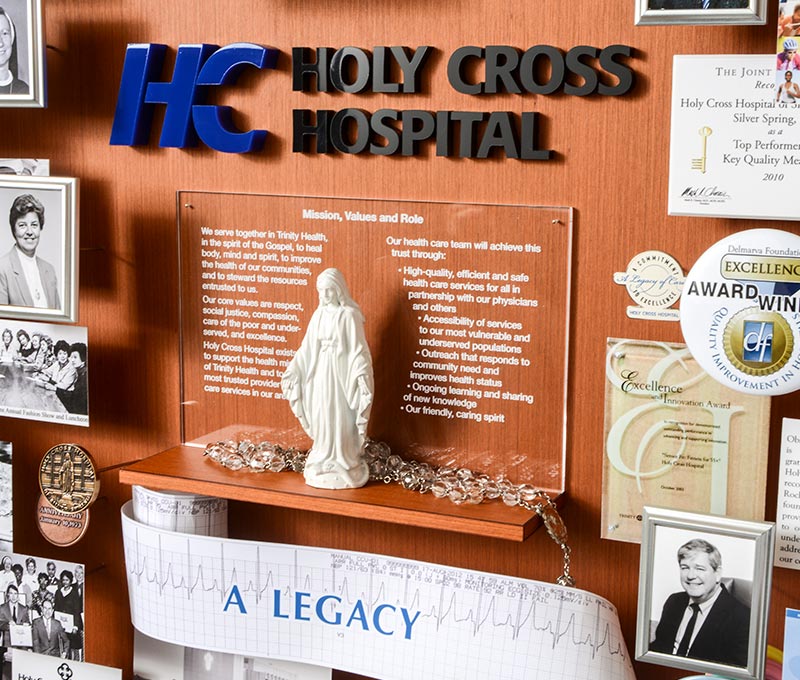 20 years after it was first unveiled, Inova Alexandria Hospital's 125th anniversary art continues to promote all that distinguishes the Medical Center! A list of Alexandria Hospital "Firsts," is artistically integrated into the art, while the cornerstones showcase its premier service. An extensive timeline, photoengraved on the brass inner sides, elaborates on the hospital's accomplishments and services.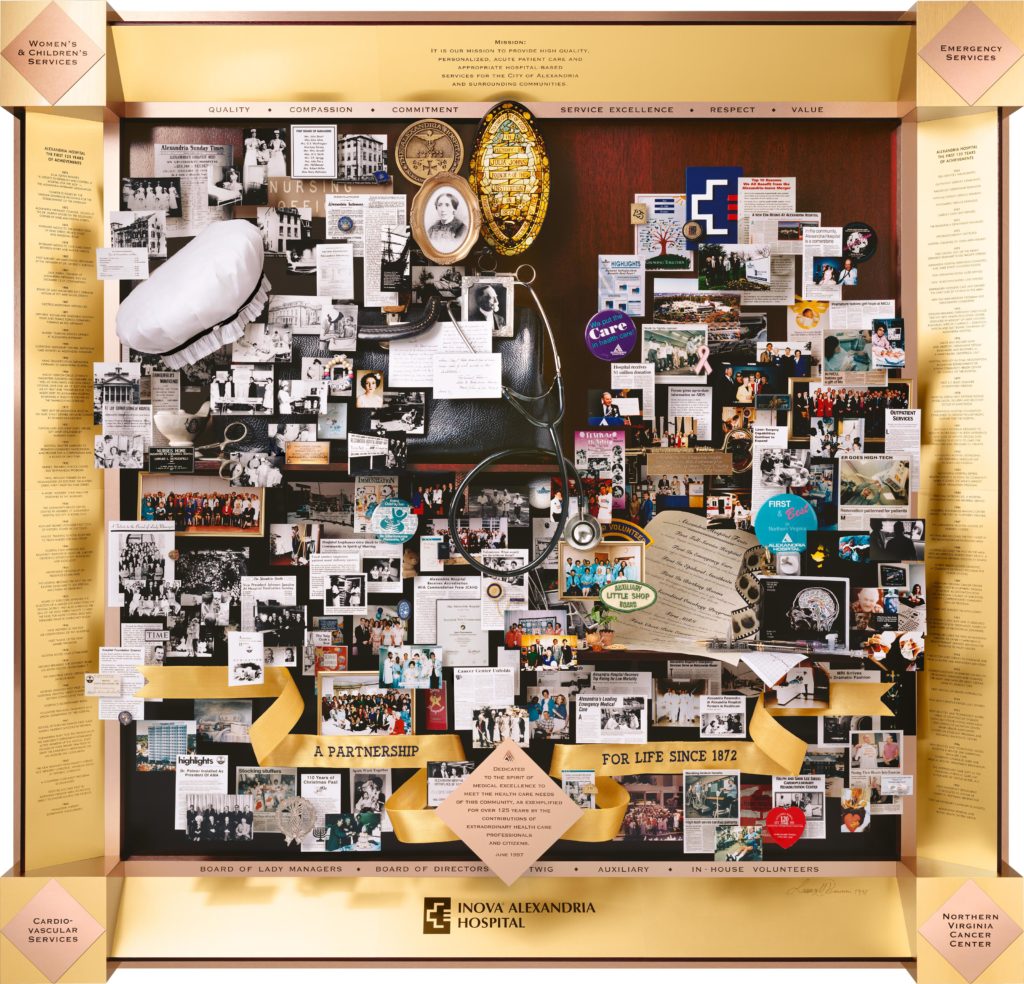 ---
3. PARTY!!
All our clients party in amazing, wonderful ways, from picnics on the premises with hot dogs to galas at the Waldorf Astoria. The celebrations include doctors, nurses, administrators, staff, and community leaders. Often a month is selected for optimal weather, so the event, such as Lewis Gale Medical Center's 100th, can be outside, offering more room and accommodating more people. Other times it is a yearlong anniversary party, with surprises for each month of the calendar.
Kennedy Health had three collages created, one for each of their main hospital locations. So three celebrations! The personalized collages had touches to make it distinct and memorable for each community the hospital serves.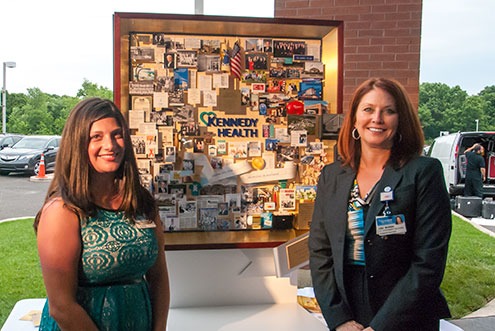 A donor reception can also highlight an anniversary celebration. Founded in 1828, DePaul Health Center in St. Louis commissioned One Of A Kind art to commemorate their story as the oldest hospital west of the Mississippi River for the 175th anniversary. Donors were honored to be the first to preview the art before installation in their lobby.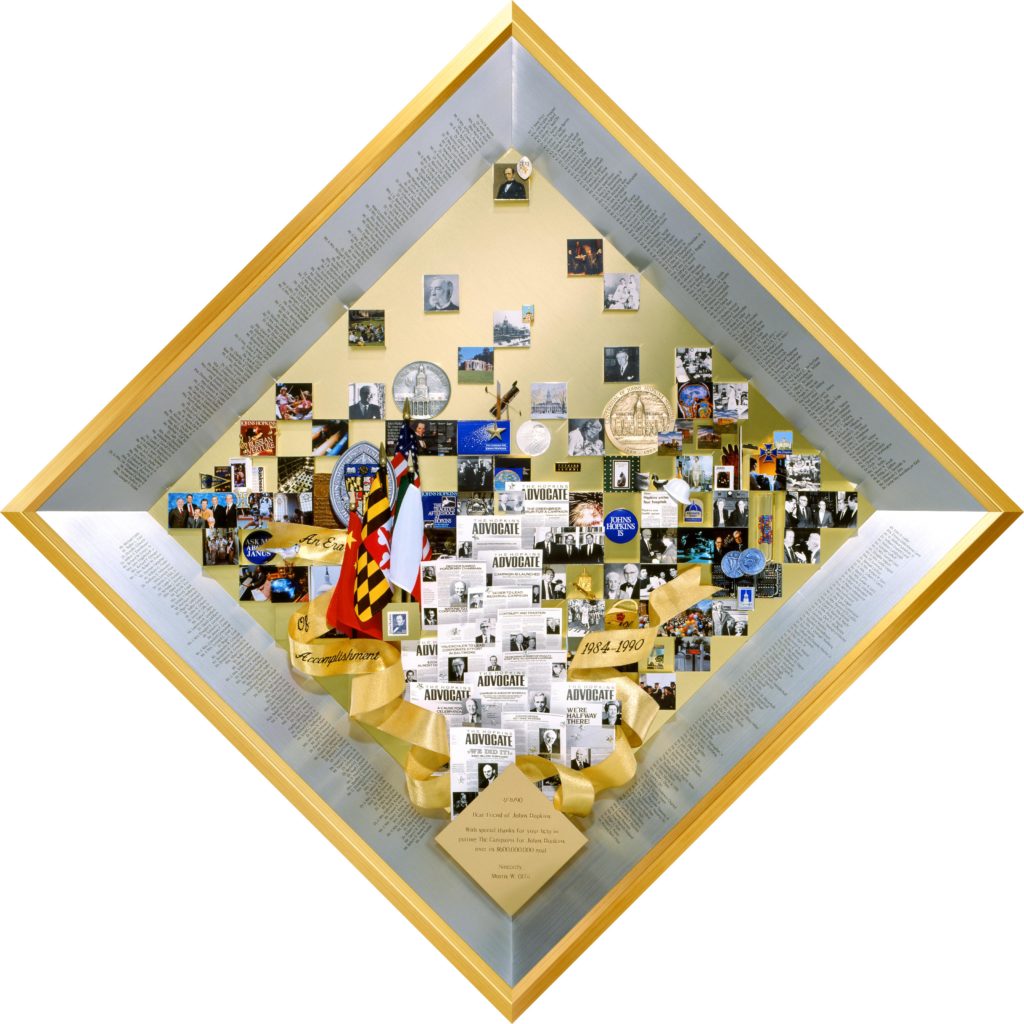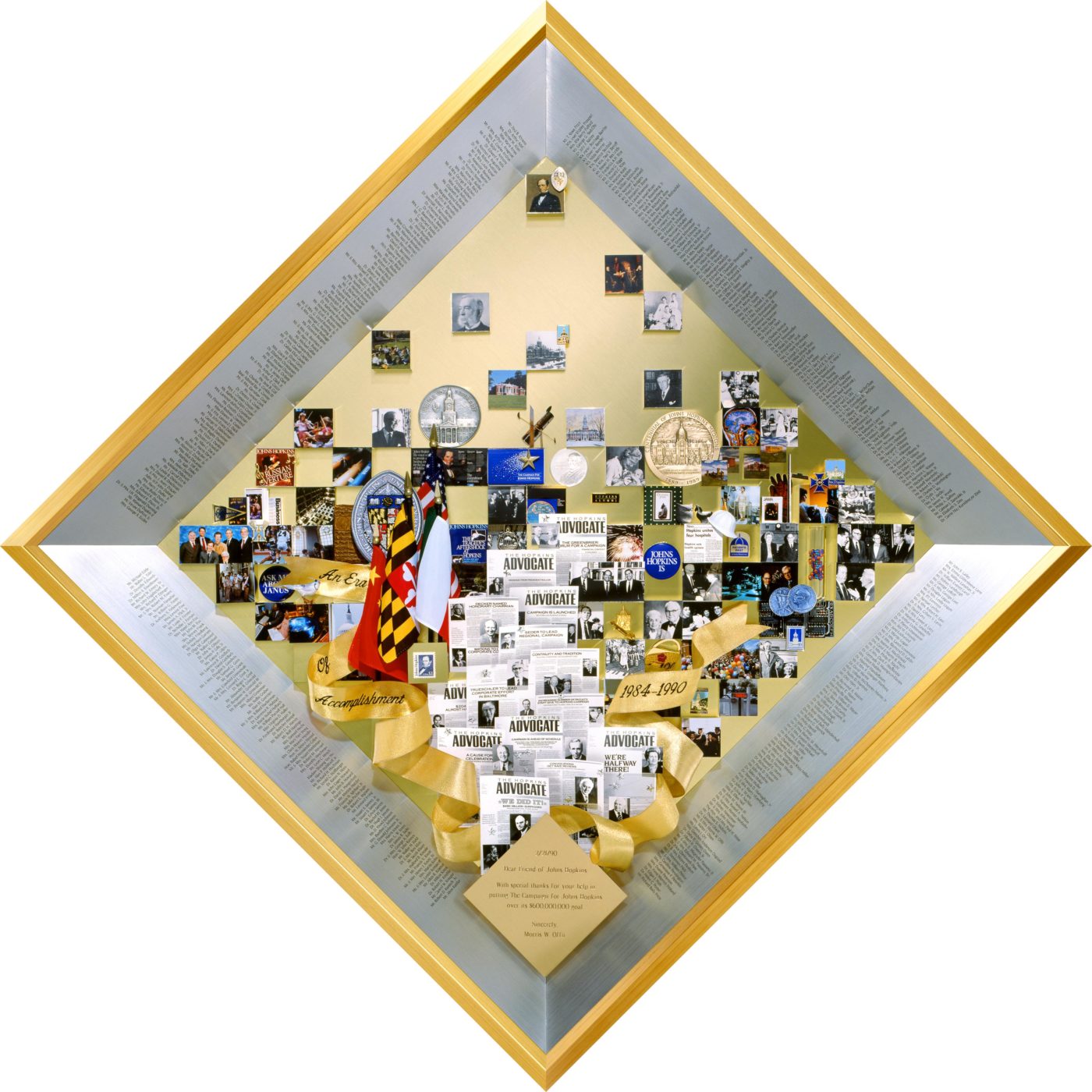 Johns Hopkins University and Hospital honored key supporters to their endowment campaign with Donor Recognition Art. It celebrates Johns Hopkins' unprecedented fundraising achievements while commemorating the synergy of the institutions since the founding. Names of donors are engraved in the metal border of the art, which was reproduced as framed posters.
---
4. PRAISE
You can cast a broad net in expressing thanks to everyone who has contributed to your hospital's success. Reach out to founders, founders' families, longtime leaders and their families to recognize them at an anniversary celebration. Share with them your unique hospital anniversary ideas.
Molina Health Care's 25th anniversary art was commissioned as a surprise to honor the two founders and unveiled as part of the celebration.
When Holy Cross Hospital opened in 1963, it was the culmination of over 16 years of community effort for a medical facility. As the 50th anniversary came, they wanted to express appreciation to all those who contributed to the hospital's success. Their dedication plaque, in a literal way, communicates Holy Cross's appreciation for its people and the people they serve:
Celebrating 50 Years

Dedicated to the millions of patients and families who trusted Holy Cross Hospital with their lives and to the Sisters of the Holy Cross, and the physicians, employees, volunteers and Auxiliary members who served the community by providing exceptional care, helping those in need, innovating to respond to evolving health care needs, and sharing new knowledge with a friendly, caring spirit.

1963-2013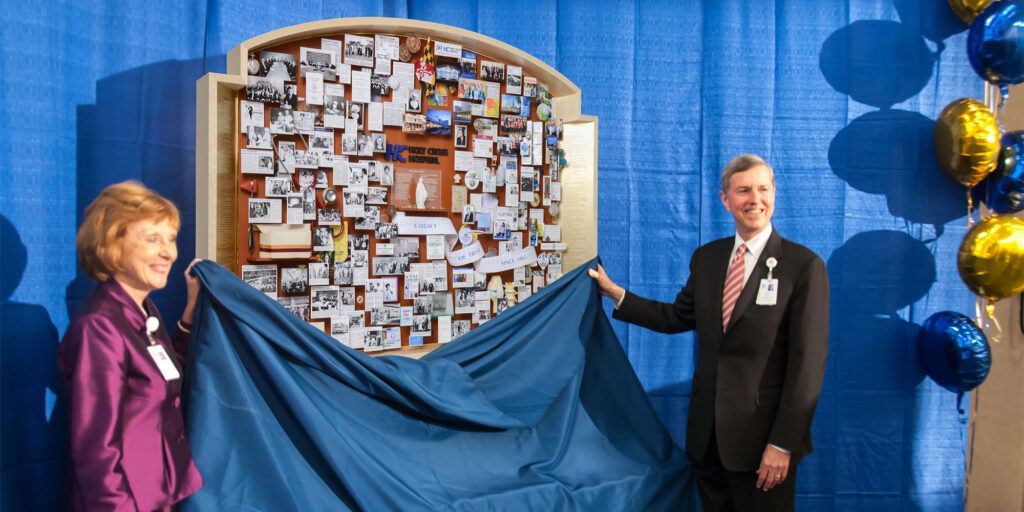 Ms. Rodin's Harvard Business Review article concludes with, "Imbue your commemoration with the understanding that looking back can be more than mere nostalgia for the past. It can inform a whole body of work for the future."
Our collaborators at Kennedy Health ensured that their 50th anniversary not only reflected the past but also celebrated the current story. Founders, doctors, nurses, staff, the community were all recognized for their role in Kennedy Health's history, growth, expertise and accomplishments—creating a springboard to a dynamic future.
In addition, Kennedy Health seized the occasion to thank key donors in notecards that featured their 50th anniversary art, linking the donors directly to the hospital's history and accomplishments.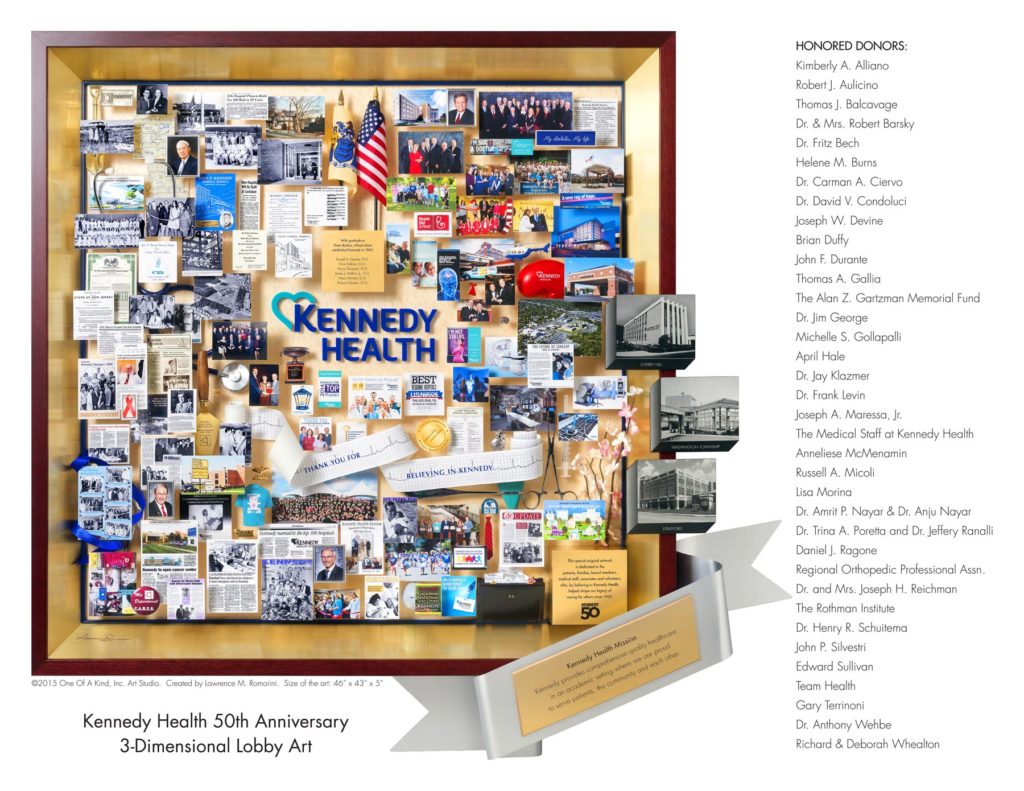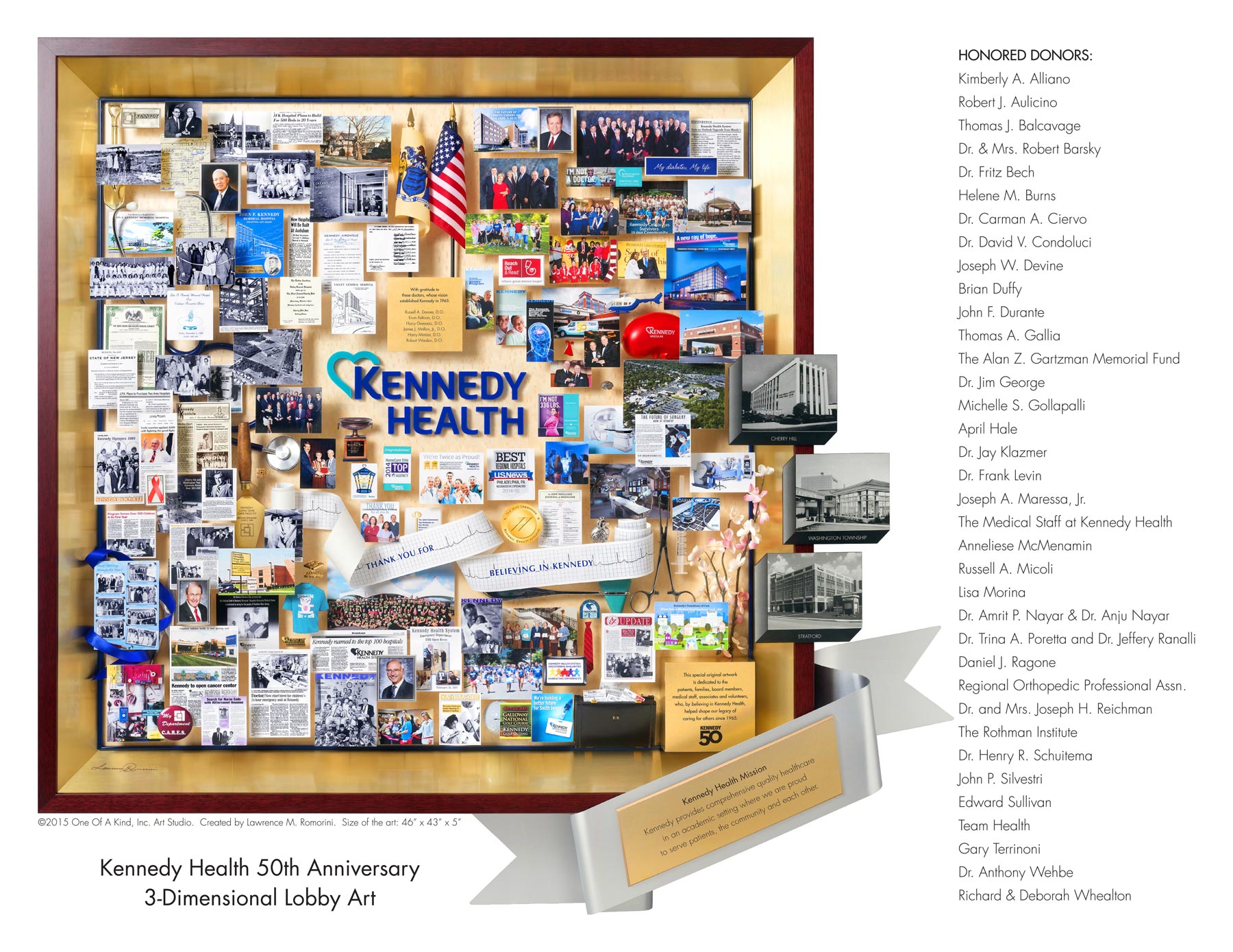 Door County Medical Center praised the natural beauty of their Wisconsin community as they celebrated their 75th anniversary story. Water, Sun, Forests and "Putting Patients First," all combined in a triptych work of art for their lobby.
---
5. PRESERVE
After the anniversary, leave a legacy that will be appreciated for years to come. Organizing the archives for future generations is a good start. To add to the archives, One Of A Kind provides a free CD with images used in the art, scanned, retouched and ready for future reproductions.
With One Of A Kind 3-dimensional art, highlights of the archives can continue communicating your story and mission every day to staff and visitors in a fascinating lobby display.
Reproduced as a commemorative brochure with descriptive key and as an interactive website feature, you can share your history, leaders and accomplishments far into the future. Years later, posters from St. Bernardine Medical Center's 75th anniversary, Calvary Hospital's centennial and Hughston Clinic's 50th anniversary are no doubt still on display by longtime staff and community members.
Milestone anniversaries are an exciting, unique opportunity. Please let us know how we can help you PLAN, PROMOTE, PARTY, PRAISE, PRESERVE!
---