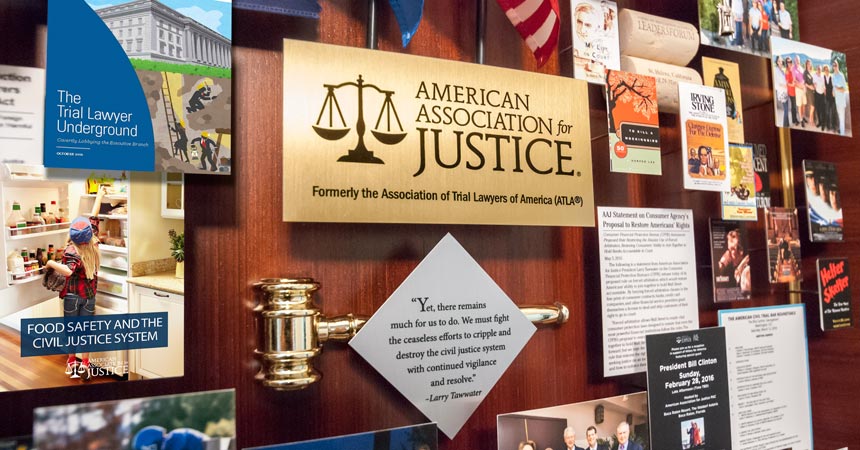 American Association of Justice, a longtime client, just presented One Of A Kind 3-dimensional art to their outgoing President Larry Tawwater. Mr. Tawwater has served on the Board of Governors of AAJ since 1988, chaired multiple committees and has been an Executive Officer since 2010. His year as president is showcased using a collage of photos, publications and 3D items and key legislation.
The centerpiece of the art is the American Association for Justice logo, photoengraved on metal, with the USA and Oklahoma flags, a brass gavel, and a quote from Mr. Tawwater: "Yet, there remains much for us to do. We must fight the ceaseless efforts to cripple and destroy the civil justice system with continued vigilance and resolve."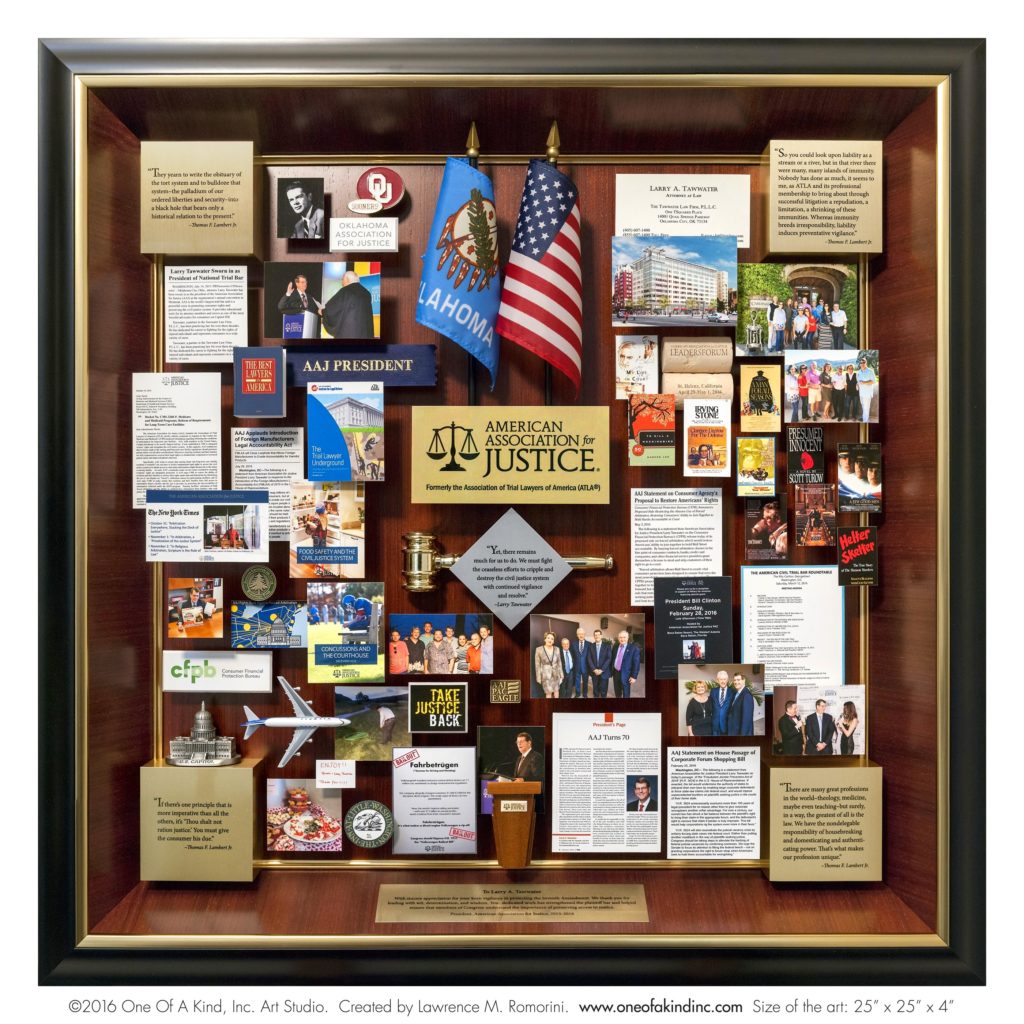 Brass cornerstones are engraved with quotes by Mr. Tawwater's mentor, Thomas F. Lambert, Jr.  Mr. Lambert served as a trial lawyer for the International Military Tribunal at Nuremberg after the defeat of Nazi Germany. He was long associated with the American Trial Lawyers Association, now American Association for Justice, where he was chief of the law journal for forty years.
A vignette of Larry's favorite movies and books, all with a law/civil justice theme, gives the art a colorful texture.
The dedication plaque reads:
To Larry A. Tawwater 

With sincere appreciation for your keen vigilance in protecting the Seventh Amendment. We thank you for leading with wit, determination, and wisdom. Your dedicated work has strengthened the plaintiff bar and helped ensure that members of Congress understand the importance of preserving access to justice.

President, American Association for Justice, 2015-1016
Larry Tawwater is a partner in the Tawwater Law Firm, P.L.L.C., and has been practicing law for over three decades. Mr. Tawwater has been admitted to the American College of Trial Lawyers, International Academy of Trial Lawyers, the International Society of Barristers and The American Board of Trial Advocates. Larry is listed in The Best Lawyers in America.
Mr. Tawwater has a bachelor's degree and J.D. from University of Oklahoma. He is a past President of the Oklahoma Association for Justice, and was honored by the Oklahoma Bar Association with the Earl Sneed Continuing Legal Education Award, for lectures, speaking at law schools and presenting over 30 papers on trial practice.
The AAJ 2016 Annual Convention was held in Los Angeles, where the next year's officers were named. Images of President Tawwater's art were projected on a screen for all attendees to see at the presentation.
---