With Parents Day this weekend, our special guest post is by Mindi Brenner. We've had the privilege of commemorating the lives of both Mindi's father and mother. It is our pleasure to share her wonderful Parents Day tribute and hear her speak about the two collages—her father's just arrived in Nevada this week!
---
"I commissioned One of A Kind to honor the lives of both my mother and father by creating two commemorative collages. My mother and father were two very different people which required two different approaches. Each collage is a very unique piece portraying my mother and father. But to make the assignment even more challenging for Lawrence, I was planning on hanging the pieces next to each other.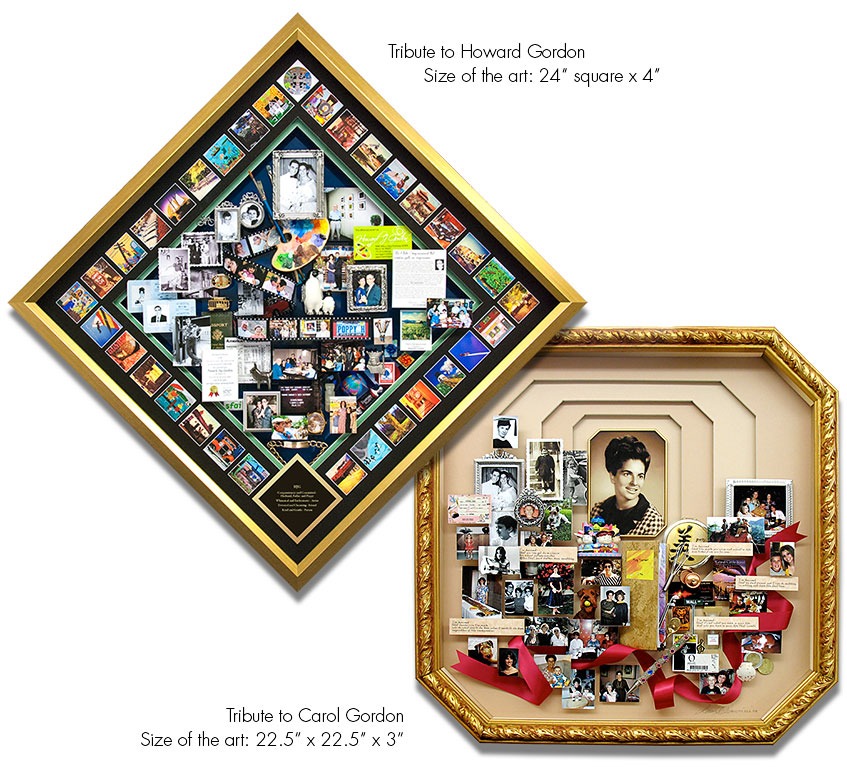 "So much care went into these creations. It was a painful time for me – the passing of my parents. However, both Lawrence and Donna were extremely caring and passionate while simultaneously guiding me through the process of remembering my parents. After sharing stories, tears and laughs, I felt at ease sharing memories, photos and keepsakes with them. It was truly a collaborative process.
"And they got it! Lawrence and Donna captured the true essence of my mother and father. I was at a loss of words when I saw the final artwork. I laughed through the tears as I viewed the pieces.
"I plan on inviting my parents' friends for a special viewing of the collages to honor my mother and my father."
Mindi Brenner
---