As the largest manufacturer of electronic pet training products in the U.S. Radio Systems has a great American story to celebrate—and a dynamic founder to honor.
Original employees of Radio Systems collaborated with us for a surprise tribute to present to Randy Boyd on his company's 25th anniversary. Radio Systems' successful brands–PetSafe, Sportdog and Invisible Fence—are all included. The 3-dimensional art commemorates the start-up years, the importance of their enduring values, and the people and products that have propelled their growth and success. We discovered innovative state-of-the art technology combining with "pet-loving hearts" at Radio Systems, where giving back to the community in many philanthropic ventures is part of the culture.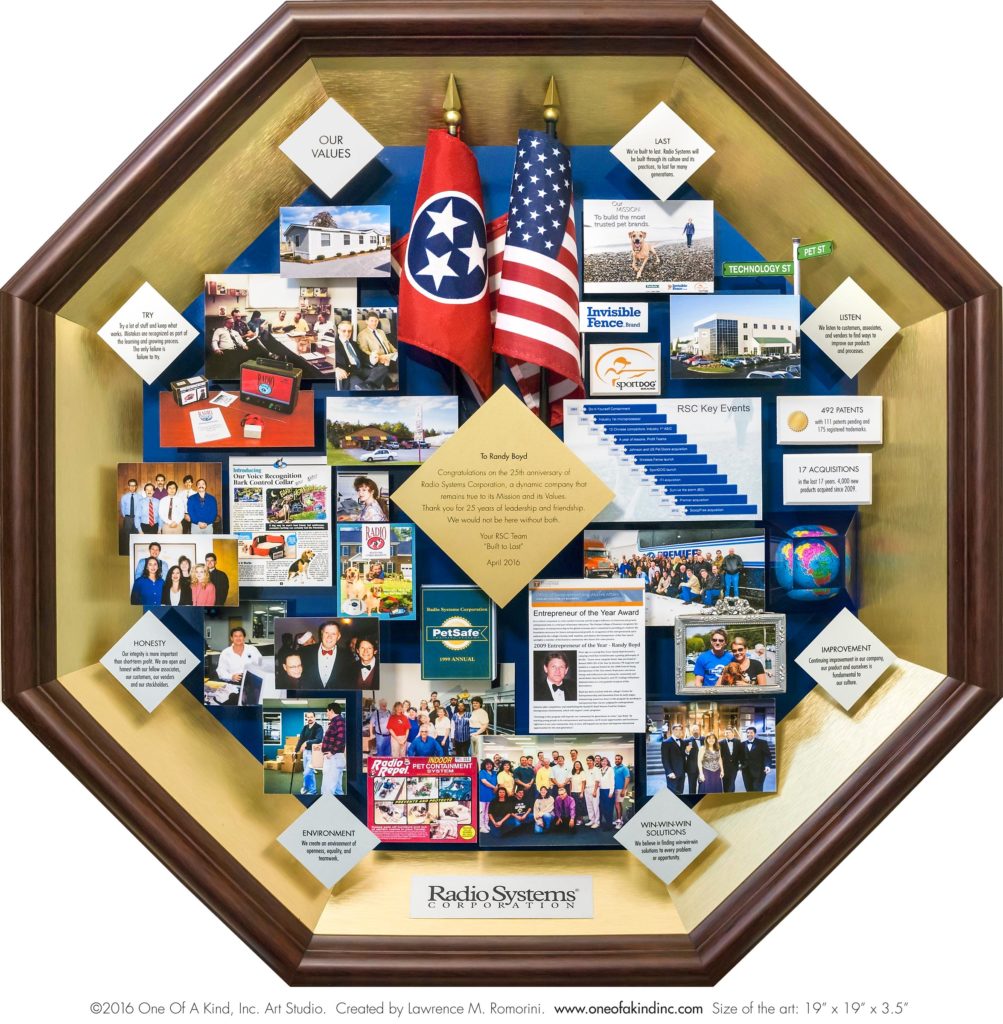 Miniature U.S. and Tennessee flags symbolize the roots and headquarters of Radio Systems while celebrating its expansion nationwide. Encircling the collage are eight diamond shaped plaques that bear the company's enduring values photoengraved in metal. Also photoengraved, is a heartfelt dedication message that serves as a centerpiece. It reads:
To Randy Boyd

Congratulations on the 25th anniversary of Radio Systems Corporation,
a dynamic company that remains true to its Mission and Values.
Thank you for 25 years of leadership and friendship.
We would not be here without both.

Your RSC Team
"Built To Last"

April 2016
Mr. Boyd's biography is reflects an impressive history of innovation, leadership and service. He has been described as Knoxville's Least-Known Animal-Loving Multi-Millionaire Business Magnate Philanthropist and is currently serving as the Commissioner of Economic and Community Development in the State of Tennessee, appointed by Governor Bill Haslam on January 17, 2015.
Prior to his appointment, Mr. Boyd founded Radio Systems Corporation in 1991, headquartered in Knoxville, Tennessee with offices in seven countries and over 700 associates worldwide. A privately held corporation with annual sales over $370 million, RSC produces and markets over 4,600 pet products under the brands Invisible Fence, PetSafe, and SportDOG. He is also owner of  Boyd Sports LLC, which owns the Tennessee Smokies and Johnson City Cardinals baseball teams, AA affiliate of the Chicago Cubs and rookie league affiliate to the St. Louis Cardinals respectively.
Mr. Boyd also serves on the Boards of many non-profit organizations.  He is the Chairman of tnAchieves, a mentor-assisted scholarship program. The scholarship has sent over 10,000 first generation community college students to school across the state of Tennessee, all supported via private donations.
Other non-profits that Mr. Boyd serves include the Great Smoky Mountain Council of the Boy Scouts, the National Parks Conservation Association, and the United Way of Greater Knoxville.
Mr. Boyd and Radio Systems have also made great strides in improving animal welfare. The company has funded the creation of seven public dog parks in and around Knoxville and has supported the development of a new Animal Adoption Center in there, more than doubling the amount of spay-and-neuter operations that can be performed annually. In 2010, Radio Systems provided funding for the Blount County Animal Center and funded the PetSafe Chair of companion animal behavior within the Small Animal Clinical Sciences department of the College of Veterinary Medicine at the University of Tennessee. In addition, their Invisible Fence Brand has donated over 10,000 dog oxygen masks to Fire Departments around the United States as part of its industry-leading "Project Breathe".
---