Since the 1950s, one billion tons of plastic have been discarded, and some of that material may be around for centuries – or longer! Plastic harms our environment by sitting in landfills and polluting our oceans. However our client Command Packaging has turned that notion on its head, as we learned when we created their 25th anniversary art to honor founders Pete Grande and Albert Halimi.
Command launched Encore Recycling in 2013, the first facility of its kind. Encore is an agricultural plastic recycling facility that can recycle up to 100 million pounds of plastic per year. Agricultural plastics are items like irrigation tubes, mulch film, drip tape and silage bags.
"Implementing a sustainable recycling model that works for the consumer, the grocery store, and the environment is a win-win for all. People love plastic. It's part of our everyday lives. Instead of trying to eliminate it, we need to create a "Smarter" plastic and Encore is doing that," says Pete Grande, CEO of Command Packaging and Encore.
Local farmers can drop-off plastic waste free of charge, saving them thousands of dollars per year in landfill fees. The plastic is then washed and recycled. Since Encore's end product is also fully recyclable, products made with Encore resin can create a continuous loop of sustainable plastic supply – not ever seeing a landfill. You can see samples of the resin pellets in the artwork we created for them.
Command also makes smarterbags, which comply with SB 270, California's statewide single-use bag ban law. They are designed for at least 125 uses and are 100% recyclable.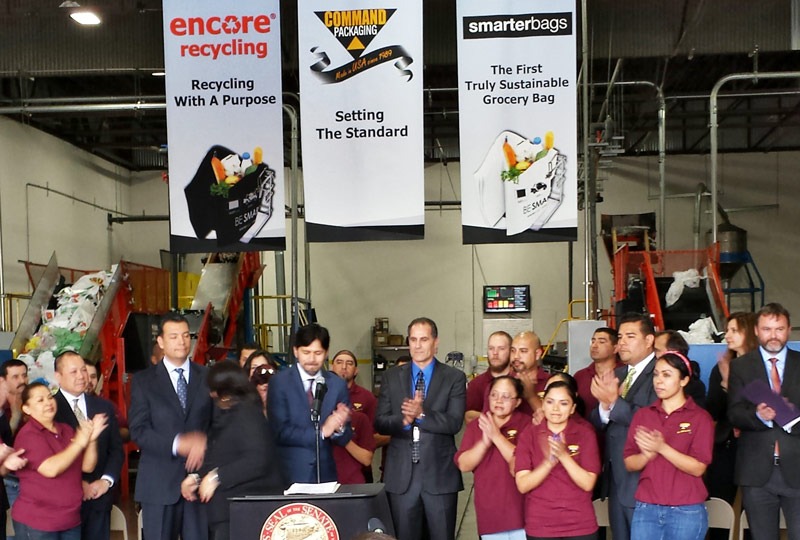 Command is the first U.S. manufacturer to receive the Environmentally Preferred Rating (EPR) and the company leadership is actively involved in government legislation, setting new standards for reusability, recycling and sustainability of plastic bags.
Command Packaging's 25th anniversary art has a silver background, with black lacquer inner borders and a silver frame. The story starts at the top center of the art, with the first logo. Photos, news articles and memorabilia flow counterclockwise around the Command Packaging logo in the center. An Encore logo on the right signals the beginning of Encore Recycling, and the story culminates in a framed photo of the founders.
The top inner borders of the Command Packaging art reflect a variety of the Command smarterbags.
The bottom border of the art has the Command Packaging Values, in Command green: Integrity, Teamwork, Accountability, Passion and Innovation.
---
One Of A Kind Art Studio has been pleased to work with many environmentally conscious clients. On Earth Day especially, we salute those clients, such as LEED-certified Hunzinger Construction, Marriott, American Institute of Architects, American Society of Civil Engineers, and especially Command Packaging, a major recycler of plastics.
California just brought our our latest green commission, honoring Mike Zimm, longtime naturalist for Yucaipa Parks. A tree was recently planted in his memory and this exquisite personal collage commemorates the occasion and the respect his colleagues continue to hold for his work and life.
---