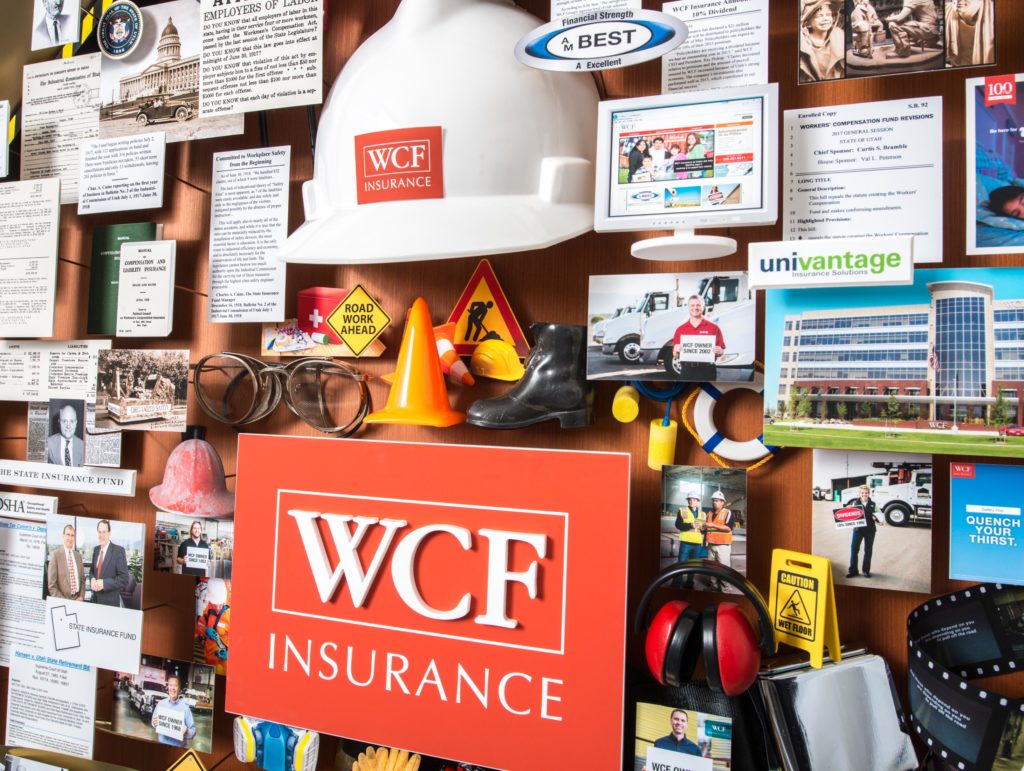 On a brass ribbon, Lawrence Romorini features WCF Insurance's motto, "Be Careful Out There," in the company's new 100th anniversary, 3-dimensional commemorative art. WCF's retrospective collage was just unveiled in their Sandy, Utah headquarters, where the art will be installed to reflect their legacy of protecting workers for one-hundred years.
Founded in 1917, when the Utah Legislature passed a workers' compensation act requiring all employers to have insurance for their employees, WCF Insurance has evolved as an innovative, national insurance company distinguished by excellent financial strength, outstanding customer service and strong business partnerships.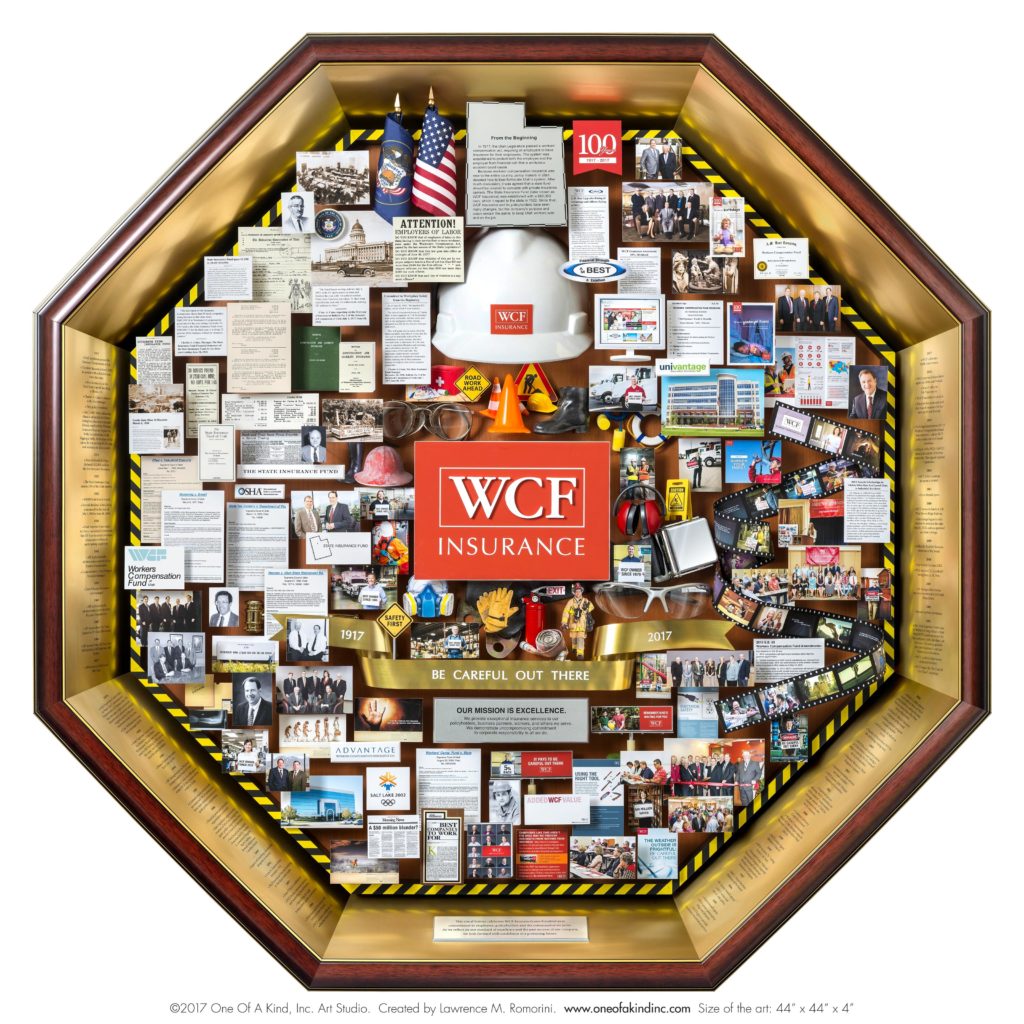 The artwork's octagonal shape suggests a stop sign (stop and think, "safety"!), accented with a filigree of yellow and black striped "warning" tape. In addition to an actual WCF Insurance hardhat, a colorful vignette of safety equipment—vintage and current– surrounds the 3-D WCF logo. The  items include safety glasses, earplugs and earphones, work boots and gloves, safety harness belts, safety signs, a fire extinguisher and much more.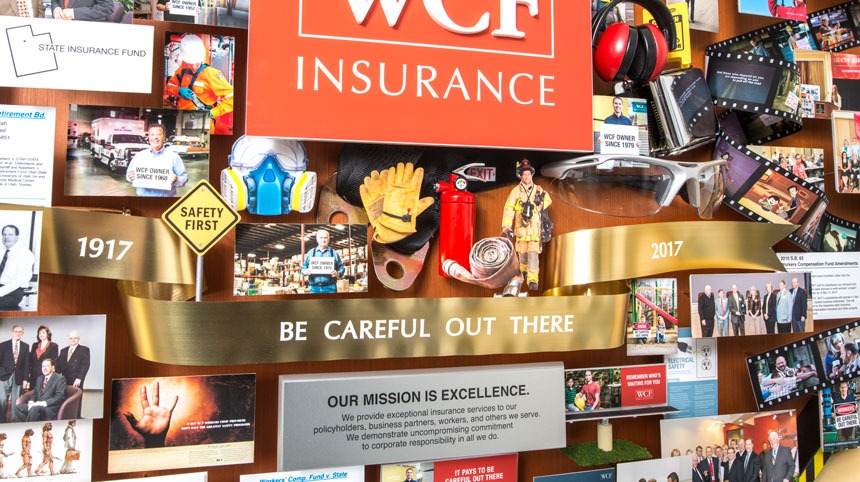 The inner sides feature a timeline of accomplishments, photoengraved in brass to produce rich black text that will not fade over time. A filmstrip containing stills from WCF television commercials flows through the more current part of the history.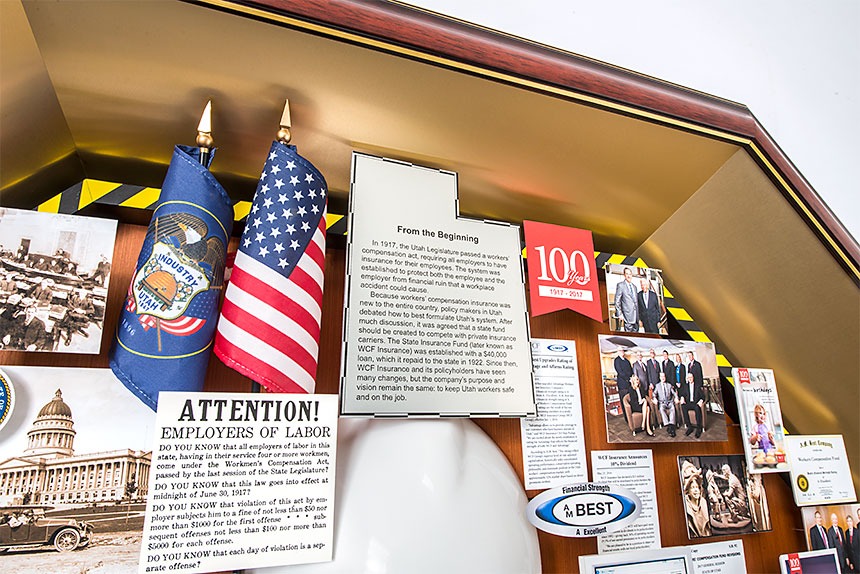 The dedication plaque, placed in the frame on a photoengraved plaque, reads:
This visual history celebrates WCF Insurance's one-hundred-year
commitment to employees, policyholders and the communities we serve.
As we reflect on our standard of excellence and the past success of our company,
we look forward with confidence to a promising future.
Congratulations to WCF and to Rachel Jeppson, our wonderful WCF collaborator over the past fifteen months. "We were completely taken back by how stunning it turned out," Rachel emailed after opening the crate. "The depth of the piece with the number of 3-D objects is unlike any art I've seen. Our executives are thrilled. Everyone LOVES it!"
That's all the fireworks we need to celebrate our July 4th!
---