September and School go together, this year presenting new unimaginable obstacles for administration, faculty, staff. Our thoughts are with schools and colleges we've worked with as they adjust to the new normal–revamping curriculum and procedures to welcome students back to a safe and supportive learning environment. Their creativity and perseverance are inspiring!
University of St. ­Francis recently called their centennial art "The Perfect History Lesson." As we salute the academic heroes who keep our schools and colleges operating, the following One Of A Kind collages offer history lessons that can educate and encourage through the most challenging times.
From all of us at One Of A Kind, best wishes on this memorable school year.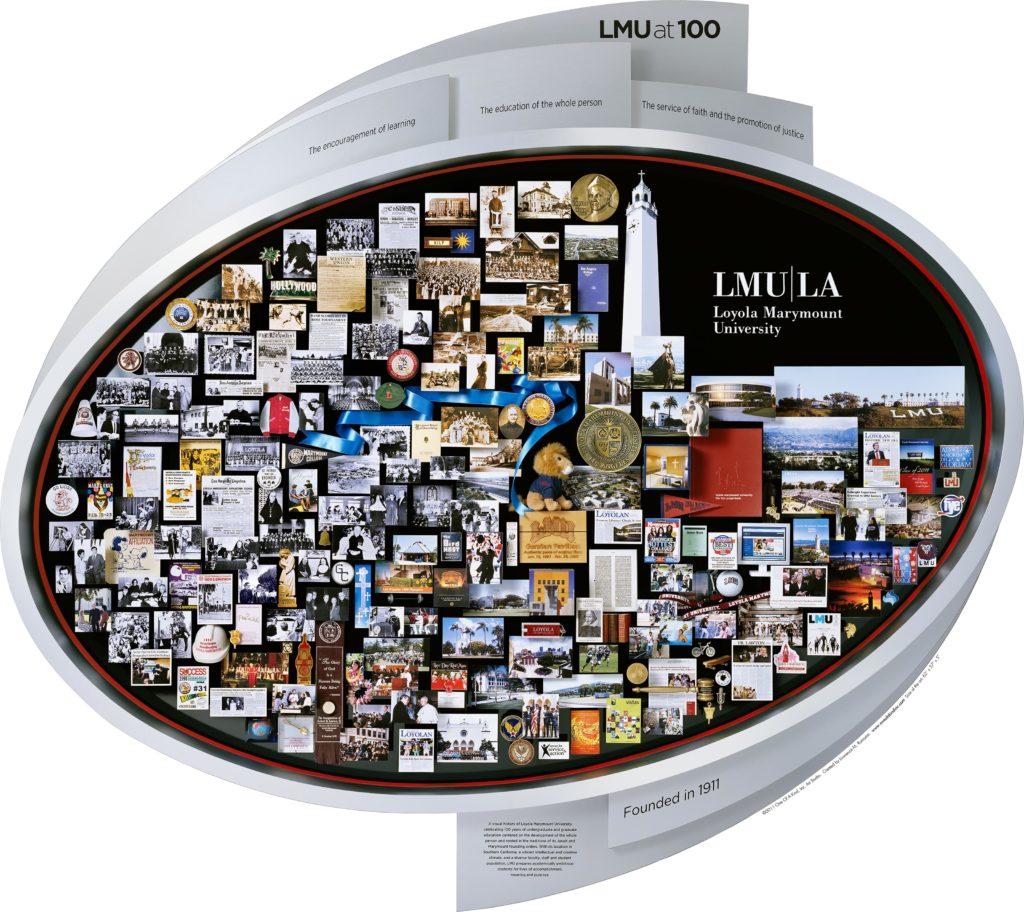 1. Loyola Marymount University, 62″ x 57″ x 5″
The design of Loyola Marymount University's 3-dimensional art was inspired by LMU's mission, "The education of the whole person." Over 200 miniaturized photos, news articles, publications, and pieces of memorabilia reflect the history, leadership, traditions, values, growth, and achievements of LMU and the beauty of the campus. This 100th anniversary art is on permanent display in LMU's Welcome Center and featured on their website with an interactive descriptive key.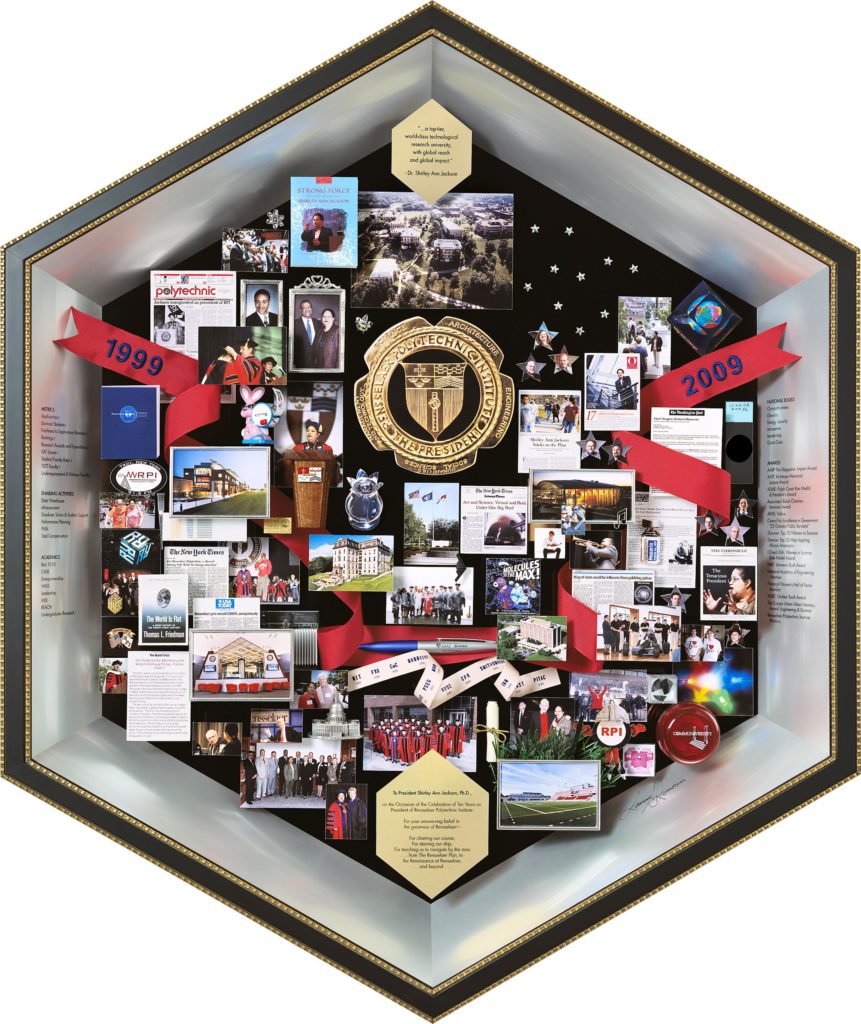 2. Rensselaer Polytechnic Institute, 29″ x 35″ x 4″

Rensselaer Polytechnic Institute presented this 3-dimensional retrospective art to their president in appreciation of her first 10 years of leadership. The story flows counterclockwise around the Presidential Medallion. Incorporating miniaturized photographs, publications, and actual memorabilia, the collage chronicles RPI's growth and accomplishments since the president's inauguration, with the stars representing future aspirations.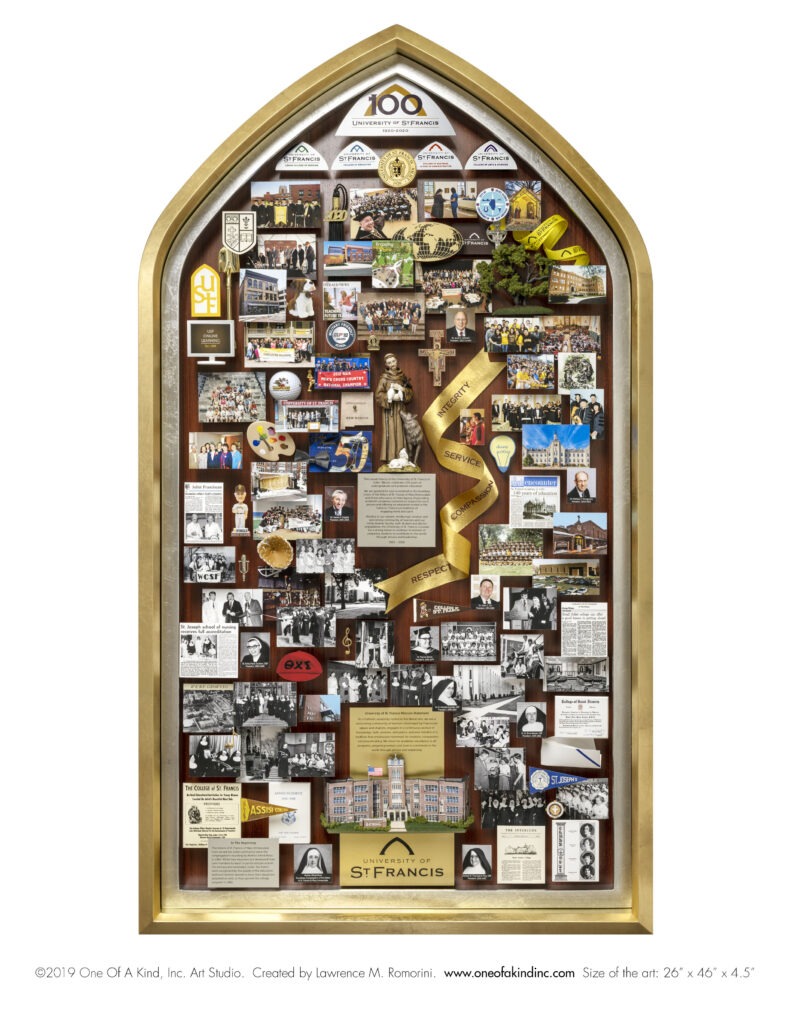 3. University of St. Francis, 46" x 26" x 5"
Appropriately named the Centennial Collage, this 3-dimensional work honors the legacy of the founding Sister Sponsors and University of St. Francis' Franciscan heritage through carefully selected miniaturized photos, publications, and other institutional memorabilia. The retrospective reflects USF's values, mission and vision, while commemorating its history, leaders, innovation, and accomplishments since 1920.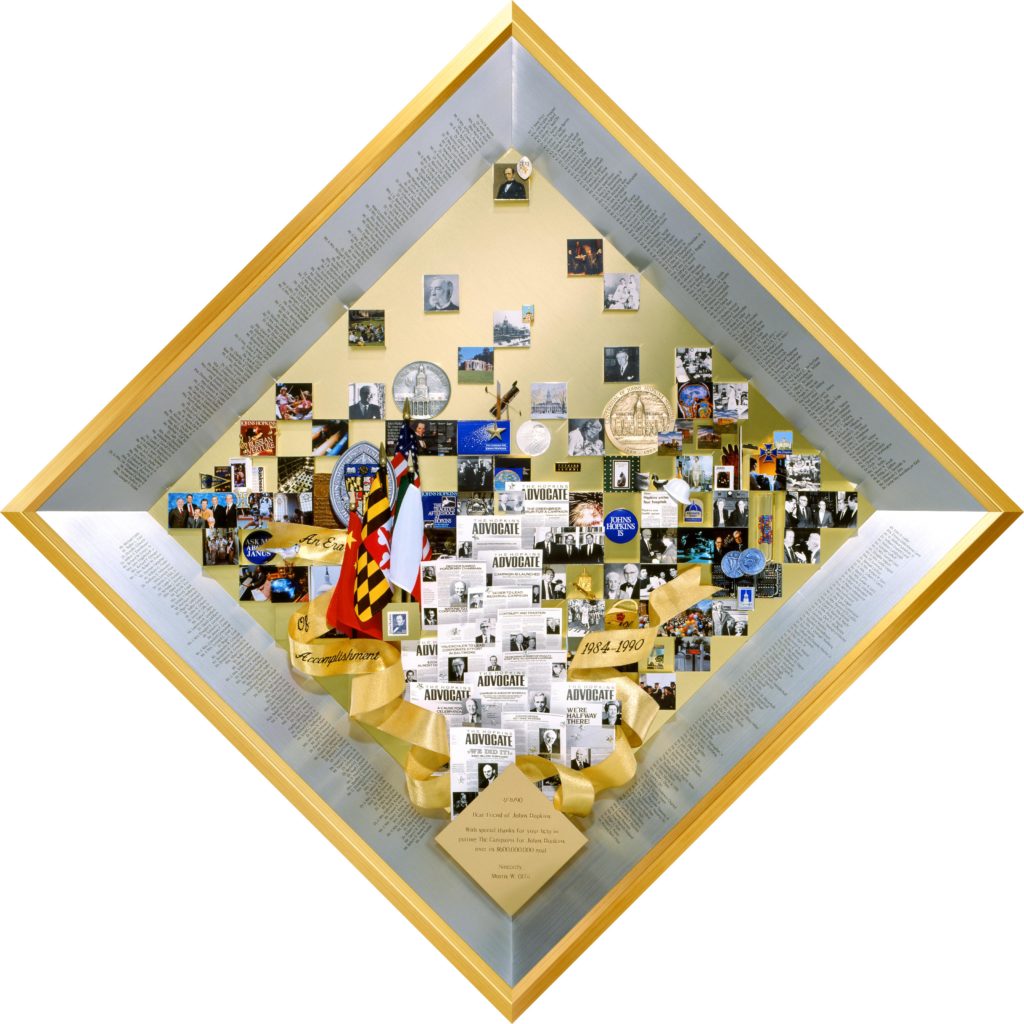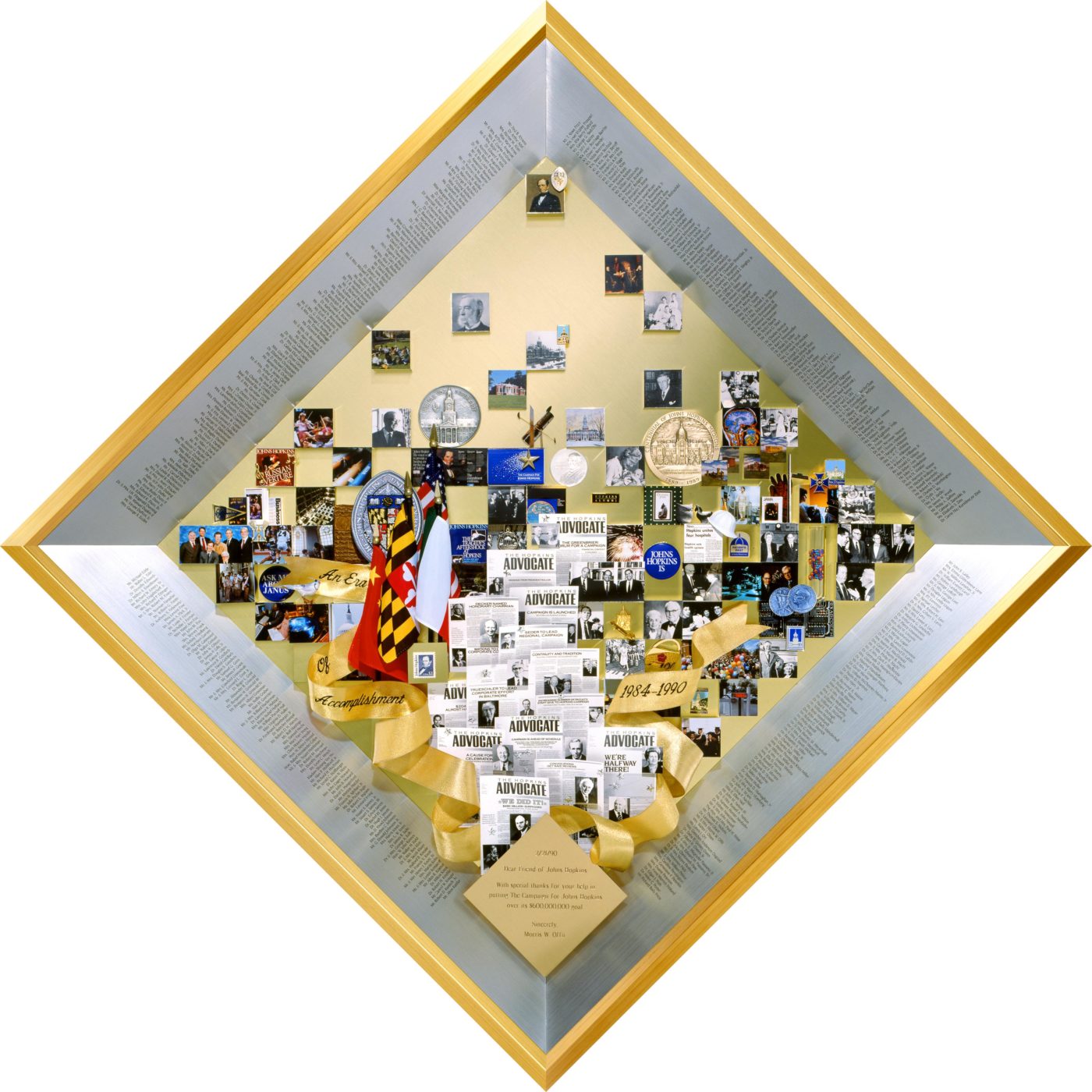 4. Johns Hopkins University, 29" x 29" x 4"
Johns Hopkins commissioned this 3-dimensional commemorative art to unveil at the gala celebrating their unprecedented fund-raising achievements. It reflects highlights of their campaign and the synergy of Johns Hopkins institutions since its founding. Names of major donors are engraved in the metal border of the art. Framed prints with personalized plaques were presented to donors at the campaign's celebration party.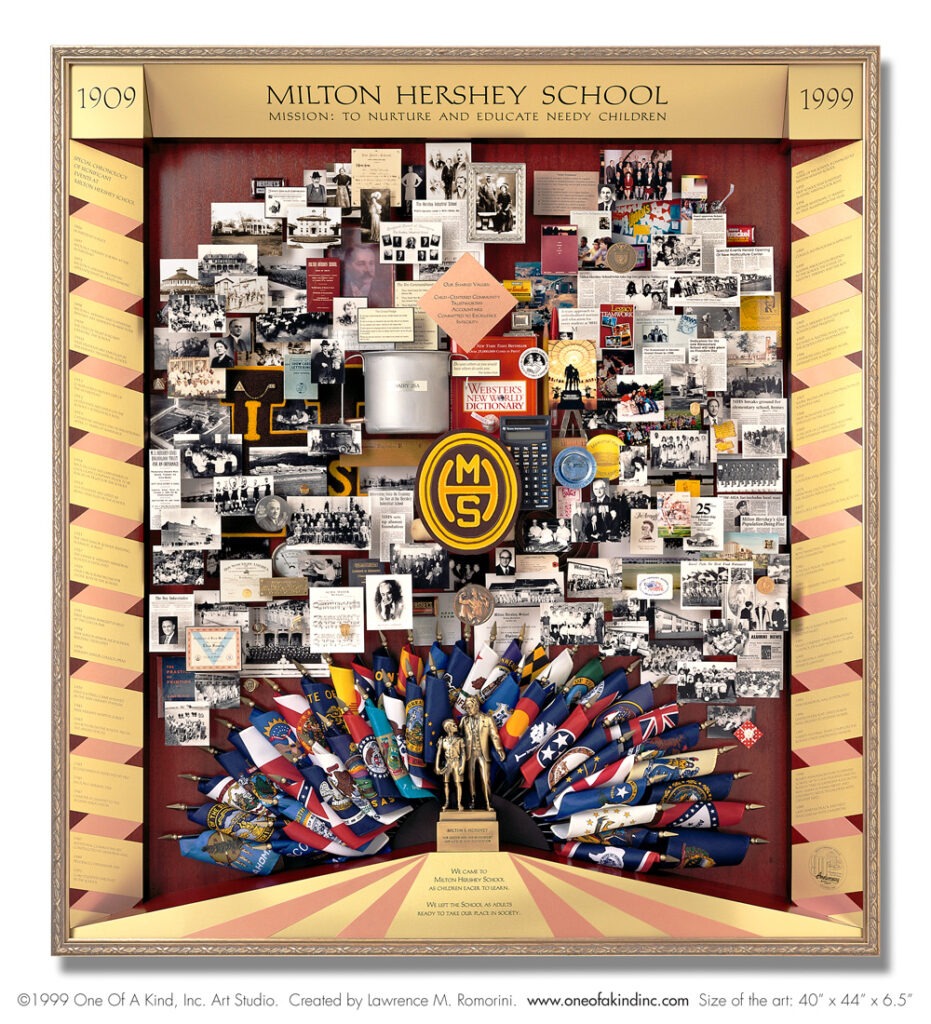 5. Milton Hershey School, 43" x 39" x 6"
Milton Hershey School commemorative art, unveiled at their 90th anniversary celebration, features a statue of Founder and Philanthropist Milton Hershey with a student. Photos, publications, and actual memorabilia reflect the school's mission, history, and the unique academic experience that Milton Hershey School has offered students from every state. A metal ribbon engraved with a timeline borders the art.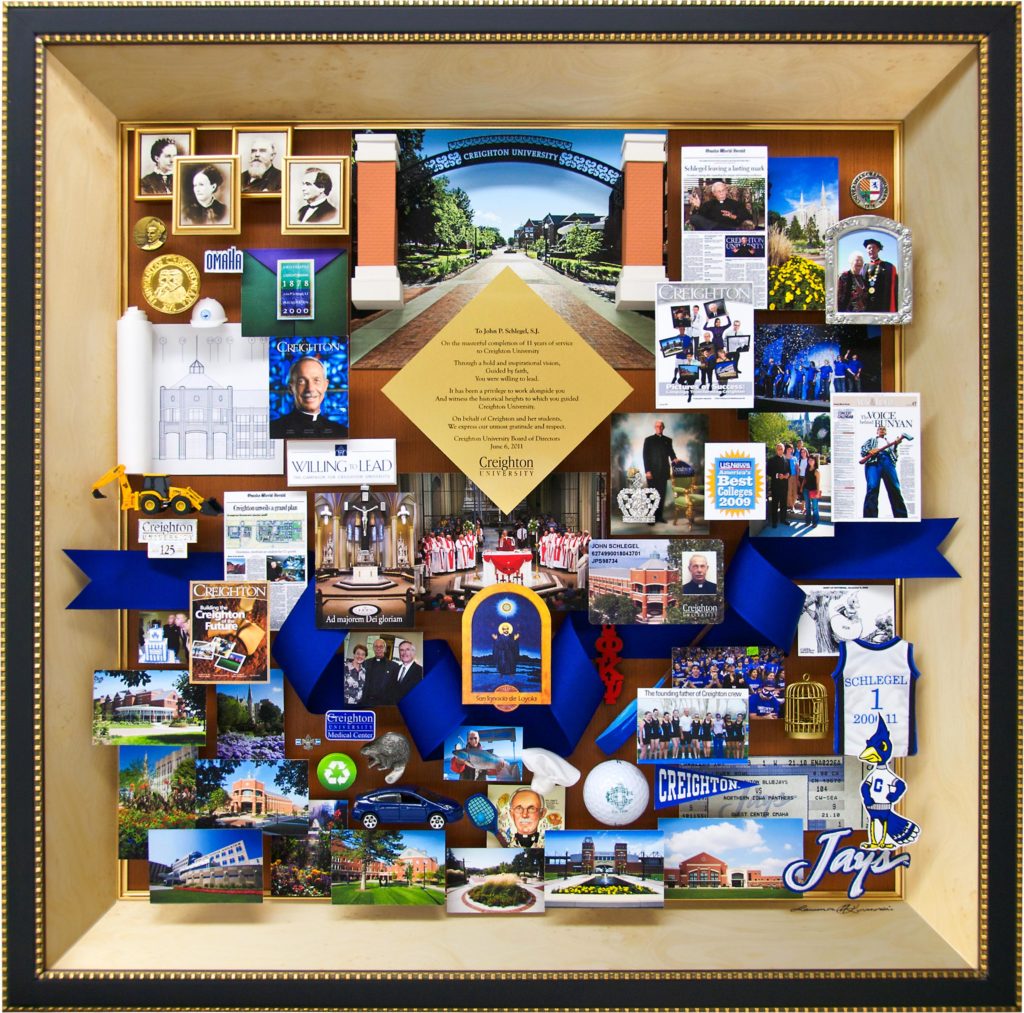 6. Creighton University, 25" x 25" x 4"
Creighton University presented One Of A Kind 3-dimensional art to their retiring president to commemorate his many accomplishments and express appreciation. The story flows counterclockwise around a 3D model of the Creighton University entrance. New buildings constructed during the president's tenure are featured, along with campus traditions, innovative programs instituted by the president, and favorite memories.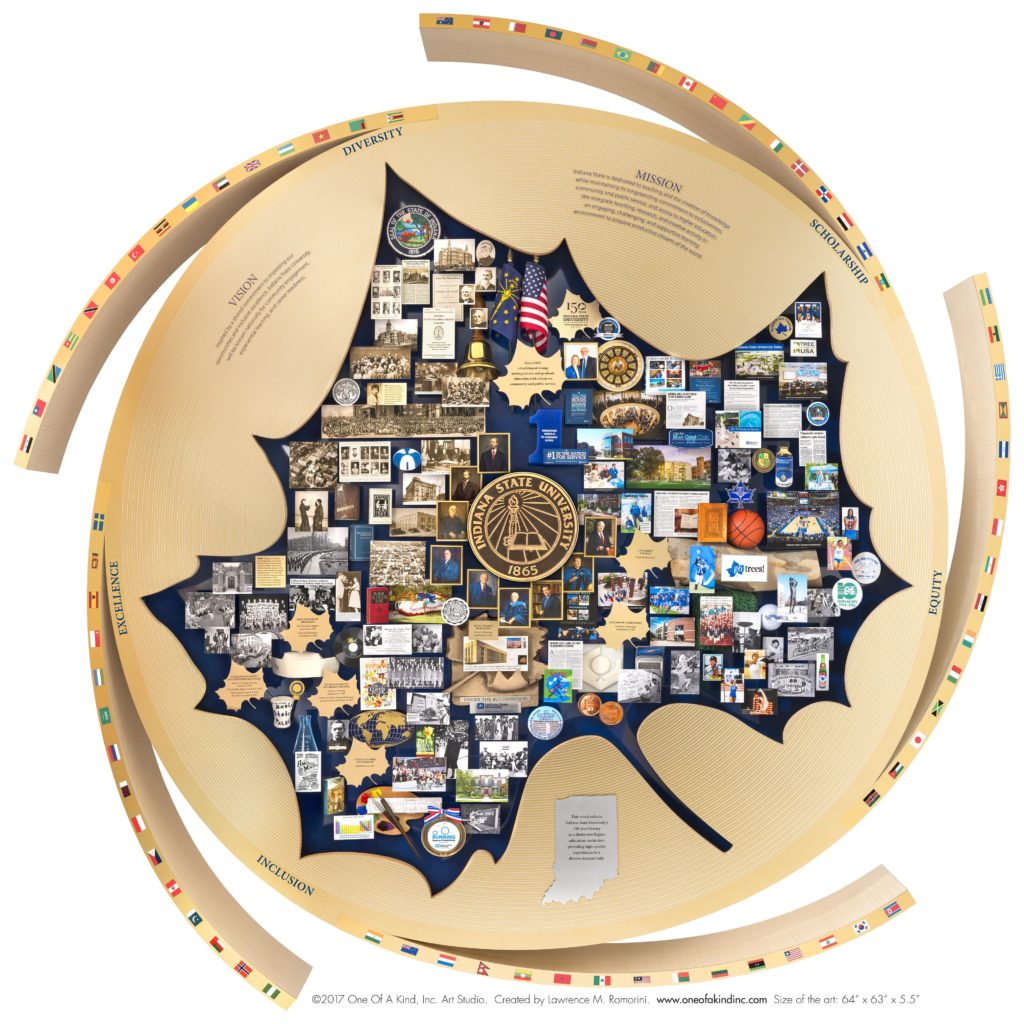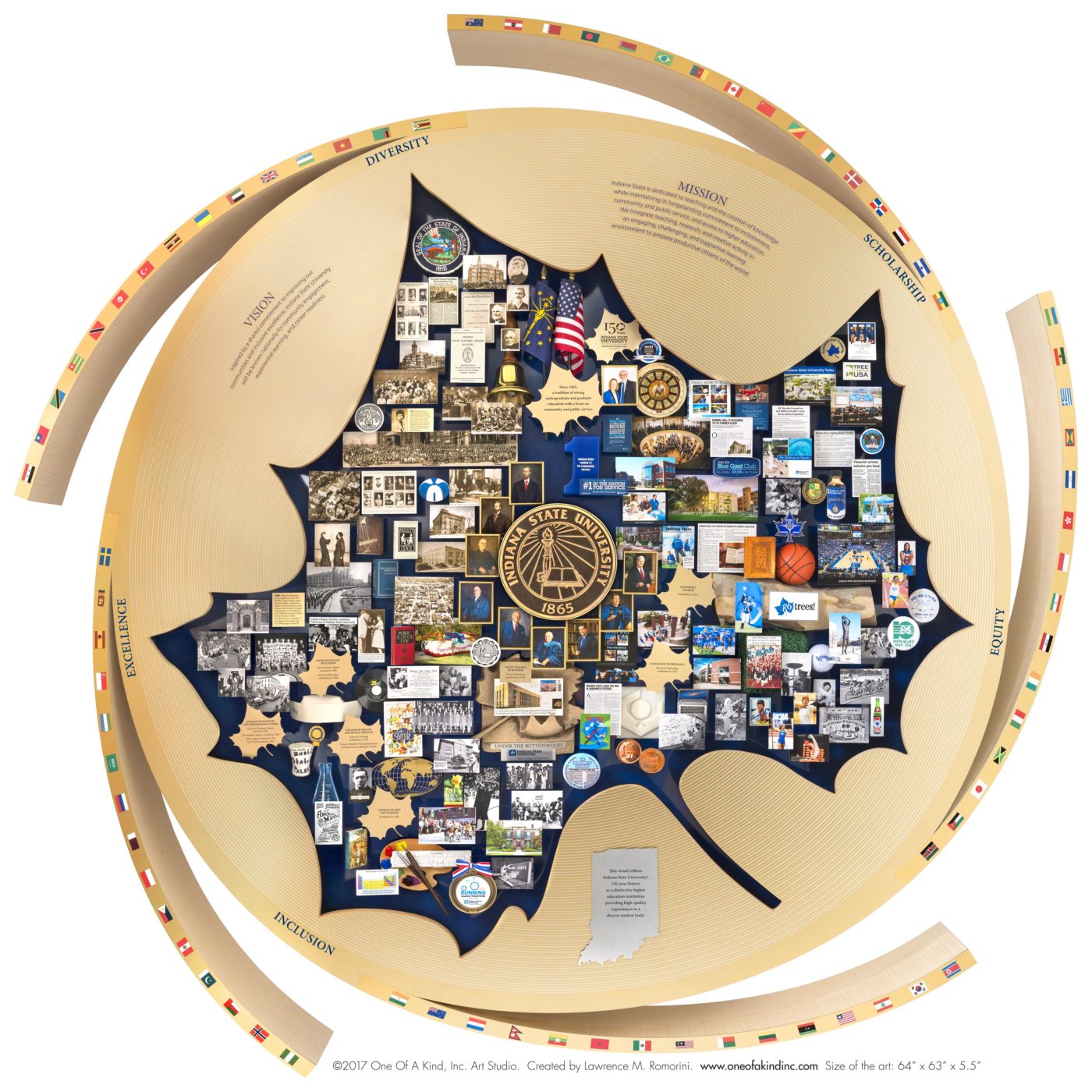 7. Indiana State University, 64" x 63" x 5.5"
Indiana State University unveiled One Of A Kind 3-dimensional commemorative art to highlight their Founder's Day and 150th anniversary celebrations. The artwork reflects the evolution and distinction of ISU as a dynamic teaching institution, driver in the community, and longtime advocate of diversity. The circular structure of the artwork suggests the cross-section of a 150-year-old sycamore tree, on which 150 rings are inscribed.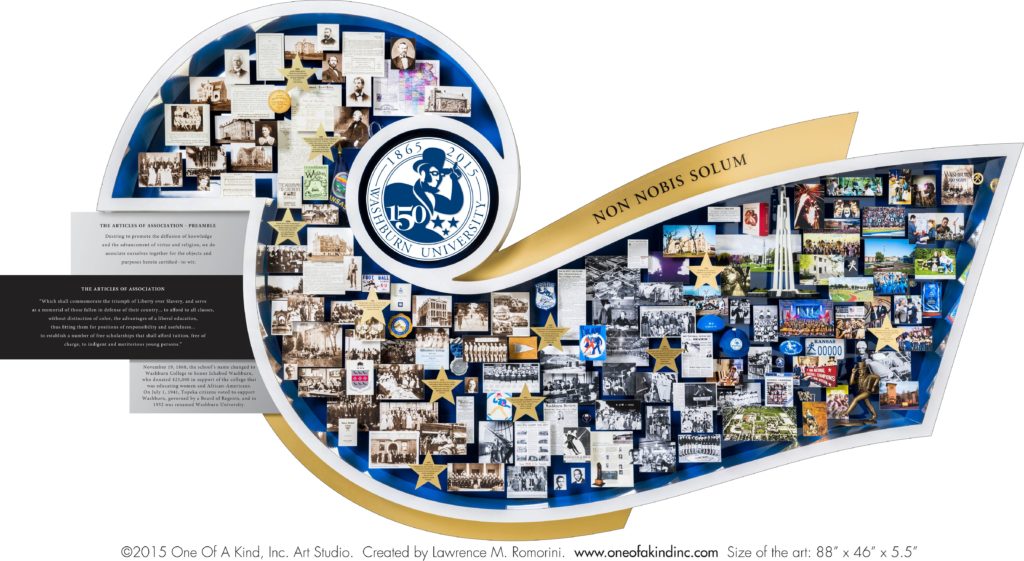 8. Washburn University, 88" x 46" x 5.5"
One Of A Kind collaborated with Washburn University to create 150th anniversary commemorative art for installation in their new Welcome Center. The artwork chronicles Washburn's history, milestones, traditions, accomplishments, and their inclusive mission since the founding. Early graduates included African Americans and women, with vintage group photos of diverse classes, clubs, and athletic teams. Washburn alumni participated in the momentous Brown v. Board of Education case.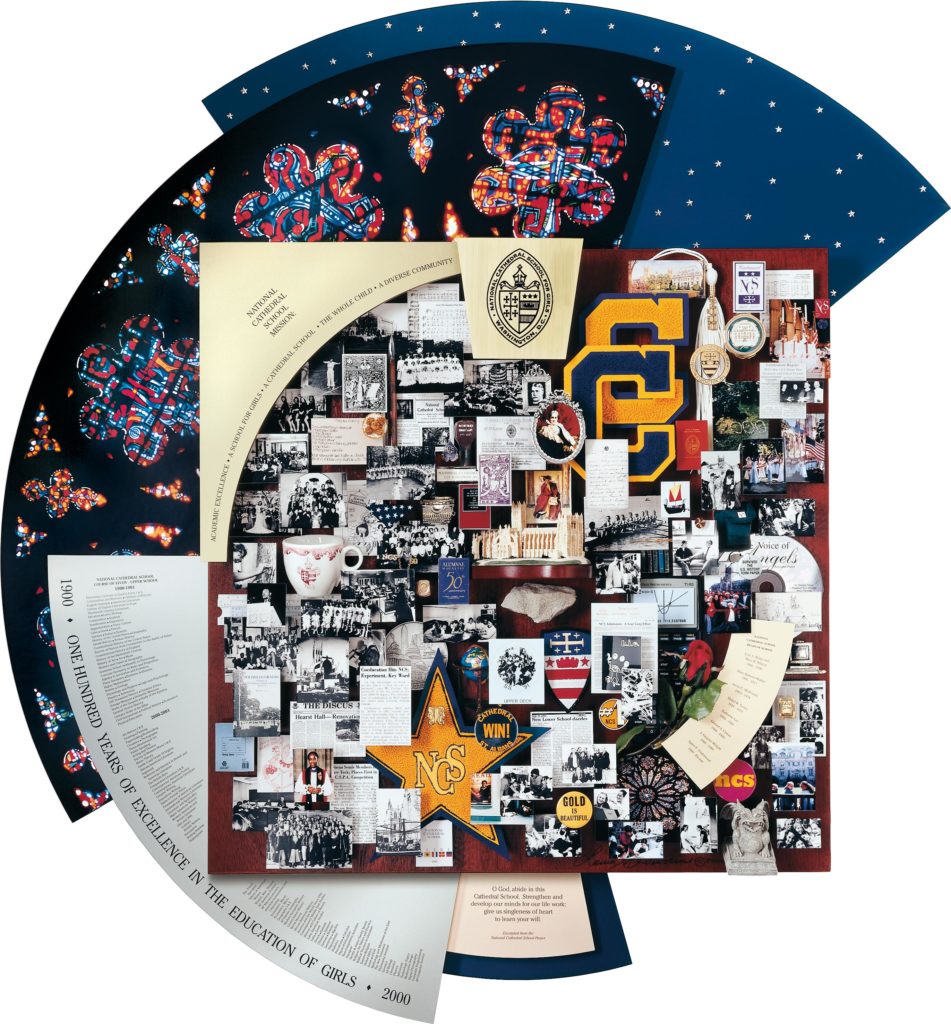 9. National Cathedral School, 44" x 38" x 7"
National Cathedral School commissioned this 3-dimensional art to celebrate its centennial. Over 120 miniaturized photographs, publications, and pieces of memorabilia commemorate the history, mission, leadership, and traditions. The National Cathedral rose window offers a beautiful design element, with the stars representing the aspiration of NCS students. The school's curricula, past and present, engraved in metal, offer a fascinating contrast, while NCS values remain constant.
---