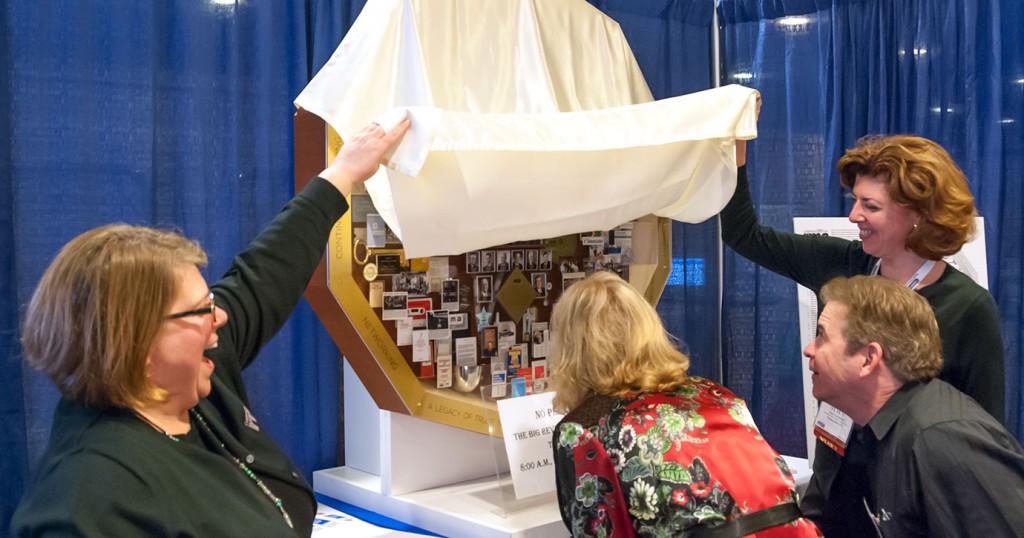 Case Study: The Risk Management Association Award-Winning 100th Anniversary Commemoration
As Risk Management Association approached their 100th anniversary, RMA's anniversary team began planning well in advance—starting 2 years out. Their efforts resulted in winning four Apex Awards of Excellence. The honors are based on graphic design, editorial content, and the ability to achieve overall communications goals.

RMA's priorities were clear: they wanted to celebrate their evolution over the past 100 years, their strong foundation, the unique benefits they offer members, and their mission, which has remained constant since 1914.
To accomplish their goals, the RMA committee decided to pursue a series of centennial efforts.
One Of A Kind 3-dimensional commemorative art showcasing their history,leaders, mission, services and accomplishments. Artist Lawrence Romorini and Donna Rome, Studio Director, worked closely with the centennial team, including meetings at RMA Headquarters to conduct interviews, brainstorming, research and editing.
Special Purpose Campaigns, Programs, & Plans for its Centennial mascot, "Flat Robby," the two-dimensional representation of the Revolutionary War leader for whom the organization was first named, Robert Morris.
Posters and Displays for a Centennial exhibit booth at RMA's annual conference, featuring One Of A Kind 3-dimensional commemorative art, interactive digital displays, oversized graphic wall art, and actual items from the organization's archives.
Print Publication The Risk Management Association: Celebrating 100 Years, with One Of A Kind centennial art on the cover. 
Annual conference video celebrating the 100th anniversary and featuring retouched images from the RMA commemorative art.
"For our organization's Centennial celebration we chose to tell the story of the Risk Management Association's first century in several ways. By far the most engaging and compelling is the unique art piece we commissioned from One of A Kind Art Studio," wrote Kathy Philips, Chair of RMA Centennial Celebration and Senior Manager, Meetings and Events.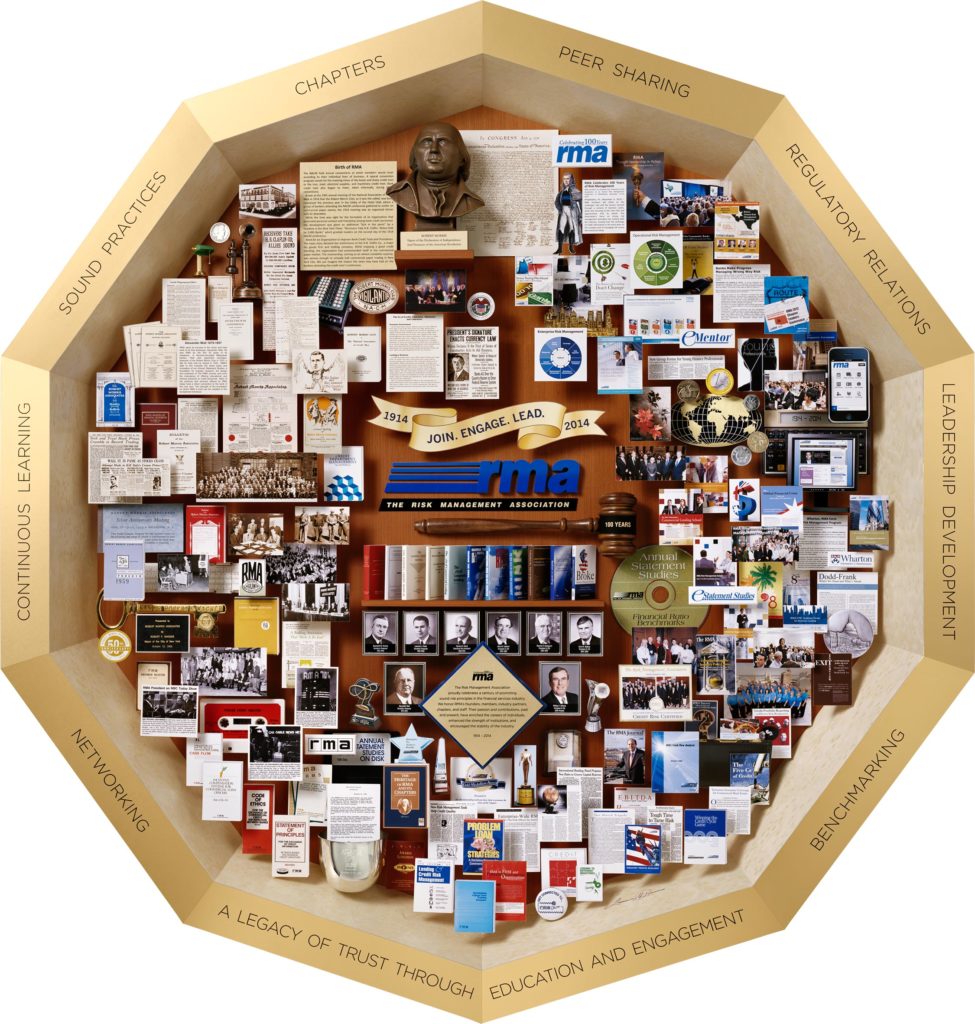 The art became a keystone piece that was an exciting highlight at the annual conference, a source of content for the marketing and communications team, and a lasting tribute still displayed in the RMA lobby.
An Artistic Journey
The RMA centennial team began their collaboration with One Of A Kind with initial conference call with the artist, Lawrence Romorini. Studio Director Donna Rome provided overview questions and a list of suggested items to facilitate the conversation. It was an opportunity to discuss RMA's priorities and what they wanted to communicate on the centennial. Phillips recalled that first conversation: "100 years captured in a 4 x 4 frame…we would not have believed it possible. After just one meeting with the artist, Lawrence Romorini, and his Studio Director Donna Rome, we believed that anything they promised was possible. And, now, at the end of the project? Our piece is everything we expected and more than we could have imagined."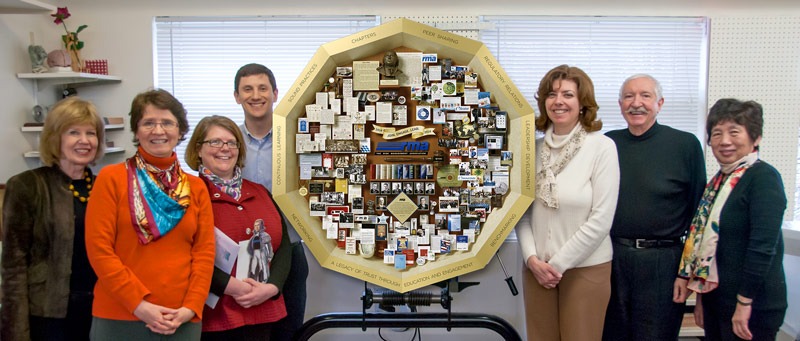 From the founding, RMA staff had preserved a rich library of documents, photos and publications related to the association. Researching and editing such a large amount of material was headed by Donna Rome, bringing 30 years of experience to the project. She first interviewed RMA staff, President and CEO William Githens, and 4 former Chairs, to gain an appreciation for what the centennial art should communicate. "They treated us as if we were their only client," Phillips said, "immersing themselves in our industry and our history, speaking with the organization's leaders and our centennial planning committee, answering every question, and partnering with us until every last detail of the piece was exactly the way we wanted."
The process was meticulously organized. RMA was first shown storyboards with proposed content in chronological order to review and edit. Then Romorini created an actual-size, detailed 3-dimensional mock-up for approval.
All of RMA's print materials were scanned and digitally retouched, the originals were returned to the RMA archives. Every item in the collage is clear and legible to ensure that reproductions can be used in a variety of ways. The retouched photos were also reused in other facets of the anniversary planning.
The Celebration
At the Annual Conference in 2013 the art was draped in satin and displayed on a pedestal. Philips explained that when they unveiled the art, "the response was incredible. People were fascinated by the pieces in the work and the 3-dimensionality created by Lawrence's masterful placement of each piece."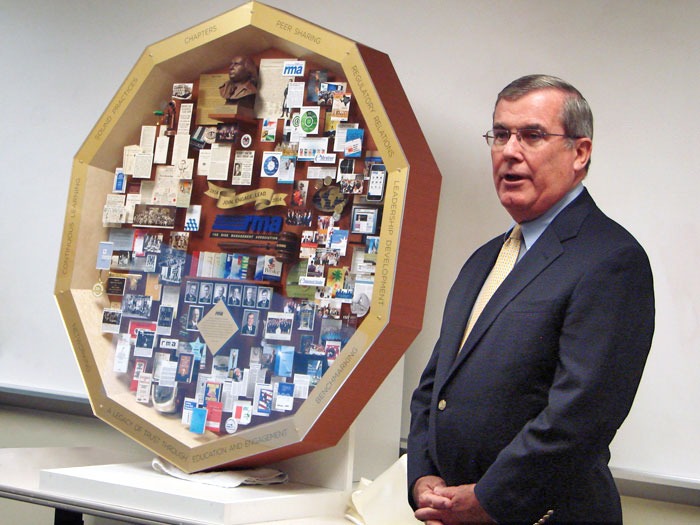 Over 700 bankers attended the event. The crowds were able to explore the art up close and also through large high definition projections. Many of their members would not be at the conference so One Of A Kind developed an interactive website version, so every one of RMA's 15,000+ members and customers could experience their association's story through the art.
The interactive website feature with descriptive key was just one way that RMA used the art to tell their story. The camera-ready image of the art provided a rich source of content for RMA's team.
A color Feature in The RMA Journal for their 15,000 members February 2014
2013 Annual Report Cover
Interactive Art for The RMA Website
Retouched images from the art incorporated into a powerful anniversary video
The cover art for The RMA Centennial Book distributed to members and partners
Bookmarks for Annual Meeting gift bags
A "making of" article in The RMA Journal January 2015
After display at two consecutive annual conferences, the art has been installed at RMA Philadelphia headquarters where it remains a visual portrait and enduring tribute to the centennial celebration. "It's a magnificent addition to our headquarters," Philips concluded. "Our art is a legacy piece that we at RMA take proudly into our next century."
Explore the RMA interactive art on our website here.
Or see additional examples of association art in our Online Portfolio.
---