Let Us Make Your Story Stand Out.
One Of A Kind Art Studio transforms your story into a rich and vibrant 3-dimensional collage, turning memorabilia, photos, tools of the trade, and 3D items of historical significance into an eye-popping walk down memory lane. Highlighting achievements, preserving legacies, and celebrating milestones and anniversaries, these custom-designed art histories are like nothing else.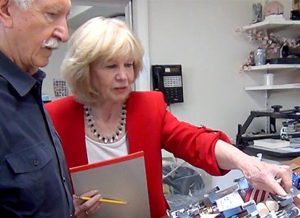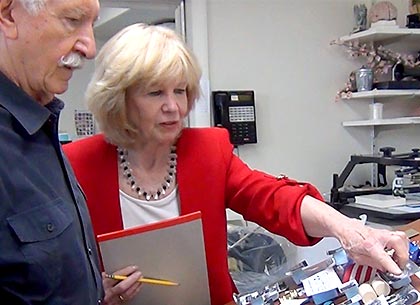 Artist Lawrence Romorini and Studio Director Donna Rome are hands-on collaborators with you. They will walk you through the process from concept to design to finished art, ensuring all the details and hidden gems of your story are encapsulated in this one of a kind art.
Curators of Your History
First, we listen and ask questions to develop a concept and help you determine the best items to tell your story. Donna Rome conducts interviews, researches components and edits materials to be pieced together into a 3D tapestry of an organization's or individual's history that you can almost reach out and touch. Items can be original images, digital files, company logos, and physical objects that are important or have special significance to your narrative.
After consulting and working closely with the client to select items for the 3D collage, Donna catalogs and arranges images in chronological order for your approval.
Transforming Vision into Reality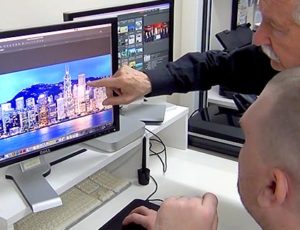 Once all the elements have been selected and approved, Lawrence Romorini creates a life-size mock-up to ensure historical accuracy and no detail has been overlooked. Everything from the shape of the artwork to the materials chosen for the frame are significant to your story.
The 3D Process Begins

Next, our graphic artists meticulously scan and retouch your photos and publications, which are restored and miniaturized on archival paper. Each piece is then carefully bevel-edged cut, placed, mounted, and elevated from the background with a thin stainless steel rod, creating a floating sculpture effect.
Lawrence's unique and engaging 3D style is labor intensive. These projects benefit from time to ensure the essence of your ideas and story have been perfectly translated into art.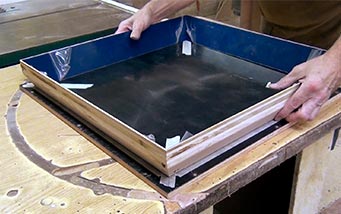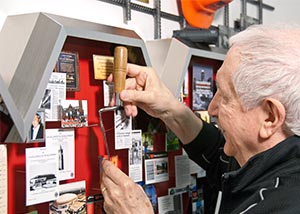 A Timeless Showpiece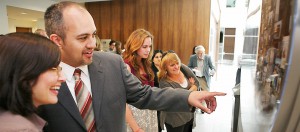 Last, a dedication plaque is added and your preserved history and memories are enclosed in Plexiglas, creating the ultimate visual time capsule.
The end result: a captivating museum-quality piece of art that not only stands out, but embodies the spirit of an organization's or individual's narrative and accomplishments. It is a legacy that engages its audience, and will continue to tell a one-of-a-kind story in a memorable way for generations to come.