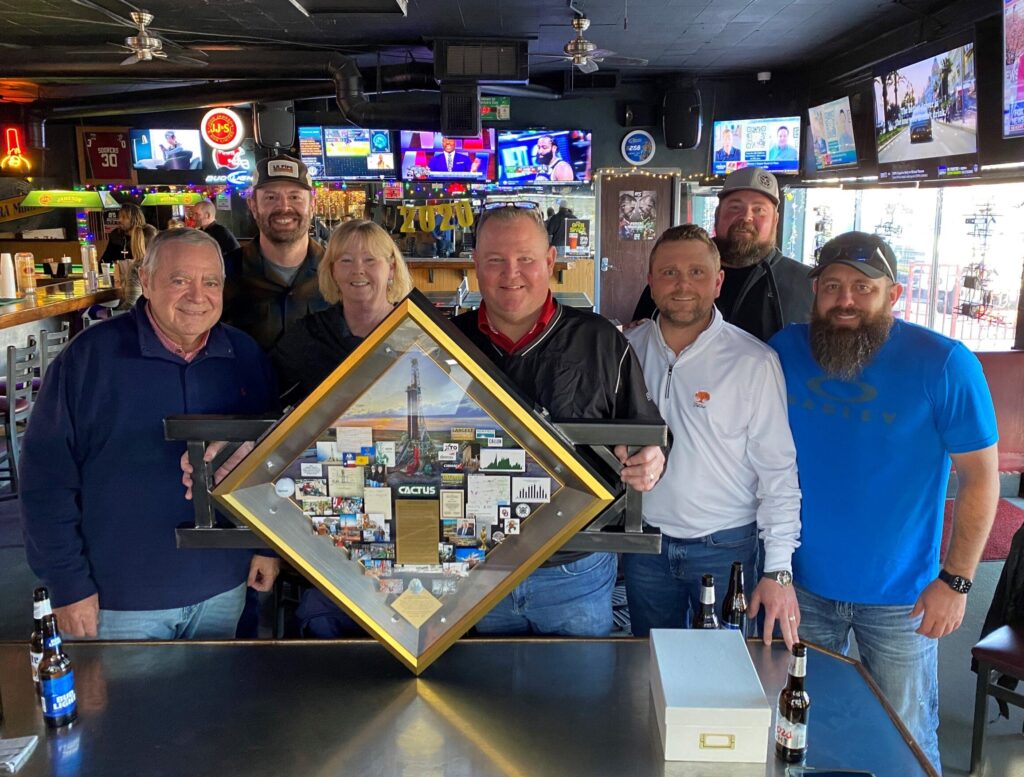 Bespoke /bəˈspōk/ adj. custom-made; handcrafted; specialized; made or fitted to the needs or preferences of a specific customer.
When you're looking for a personalized gift, you'll find different levels of personalization. "Bespoke", by definition, is more than simply engraving or etching the recipient's name on a present. The word "bespoke" is best known for its centuries-old relationship with tailor-made suits, certainly the opposite of suits "off the rack." So when you want a gift that is truly personalized in every detail —rather than "off the shelf"— One Of A Kind bespoke shadowboxes provide the ultimate level of personalization.

One Of A Kind 3-dimensional commemorative art is a unique way to celebrate a milestone anniversary or honor a retiring leader. Artist Lawrence Romorini's custom-made 3-dimensional collages preserve the past, celebrate the present, and express appreciation.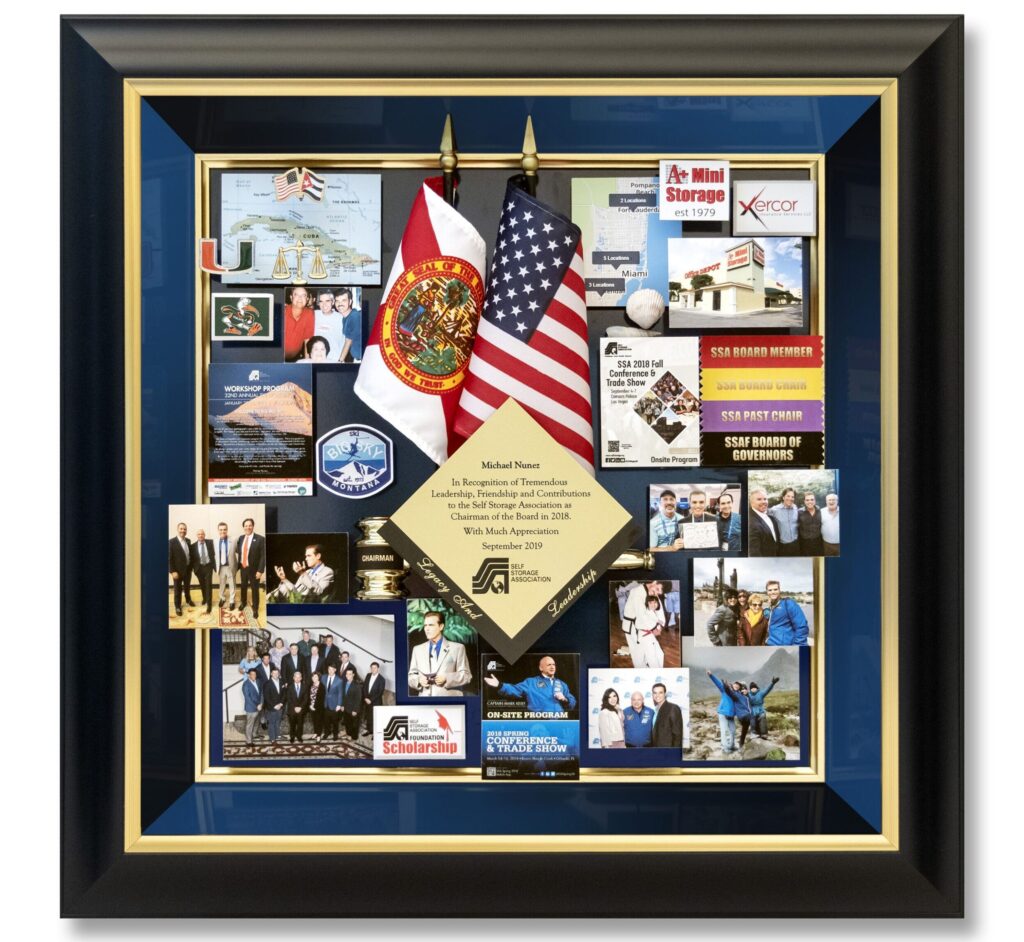 ©2019 One Of A Kind, Inc. Art Studio 113-59 Created by Lawrence M. Romorini. www.oneofakindinc.com Size of the art 16″ x 16″ x 3.5″
Looking for retirement tribute ideas? A One Of A Kind bespoke shadowbox contains 40-100 photos, publications, and 3D items, each reflecting thought, care, and appreciation. Personalized in every detail, this custom-made portrait will bring back memories of career accomplishments and favorite people each day for years to come. Guaranteed to be displayed in a place of honor — rather than a closet.
Does your company have an upcoming anniversary? While most companies take the safe, predictable routes to commemorate a milestone anniversary, creative and innovative CEO's, VP's, Directors, and Executive Assistants who commission One Of A Kind art provide a unique, memorable way to celebrate their company's milestone. One Of A Kind anniversary art always delivers a "wow" factor through the detail, the artistry, the concept—and the opportunity to include practically anything 3D in the collage. Each custom-made anniversary shadowbox incorporates miniaturized photos, publications, actual memorabilia, and tools of the profession. It is a personalized visual time capsule to honor the company's history and accomplishments. With scores of items and layers of discovery, viewers return time after time to find hidden treasures. Long after the celebration, the artwork is a lasting legacy.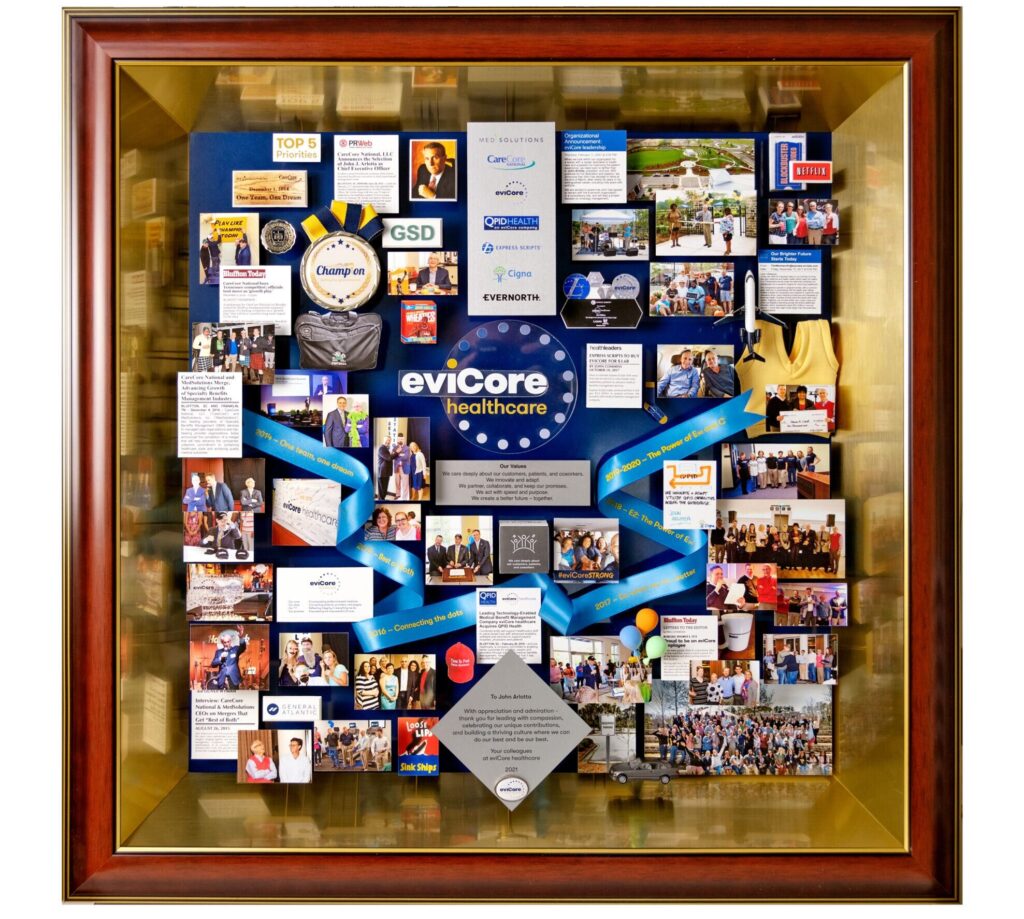 ©2021 One Of A Kind, Inc. Art Studio 113-59 Created by Lawrence M. Romorini. www.oneofakindinc.com Size of the art 25″ x 25″ x 4″
Our past clients include Marriott, Andersen Windows, USA TODAY, Johns Hopkins, GEICO, Nike, ANSI, Cisco Systems, SHRM, and Chicago Bulls, among others. Their vision has resulted in amazing celebrations. But don't just take our word for it, here's what clients have said after revealing their One Of A Kind art:
"To say that what the company produced was in fact a 'one of a kind' is an understatement. A better description would be an 'irreplaceable one of a kind' because it truly reflected amazing memories that will now last a lifetime." – CEO, eviCore healthcare
"The pictures through email do not do this justice and I can't express to you how beautiful a piece this is…It is worthy of being in a museum." – COO, ERMCO-eci
"I am awed, amazed and thrilled with the finished product. The artwork looks even better than I imagined. Photos really don't do justice." – CHRO, Willkie Farr & Gallagher LLP
"Pleased is an understatement. We are absolutely mesmerized by it." – VP of Communications & Marketing, Texas Realtors
"BEAUTIFUL. AWE INSPIRING. One person said they got goosebumps." – Director of People & Culture, Chromatic Technologies, Inc
Ready to create your own One Of A Kind bespoke shadowbox for an anniversary or retirement? For more information, contact Donna Rome at donna@oneofakindinc.com or 301.495.3361 ext. 102.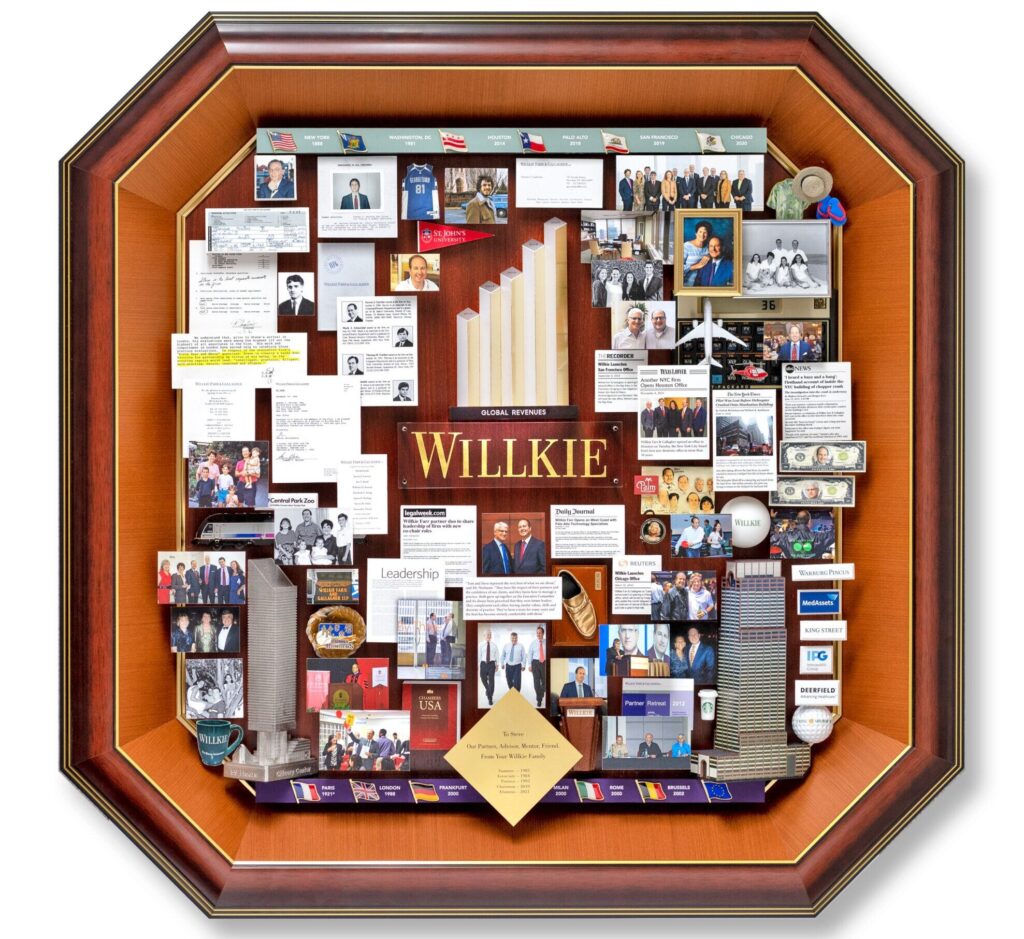 ©2020 One Of A Kind, Inc. Art Studio 113-50 Created by Lawrence M. Romorini. www.oneofakindinc.com Size of the art 27.5″ x 27.5″ x 4″
---