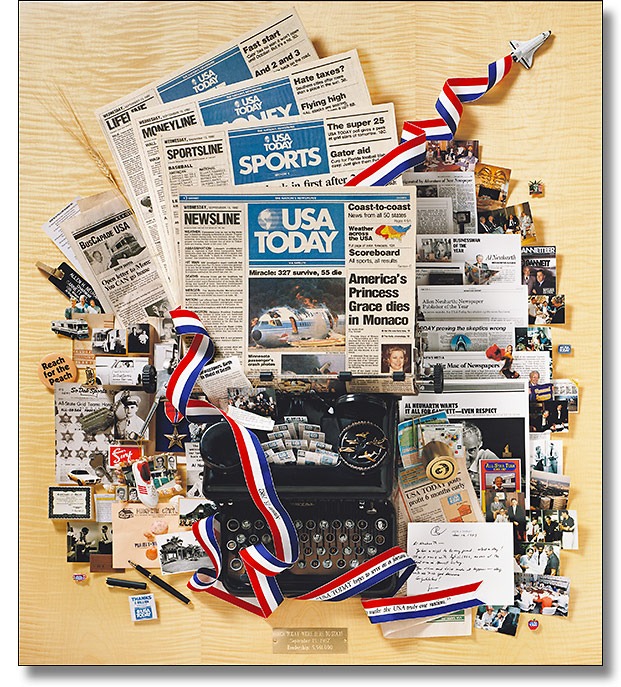 September 15th marks the 31st anniversary of USA TODAY's launch. It also celebrates the 26th anniversary of One Of A Kind's first commission. It was the Nation's Newspaper's 5th anniversary and Gannett's President John Curley commissioned a major piece of 3-dimensional commemorative art to honor the founder, Al Neuharth. The collage featured an actual 1926 Royal typewriter—an exact duplicate of the one he began his journalism career with. Out of the carriage comes the first edition of USA TODAY. On the keys of the typewriter are faces of Mr. Neuharth's key executives.
Other top USA TODAY and Gannett executives were presented personalized 3-dimensional collages prominently featuring the logo and commemorating their leadership in the newspaper's first five years. Posters of the 5th anniversary art were given to staff—it was great to discover them in reporters' cubicles years later.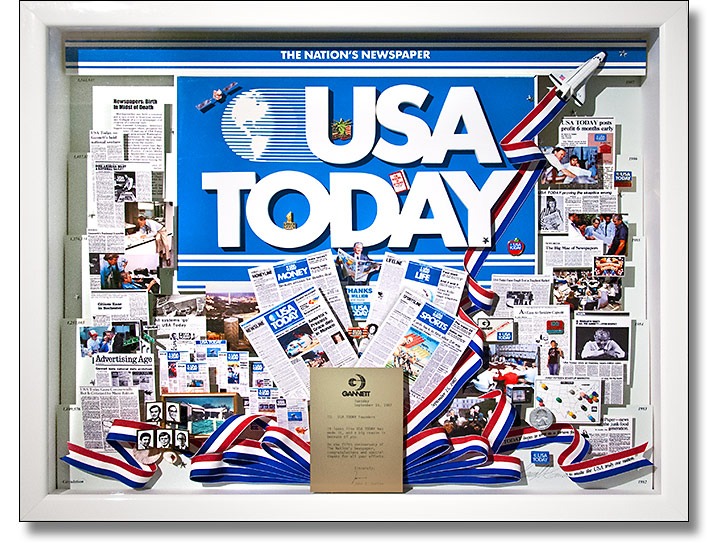 I had 2 months to complete this project and worked literally day and night. A walk in Rock Creek Park each morning and with excitement I was collaging full speed into the late hours.
The wonderful response by Mr. Neuharth and other recipients, plus having two corporate samples of the work set our course for the next 26 years. We're ever grateful for John Curley's early vision in seeing the possibilities—and for every client since then who has entrusted us to commemorate a one-of-a-kind story.
---