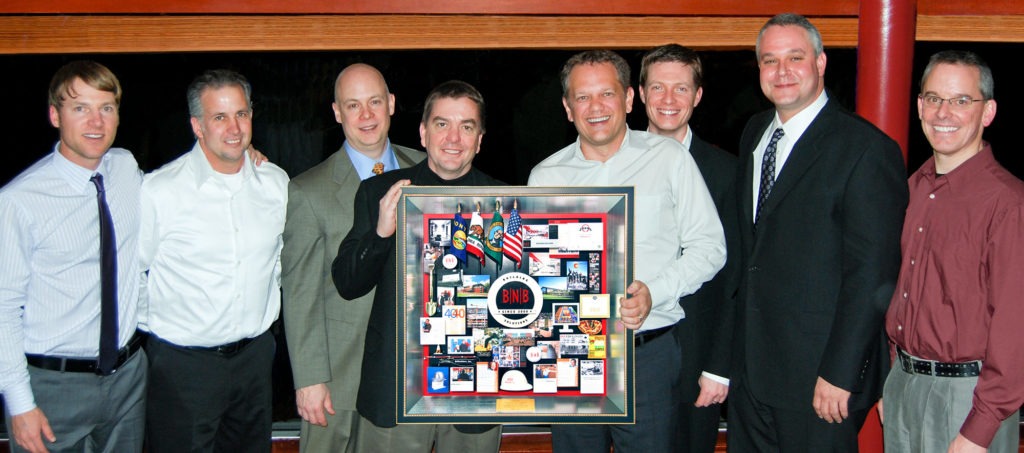 Your company's anniversary is on the radar—but too far out to be concerned?  Or it's in 6 months? Suddenly you need to move ahead. What's the plan?
There are "5 P's" that can make your celebration a memorable success. After helping hundreds of companies celebrate major milestones with One Of A Kind 3-dimensional commemorative art, we are always impressed by the same five best practices that maximize an anniversary's success.
PLAN
Two years before Andersen Windows celebrated their 100th anniversary, we began brainstorming the possibilities for their commemorative art with their Centennial Project Manager. Stacey assembled a team of key stakeholders, including the CEO and fourth generation Sarah Andersen to participate in planning the celebration. Getting a strategy in place provided ample time to build consensus on what Andersen wished to communicate and to review/edit photos, publications, meaningful 3D product and memorabilia to include.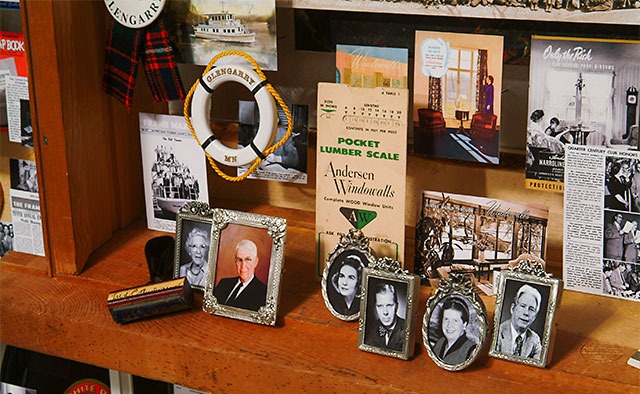 For this major lobby art, we traveled to Andersen headquarters in Bayport, Minnesota, for on-site research.  This was invaluable to review archives, tour their plant, appreciate their unique story and edit material. When Lawrence found a pile of wood in the corner he asked, "What's this?" As the original "10-Minute Window" that revolutionized the industry, it turned out to be a perfect 3D design element for the art. The luxury of time enables creative ideas like this to emerge.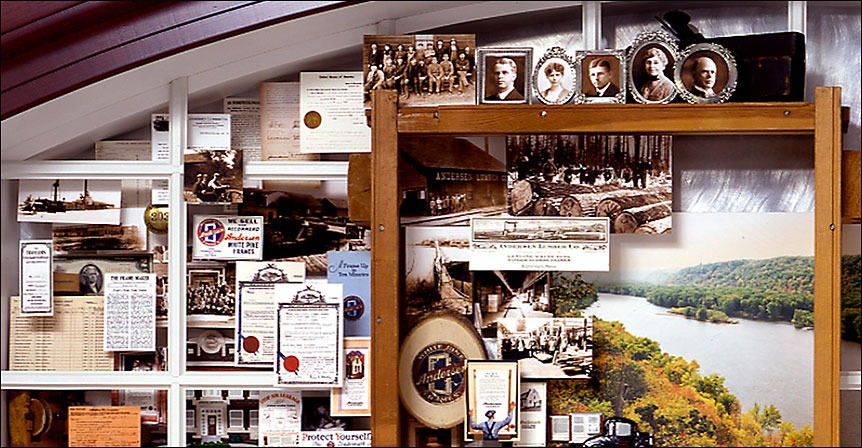 Advanced planning enabled Andersen's 100th anniversary team to visit One Of A Kind Art Studio and see firsthand the actual-size 3D mock-up for the art. At this meeting their CEO asked, "Could you possibly use a modern Andersen window as the overall frame?" Lawrence Romorini enjoys artistic challenges like this—and, of course, found a way!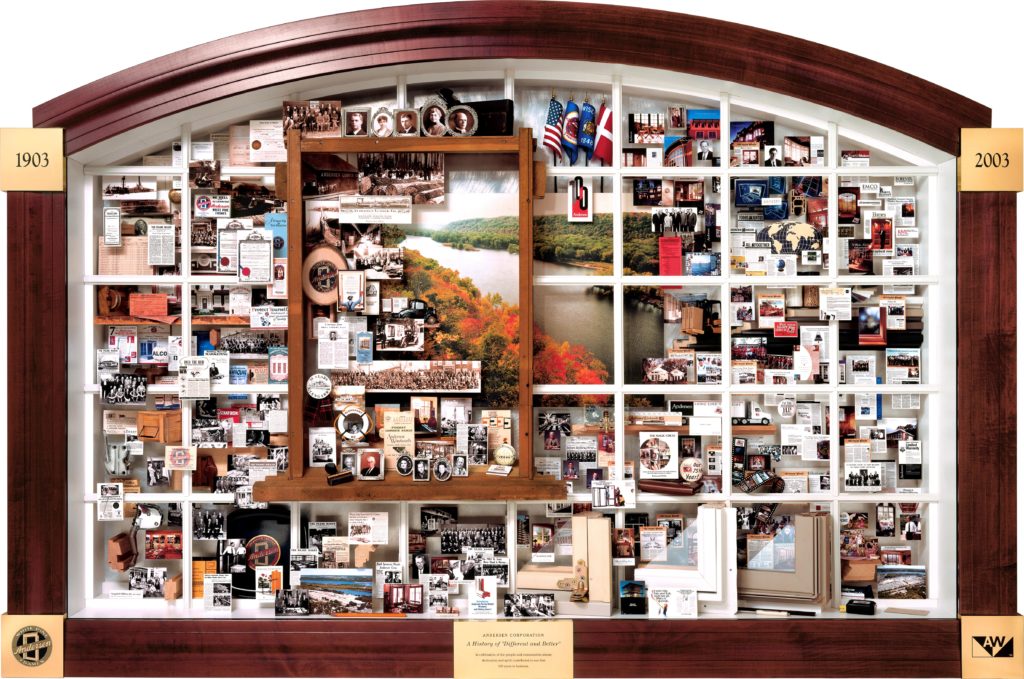 Andersen used the art to unveil their centennial celebration. 15 years later, the lobby art remains an overview of their story for corporate headquarter tours.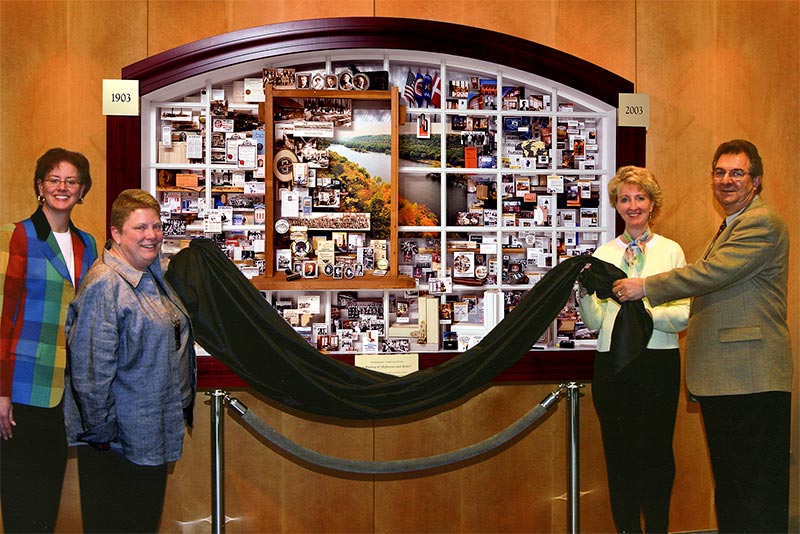 10,000 centennial posters were printed, one for each employee. Posters were box-framed and sent to all Andersen locations to share in this milestone occasion.
PROMOTE
Anniversary promotion builds anticipation for the celebration and underscores the significance of the occasion. We provided L. S. Fiore Constructors' team with a "Call for Memorabilia" so longtime employees could contribute items for the 50th anniversary 3-dimensional art. The collage became a collaboration with a payoff at the party, when participants then saw their vintage photos and memorabilia as part of the artwork.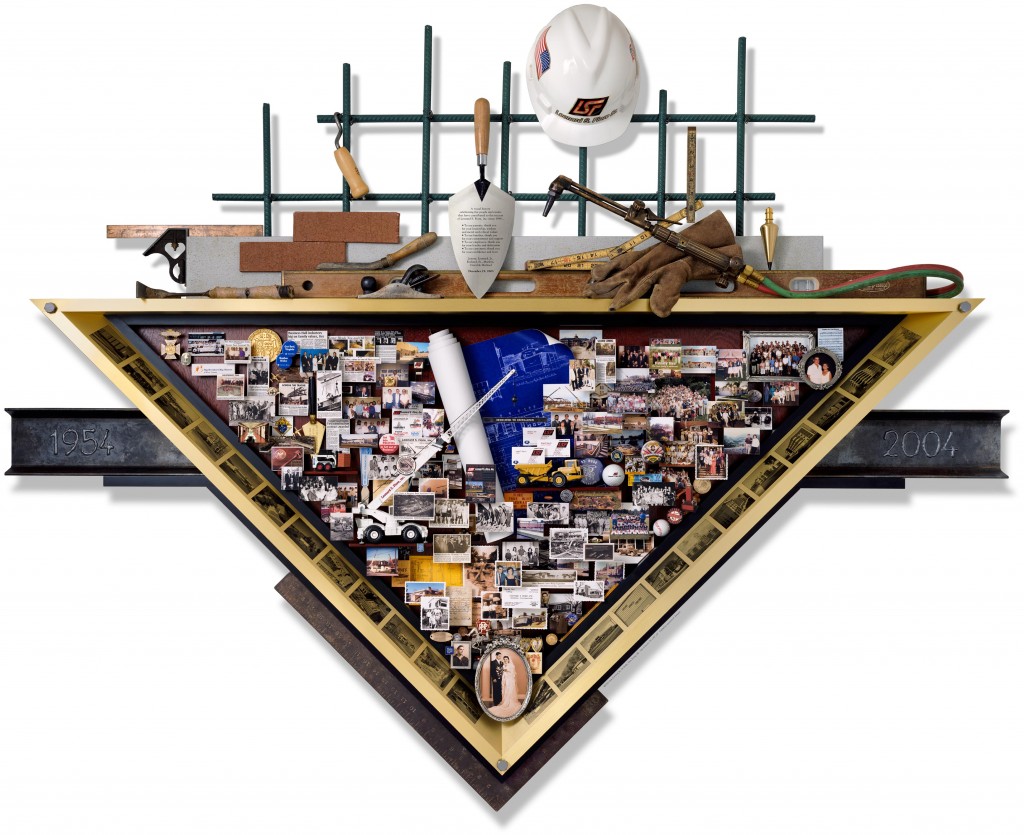 Be sure to contact local news outlets and trade publications to cover the richness of your company's legacy and contributions to the community. The uniqueness of a company's custom-made 3-dimensional retrospective art makes it a perfect photo opportunity with key executives and local leaders to accompany a press release.
18 years after it was first unveiled, Fiore's art continues to promote all that distinguishes the firm and honor 2 generations of Fiore leadership.  Visuals of key projects over the first 50 years are engraved in metal along the border.
PARTY!!
All our clients party in creative, wonderful ways, from picnics on the premises with hot dogs to galas at the Waldorf Astoria. The celebrations can include executives, board members, employees, retirees, community leaders and vendors. Often a month is selected for optimal weather, so the event, such as Bowen Engineering's 50th anniversary party, can be held outside, offering more room and accommodating more people. Other times it is a yearlong anniversary party, with surprises for each month of the calendar.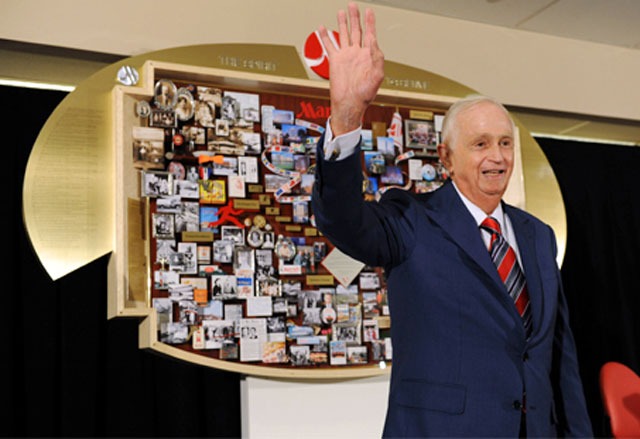 Marriott celebrated their 85th anniversary at their global meeting in Los Angeles, where One Of A Kind 3-dimensional art was unveiled to Mr. Marriott. Managers attending the meeting received posters of the art that included Bill Marriott's signature.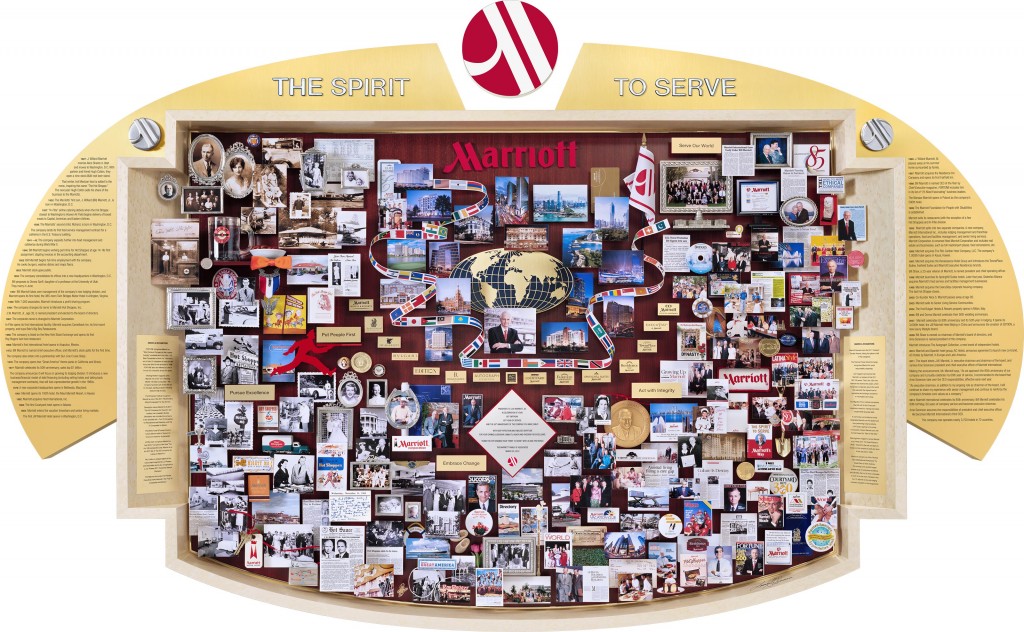 Marriott returned to us on their 90th anniversary to create a new contemporary work of art, to display at their internal party and in their lobby. The theme of looking backward and looking forward to reflected in the art. Black and white vintage photos on the structure when viewed from the right. From the left, brilliant color photos communicate the current Marriott story—and take it into the future.
PRAISE
You can cast a broad net in expressing thanks to everyone who has contributed to your company's success. Reach out to founders, founders' families, longtime leaders, and their families to involve and recognize them at an anniversary celebration.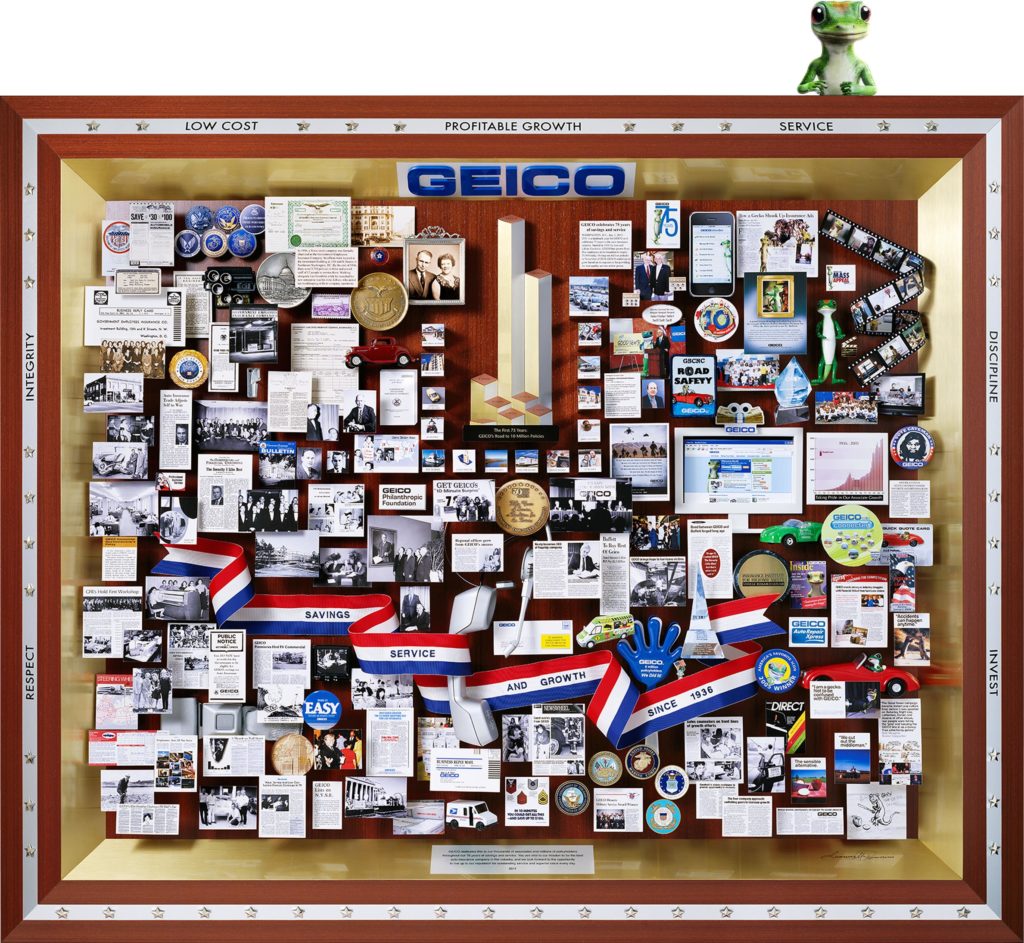 A dedication plaque within One Of A Kind art provides a perfect opportunity to express appreciation. GEICO 75th anniversary art, for example, contains a beautiful message dedicating the art to "thousands of associates and millions of policyholders…"
After an unveiling by Warren Buffett and their CEO, the art toured various GEICO locations before installation in their headquarters, to share this tribute.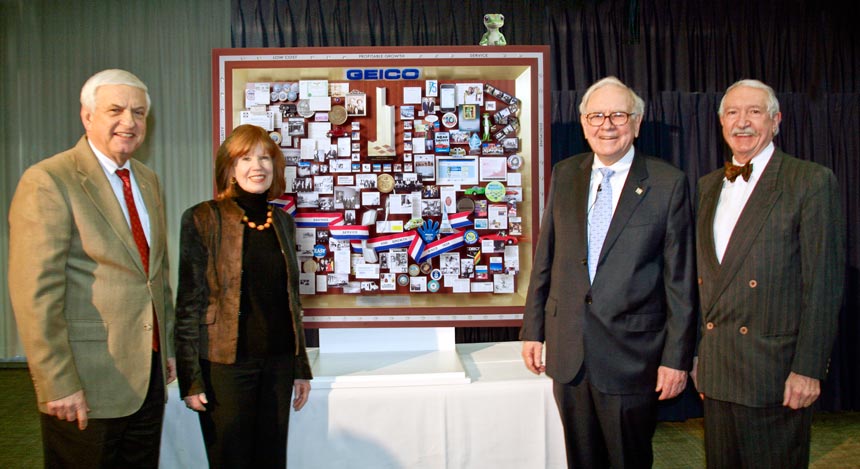 Bartlett Tree Experts centennial art was commissioned as a surprise to honor Chairman Robert Bartlett. Unveiled as part of the centennial celebration, the art was a visual salute to 3 generations of strong Bartlett leadership. "I know Robert was especially pleased to see the wonderful representation of his family throughout the art," wrote our client afterwards.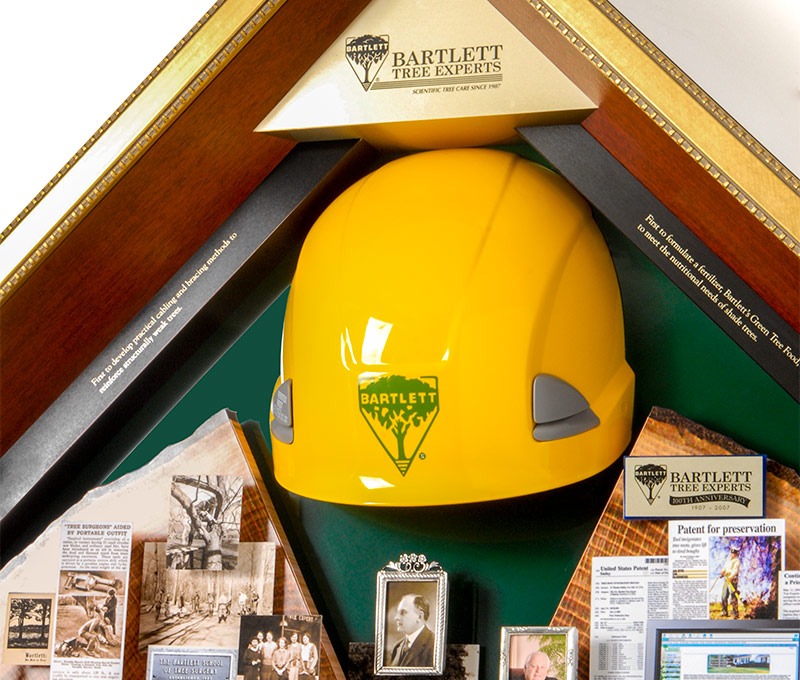 Another great dedication message is included in Murray Supply's 50th anniversary art, a surprise for Murray family leadership.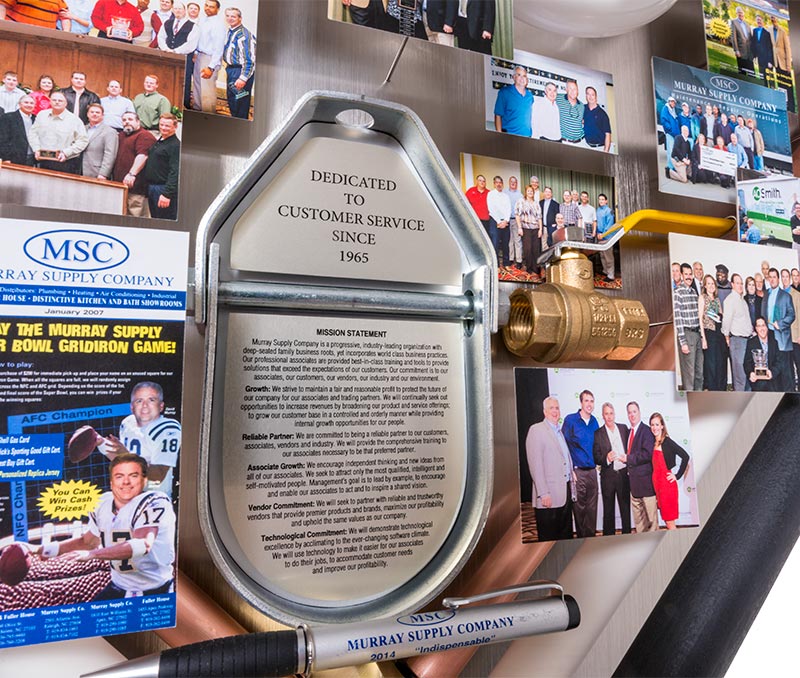 PRESERVE
After the anniversary, leave a legacy that will be appreciated for years to come. Organizing the archives for future generations is a good start. To add to the archives, One Of A Kind provides a free CD with images used in the art, scanned, retouched and ready for future reproductions.
With One Of A Kind 3-dimensional art, highlights of the archives can continue communicating your story and mission every day to staff and visitors in a fascinating lobby display.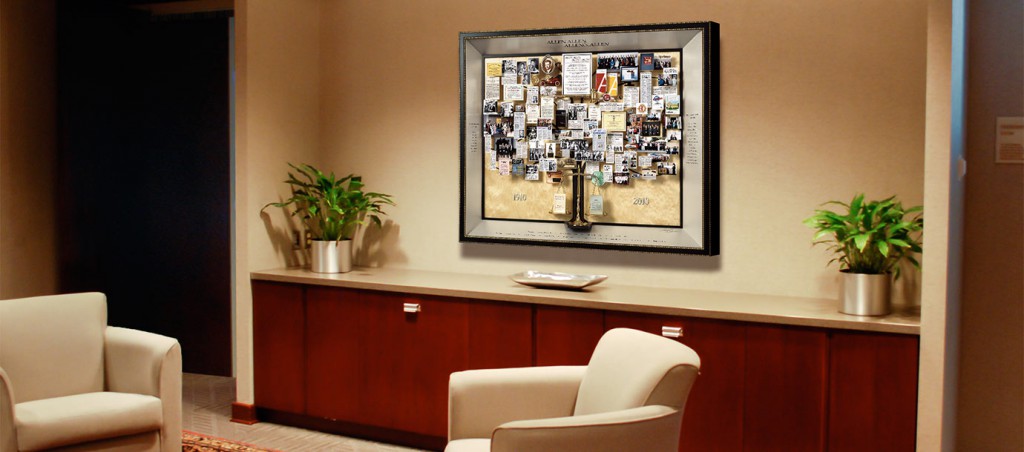 Reproduced as a commemorative brochure with descriptive key and as an interactive website feature, you can share your history, leaders and accomplishments far into the future. Years later, posters from Marriott, Bartlett Tree Experts, and Andersen Windows are no doubt still on display by longtime employees and retirees.
Milestone anniversaries are an exciting, unique opportunity. Please let us know how we can help you PLAN, PROMOTE, PARTY, PRAISE, PRESERVE!
---